A cancer diagnosis presents a unique set of challenges for people whose careers revolve around physical strength and discipline. Over the past year, several professional athletes have chosen to go public with cancer diagnoses, sharing their challenges with supporters and letting the world know that even people in incredible physical shape struggle with the side effects of cancer.
Many find inspiration in this candor, and in knowing that some of the top athletes in the world have had their own cancer journeys. Here are some of the extraordinary sportspeople sharing their stories.
Oskar Lindblom
Read More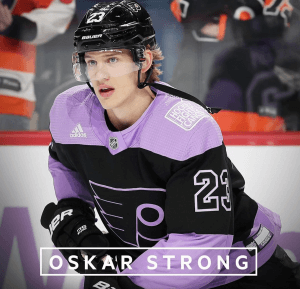 One of the most shocking announcements of this year's hockey season came earlier this month when the Philadelphia Flyers announced that their star forward, 23-year-old Oskar Lindblom, has been diagnosed with a rare bone cancer called Ewing's sarcoma.
Oskar is still in the beginning stages of his cancer journey. In the Flyers' announcement on Dec. 13, the team said the young hockey star would be beginning treatment shortly, and would likely be sidelined for the rest of the 2019-2020 season.
RELATED: Fans and Teammates Rally for Oskar Lindblom as the Star Flyers Forward Prepares for Cancer Treatment
Lindblom has received a ton of love from Philadelphia and beyond; the NHL community has really come together to support him. Though he has a long way to go on his cancer journey, the hockey star took to Instagram last week to let fans know that even though he's in for a tough couple of months, he really appreciates all the love and support he is getting.

"The last week has been very challenging for me, but I'm so happy for all the love and strength you all are giving me on this journey," Lindblom wrote. "The support has been unreal and we are so thankful for everything – big thanks to all of you, it means a lot"
Nicole Gibbs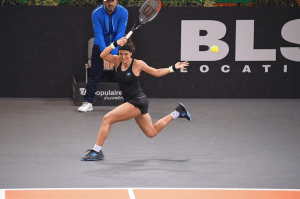 Earlier this year, American tennis pro Nicole Gibbs disclosed that a routine trip to the dentist led to a surprise cancer diagnosis, which unfortunately led her to pull out of the French Open.
Gibbs, who's just 26 years old, was diagnosed with a rare cancer of the salivary glands called mucoepidermoid carcinoma and underwent surgery in May. She told the Associated Press that the diagnosis and subsequent treatment likely had some effect on her game, but cancer also allowed her to develop a new perspective on life — and appreciate what she has.
The tennis star definitely seems to be handling recovery well — she's back on the courts, and she even got married this year.
Kikkan Randall
Kikkan Randall, who won a gold medal for the U.S. in the 2018 olympics in cross-country skiing, was diagnosed with stage 2 breast cancer just three months after that victory. The athlete has been all about recovery in 2019, and spreading cancer awareness.
In November, 36-year-old Randall ran in the New York City Marathon — an incredible feat for someone who, just last November, was undergoing a lumpectomy to have her cancer removed, and in the midst of a months-long chemotherapy regiment.
Randall's appearance at this year's marathon — the olympic skier's first time running the race — raised awareness for AKTIV against Cancer, an organization co-founded by legendary runner Grete Waitz, who passed away from cancer in 2011. The organization's goal is to encourage people battling cancer to incorporate physical activity into their lives during treatment.
Francesca Schiavone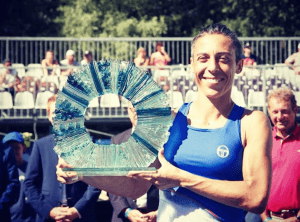 Francesca Schiavone, the star Italian tennis player who won the 2010 French Open, disclosed earlier this month that she had been diagnosed with, and treated for, cancer.
"HI everyone, upon 7-8 of silence from social media and from the world, I wish to share with you what happened to me. A cancer had been diagnosed to me. I did chemotherapy, I fought a though battle and now I am still breathing. I have won this fight. And now I am back in action". pic.twitter.com/DyafTTcHBX

— Francesca Schiavone (@Schiavone_Fra) December 13, 2019
The 39-year-old retired tennis star did not reveal what type of cancer she had, but did explain that even though it was the toughest battle she's ever faced in her life, she beat the disease.
Carlos Carrasco

At this year's Major League Baseball All Star Game, the league took a moment to honor Cleveland Indians Pitcher Carlos Carrasco, the 32-year-old athlete diagnosed with cancer. The Indians revealed in a July statement that Carrasco had chronic myeloid leukemia and was undergoing treatment.
Carrasco took some time to recover, and rejoined the team in September. In a heartfelt column for The Players Tribune, the pitcher explained how it felt to get back on the mound.
"I felt like I had an entire city behind me," Carrasco wrote. "That roar I heard from the crowd as I approached the mound, that love I felt in my entire body as I looked around and saw everyone standing and smiling, those are memories that will last a lifetime for me. So from the bottom of my heart I want to thank the people of Cleveland for always having my back."
The Value of Exercise in Cancer Recovery
Professional athletes are not the only survivors who find staying active can help in recovery after (and sometimes, during) cancer treatment. Many oncologists SurvivorNet has interviewed in the past stressed that being physically active after treatment, even if it's just a walk around the block or a few morning stretches, can really aid in making survivors feel better.
In this video, cancer survivor Lauren Chiarello tells SurvivorNet how after treatment, she got into running marathons. Chiarello was just 23 years old when she was diagnosed with Hodgkin's lymphoma — and she said when it came to exercising, the cancer forced her to find a "new stride."
Learn more about SurvivorNet's rigorous medical review process.