It Takes a Village
Singer/songriter Coffey Anderson put on a neighborhood concert in his community to help support his wife Criscilla who has been battling colon cancer since 2018.
The Netflix stars have continually expressed how special their Dallas neighbors are to them, and how much they've come together for the family to help out during their tough time.
Cancer survivor Kelly Sargent tells SurvivorNet how life-changing it was to move to San Antonio, Texas and truly believes in the power of a strong network when going through cancer.
She married a music man!
Country Ever After star Coffey Anderson put on a special concert in his family's Dallas neighborhood to help support his wife Criscilla who is currently undergoing chemotherapy for advanced stage colon cancer.
Read More
The Netflix TV personalities are raising three young children, building a house nearby, and Criscilla is flying back and forth to Los Angeles for treatment every few weeks, so needless to say they have a lot going on. However, that doesn't mean they can't squeeze in some party time, and there seems to be no shortage of that with this fun-loving family.
Related: 'Country Ever After' Star Criscilla Anderson, 41, Shows Down Days of Chemo for Stage 4 Colon Cancer: 'I Hate This So Much, It's Not Fair'
Now that COVID-19 restrictions have eased in Texas, Coffey has been able to start doing gigs again. He has been performing in local venues and recently sang God Bless America during the 7th inning stretch at the Texas Rangers' opening baseball game. But this was a show put on with a little extra love for a neighbor's birthday. The Anderson's newfound friends have been showering them with support since they moved into the neighborhood.
View this post on Instagram
"Meet my amazing friends I've made here," Criscilla wrote of her new community at her recent surprise 41st birthday. "98% of these people live in my neighborhood. And they're my friends. They have also all rallied together to pray for me, bring my family meals when I'm gone for chemo, take care of us. That's how special this place is. Texas is all about love!"
Related: 'Country Ever After' Star Criscilla Anderson, 40, Builds Dream Home, Shows the Importance of Continuing Family Life Plans During Stage 4 Cancer
Anderson and his band members played into the night on a large stage out by the giant community "crystal lagoon," a pool so big that it's the size of a small lake, roughly around 5 acres. (The neighborhood even has a man-made white sand beach.)
Neighborhood kids filled the front row and by the end of the night, the adults had loosened up and crept their way closer to the stage, dancing and singing along to the singer-songwriter's tunes. Anderson actually launched his own career by combining his music, comedy and larger-than-life personality on his YouTube channel, according to his website, and then started booking his own shows and producing his own albums, along with editing all of his videos.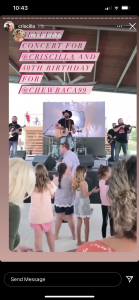 At least a dozen friends from their community posted encouraging words on their Instagram pages for the brave mom. "I have no doubt God brought y'all to Texas for a reason. I love you @criscilla," friend Brooke Finnigan wrote on her Instagram stories. "Your are the baddest girl I know. Strength like no other. You are going to show this cancer who's boss. Keep those prayers coming for complete healing of stage 4 colon cancer."
Another friend wrote: "So grateful … for so many of our beautiful friends. I've never met such a caring community and truly feel blessed being surrounded by this love."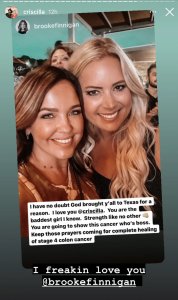 Criscilla, a hop-hop dancer who has performed in Rihanna, Katy Perry and Britney Spears music videos, said that her husband actually first spotted her in Rihanna's music video for SOS, and it was love at first sight.
"Coffey saw me in this video b4 he met me and said he wanted me as his wife… that's how god worked us out!" The couple got married in 2009 on Valentine's Day and have been going strong ever since. They have three children: Ethan, 8, Emmarie, 6, and 4-year-old Everleigh. Coffey has a daughter Savannah from a previous marriage.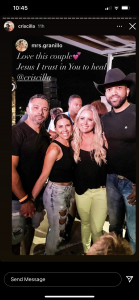 Criscilla's Colon Cancer Battle
Criscilla first started noticing symptoms in May 2018. She was doubled over with stomach pain.
"As a mom, you always feel like you don't have the time to deal with things like this," Anderson said. "But there came a point when I couldn't ignore it anymore."
She had an immediate colonoscopy, which revealed a blockage, and then wound up in the hospital for emergency surgery. Doctors removed two feet of her colon and she was diagnosed stage 3 colon cancer.
Related: The First Black Rockette, Jennifer Jones, Was Told She Had Five Years to Live; She's Now Free from Colon Cancer
After a brief remission, she was diagnosed with stage 4 metastatic colon cancer. "The cancer has spread throughout my para-aortic region and has begun growing up my back," she reported via Instagram. Criscilla stopped chemotherapy treatment to try a holistic approach. The couple went to Spain for alternative treatments, and in April 2020, Anderson reported her tumors were shrinking. Although she was convinced that she would be healed by her next scan, that is sadly not what happened. Criscilla started on chemo again early this year.
Related: Brave Indy 500 Speedway Announcer, Lindy Thackston, 40, Battles Colon Cancer– Initially Thought Symptoms Were Colitis
Experts say that there are multiple treatment options available for patients with stage four disease, and there have been improvements made in survival.
"Stage 4 colorectal cancer means that the cancer has spread away from the colon to a distant part in the body or to another organ nearby,"  Dr. Heather Yeo from Weill Cornell Medicine tells SurvivorNet. "Sometimes with different chemotherapy and surgical treatment, you can get patients to have complete cure. Their chance of survival's lower than stage 3. But we still get cures even in stage 4 patients, which I think is really exciting."
Criscilla is not sure how long she will be on chemo.
"I asked my doctor how long I will have to get chemo," she told PEOPLE in a recent interview. "And he told me that I could either be on it for the rest of my life or I could just be on it until the cancer is no longer detected. And then, if it comes back, I go back on chemo until we knock it out again."
The Power of Community
A little support can go a long way. People going through cancer need the comfort of knowing their friends, loved ones and community are there for them as much as (if not more than) their doctors. It takes a village, as they say.
Ovarian cancer survivor Kelly Sargent was seeking support after moving to Texas from Chicago, and thankfully it came back tenfold.
"When I was diagnosed, as soon as I got in the hospital, I started going online to find not only information, but also support groups, stories from survivors, anything that I could find as far as my treatment I definitely looked for," she tells SurvivorNet.
Related: Actress Olivia Munn Says 'Just Being There Can Be Enough' For People Struggling
"I have met some incredible people in San Antonio. Coming here not knowing anyone, I've been blessed with having met some incredible ladies. I have an incredible set of friends that I met after my diagnosis through a Bible study group that have become very, very close friends of mine that are an incredible part of my support system. That support from those ladies has been life-changing for me."
The Benefit of Support Networks for Cancer Patients
'It Takes A Village to Get Chrissy Through Cancer'
Learn more about SurvivorNet's rigorous medical review process.