Bowie's Legacy Lives On
David Bowie's daughter, Lexi Jones, shared a sweet photo of Bowie holding her when she was a baby.
Bowie passed away four years ago to liver cancer; main causes of the disease can include excessive alcohol and family history of the disease.
After losing a parent to cancer, cherishing special memories can be a helpful way while coping.
Four years ago we lost iconic Ziggy Stardust performer,
David Bowie
, to
liver cancer
, but today his daughter shared a photo that brought us back in time to see the Bowie we know so well. He was just 69-year-old when he passed, and is well-regarded as one of the most influential singers of the 20th century.
Related: David Bowie's Legacy Lives On In Discovered Demo — He Succumbed To Liver Cancer, But Music Keeps Him Alive
Read More
Bowie's 20-year-old daughter,
Alexandria "Lexi" Zahra Jones
, shared a touching Instagram story which shows baby photos of her posing with Bowie and her fashion model mother Iman. The photo shows an infant Lexi looking at the camera while Bowie holds her and stares at her lovingly. Lexi was born in August 2000, and is the only child to Bowie supermodel Iman. Bowie passed away when she was just 16-years-old. Now 20-years-old, Lexi is likely still cherishing every minute she spent with him by flipping through these photos.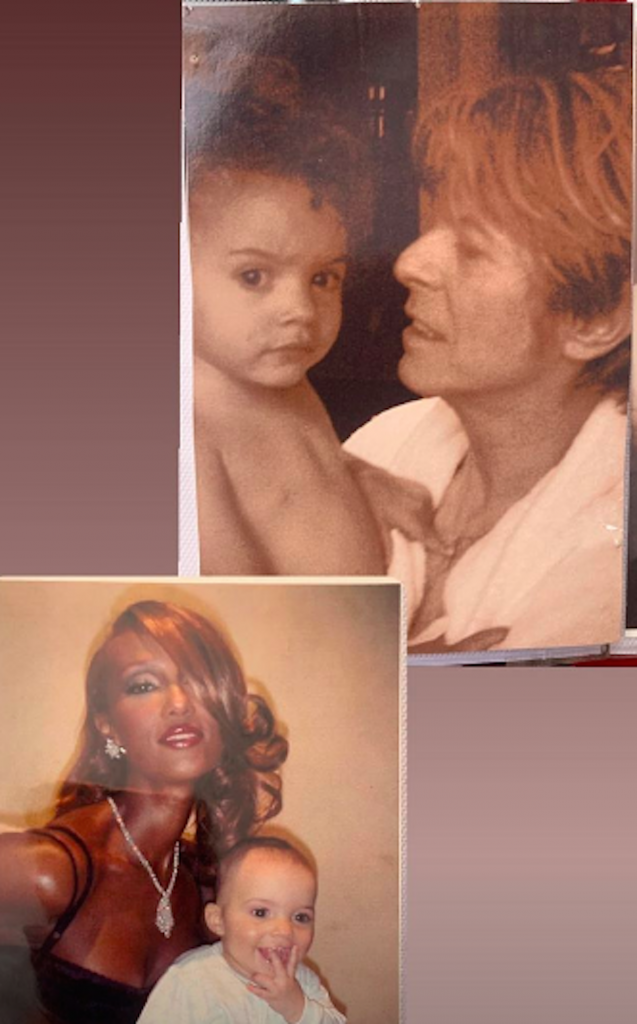 Bowie passed away in January 2016, two days after his 69th birthday, after an 18-month-long battle with liver cancer. The music icon kept his diagnosis and cancer battle relatively quiet from the public, and due to his condition he needed to miss performance rehearsals. However, his dedication to releasing music never wavered. Before his passing, he had just released his fifteenth studio album called "Blackstar", and had reportedly written a five year plan for what he wanted done with his music after he died.
Liver Cancer Symptoms & Causes
Liver cancer begins in the liver, which is situated beneath the diaphragm and above the stomach. There are several types of liver cancers, and while we don't know Bowie's exact diagnosis, the most common form of the disease is hepatocellular carcinoma. Symptoms of the disease can include unexplained weight loss, upper abdominal pain, loss of appetite, fatigue, nausea, and jaundice.
Related: Daily Aspirin Use Reduces the Risk of Ovarian and Liver Cancer
There are a number of risk factors associated with liver cancer, but one of the main links is excessive alcohol consumption. Bowie was a heavy drinker and struggled with addiction to cocaine throughout his career before kicking the habit. Other risk factors include family history of the disease, diabetes, and exposure to aflatoxins (poisons produced by mold).
Cancer survivor Marc Futterweit encourages men to pay attention to their body and visit the doctor
Remembering a Loved One After Cancer
After losing a loved one to cancer, "moving on" isn't always necessary. Sometimes, holding onto memories and being able to remember special moments are very important in coping. For Lexi, cherishing these family photos are likely a helpful way to remember fonder memories of her dad before his cancer diagnosis. Some families impacted by the disease have said turning to creative outlets like panting, music, and writing served as great tools while coping with loss.
Camila Legaspi lost her mother to breast cancer when she was just in high school. Once graduating and entering college, she decided to pursue one of her mother's favorite hobbies — writing. This activity can not only help people express all the emotions they're feeling, but in Camila's case, honor her mother in a creative and beautiful way.
Related: "Watchmen's" Yahya Abdul-Mateen II Reminds Us Losing a Parent to Cancer Affects Us Forever By Thanking "Daddy" in Emmy Speech
"Instead of being defined by my mom's death, I actually took this sadness and let it motivate me," Camila tells SurvivorNet. "I learned that it's OK to be sad sometimes. It's OK to carry sadness with you. It's not always a bad thing. It makes you who you are, and it gives you a story to tell, and it helps you teach other people to cope with their sadness. My mom was a very creative person. So I was actually able to take this very creative part of her and use that to define me, instead of just her death."
Camila Legaspi, who lost her mother to breast cancer, enjoys memories of her by writing
Learn more about SurvivorNet's rigorous medical review process.