Like a lot of teens with cancer, Lynden Wilson of Hastings High School in Hastings, Minnesota is navigating the difficulties of getting treatment while staying involved in his active high school life. A wrestling star before cancer, he's found his way back to his beloved sport after an unusually intense course of treatment.
Wilson was diagnosed with Stage 3 Hodgkins lymphoma the summer before his freshman year and the diagnosis quickly progressed to Stage 4. His doctors at the Children's Hospital in St. Paul treated him with surgery and an aggressive course of chemotherapy. They called the treatment "dirty and done," and felt it was the best course of action because Wilson was young enough and strong enough to handle it.
Read More
Unlike leukemia, which is a disease that results from too many white blood cells, lymphomas are white blood cell cancers that form tumors in the lymphatic system. "Quiet literally, lymph is lymphatic system -phoma means tumors, so lymphoma is white blood cell cancer that forms tumors in the lymphatic system," Dr. Peter Martin at Weill Cornell Medicine and New York Presbyterian, told SurvivorNet. "This is opposed to leukemia, which is too many white blood cells, typically in the bone marrow or blood stream. Lymphomas, specifically, are white blood cell cancers that form tumors in the lymphatic system." Dr. Martin was not referring specifically to Wilson's case.
Within lymphoma, there are Hodgkin's and non-Hodgkin's cases. "Hodgkins lymphoma is simply a white blood cell cancer that has a very specific sub-type of white blood cells seen in those tumors called Reed-Sternburg cells or Hodgkin's lymphoma cells," says Dr. Martin.
In 2019, there will be about 8,110 new cases of Hodgkin's lymphoma diagnosed, and about 1,000 deaths due to the disease. Young people and adults can get Hodkin's Lymphoma, but it's most common in young adults before the age of 20. The risk rises again after age 55.
Due to advances in treatment, the five year survival rate has increased to about 86 percent.
"When I got to go back to wrestling, it felt like home, because I was good at it," Wilson said. "After the treatment, I won a couple of varsity matches."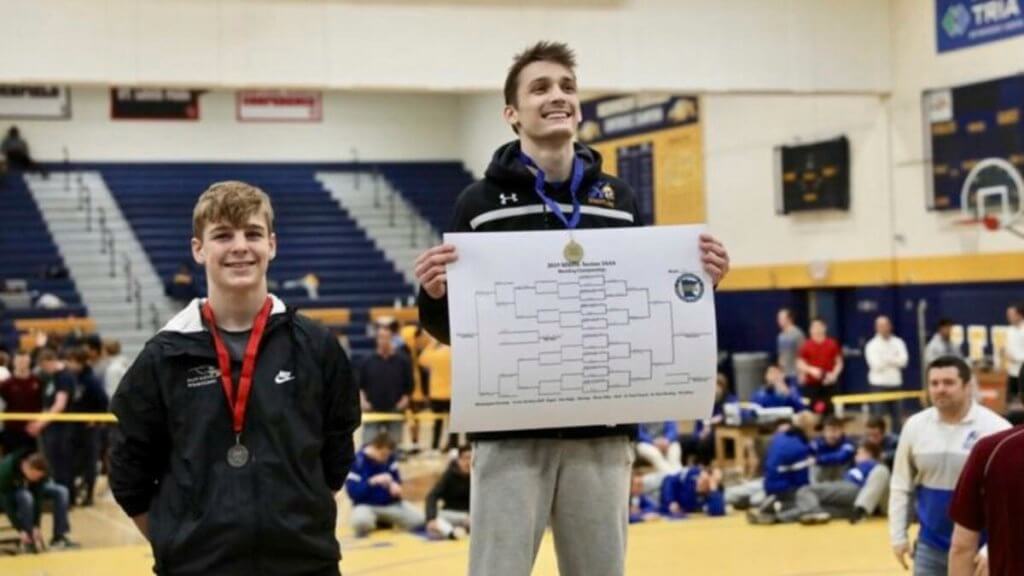 But at the end of his sophomore year, Wilson's cancer came back. Despite the "dirty and done," he still wasn't done with cancer.
After a second grueling round of treatment, he tried to rebuild his strength using the school's ropes course. "After he had chemo, it zapped his strength, so he couldn't hold onto the ropes," said Paul Vaith, assistant wrestling coach and assistant principal. "Through his entire junior year, he was trying to wrestle without any grip strength at all. In a sport like wrestling, that is really hard."
But Wilson views that time as a positive, saying that he learned how to do certain holds that didn't require much of a grip, or sometimes required no grip at all. Using physical therapy, he regained his grip strength before senior year. "It helped me a lot this year, because I could use what I learned last season, and use it when I could grip," Wilson said. "It was way better."
"He is the type of young man that you want your boys and girls to look up to," Vaith said. "He came in on top of the world, and then he got knocked down, got up, and got knocked down again, but he just kept battling. The internal strength that this young man has is so far beyond his years."
"[He] kept working and working, and he came back his senior year and won the section and made it to the state tournament," Vaith continued. "It is a true testament to his resiliency, his ability to battle through tough situations."
For a long time, Wilson and his twin brother Mac, both wrestling captains, had been in the same weight class, which meant they always had to find ways around becoming competitive with each other. "We just flipped a coin, because we didn't want to wrestle each other," Wilson said.
After cancer, Wilson is in a different weight class at 132 lbs than his brother who weighs about 152 lbs. During his freshman year treatment, he'd dropped as low as 115 lbs. He's now focused on his future both in sports and in school, and he's grateful for the support of family and friends. Wilson's planning on attending college and hope to work in aviation and travel the world.
Wilson spent a lot of time in the hospital during his treatment, but he had a lot of support from his parents. "My mom was there the whole time with me," he said. "My dad had to work to earn the health insurance, but he would come in when he was done with work."
And also says his friends and community were there for him as well. "There were a ton of people donating money, so we got our letterman jackets," he said.
Learn more about SurvivorNet's rigorous medical review process.