The Value of Therapy And Cutting Alcohol Intake
Drew Barrymore, who battled addiction in her early teens, revealed she turned to alcohol to help cope with her 2016 divorce. But when she stopped drinking and went to therapy, the 47-year-old actor and mom of two found happiness.
Caring for your mental health is so important, especially if you are going through a physical challenge as well, SurvivorNet experts say.
Many people care for their mental health in the form of seeing a therapist, speaking with a counselor or psychologists, and sometimes treating serious issues like clinical depression or clinical anxiety with prescribed medications.
Drew Barrymore, 47, is choosing to be happy despite her divorce from art advisor Will Kopelman, 44, bringing her down years ago.
The Drew Barrymore Show host and mom of two ( 10-year-old Olive and 8-year-old Frankie) admitted in a recent interview that life was "crippling difficult" in the wake of her divorce from Kopelman in 2016, after a four-year marriage.
Read More
Related: SurvivorNet's Mental Health Guide
"It just took me down. There are times where you can look at someone you think is a strong person and see them so broken and go, 'How the f— did they get there?' And I was that person. I broke," Barrymore told
PEOPLE
magazine. Barrymore, who battled addiction in her early teens, then opened up about how she turned to alcohol to help cope with her life change.
The Charlie's Angel star explained, "It was just trying to numb the pain and feel good—and alcohol totally did that for me. The drinking thing for me was a constant, like, 'You cannot change. You are weak and incapable of doing what's best for you. You keep thinking you will master this thing, and it's getting the better of you.'"
"After the life I planned for my kids didn't work out — I almost think that was harder than the stuff [I went through] as a kid. It felt a lot more real because it wasn't just me. It was about these kids that I cared so much about," Barrymore told the news outlet.
The talk show host and author noted that she focused so much on her kids that she probably didn't give herself enough care.
She continued, "It was a messy, painful, excruciating walk through the fire and come back to life kind of trajectory."
Related: Famous Actresses Kristen Bell & Olivia Wilde are Among Millions Speaking Out About Mental Health — But is Online Sharing (and Scrolling) Detrimental to Mindset?
Eventually, therapy and cutting out alcohol brought her back to happiness.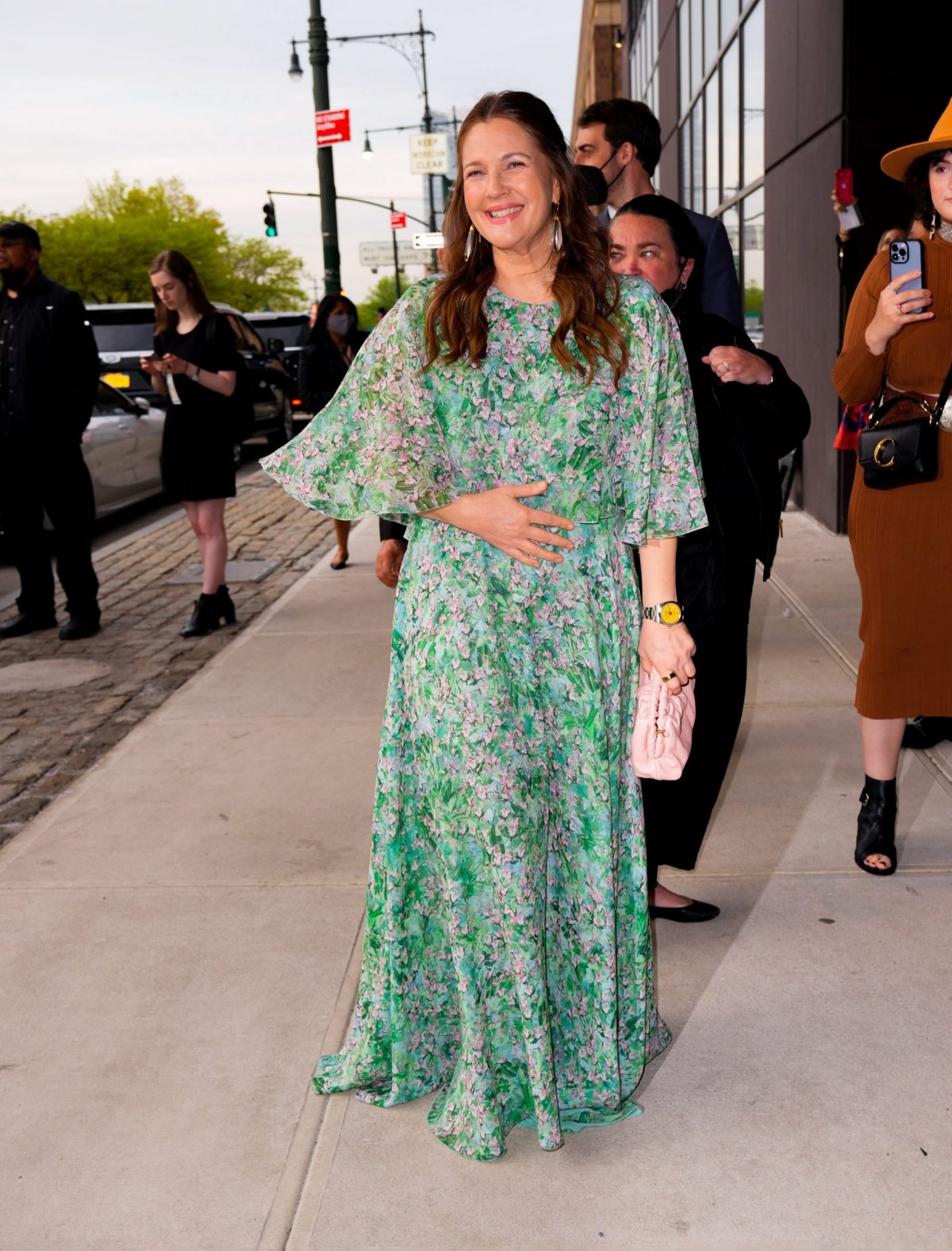 "It was my kids that made me feel like it's game time," Barrymore said, adding that her talk show gave her something to focus on.
As she nears her 50s, Barrymore isn't shy to say she hasn't mastered the art of balance, likening herself  to a "wrecking ball of a pendulum."
"Agony, ecstasy. Heavier, thinner. Happier, totally depressed. Working my ass off, completely lost and broken, not knowing what I'm doing," she said. "Balance is an elusive bitch that haunts me. I would love to find that in my 50s."
She dubbed the last 10 years of her life feeling like she "slayed more dragons" than ever.
Now, she accepts that happiness isn't "this very giddy, excited optimism" feeling, but more of "a choice."
"You have to work for that. It is hard to get to some days. And so when you've harnessed it, that feels like such a better victory," Barrymore said.
Happiness is something people should "hold on tight" when they get it, she concluded.
Mental Health: The Basics
The term mental health refers to both our emotional and psychological well-being. Our mental health can affect how we think, feel, and behave. Certain triggers like stress, traumatic events, or change in your physical health can affect mental health. It's really important to keep tabs on your mental health and, if necessary, seek treatment. This doesn't necessarily mean traditional therapy because while it may be really helpful (even life-changing) for some, that doesn't mean it's for everyone.
Problems with mood and overall mental well-being can be attributed to several factors. For some people it's genetic, while others may be experiencing a response to some sort of stressor or past trauma.
Dr. Samantha Boardman, A New York-Based Psychologist, Explains How To Be "Realistically Optimistic" When Learning To Cope With Mental Health Struggles. 
In order to keep your mental health in check, it's important to be aware of signs — which can be subtle — that there is something affecting your mind. These signs include:
A change in eating or sleeping habits
Losing interest in people or usual activities
Experiencing little or no energy
Numb and/or hopeless feelings
Turning to drinking or drugs more than usual
Non-typical angry, upset, or on-edge feelings
Yelling/fighting with loved ones
Experiencing mood swings
Intrusive thoughts
Trouble getting through daily tasks
These symptoms can be wide-ranging and vary a great deal from person to person. Everyone experiences grief differently, for example. However, if you are feeling unusually sad, on-edge, or like you're no longer interested in activities you used to love, know that there are many treatment options available and many different healthy ways to help you cope.
These symptoms can be wide-ranging and vary a great deal from person to person. Everyone experiences grief differently, for example. However, if you are feeling unusually sad, on-edge, or like you're no longer interested in activities you used to love, know that there are many treatment options available and many different healthy ways to help you cope.
Vulnerability & Learning Acceptance
For some people, mental health struggles may manifest themselves as feelings of anger. Dr. William Breitbart, chair of the Department of Psychiatry and Behavioral Sciences at Memorial Sloan Kettering Cancer Center, says that anger is to go-to response for some when they feel they have fallen short, or will fall short, of some life goal.
Psychiatrist Dr. William Breitbart Explains How He Helps Patients Deal With Feelings Of Anger and Frustration
This anger and frustration may arise from a new challenge, a perceived failure, or just general feelings of hopelessness. Dr. Breitbart explained that one way professionals can help those dealing with these feelings is to encourage them to accept themselves the way they are — only human.
"The last resort of relieving existential guilt is this act of being able to forgive yourself for being a human being that is vulnerable and susceptible to not being able to fulfill their full potential. So, it's forgiveness ultimately," he explains.
Treatment
Treatment options for people struggling with mental health really run the gamut. While some people may benefit from seeking the help of a psychologist and getting on medication, others see great improvement by simply implementing some lifestyle changes, such as prioritizing exercise and cutting back on alcohol.
Those struggling should know that they are not alone — about one in five American adults has experienced some sort of mental health issue, according to mentalhealth.gov. However, what worked to help someone else cope may not necessarily help you — as treatment must be individualized.
To maintain a positive mindset and address mental health struggles you may be having, treatment may include:
Seeking professional help from a psychiatrist or therapist
Learning healthy coping skills
Medication such as antidepressants
Adding more physical activity to your routine
Adjusting your sleep schedule
Connecting with others via support groups
Mindfulness and meditation
Dr. Scott Irwin, A Psychiatrist At Cedars-Sinai Medical Center, Explains How Talk Therapy Can Help
Releasing the Stigma of Mental Health
For some people, there may even be a sense of shame or guilt involved in seeking mental health treatment in the first place. We love that Drew Barrymore is speaking openly about seeking treatment for her mental health; in the process of doing so, she's shattering any stigma around it.
There's nothing to be ashamed of around seeking mental health support. It's a brave and empowered thing to do, and it is important to realize you are not alone. The CDC reports that over 20% of American adults said they sought out mental health treatment over the past year. Among those people, 16.5% said they had taken some sort of medication for their mental health and 10.1% said they had received counseling or therapy.
Advocating for Your Health
Whether you are currently battling cancer or worried that you might have it, or are having difficulty coping with a life change like Drew Barrymore, it's always important to advocate for your health. For anyone struggling or worried they may have a chronic disease or cancer, you have every right to insist that your doctors investigate any possible signs of cancer.
Be Pushy, Be Your Own Advocate… Don't Settle
"Every appointment you leave as a patient, there should be a plan for what the doc is going to do for you, and if that doesn't work, what the next plan is," Dr. Zuri Murrell, director of the Cedars-Sinai Colorectal Cancer Center, told SurvivorNet in a previous interview. "And I think that that's totally fair. And me as a health professional – that's what I do for all of my patients."
Contributing: SurvivorNet Staff
Learn more about SurvivorNet's rigorous medical review process.
---