Wolf Hits the Road
Wolf Van Halen had his first night on tour this week, and fans were raving about his show in Lawrence, KS.
His father, rock legend Eddie Van Halen, died of throat cancer in October.
The two main causes of throat cancer include smoking and excessive drinking; throat cancer can also be caused by the human papillomavirus (HPV).
Wolf Van Halen followed in his late father's footsteps by becoming a musician and after a pandemic and the loss of his father to throat cancer last year, he's finally out on tour.
Related: Former Van Halen Singer Sammy Hagar Says He Deeply Regrets Exposing the Late Cancer Warrior Eddie Van Halen's Dark Side in His Book: 'I Apologize from the Bottom of My Heart'
Read More
This week, Wolf shared on social media the joy and gratitude he felt to be on the road with his band MAMMOTH WVH. Posting a picture from their concert at Bottleneck in Lawrence, Kansas, he writes, "Show number 1 is officially in the books. Thanks so much for coming out and sharing this special night with us, folks. I won't forget it."
View this post on Instagram
Fans and followers were quick to offer words of support and encouragement. Instagram user @ryanlazzlo tells the young musician how proud his dad would be of him, writing, "Wolf, you're continuing your dads badass legacy and He's grinning from ear to ear watching down on you. Congratulations on your first show! Love from Canada!"
Related: Guns N' Roses Bassist Duff McKagan is 'Stoked' Wolfgang Van Halen is the Opening Act for their Summer Tour; The Late Eddie Van Halen Would Be Proud
People were loving his sound, too; @arodsutter says, "You sounded great, Wolf. Stone was the killer. Thank you from Omaha." Other fans are eager for Wolf to come to their part of the world; @breathinfenty writes, "congrats!!! omgggg i cannot wait for you to come to texas," and far-flung fans like @creynoldsdop, say, "Can't wait till you're UK shows however all the best with your upcoming US dates."
MAMMOTH WVH's tour as the support act for Guns 'n' Roses kicks off July 31 at Hersheypark Stadium in Pennsylvania.  Guns bassist Duff McKagan, who was pals with Eddie Van Halen, expressed his support for the younger Van Halen: "I'm really looking forward to seeing Wolf Van Halen live," McKagan told SurvivorNet. "Like everyone else, I saw the Don't Back Down video, and was stoked. This is REAL and KILLER new rock and roll!"
One of Wolf's most memorable songs he composed was his hit Distance. Released soon after his dad's death, the song's music video featured home video footage of the late rocker with his then-young son, Wolf.
Eddie Van Halen's Cancer Journey
Eddie Van Halen passed from throat cancer on October 6, 2020. Van Halen said he suspected that his throat cancer was caused by putting copper and brass guitar picks in his mouth for years, but there's no sufficient evidence to suggest that copper and brass are linked to cancer risk.
The two main causes of throat cancer include smoking and excessive drinking, and Van Halen had been doing both since he was a kid, he once said in an interview with Billboard. "I was an alcoholic, and I needed alcohol to function… I started drinking and smoking when I was 12. I got drunk before I'd show up to high school," Van Halen told Billboard in a 2015 interview.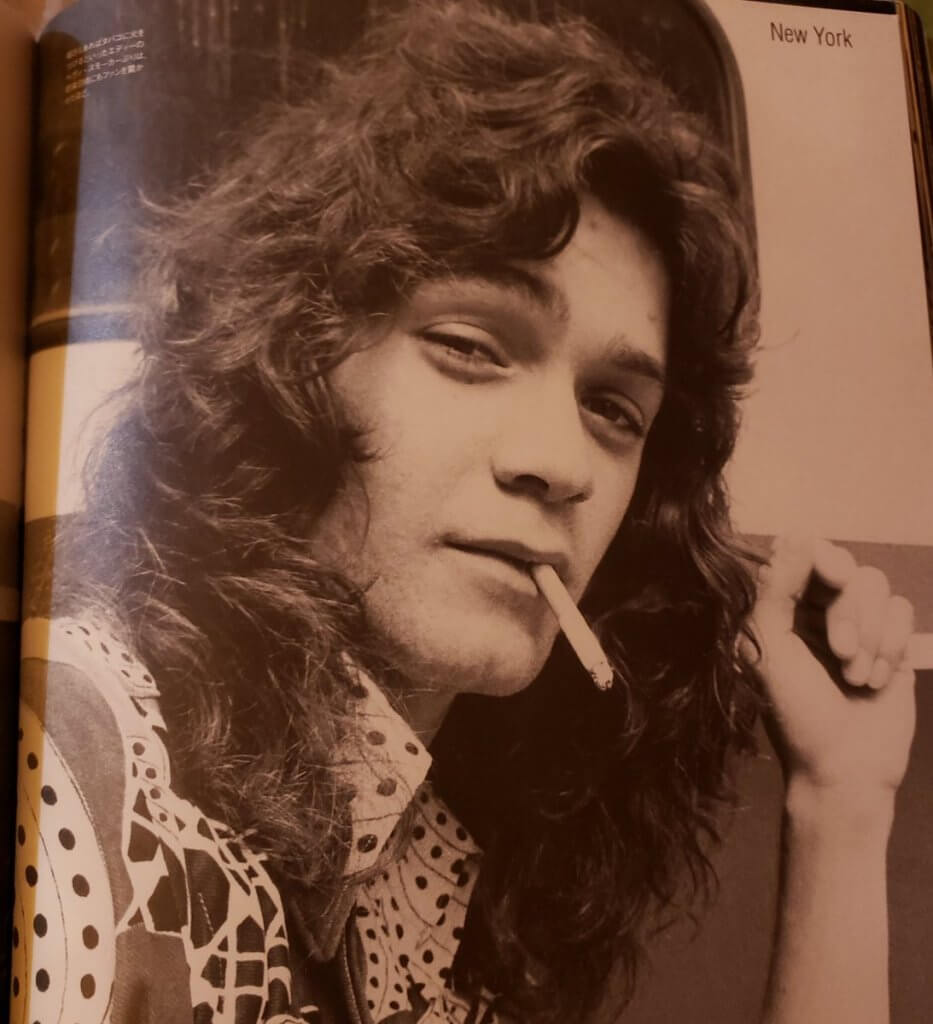 Throat cancer can also be caused by the human papillomavirus (HPV), which is the most common sexually transmitted infection in the U.S.. According to Dr. Ted Teknos, scientific director of UH Seidman Cancer Center, the rate of HPV-related cancers has increased dramatically since the mid-90's.
"If you look at the percentage of patients who developed throat cancer, cancer of the tonsils, and the base of the tongue in the 80s compared to the 2010s, the rate of HPV-related head and neck cancers has gone up by 300%," Dr. Teknos tells SurvivorNet in an earlier interview. "So there is no myth. HPV causes throat cancer, and it's a sexually transmitted disease."
Majority of Throat Cancer Diagnoses Are Caused by HPV – Here's What You Need to Know
Staying Grateful Through Cancer & Cancer Losses
While coping with the loss of his father can't be easy, we love that Wolf is staying positive through this difficult time and focusing on his work and his art.
Related: As Actor Jeff Bridges, 71, Battles Lymphoma He Focuses on Gratitude: 'Let the Gratefulness Overflow into Blessing All Around You'
Keeping a positive mindset during a cancer battle helps, too, experts say. Cedars-Sinai's Dr. Zuri Murrell tells us in an earlier interview how a positive, grateful attitude can impact prognosis. He explains, "My patients who thrive, even with stage 4 cancer, from the time that they, about a month after they're diagnosed, I kind of am pretty good at seeing who is going to be OK."
"Now doesn't that mean I'm good at saying that the cancer won't grow," he says. "But I'm pretty good at telling what kind of patient are going to still have this attitude and probably going to live the longest, even with bad, bad disease. And those are patients who, they have gratitude in life."
Learn more about SurvivorNet's rigorous medical review process.