Battling Childhood Brain Cancer
Thalia Fili Toseland, 10, is battling an aggressive brain tumor after initially complaining of weakness in her left hand and foot.
The type of brain cancer Thalia has is Diffuse Intrinsic Pontine Glioma (DIPG), a brain tumor that presents only in children, usually between the ages of 5 and 9.
Now, her dad Chris Toseland is finding hope in clinical trials for his daughter.
If you're thinking about enrolling yourself or a child in a clinical trial, visit clinicaltrials.gov, PubMed or the SurvivorNet Clinical Trial Finder. Our user-friendly tool is updated daily and gives users access to more than 100,000+ individual clinical trials to help them find treatment options.
When 10-year-old Thalia Fili Toseland, who resides in South Yorkshire, England, initially complained about some weakness she was feeling in her left hand, her parents didn't think too much about it. But they soon learned that it was a sign of something serious: brain cancer.
However, after noticing her left hand felt "a little bit weak" back in February, the young girl's symptoms intensified in just a matter of weeks. She ultimately lost the strength and power of her hand, along with experiencing comparable symptoms in her left foot.
Read More
Thalia was then brought to her general practitioner, who suggested she undergo a neurological assessment. Within one week of waiting for her test results, Thalia grew weaker and became unable to get herself dressed. Doctors initially suspected Thalia to be suffering from "inflammation or an infection causing swelling of the brain," but her scan results revealed she had a brain tumor, Thalia's dad Chris Toseland
told the Independent.
"The craziest thing for us was that she just had a bit of left-sided weakness – our minds did not go towards brain tumor," said Chris Toseland, who lives in Sheffield, United Kingdom, with his family and happens to also run a cancer research lab at Sheffield University. "We thought she had a trapped muscle," he added, referring to a pinched nerve or pulled muscle.
RELATED: Sharon Osbourne's Plea: Help Nine-Year-Old Son of Marvel Actor Fighting Brain Cancer
"We associated brain tumors with headaches, vomiting and seizures, not this," he explained. "It's bad enough being told your child has cancer, but hearing there is nothing you can do is so difficult to process. How do we function?"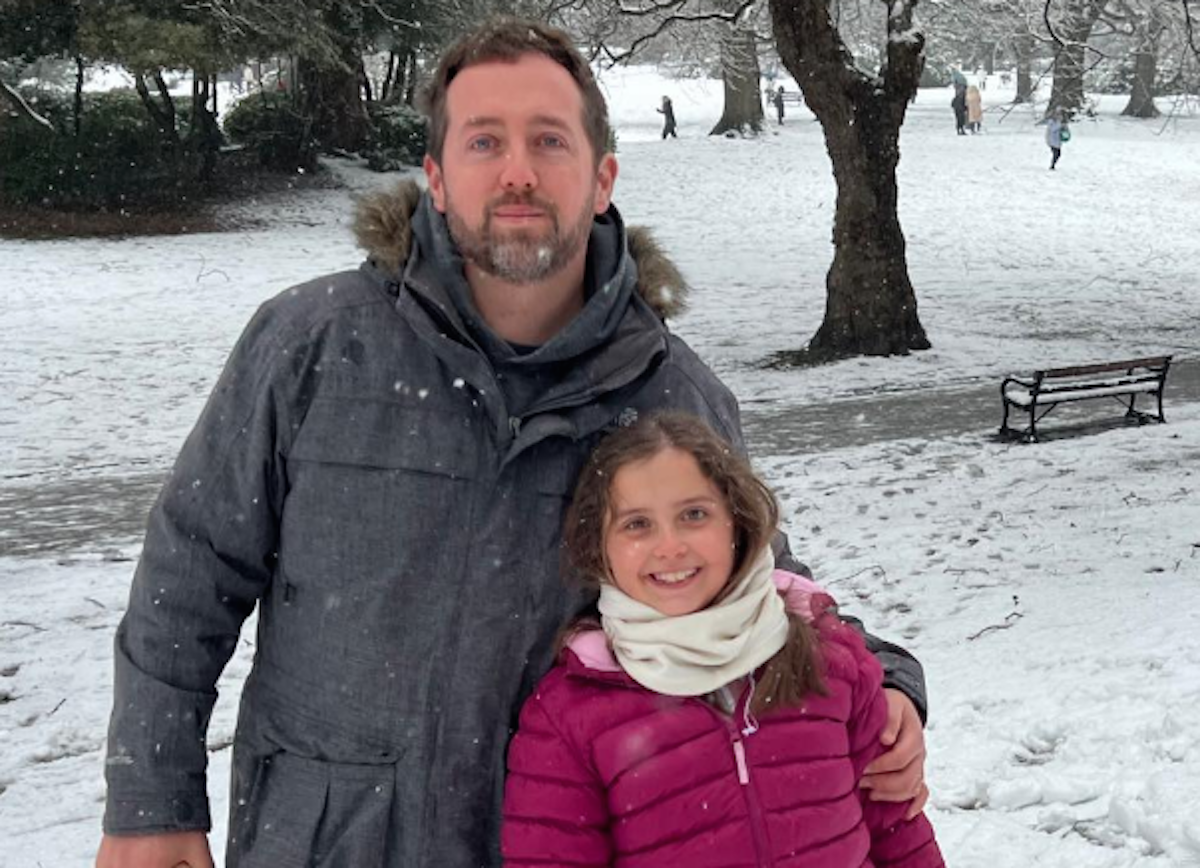 The type of brain cancer Thalia was diagnosed with is diffuse intrinsic pontine glioma (DIPG). According to St. Jude Children's Research Hospital, "DIPG is a type of tumor that starts in the brain stem, the part of the brain just above the back of the neck and connected to the spine. The brain stem controls breathing, heart rate, and the nerves and muscles that help us see, hear, walk, talk, and eat."
When these types of tumors grow in the middle part of the brain, pressure is placed on areas of the brain that control the body's regular movement. Surgery is not an option for anyone with this type of tumor due to it's delicate location.
Thalia's cancer is incurable, but her said still remains hopeful for the future, added, "All you can do is palliative-style radiotherapy which is there to shrink the tumor for a period of time, but then over time the tumor grows and the disease becomes progressively worse."
Now, Chris is hoping to find clinical trials to help offer Thalia a longer life. He also notes that he's "hugely aware that brain cancer does not get as much funding as other cancers."
He took to Twitter earlier this month asking for any advice on cancer trials, writing, "I don't usually post personal news but Clinicians have told us to pull every lever. Our daughter has with #dipg Brain cancer. There is no cure and typically 9m life expectancy. If anyone knows of trials then please get in contact!"
I don't usually post personal news but Clinicians have told us to pull every lever.

Our daughter has with #dipg Brain cancer. There is no cure and typically 9m life expectancy.

If anyone knows of trials then please get in contact! #braincancer #childrenscancer @CR_UK pic.twitter.com/WdVrYOugS7

— Chris Toseland (@ChrisToseland) March 20, 2023
Chris strives to raise awareness for DIPG and inspire others to donate to the cause to find a cure, telling the Independent, "I want to make people stand up and make investments happen. Give support to this disease because when it hits, it wipes out families. It changes families forever."
Understanding Childhood Diffuse Intrinsic Pontine Glioma
Diffuse intrinsic pontine glioma (DIPG) is a highly aggressive type of brain tumor that is difficult to treat. The Dana-Farber Cancer Institute explains how this tumor "occurs in an area of the brainstem (the lowest, stem-like part of the brain) called the pons, which controls many of the body's most vital functions such as breathing, blood pressure, and heart rate."
Due to the location of the tumor, and its aggressiveness, DPIG is dubbed a "high-grade" malignant brain tumor.
Childhood Cancer Survivor Gets Real About Life After Chemo and the New Perspective His Experience Gave Him
"DIPG is a glial tumor, meaning it arises from the brain's glial tissue that supports and protects the brain's neurons. It accounts for 10 percent of all childhood central nervous system tumors," Dana-Farber says.
Approximately 300 children in the U.S. are diagnosed with DIPG every year, making it a rare tumor. Children who are diagnosed with DIPG are usually aged 5 to age 9. This disease doesn't occur in adults, and it is found in boys and girls equally.
Symptoms of DPIG
Common symptoms relating to DIPG may include:
Problems with balance and walking
Problems with the eyes (including double vision, drooping eyelids, uncontrolled eye movements, and blurred vision)
Problems with chewing and swallowing
Nausea and vomiting
Morning headache or headache that gets better after the child vomits
Facial weakness or drooping (usually on one side)
Symptoms of DIPG usually come on quickly as the tumors are aggressive and grow fast.
Treating DIPG
The primary form of treatment for children older than age 3 who are newly diagnosed with DIPF is radiation therapy. "It uses high-energy X-rays from a specialized machine or other types of radiation to kill cancer cells and shrink tumors (stop them from growing)," Dana-Farber explains. "Radiation provides a temporary response in most patients but does not provide a cure."
As for chemotherapy, Dana-Farber says it's being "used along with radiation therapy and other biologic agents in multiple trials to decide if we can find ways to improve the survival rates of patients with DIPG."
RELATED: 5-Year-Old Boy Battling Aggressive Brain Tumor Is 'Stronger, Braver and Kinder Than I'll Ever Be,' Says Dwayne 'The Rock' Johnson; What To Know About DIPG
Surgery, however, is rarely used for anyone diagnosed with DIPG due to the risks that come along with surgery in this area of the brain. And a biopsy (removal of tissue to be examined) may only be done depending on the tumor's location.
Seeking Specialized Care for a Rare Disease
Clinicaltrials.gov and PubMed may be perfect places to start when trying to locate specialists for rare diseases.
When navigating for a disease in these databases, you will see a list of studies and articles specifically about the type of cancer. By looking at the doctors associated with these published clinical trial results or other articles, you may be able to find doctors that specialize in research for your disease.
RELATED: 8-Year-Old Cancer Survivor Trained Dog Best Friend in Treatment. Now They're Competing in a Famous Dog Show Together
It's also important to seek out a medical center that has experience with this cancer and can offer the latest treatment options for your child. And that might just be at a comprehensive care center.
Seeking Care at a Comprehensive Cancer Center
Dr. Kenneth Miller, director of outpatient oncology at the University of Maryland's comprehensive cancer center, spoke about what differentiates a "comprehensive cancer center" from other treatment providers.
"Pretty much automatically, there's going to be a team approach [to your care]," Dr. Miller said. "Surgical oncology, medical oncology, radiation oncology, and all the support services—and also wonderful pathology and radiology."
Meanwhile, if you're thinking about enrolling yourself or a child in a clinical trial, visit clinicaltrials.gov, PubMed or the SurvivorNet Clinical Trial Finder. Our user-friendly tool is updated daily and gives users access to more than 100,000+ individual clinical trials to help them find treatment options.
RELATED: Clinical Trials Can Be Life-Saving for Some
"Clinical trials are critical to the development of new therapies, and as we live through this extraordinary revolution in genomics, immunotherapy and targeted therapy, it's clear that one of the most pressing needs for patients, clinical trials sponsors, and researchers is simply a better way to find patients," SurvivorNet CEO Steve Alperin previously said. "Even one percent more people successfully enrolled in clinical trials can change the world."
Clinical Trials and What Statistics Really Mean
Clinical trials, themselves, are research studies that compare the most effective known treatment for a specific type or stage of a disease with a new approach. Joining a clinical trial does not necessarily mean you will get the best possible treatment, but it does mean you're serving a larger purpose.
Dr. Beth Karlan, a gynecologic oncologist with UCLA Health, previously told SurvivorNet, "Clinical trials hopefully can benefit you, but is also providing very, very vital information to the whole scientific community about the effectiveness of these treatments. We need everyone to be partners with us if we're ever going to truly cure cancer or prevent people from having to die from cancer."
It's completely understandable to feel overwhelmed if you or your child gets diagnosed with a rare disease. However, it's important to remember there are resources to help and places to turn to for advice. Obtaining multiple opinions and asking healthcare providers plenty of questions is a must in this type of situation.
Impact Childhood Cancers Have on the Family and How to Cope
Caregivers of cancer warriors must beware of "caregiver burnout" where stress, anger, fatigue, and illness arise from putting another person's needs ahead of your own.
Anyone who finds themselves struggling to care for a cancer warrior is urged to seek out a therapist, or a support group of their own either online or in person.
Contributing: SurvivorNet Staff
Learn more about SurvivorNet's rigorous medical review process.
---