Strawberry Uses Past Battles to Inspire Others
Legendary baseball player Darryl Strawberry, who battled colon cancer and substance abuse, has a new book talking about he's using his faith and experiences to help others.
Colon cancer can be caught early with vigilant screenings – be sure to know when to start!
For millions like Darryl, the power of faith can help them fight through the difficulties of cancer and life.
More than two decades after leaving Major League Baseball, All-Star Darryl Strawberry has a new mission: using his own past battles with
colon cancer
and substance abuse to help others find their own strength and faith.
Related: Cal Ripken Jr, 59, Reveals He Had Prostate Cancer, Braved Surgery as the Pandemic Hit: 'It's Been A Pretty Miraculous Few Months'
Read More
With his new book
Turn Your Season Around: How God Transforms Your Life
publishing next week, Strawberry's mission to spread his faith and tell others about the lessons he learned through his battles is taking the spotlight.
"[Strawberry's] new book, coming out Jan. 12, … deals with everything: the drinking, the addiction, the jail time, the two bouts of colon cancer," The New York Post's Mike Vaccaro writes. "And here Darryl still is, a traveling minister teaching kids the evils of opioids. May he do that for years to come."
View this post on Instagram
Strawberry, a four-time World Series champion and eight-time All-Star, very publicly struggled with substance and alcohol abuse and run-ins with the law during his MLB career.
In 1998, Strawberry was diagnosed with colon cancer and had surgery to remove 24 inches of his colon. When doctors learned the cancer had spread to a nearby lymph node, he underwent chemotherapy, returning to the field in 1999. The cancer returned and spread to his kidney and lymph nodes in 2000, and he underwent more surgery.
Related: Baseball All Stars Honor Pitcher Carlos Carrasco as He Battles Leukemia
Strawberry has spoken about how grateful he is to still be alive.
"When you have real scares in life, you're in reality of you're not in control, and the sooner you know that the better it will be for you," Strawberry told The New York Post in August. "I'm a living miracle, you could say, and hopefully I can use my living miracle to help somebody else."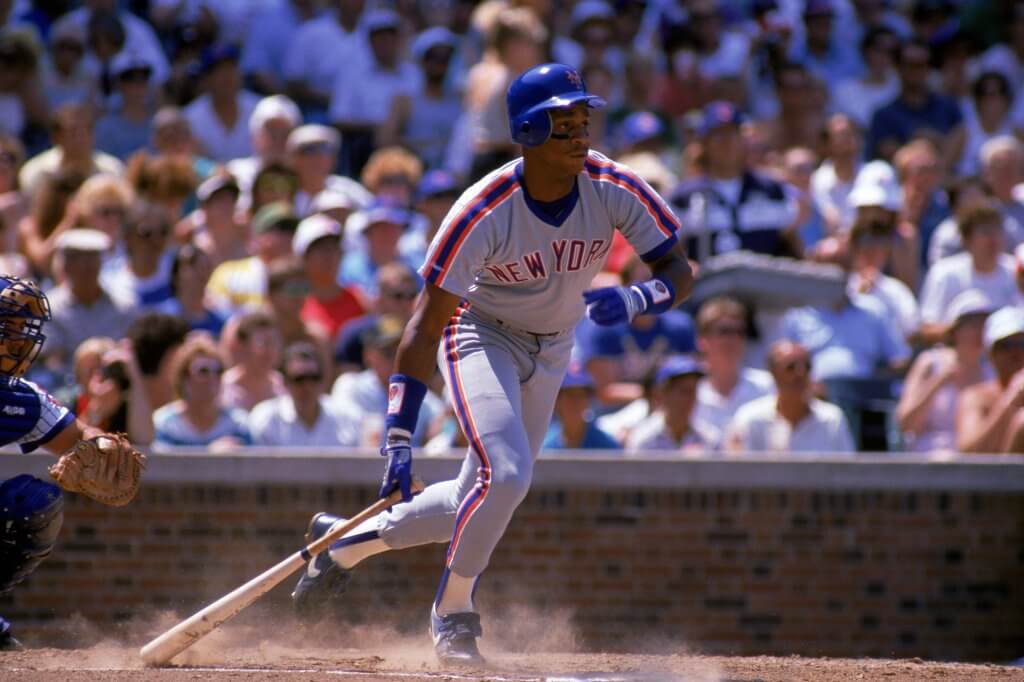 Colon Cancer – What to Know
While colon cancer is the second leading cause of cancer death in America, it can be easily detected with a colonoscopy, which is a test that uses a camera attached to a long, thin tube to check for polyps (small abnormal growths) throughout your colon and rectum.
Related: You Shouldn't Die From Embarrassment": Colon Cancer Can Be Prevented
Not all polyps are cancerous, but by removing these polyps proactively, rectal cancer can be prevented before it even starts.
We've seen great progress because of expanded access to screenings: colon cancer rates have been going down in older adults as the number of annual colonoscopies goes up, even as rates in younger adults are increasing at a worrying rate.
Colorectal cancer surgeon, Dr. Zuri Murrell, describes how doctors find and remove polyps during a colonoscopy
For people at average risk for colon cancer, the American Cancer Society recommends starting colon cancer screening at age 45, with people at higher risk due to a family history of the disease or smokers being screened earlier. If doctors find polyps during your colonoscopy, you might need more regular exams to ensure these don't become cancerous or to catch other polyps early.
Related: Colon Cancer Screening is Extremely Important; Guidelines Now Say to Start at Age 45 if There Is No Family History
Talk to your doctor if you are experiencing any of these symptoms:
Change in bowel movements/habits
Change in stool color/blood in stool
Anemia
Cramps
Gas
Weakness
Tiredness
How Faith Got Him Through
Faith has always been important to Darryl. In 1998, shortly after he was diagnosed with colon cancer, he said that it was his faith, along with joining Alcohols Anonymous, that helped him cope.
Related: Tina Turner, 81, Says Faith Helped Her Overcome Abuse, Intestinal Cancer, & Stroke: "There's Great Value In Never Giving Up"
In 2011, Darryl and wife Tracy Boulware founded Strawberry Ministries, a Christian ministry whose mission is "to restore lives and relationships through the power of God and the process of change."
"They know about me, but they don't know the transformation of my life that has been really the greatest gift I've ever received — better than baseball or anything — to have a platform," Strawberry told Daily News. "To be an evangelist, like I am now, and travel the country 250 times a year, and standing in front of thousands of people and ministering the gospel of Jesus Christ.
Related: 7 Cancer Survivors Share How Gratitude, Faith, & Seeking the Good In Life Help Give Them Strength
For Darryl and many other survivors, faith helps them stay positive in the face of daunting medical challenges and inspires them to fight on.
Peggy Bell, an ovarian cancer survivor, leaned on her faith in staying calm and positive about the future through her battle, always confident she was in God's hands.
"God is always in control so I'm not going to worry or stress about events that we can't impact and always stay prayerful," Bell told SurvivorNet in a previous interview.
Related: "My Faith Has Been Very Important" – Louisville Ovarian Cancer Survivor Monica Layton's Story
Beverly Reeves, another ovarian cancer survivor, told SurvivorNet that faith, along with support from friends and family, helped her get through treatment. She tells people going through difficult cancer battles to stay connected to faith groups and the critical support they offer.
"If you're connected to a faith community, get your faith community, and get your family," she told SurvivorNet in a previous interview. "Let them know what's going on and let them help you.
'Faith, Family, and Friends' Helped Beverly Reeves Get Through Ovarian Cancer Treatment
Learn more about SurvivorNet's rigorous medical review process.