Aussie Woman's Freckle Leads to Melanoma Diagnosis
A 25-year-old Australian woman was recently diagnosed with melanoma; she also has an autoimmune disease; she has practiced sun safety over the years.
Surgery is typically the best treatment option for melanoma.
Skin cancer is the most commonly diagnosed type of cancer in the U.S., and you can protect yourself and lower your skin cancer risk by taking prevention steps, like wearing sunscreen daily.
Kelsie Dummètt of Brisbane, Australia, has skin checks to thank for leading her to her recent medical diagnosis: Melanoma, which was diagnosed after she discovered a freckle on her breast.
Related: Fun-Loving Mom Diagnosed With Stage IV Melanoma at 22 After Ignoring Mole Becomes a Crusader for Cancer Awareness
Read More
Dummètt, 25, was diagnosed with this aggressive and rare skin cancer in July after a biopsy on a freckle on her right breast, reports
The Daily Mail. 
She also has an autoimmune disease, which she was diagnosed with at age 17. Over the years, Dummètt has had a total of 10 surgeries, 3 of which occurred in a single day earlier this year.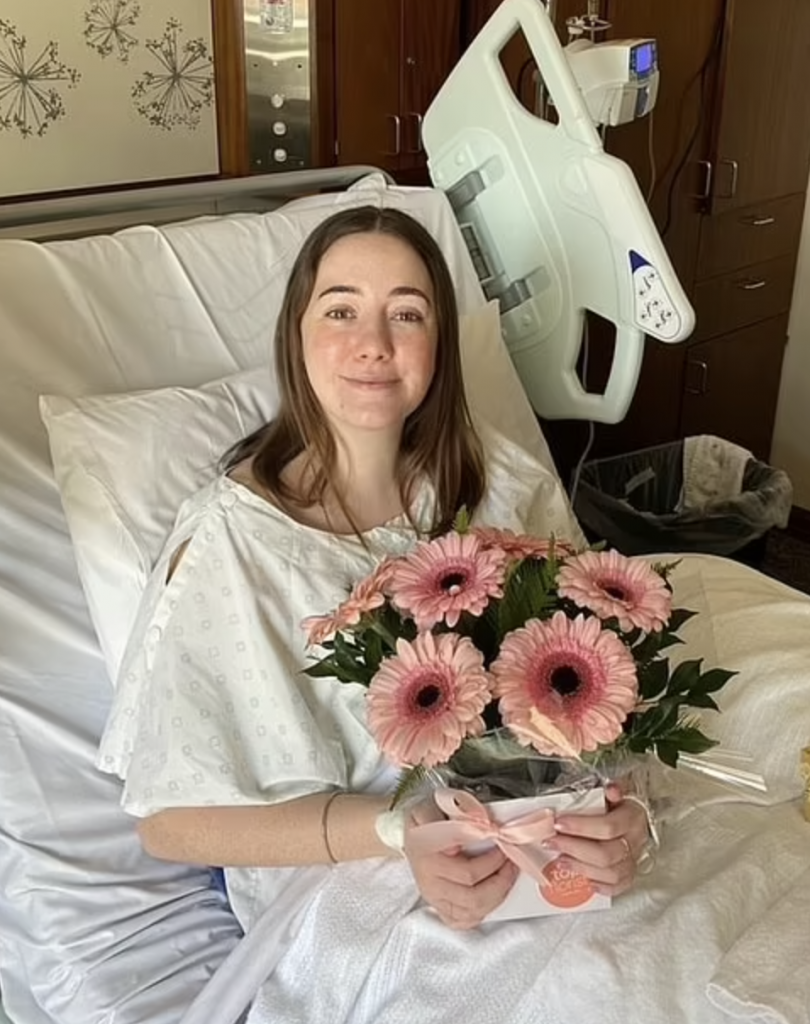 The news of her cancer has led to complicated emotions, she says. "To be completely honest I am absolutely terrified and the last few months has been torturous," she tells The Daily Mail. 
Related: Treating Depression After a Cancer Diagnosis
For those battling cancer, mental health support is available in the form of therapists and oncological social workers. Reach out for help when you're struggling with a diagnosis. Your mental health matters, and it can impact your cancer treatment, too.
Dummètt's early melanoma symptoms included pain in her right breast, fatigue, and feeling unwell. Her mom is a skin cancer survivor, and her father had multiple sclerosis (MS). Thankfully, her melanoma was discovered during its early stages. However, due to her autoimmune condition, doctors are worried that her cancer could recur and reach stage two or three. Due to the location of the melanoma, it was deemed unlikely to have been caused by the sun's UV rays (which is the cause of many skin cancers).
Surgical Treatment for Melanoma
One of Dummètt's 10 surgeries included the removal of 7.5cm of breast tissue to cut out the melanoma and any surrounding tissue. Surgery like this is typically the best treatment option for melanoma. Dr. Nima Gharavi, director of dermatologic surgery at Cedars-Sinai, says in an earlier interview, "The gold standard for treatment of melanoma is a surgical treatment with wide margins."
Related: Vegetarian COVID Manager, 59, Who Did Not Smoke or Drink But Used Cooking Oil to Tan Over 20 Years Ago Loses Melanoma Battle
Early-stage melanoma that's close to the skin's surface may be treated with Mohs surgery. This type of surgery is a microscopically controlled procedure that removes skin cancer by conservatively cutting along the entire margin until the surgeon reaches clear tissue. It's most often used to remove other skin cancers like basal cell and squamous cell carcinomas.
Surgery is the Best Option for Melanoma
Protecting Your Skin
Protecting your skin by wearing sunscreen – as Dummètt does – and getting skin checks is so important. Skin cancer is the most commonly diagnosed type of cancer in the U.S., and you can protect yourself and lower your skin cancer risk by taking prevention steps.
In an earlier interview, dermatologist Dr. Dendy Engelman outlines five easy ways to protect your skin, and lower your skin cancer risk. She tells us:
Avoid sun during peak hours. This means from 10 a.m. to 2 p.m. It doesn't mean you should never go outside during the middle of the day, but make sure you're protected when you do venture outdoors.
Cover your skin and eyes. A wide brim hat and sun glasses will protect your face, the top of your head, your ears, and the delicate skin around your eyes.
Wear an SPF of 30 or higher. Plenty of facial moisturizers have SPF built into them. Reapply often.
Get an annual skin check. You can check your own skin for anything that looks out of the ordinary, but you should still get a yearly check to make sure you didn't miss anything. If you do happen to notice anything out of the ordinary in between checks, schedule an appointment to talk to your doctor about it ASAP — it is always worth it to make sure.
Avoid tanning beds. "There's absolutely no benefit to going to a tanning bed," Dr. Engelman says.
Top 5 Ways to Protect Your Skin From Skin Cancer
Learn more about SurvivorNet's rigorous medical review process.