Learning About Testicular Cancer
YouTuber Colby Brock was recently diagnosed with testicular cancer after experiencing pain in his lower pelvis and left testicle, symptoms he said he was initially embarrassed about.
 After having one testicle removed, the 26-year-old paranormal investigator is now undergoing chemotherapy.
Brock overcome his embarrassment to raise awareness about the disease and encourage others to watch out for signs and get themselves checked out — no matter the body part.
Symptoms of testicular cancer can be subtle. Some people may even confuse the early symptoms such as a small mass in their testicle as an injury. But when these signs are dismissed, the cancer can grow and become worse.
Self-examinations are incredibly important when it comes to screening for testicular cancer. Men aged 15 to 55 should perform a monthly self-examination to find any changes in the testes that might indicate cancer at an early stage.
YouTuber Colby Brock, known for videos exploring haunted locations with his friend Sam Goldbach, has received a "scary" diagnosis of testicular cancer , and his friends have flocked to his social media pages to offer support and words of encouragement.
The 26-year-old paranormal investigator, who started chemotherapy about two weeks ago, first took to his social media platforms a few months back to offer his fans a "life update," revealing the discovery of a "mass" in his testicle "that was 95% likely to be cancer."
Read More
Brock said he had been experiencing pain in his lower pelvis and left testicle.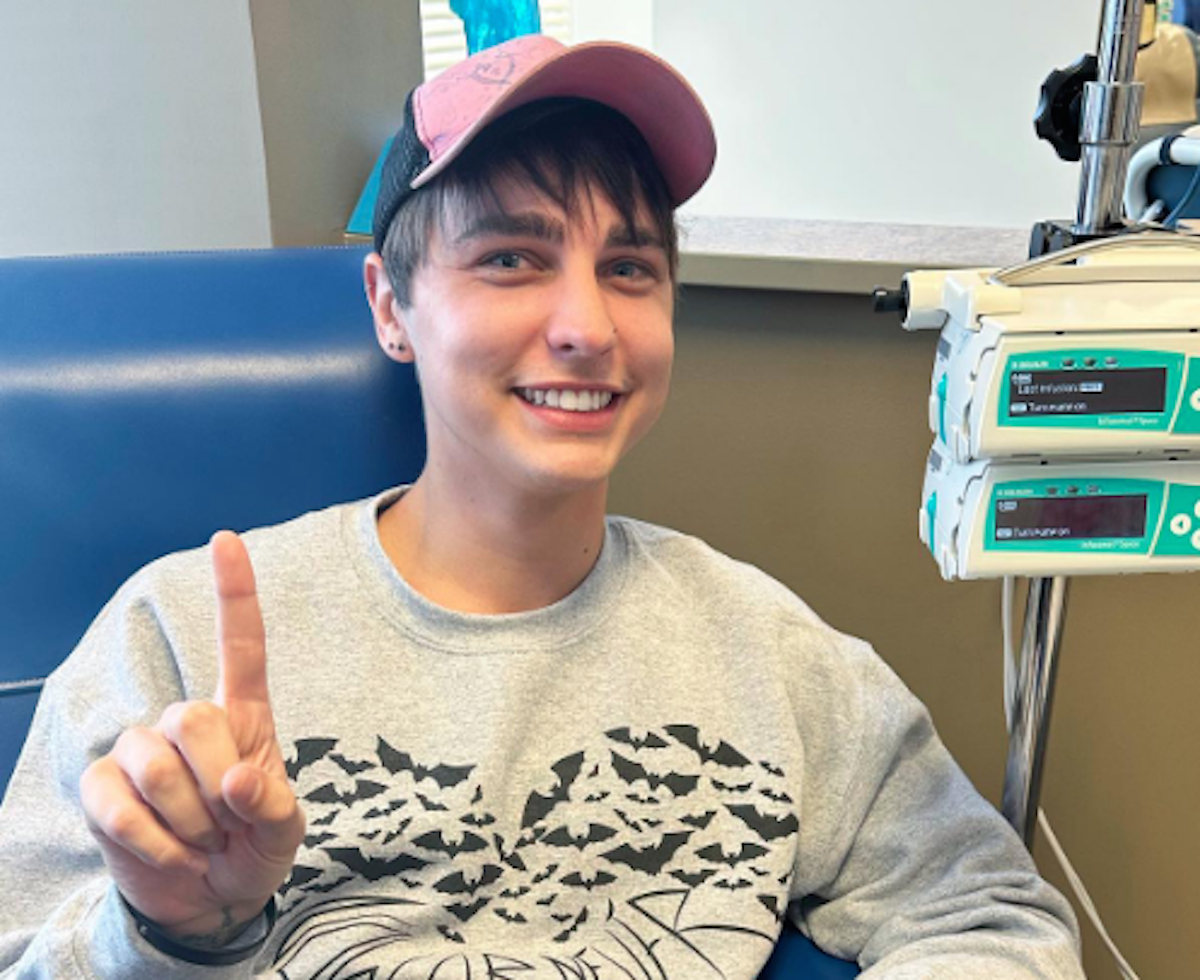 "Obviously the 'cancer' word is scary, and i'm still in disbelief about the whole situation but my scans showed that I caught it early," he captioned an
Instagram post
, featuring photos of himself in a hospital bed. "Yesterday i went to surgery to get my cancer ball removed, so the hard part is already over. I should know here in a couple weeks if I need further treatment like chemo/radiation." His cancer was caught following the bloodwork and testing he had gotten after complaining of a "very slight" discomfort in his testicle in November 2022.
Now, Brock is continuing to remain "super positive" as he undergoes chemotherapy.
Two weeks ago he shared that he had begun chemo, writing, "This is about to be the craziest mental challenge of my life, but i'm more than ready for it if anyone else out there is going through chemo as well… we got this, one day at a time."
Brock is using his diagnosis to spread awareness for testicular cancer and the importance of getting an early diagnosis.
"To my young kings out there – check your balls.. Testicular cancer is VERY curable if caught early," he wrote on Instagram. " I would have never suspected to have cancer at 26. (actually ladies this is a great reminder to check yourself too, don't wait until it's too late if you feel anything unordinary!)"
He has even opened up about his cancer journey on The Checkup podcast with board-certified family medicine physician and social media star Dr. Mike Varshavski, admitting that he was initially "embarrassed" about his symptoms.
"I was embarrassed because it was down there and I was like 'maybe I should wait for a little bit,'" Brock told the doctor, as he was interviewed alongside his fellow creator Goldbach.
What ultimately led to Brock's decision to get checked by a doctor in January 2023 was that the "bruise-like pain" he was experiencing "would flair up."
"At this point, when it would flair up, it was swollen, and there was a pain that was now starting in my lower left pelvis, by my waistband. And there was like this throbbing pain, almost like a cramping pain when I would sit down," he explained, noting that sometimes after a "flare up" it would be difficult for him to walk.
He also recounted that after a "flare up" that the "swelling would shrink down, but my testicle itself would be larger and more firm and it looked asymmetrical."
After seeing his doctor on Jan. 25, Brock was referred to make an appointment with a radiologist to undergo ultrasounds and scans – which led to his diagnosis.
Referring to when he learned he had cancer, Brock said he remembers his heart "dropped," but he went to the bathroom afterward, looked in the mirror and told himself, "Alright. It is what it is. Don't freak out. You've got this."
Brock said he was relieved when his doctor told him he was "cancer free" after the surgery to remove his testicle on February 6. However, his doctor advised him that he would either need to be  "watched very, very closely" over the next few years to make sure the cancer doesn't return – for example, through bloodwork, CT scans, and MRIs – or one round of chemotherapy to "greatly reduce" his recurrence risk.
"Now, so, what I had was like the garden variety tumor – I had something called like a 40% embryonal carcinoma and that's an extremely fast spreading cancer," he explained, which his doctor said would leave him with a "35 percent chance of recurrence."
"He told me that about five minutes after I was cancer free, so I never really got to celebrate in my head," he added, noting that the interview with Dr. Mike was about a week before Brock had to tell his oncologist whether he was willing to undergo chemotherapy. He has since started chemotherapy on April 24, which he documented on Instagram.
Understanding Testicular Cancer
Although it's rare, testicular cancer – like what Colby Brock has – is the number one form of cancer among younger men.  In fact, according to the American Cancer Society, the average age of males first diagnosed with testicular cancer is approximately 33.
RELATED: 10 Things I Wish I Knew Before I Was Diagnosed With Testicular Cancer
Depending on the stage of the cancer at diagnosis, the disease is considered extremely treatable. Treatment options can include chemotherapy and radiation, but often the first step of treatment is surgery to remove the testicle which contains the cancerous cells.
Dealing With the Shame That May Come With Testicular Cancer
Signs of Testicular Cancer
Symptoms of testicular cancer can be subtle, so it's important to be aware of your body and any unusual changes, like Colby Brock was. Some people may even confuse the early symptoms such as a small mass in their testicle as an injury. Sadly, when these signs are dismissed, the cancer can grow and become worse.
"Testicular cancer often presents with a painless mass in the testicle,"  Dr. Bradley McGregor, the Clinical Director of the Lank Center for Genitourinary Oncology at Dana-Farber Cancer Institute, previously told SurvivorNet.
"However, there may not always be a palpable mass and it may just be a change in the way a testicle feels or a heavy sensation."
Testicular Cancer Survivor Todd Rosenbluth Says Don't Ignore Symptoms
Dr. Edwin Posadas, the medical director of the Urologic Oncology Program at Cedars-Sinai Cancer, also spoke with SurvivorNet in an earlier interview, explaining, "It's not uncommon to see men come in with masses on their scrotum and have inflammation of the scrotal wall; they develop pain as a result. A lump is the most common symptom of testicular cancer."
Dr. Posadas says some men may even notice blood in their ejaculate as a result of testicular cancer.
This symptom is less common, but always bad," he said.
Other symptoms can include:
Breast growth or soreness
Early puberty in boys
Low back pain (a potential symptom of advanced testicular cancer)
Shortness of breath, chest pain, or a cough (a potential symptom of advanced testicular cancer)
Belly pain – (a potential symptom of advanced testicular cancer)
Headaches or confusion (a potential symptom of advanced testicular cancer)
Dr. Posadas advises young men to seek medical care if they are having symptoms. "Most men under the age of 40 tend not to think about seeing a doctor – they need to know to advocate for themselves," he said.
Screening for Testicular Cancer
Testicular self-examination is one way to screen for this disease, Dr. Posadas explains.
"It takes less than a minute," Dr. Posadas told SurvivorNet. "Rub testicles through your fingers – looking for any sore areas. Rub the top of the testicle, particularly the delicate epididymis. (The epididymis is a tube at the back of the testicles which stores and carries sperm.)
If You're Worried – Go to the Doctor
"Don't squeeze real hard on there… [You should] look for a smoother feel; if you feel a hard nodule on there, you may require blood work from a urologist. [Testicular cancer] is highly curable, even when it's advanced."
As for Dr. McGregor's advice on self-examinations, he said, "It is recommended that men aged 15 to 55 perform a monthly self-examination to find any changes to help find the cancer at an early stage."
And if someone spots any of the early symptoms, "he should visit his doctor immediately," he added. It's important to be aware of your body and get in touch with a doctor if you notice anything unusual.
"Testicular cancer commonly occurs from ages 20-45, but it can occur at any age,""Dr. McGregor continued.
"The highest risk factor for testicular cancer is a history of cryptorchidism, an undescended testicle, where the testicle does not move down into the scrotum before birth. Men with a family history of testicular cancer are at increased risk as well. No lifestyle changes have been shown to definitively reduce risk of testicular cancer."
READ MORE: Save A Nut Testicular Cancer Survivor Mark Borja Makes It His Mission To Spread Awareness
Contributing: SurvivorNet Staff
Learn more about SurvivorNet's rigorous medical review process.
---