A Special Decision
Pro golfer John Daly, 54, says he decided to have surgery immediately for his bladder cancer so he could recover in time to play a golf tournament with his son.
Bladder cancer is the fourth most common cancer in men; smokers are three times more likely to be diagnosed than non-smokers.
Making a list of goals can be a helpful tool in pushing through treatment; reaching milestones can be a rewarding experience for many people.
Pro golfer John Daly, 54, had a very important reason to get the surgery he needed for his bladder cancer done right away; it involved a date with his 17-year-old son. After a cancer diagnosis, making goals can be a great way to push through treatment and reach important milestones.
Daly announced that he had been diagnosed with bladder cancer in September, and immediately had surgery for treatment. Turns out, his decision to go through the procedure right away is for a very sweet reason. According to the golfer, he wanted to have plenty of time to recover so he and his son, who he affectionally calls little John Daly, could play a golf tournament together in December. The father-son duo will take on fellow pro golfer Tiger Woods and his son.
Read More
Related: Bladder Cancer & Still Hitting Hole In Ones: John Daly Gets 11th Ace While Barefoot
Although Daly's surgery was successful, the golfer has been told by his doctors that there's an 85% chance the disease will come back. Daly has also started chemotherapy rounds that he will likely have to continue for the next seven years. Despite going through treatment, Daly is still hitting the golf course and creating special memories with his family.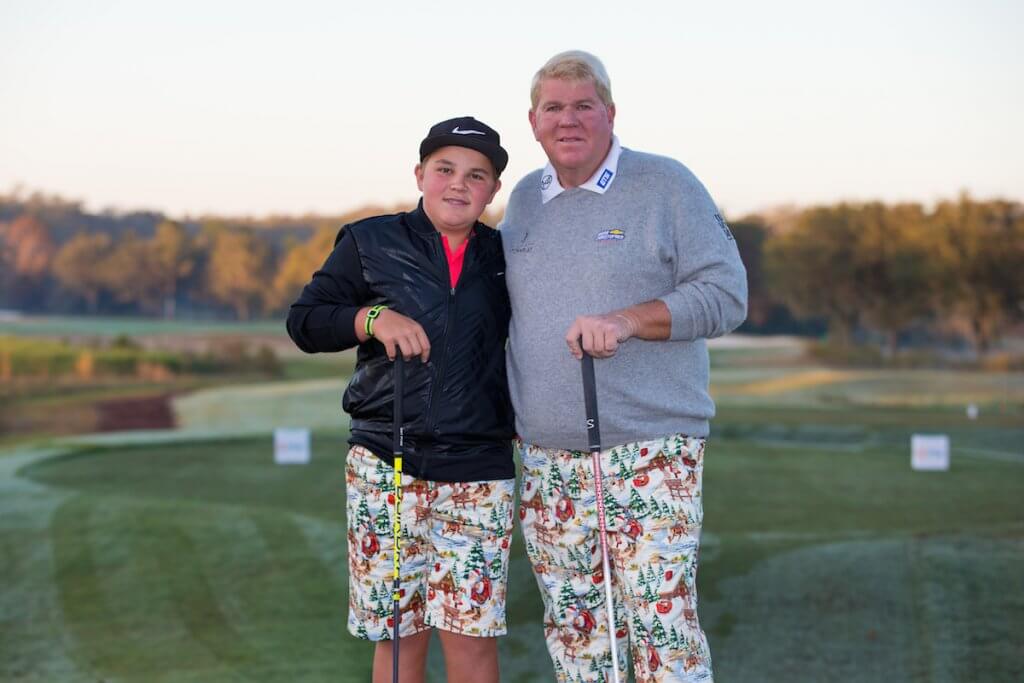 Navigating Bladder Cancer
Bladder cancer is the fourth most common cancer among men, and is especially present in people over the age of 55. One of the leading causes of the disease is excessive smoking, with smokers being three times more likely to face a bladder cancer diagnosis than non-smokers. Daly is not only known as a force on the golf course, but his rockstar lifestyle isn't typical for most golfers. He smoked an estimated 40 cigarettes a day, and it's possible the smoking is linked to his cancer diagnosis.
Daly's decision to get surgery isn't uncommon among many bladder cancer patients. However, in cases where the disease is likely to return, immunotherapy may be considered after the procedure. This therapy harnesses the power of your own immune system to target cancer cells and eliminate them. This can be a helpful treatment option, especially since 60-70% of people diagnosed with advanced bladder cancer may not be able to have the cancer fully removed from surgery.
Related: Pro Golfer John Daly, 54, Says First Round of Chemo For Bladder Cancer 'Kicked His Butt;' Treatment Will Continue For Up to 7 Years
"What's happened over the last decade is the development of these drugs called immune checkpoint inhibitors," Dr. Arjun Balar, Director of the genitourinary medical oncology program at NYU's Perlmutter Cancer Center, told SurvivorNet in a previous interview. "Specifically, the checkpoint in question here is a checkpoint called PD-1, and we're finding out that they're particularly active in bladder cancer, and what these drugs do is reinvigorate the immune system and unleash the immune system against cancer."
Dr. Arjun Balar explains how immunotherapy can help treat advanced bladder cancer
Making Goals & Reaching Milestones
While facing cancer, you may assume that all your energy should go into the treatment process. This is certainly important, but making a list of goals you want to accomplish in the future may help you fight even harder to reach those milestones. Mindset is crucial during treatment, and can make a huge difference in staying positive and keeping your spirits up.
A goal can be as simple as wanting to play golf with your son. For others, it may be celebrating birthdays, anniversaries, or holidays. In Chrissy Degennaro's case, she wanted to see her son enter kindergarten. Chrissy was diagnosed with multiple myeloma when she was 36-years-old, and her son was just 2-years-old at the time. When she was diagnosed, Chrissy didn't expect she's be able to see her son enter kindergarten, but she promised herself that she would, and went through 27 rounds of chemotherapy, two stem cell transplants, participated in a CAR T cell trial, and had two CAR T cell transplants over 14 years. Through her hard work, she's been able to make even more memories with her son.
Related: I Got to Dance With My Daughter at Her Wedding: Steve Silverstein's Cancer Story
"You know, I do live one day at a time," Chrissy told SurvivorNet. "Now, maybe I can go a week, a month, but things are looking pretty good. I'm able to be here for more milestones for my son, for more holidays, more birthdays. I do feel like I have had another chance at life."
Chrissy Degennaro focused on milestones during cancer treatment, and it paid off
Learn more about SurvivorNet's rigorous medical review process.