As "Dog the Bounty Hunter" star Beth Chapman battled advanced lung cancer, she was very public about the fact that she was relying heavily on her faith for the strength to fight the disease. On Wednesday, after she passed away in her home state of Hawaii, her husband Duane (Dog) Chapman revealed that even her final words revolved around her unfaltering faith in God.
Dog was speaking to reporters after Beth's passing and explained that even though her death came as a surprise, Beth devoted some of her last moments to the two things that mattered the most in her life — faith and family. "When she had the attack, I didn't know anything to do but to say, 'In Jesus' name,' and to hold her," Dog said. "And when I said, 'In Jesus' name,' she said, 'Say it again, say it more.' And then she … told the girls and everybody … I love you. Are you guys all OK? Don't worry. But she never accepted it."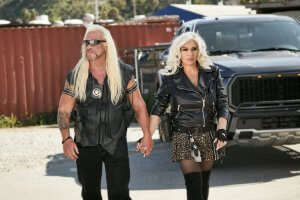 Read More
Beth was put into a
medically-induced coma
over the weekend after a months-long battle with advanced lung cancer. But Dog explained during his comments that she was a fighter, and even in the end, she would never accept that she was going to die.
FAMILY AND FAMOUS FRIENDS PAY TRIBUTE TO BETH CHAPMAN
"Her way was to live," Dog said. "She wanted to live so bad and she fought so long. And the reasons she fought … she liked life. She wanted to show people how to beat it, and what to do when it got her. … One of the last things she said [was], 'This is a test to my faith.' She had faith, and that was it. There [are] things you go through when you're dying, like steps … the last step when you're dying is to accept it. And she said to me the other day, 'Honey, that last step … I ain't taking."
Dog and some of the Chapman children, who were standing behind their dad as he spoke to reporters, took a moment to laugh at the memories of Beth — and just how strong she was. The family also announced that they would be holding some sort of memorial event in Hawaii to honor the reality TV star, though the details have yet to be hammered out yet.
Dog explained that the couple lived in both Colorado and Hawaii — but when Beth's health began to take a turn, she told Dog that she wanted to be at "home" in Hawaii with her family. Some of the Chapman children have taken to social media to show they are sending Beth off "Hawaiian style." The posts show Beth's car (complete with MRSDOG license plate) covered in leis and beautiful flower arrangements, as well as a petal-lined path that leads to a picture of Beth looking beautiful.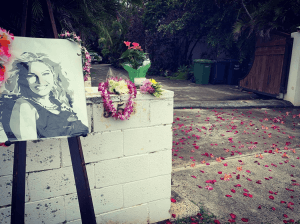 In the previous months, Beth had been really open with fans about her cancer experience. She was first diagnosed in 2017 with stage II throat cancer — however, she was treated at the time and was declared cancer-free several months later. Her cancer returned in late 2018, and this time it had progressed to stage four lung cancer. Beth suggested that she wouldn't be undergoing chemotherapy for the cancer this time — and would instead be relying on some alternative treatment, as well as her very strong Christian faith.
During a Mother's Day speech at a church in Florida — Beth explained that she considered her diagnosis a test of her faith.
"This is the ultimate test of faith," she said. "It is the evidence of things hoped for, and it is the substance of things not known. And although chemotherapy is not my bag, people, sorry, that's not for me. So for me, this is the ultimate test of faith."
She passed away surrounded by family early Wednesday morning. She was 51.
Learn more about SurvivorNet's rigorous medical review process.