Mom's Mole Found Thanks to Hairdresser
An Australian mom's mole was found by the hairdresser.
It could've turned cancerous; she had three surgeries to remove it.
It's important to do skin checks and take preventative measures to protect your skin from cancer.
Busy mom Lee King says her life was saved when her hairdresser discovered a mole on her head. King assumed it was just a mark from her naughty young son drawing on her, but it was actually a mole that could've been cancerous.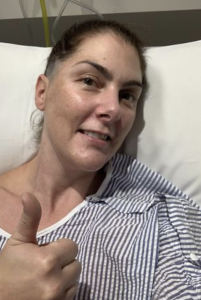 Read More
It's so important to pay attention to your body and any irregularities so you can get them checked out.
The Mirror reports how, "Initially, she brushed it off – thinking her son Lucas, seven, had drawn on her – but her hairdresser Ricci urged her to check it out. Doctors told the 43-year-old she had a type of mole called a blue nevus, which is generally benign."
King suspects that it could've become malignant, and turned cancerous, had it not been spotted when it was. She had three surgeries to remove her mole.
Mom's Mole & Understanding Melanomas
Melanoma is a skin cancer that starts in the cells that give your skin, hair and eyes their color. "Melanomas are the deadliest type of skin cancer because they have a tendency to spread to other parts of the body," Dr. Anna Pavlick, an oncologist at Weill Cornell Medicine, previously told SurvivorNet.
Melanoma can develop from an existing mole or appear as a dark or pink growth on the skin, even on, or in, parts of the body that never see the sun.
Paying attention to moles or growths on your skin is an easy way to keep an eye out for melanoma. Discovering changes to an existing mole or a new growth on your skin can be signs of this cancer, according to SurvivorNet experts.
Spots on your skin can be harmless, but it's important to monitor them and contact your doctor if you find cause for concern. Using sunscreen regularly can also lower your risk of developing melanoma.
Am I at High Risk for Melanoma?
Preventing Your Skin From Skin Cancer
Skin cancer is the most commonly diagnosed type of cancer in the U.S., and you can protect yourself and lower your skin cancer risk by taking prevention steps.
King, who had her mole removed, is a big advocate of protecting your skin. She says, "Wear your sunscreen every day and check your body including your head, especially if you live in countries like Australia. Most people don't check their scalps. It's quite funny, my friends are now checking their scalps so if that's one thing I can get people to do, it would be a good thing."
In an earlier interview, dermatologist Dr. Dendy Engelman outlines five easy ways to protect your skin, and lower your skin cancer risk. She tells us:
Avoid sun during peak hours. This means from 10 a.m. to 2 p.m. It doesn't mean you should never go outside during the middle of the day, but make sure you're protected when you do venture outdoors.
Cover your skin and eyes. A wide brim hat and sunglasses will protect your face, the top of your head, your ears, and the delicate skin around your eyes.
Wear an SPF of 30 or higher. Plenty of facial moisturizers have SPF built into them. Reapply often.
Get an annual skin check. You can check your own skin for anything that looks out of the ordinary, but you should still get a yearly check to make sure you didn't miss anything. If you do happen to notice anything out of the ordinary in between checks, schedule an appointment to talk to your doctor about it ASAP — it is always worth it to make sure.
Avoid tanning beds. "There's absolutely no benefit to going to a tanning bed," Dr. Engelman says.
Top 5 Ways to Protect Your Skin From Skin Cancer
SurvivorNet reporter Sydney Schaefer contributed to this article.
Learn more about SurvivorNet's rigorous medical review process.