Fatherhood After Cancer Treatment
HGTV house flippers Tarek El Moussa and wife Heather Rae welcomed their baby Tristan in January.
The couple had fertility concerns after Tarek's testicular cancer battle, during which he had one testicle removed.
Breast cancer survivor and TV personality Giuliana Rancic told SurvivorNet about the importance of addressing any cancer-related fertility concerns with your doctors as soon as possible.
Testicular cancer survivors may come across issues with fertility after overcoming the disease, but having children is not always out of the question.
Tarek El Moussa, 41, and his wife Heather Rae, 35, are over the moon about the birth of their first baby together. And their expanded family is a testament to the fact that testicular cancer does not have to keep you from being the parent you want to be.
Tarek and Heather, stars of the new HGTV show "The Flipping El Moussas," welcomed their son Tristan Jay El Moussa to the world on Jan. 31, 2023.
Read More
"Our baby boy is here 🤍 1.31.23,"
Tarek wrote on Instagram in February
. "Mama & baby are happy, healthy, tired but doing well. Our hearts are so happy." Now fans of the HGTV power couple have another picture to swoon over. In a touching photo shared to Heather's Instagram story, Tarek can be seen snuggling with a swaddled up Tristan.
RELATED: TV House Flippers Tarek El Moussa, 41, And Heather Rae, 35, Celebrate New Baby Boy After Cancer And Fertility Struggles – New Show Debuts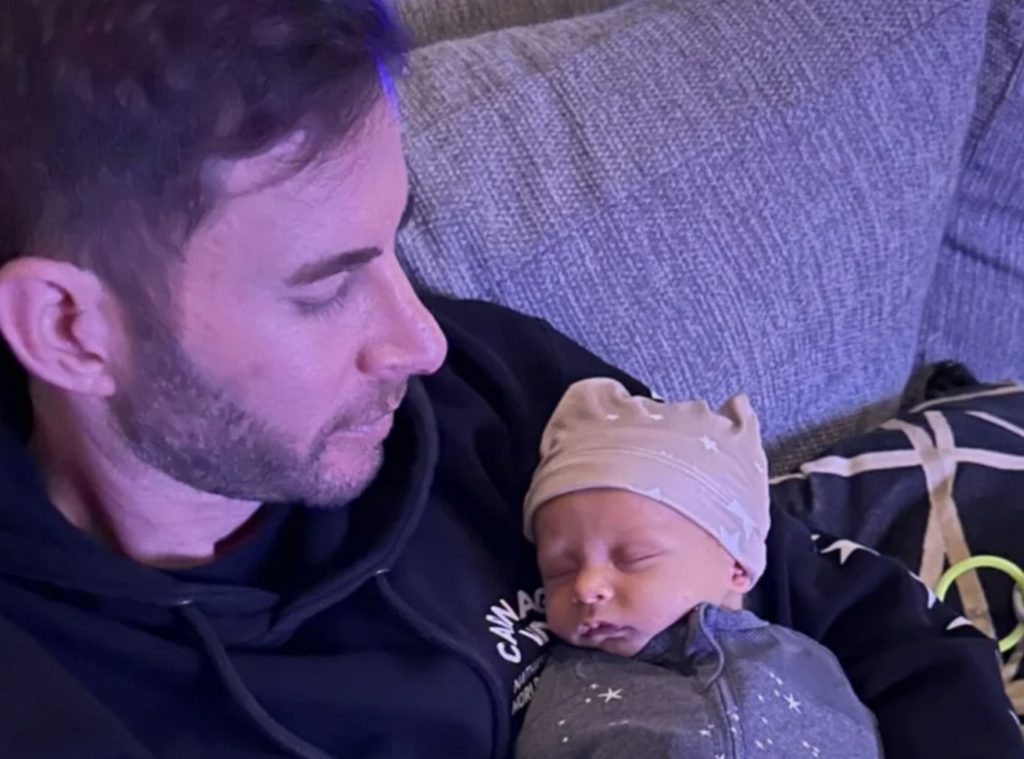 "Our little bear," Heather wrote on top of the photo.
Cuddles with any baby is as sweet as it gets, but this moment shared with Tarek is remarkable given everything her's overcome with his health. He's a survivor of both thyroid and testicular cancers. He had to have one of his testicles removed and undergo radiation for treatment.
And when Tarek and Heather were trying to have a child together, they were very open about their struggles with fertility.
"Having testicular cancer, he had to be on testosterone," Heather said during an interview on the television show "The Doctors." "So I had found out from Dr. A and I was actually shocked that I had not known this before — being a young couple that maybe would wanna have children — that the testosterone he was taking could have been blocking his sperm."
View this post on Instagram
But despite being in the middle of in vitro fertilization (IVF) treatments and even having a scheduled date to transfer an embryo, the couple found out last summer that Heather was pregnant naturally.
"It was a huge shock," Heather told People in July 2022. "We just weren't expecting this. We had just gone through IVF. We had embryos on ice. We had a plan.
"I think when you least expect it and there's no stress in your life, the world just brought us what was meant to be. I'm so excited that it happened like this."
Having a Fertility Conversation During a Cancer Journey
If you're facing a cancer battle of any kind, it's always good to ask about how your treatment may affect fertility. And it's even better if you have those conversations early.
TV personality "E! News" alum Giuliana Rancic, 48, previously spoke with SurvivorNet about her cancer battle and its affect on fertility. She was able to have a child after her breast cancer thanks to a pre-existing IVF journey and surrogacy.
Her advice for other cancer warriors is to talk to your doctor about your desires to have children early on.
"First and foremost, you know, it's talking to your doctor and letting them know, this was my plan," she said. "We were planning on having a child or I want to have a child down the road.. Whatever it is.
"Getting that out there early on so you can work that into your treatment plan."
RELATED: Survivor Giuliana Rancic's Advice for Those Living With Cancer, from Not Being Intimidated to Thinking Ahead
'Ask Any Question That's on Your Mind': Giuliana Rancic Talks Advocating for Yourself and Having Kids After Cancer
Beyond fertility, Giuliana recommends addressing any burning questions with your doctor, no matter the topic.
"It's very important to ask any question that's on your mind," she said. "If it matters to you, that's all that matters.
"When you're there in a doctor's office, that is your opportunity to ask the questions that you want the answers to … if one of them is about your fertility journey, ask that question."
You Can Be a Father After Testicular Cancer
Testicular cancer treatment can affect fertility, but infertility is certainly not a given. According to the American Cancer Society, treatment can "affect hormone levels and can also affect your ability to father children after treatment." So, you should absolutely discuss possible effects with your doctor before beginning treatment to understand your options.
One route people with the disease can take is to store sperm in a sperm bank before treatment starts. Testicular cancer can result in low sperm counts, however, so getting a good sample may be tricky. Also, if only one testicle is left after treatment, fertility typically returns after about two years following chemotherapy.
Becoming a Father After Cancer — Todd Rosenbluth's Story
Many survivors like Tarek El Moussa become fathers after their testicular cancer journey. And Todd Rosenbluth is yet another example. Todd was diagnosed with testicular cancer in his late 20s after his wife urged him to go to his annual appointment with his doctor.
He then had surgery to remove one testicle and overcame the disease, but fertility issues came later despite his doctor telling him the couple's struggles to have a child weren't related to his cancer.
If You're Worried – Go to the Doctor
"Unrelated to the testicular cancer, my wife and I did have fertility issues," Todd previously told SurvivorNet. "We had been trying for four years to have a child. They tell you it's not related to the fertility issues at all. But in your head, when you're having all these troubles, and you did lose a testicle, you feel the blame."
Thankfully, everything did work out in the end. He and his wife had a beautiful son, Milo, in March 2018. That's when Todd finally felt free from his past cancer battle.
"The safest I felt with my testicular cancer was when my son was born," he explained.
Learn more about SurvivorNet's rigorous medical review process.