Support & Positivity Through Cancer
"Real Housewives of Miami" star Guerdy Abraira, 45, is enjoying life in style and spending time with her friends and family amid her cancer battle.
The TV personality and mother of two recently took to social media to reveal her all-jean outfit as she exuded confidence with a shaved head.
Abraira was diagnosed with breast cancer in March 2023 following a routine mammogram. Fortunately, the disease was discovered at an early stage. For treatment, Abraira has undergone surgery and chemotherapy.
Licensed clinical psychologist Dr. Marianna Strongin says having people by your side during this "arduous chapter" of your life can be very beneficial.
"Studies have found consistently that loneliness is a significant risk factor for physical and mental illnesses and the trajectory of recovery," she wrote in a column for SurvivorNet. "Therefore, it will be important that you surround yourself with individuals who care and support you throughout your treatment."
"Real Housewives of Miami" star Guerdy Abraira, 45, isn't allowing her cancer treatment to bring her spirit down. The reality TV personality and mother of two recently took to social media to reveal she's feeling great in a stylish outfit and taking time to go out with friends.
Abraira was seen sporting a light blue outfit, along with her contagious smile and shaved head, in an uplifting Instagram post, which she captioned, "Wearing Blue but not a Blue Day!"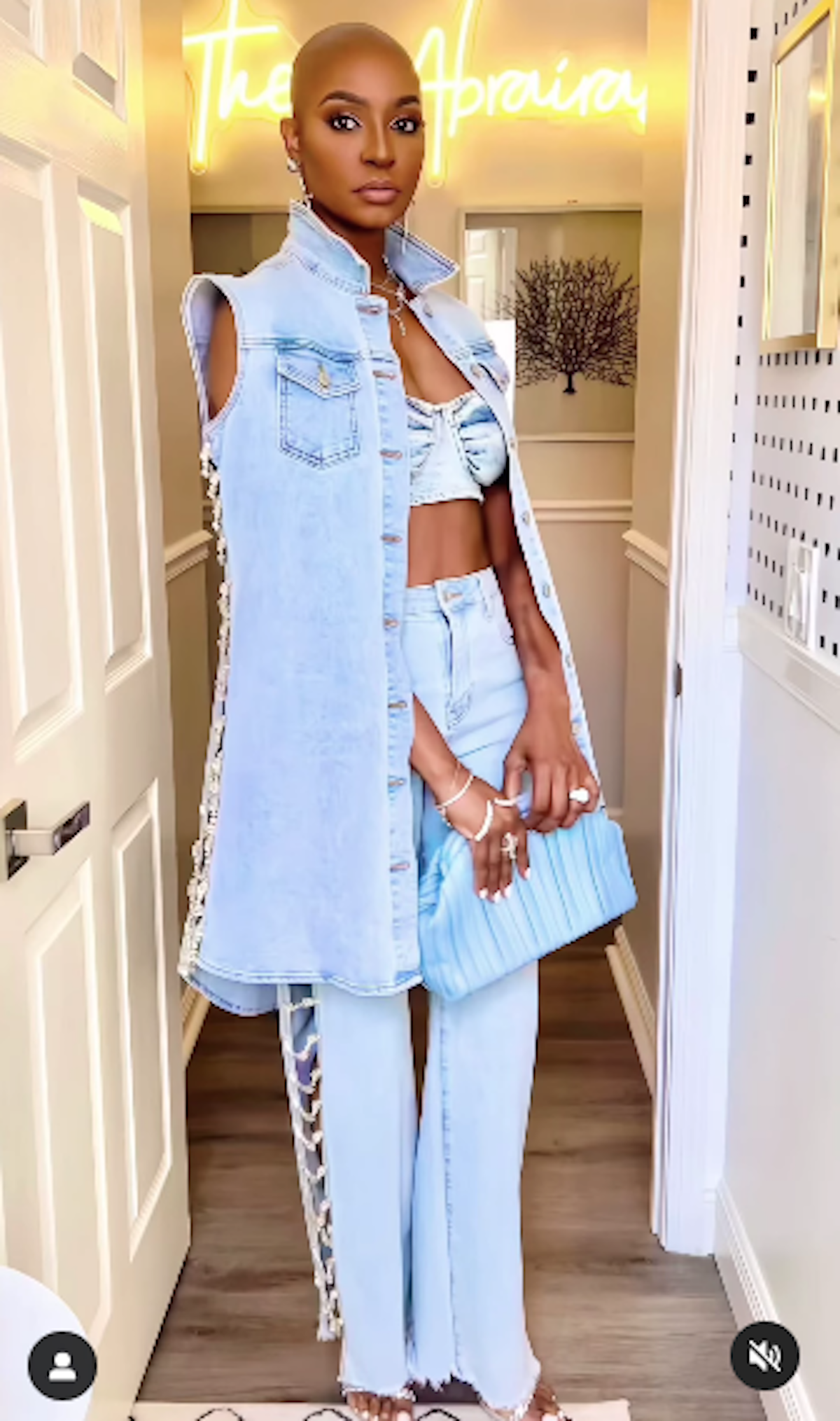 Read More
In her caption, she included the hashtags "#blessed, #cancerwarrior, #ootd (outfit of the day), and #baldbaddie," seemingly referring to how proud she is of how far she's come in her cancer journey and the confidence that remains despite having lost her hair amid treatment. In the short video clip, Abraira shows off her light-blue outfit, consisting of a jean crop-top with matching jean pants, equipped with a sparkly cut-out on the sides of her legs, and a long, sleeveless jean jacket. Abraira also showed off her chic baby-blue handbag, white nail polish, and glistening jewelry.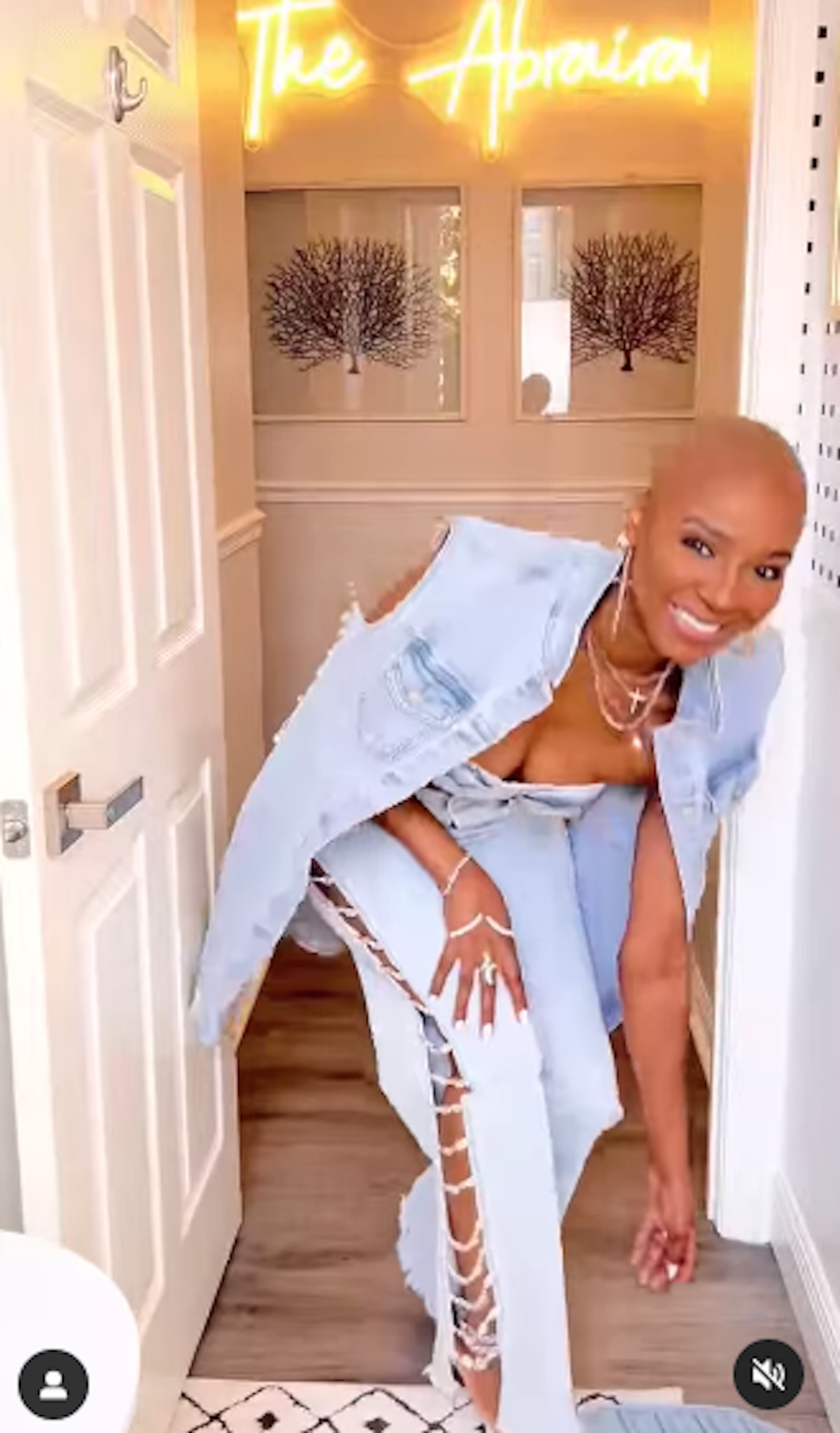 The song "Psycho," by dance/electronic artist KVPV, accompanied her video, which saw Abraira accidentally dropping her purse and laughing it off as she picked it up.
Abraira also donned the same outfit in a photo with her friend and fellow Real Housewife of Miami, anesthesiologist Dr. Nicole Martin.
"Ohhh just lunchin' and vibin'," she captioned the post, revealing Abraira posing next to Martin in a undisclosed restaurant.
It's possible they were out celebrating Martin's birthday, as days earlier Abraira shared a handful of photos the dynamic duo smiling and laughing, writing, "Help me wish @drnicolemartin the HAPPIEST BIRTHDAY.
"My friend, can't even begin to tell you how much you mean to me. We were destined to meet and to form this bond. To infinity and beyond baby girl!"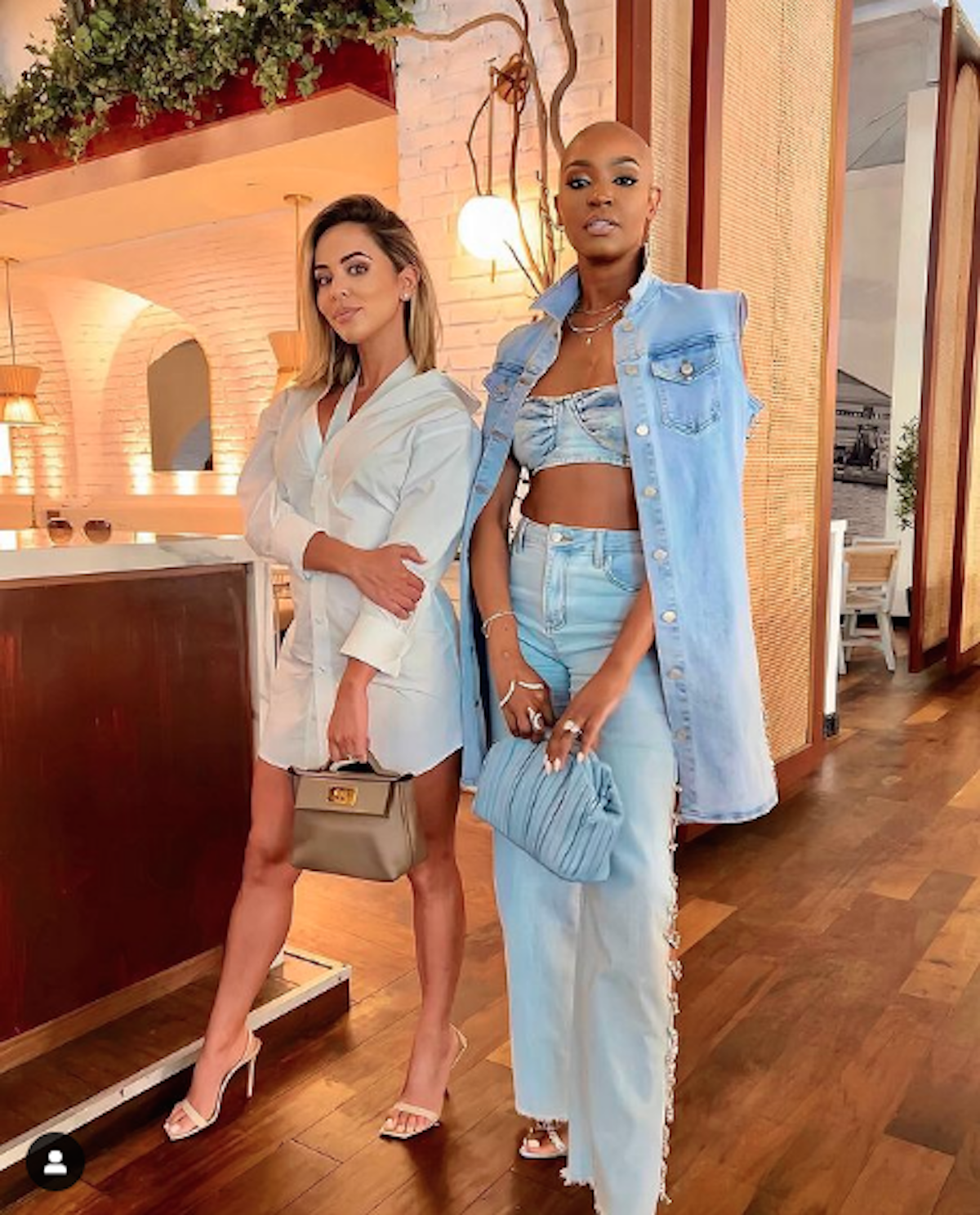 It appears Abraira has much to celebrate as her last round of chemotherapy is set for Thursday, September 14.
Abraira shared the news on her Instagram story on Tuesday, where she informed her fans she was on her way to "do quick labs."
She was seen sitting in her car, with oversized sunglasses, large hoop earrings, and comfy loungewear.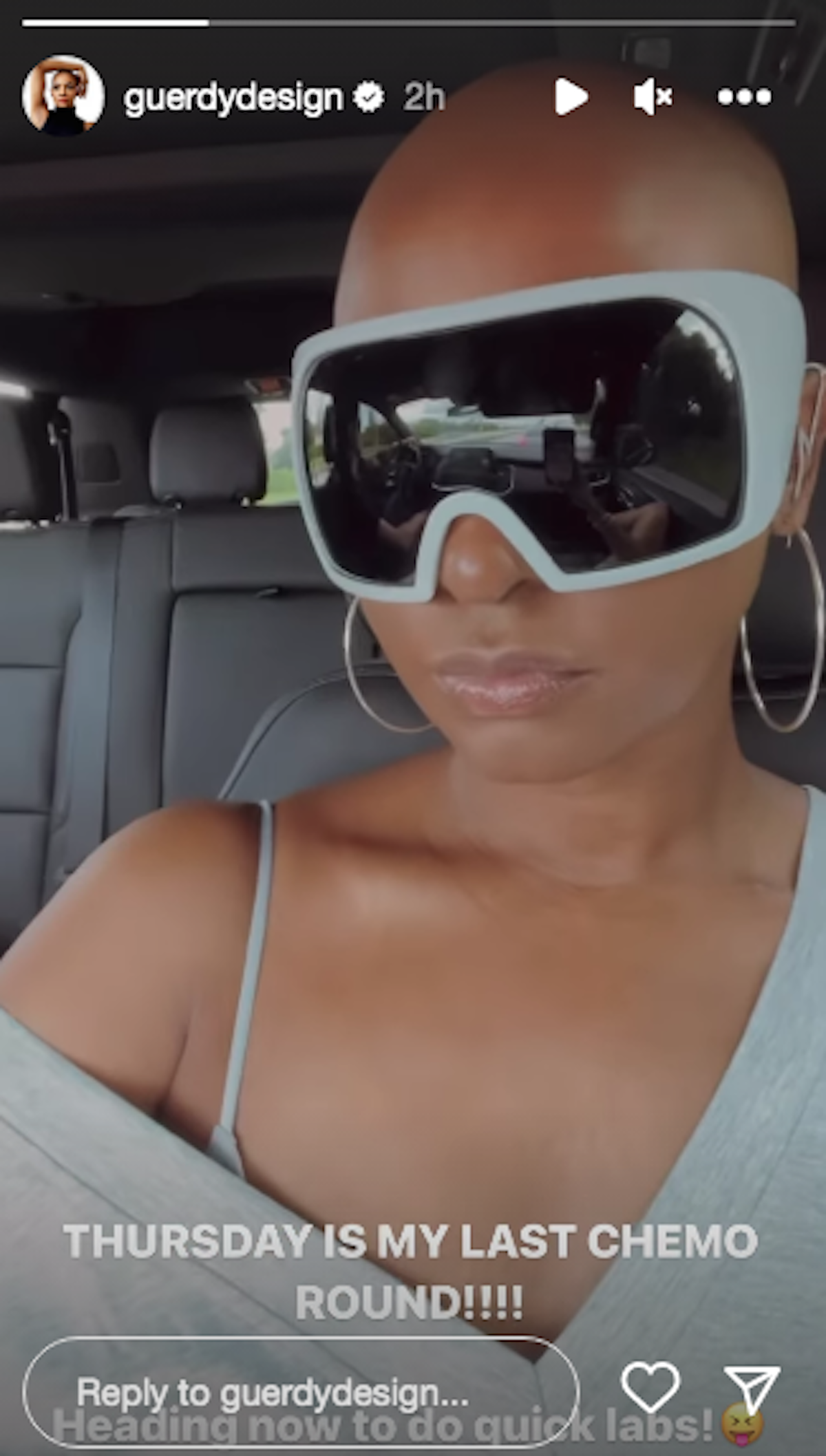 Abraira shared another uplifting post about two weeks ago, sharing a sweet family moment with her husband Russell Abraira, 44, and their two sons, 9-year-old Liam and 14-year-old Miles.
"Last night, my son Miles came to get me out of bed to watch the "Super Blue Moon" which is said to be a once in a lifetime sighting… I hesitated at first but then found the physical strength," she wrote, next to footage of her family sitting in their car and looking to the sky.
"I wanted to document it on video to always remember this moment with my boys (Russ is clearly not in the mood this time lol) and to remind me of the strength I felt at that very moment…To whoever fighting cancer along with me, Let's do this."
Guerdy Abraira's Cancer Battle
Guerdy Abraira was diagnosed with breast cancer in March 2023 following a routine mammogram. Fortunately, the disease was discovered at an early stage.
For treatment, Abraira has undergone surgery and chemotherapy. But instead of waiting for her hair to fall out during chemotherapy, she decided to shave it off ahead of time.
On July 12, she shared a photo of her hairless head, writing, "CHEMO STARTS NOW – decided to be proactive and shave it off yesterday before I start treatment and before it falls off. Even thought this is a hard journey, I'm thankful for everything in my life including this humbling experience which is making me even stronger.
"SWIPE [right] to see Russell with those clippers! Thank you also to @plushbeauty_ for doing my glam to make this new look even sweeter. Still planning on rocking wigs here and there but if you see me out like this…don't freak out! It's still me…with way less hair."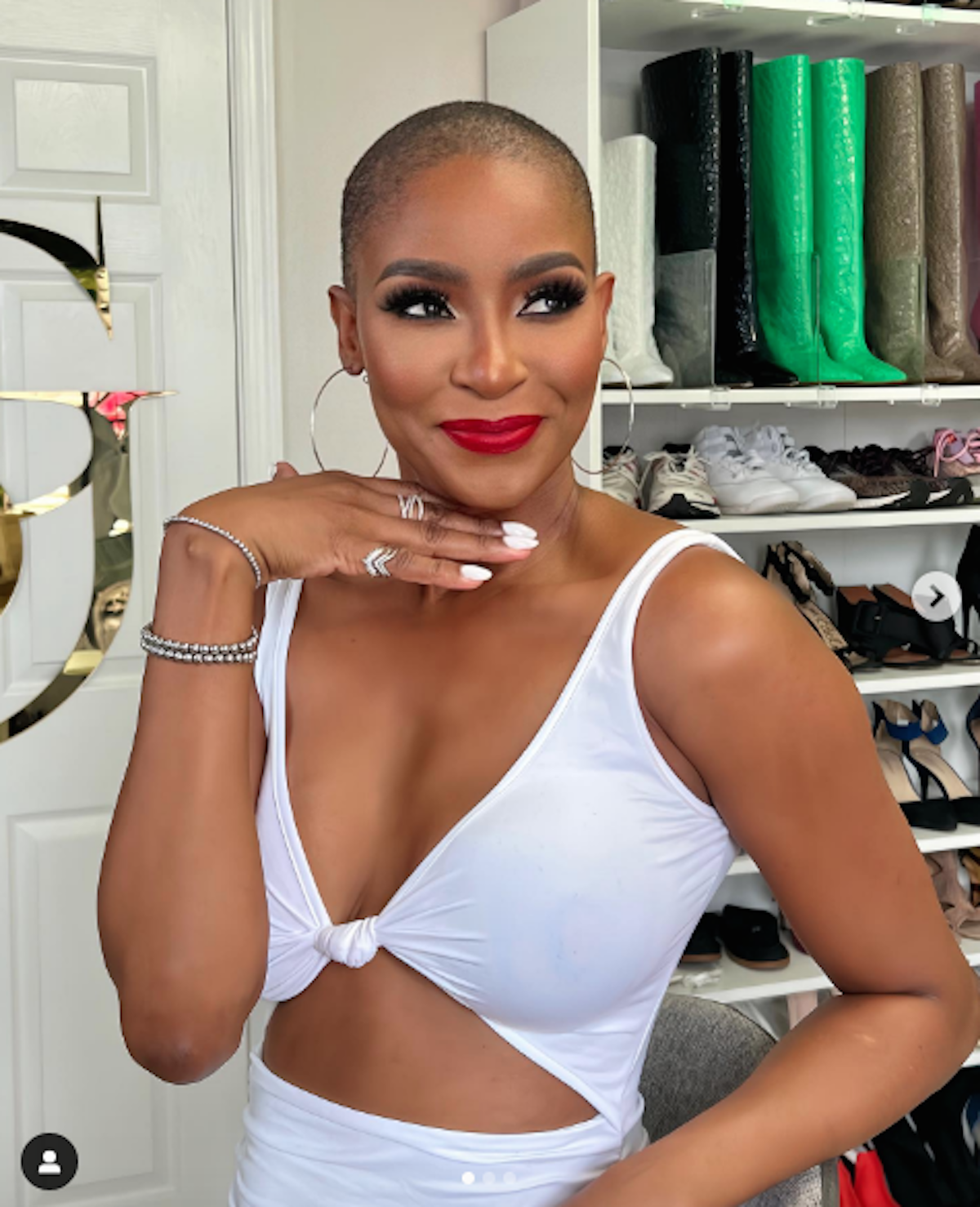 Abraira, who is known for being "outspoken and energetic" on the popular reality TV show according to Bravo TV, had a successful career as an event planner before joining the show.
She learned of her breast cancer while vacationing in the Caribbean's Saint Barthélemy this past spring. Her doctor phoned her to tell her mammogram revealed she had breast cancer.
"I am lucky that this breast cancer was discovered at an early stage. it is still scary of course, but I have love and support from those around me and that alone is the fuel that I need," she previously wrote in an Instagram post.
Abraira has since undergone surgery, but it's unclear which kind of surgery she had.
It's important to note that chemotherapy can cause hair loss. It usually begins about three to four weeks after beginning chemotherapy and continues throughout treatment. It happens because this treatment targets quickly dividing cells throughout the body. That includes cancer cells, but also hair cells.
WATCH: Hair Loss During Chemotherapy
Radiation is another treatment that can lead to hair loss if the hair is in the path of the tumor being treated. Radiation for a brain tumor, for example, may cause hair loss on the head.
If losing your hair is a concern for you ahead of cancer treatment, know you have options like wigs, hats, wraps, and more.
WATCH: Coping With Hair Loss & the Anxiety it Brings
Friendship and Support during a Cancer Battle
It's no secret that fighting cancer can be overwhelming, so having physical and emotional support from friends during your battle is huge.
Licensed clinical psychologist Dr. Marianna Strongin says having people by your side during this "arduous chapter" of your life can be very beneficial.
"Studies have found consistently that loneliness is a significant risk factor for physical and mental illnesses and the trajectory of recovery," she wrote in a column for SurvivorNet.
"Therefore, it will be important that you surround yourself with individuals who care and support you throughout your treatment."
That being said, it's very important to know your limits on what you can handle during treatment.
"Going through treatment is a very vulnerable and emotionally exhausting experience," she wrote. "Noticing what you have strength for and what is feeling like too much, [is] extremely important to pay attention to as you navigate treatment.
Life After Cancer May Be Different
Battling cancer can change your outlook on life. It seems Abraira is now more grateful than ever for all of life's joyous moments she gets to share with loved ones.
WATCH: Finding gratitude and its impact on your well-being.
"The patients who do well with cancer, they live life with that kind of gratitude, but in terms of everything," Dr. Zuri Murrell, a colorectal cancer surgeon at Cedars-Sinai Medical Center, explained. "They're grateful, not for cancer, but they're grateful for an opportunity to know that life is finite."
SurvivorNet has shared the story of many cancer warriors who reveal how their lives changed after overcoming cancer.
Questions to Ask Your Doctor
If you are in the middle of a cancer journey and are looking to improve your emotional health, consider what you're grateful for. To begin, ask yourself the following questions to kickstart your journey to achieve gratitude.
What can I do if I'm struggling to be thankful for what I have in my life?
Are there local resources for people wishing to improve their mental health?
What else can I do to help reduce my stress level during my cancer journey?
Contributing: SurvivorNet Staff
Learn more about SurvivorNet's rigorous medical review process.
---