When Alexandra was first diagnosed with breast cancer several years ago, she underwent a mastectomy and struggled with self-image.
"I couldn't look at myself, couldn't touch myself," she says. "It was hard. It was like… that's not your body. Or it is your body, but it's your body with mutations. It wasn't me."
Read More
On a Tuesday afternoon at a Sephora beauty store in midtown Manhattan, Alexandra is one of eight women who sit on tall swivel chairs facing a row of backlit mirrors. The mirrors are draped in pink feather boas, and stuck to the back of each chair is a pink-ribbon-patterned paper fan. Some of the women chat with each other, while others sit quietly, fiddling with the collections of makeup products lined up in front of their individual mirrors.
Alexandra, who is 51 years old with dark hair and a warm smile, has recently been diagnosed with breast cancer for a second time. She's less afraid this time around, and a big part of that, she says, is because she's realized she's not alone. Today, the women who sit beside her are proof of that. They've all had their confidence tested by cancer, too.
These women are at the 34th Street Sephora store for a complimentary makeup and skincare tutorial that Sephora hosts uniquely for cancer survivors, called "Classes for Confidence: Brave Beauty in the Face of Cancer." (The company hosts these 90-minute classes regionally.)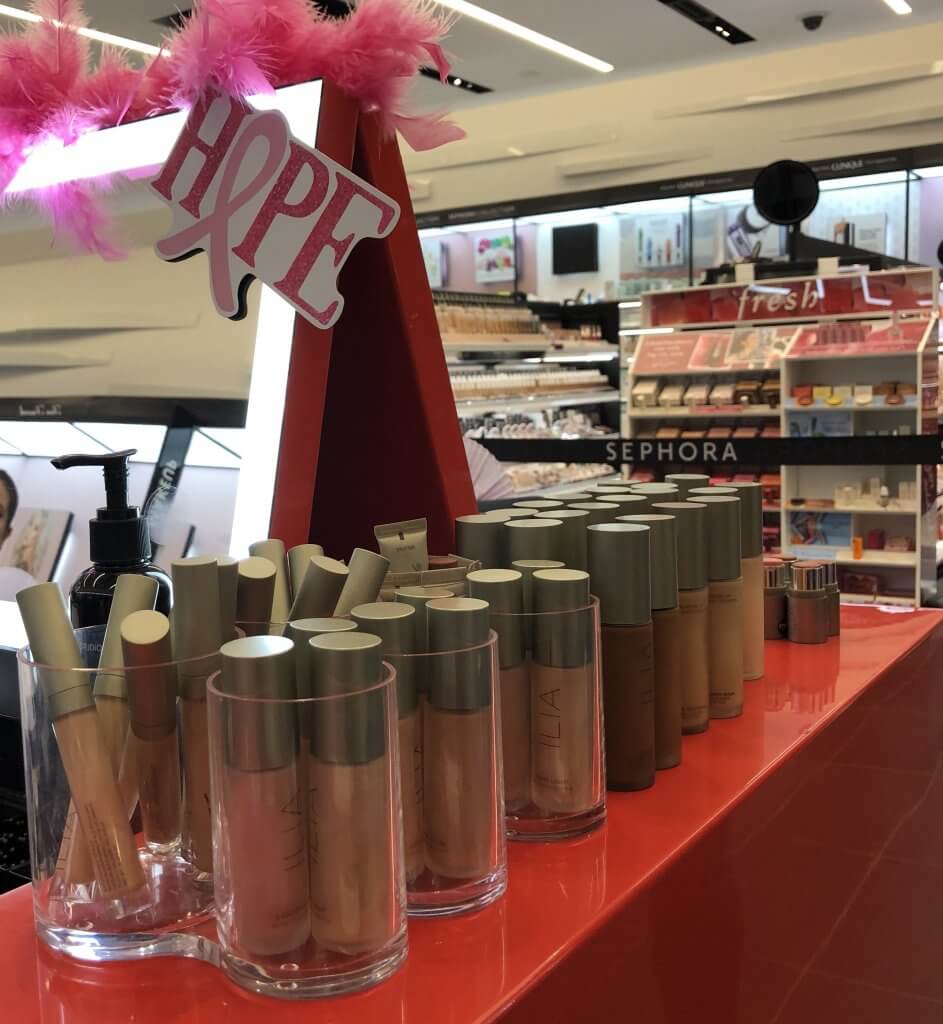 Cancer has brought each of these women a unique set of challenges. Some are in the middle of treatment—chemotherapy, radiation, preparing for or recovering from surgeries—and some are in remission. Outside the Sephora store, many of them have appointments, scans, infusions, and fear. But inside this store—at least for today—they have lip stain, eye cream, blush, brow pencils, and confidence.
RELATED: Body Image, Sex, and Adjusting to a New Normal After Cancer Treatment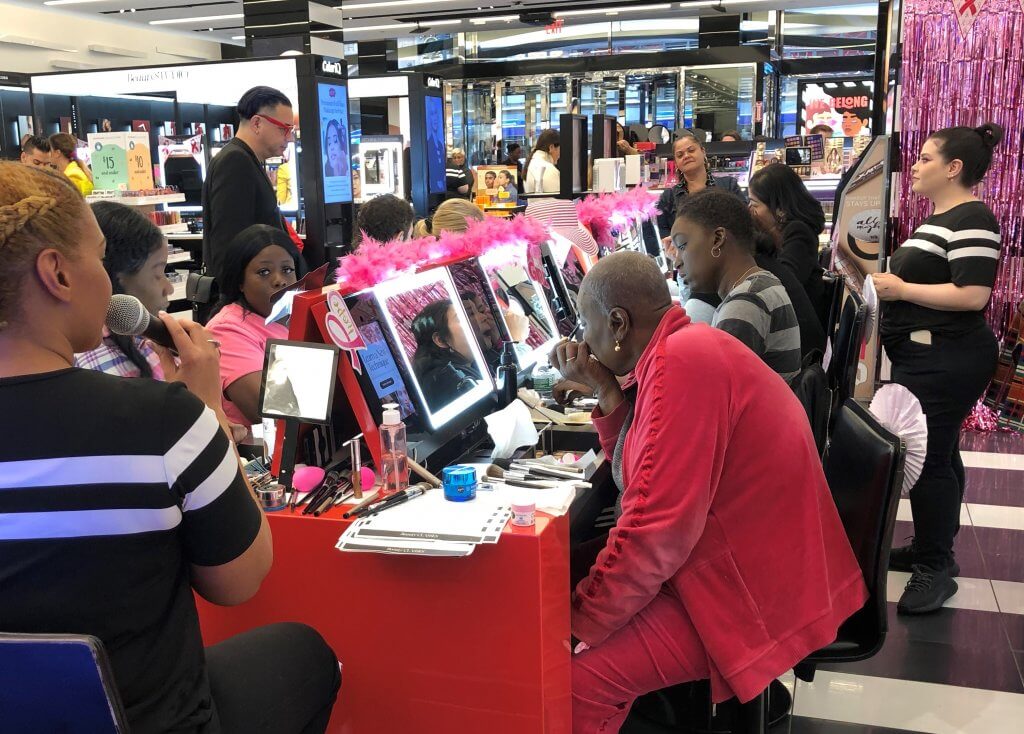 RELATED: My Confidence Was Destroyed: Dealing With Body Image During Cancer Treatment
Of course, to say that makeup products are a quick fix for the effects that cancer can have on self-image would be trivializing something that runs far deeper than lipstick and mascara. These women would be the first to say so.
But when it comes to feeling confident, makeup can certainly help—and so can these tips for applying it.
Makeup Tips for Brave Beauty in the Face of Cancer
Always opt for "clean" makeup products — these are products that don't include parabens, sulfates SLS and SLES, phthalates, mineral oils, and formaldehyde (Sephora has a list of ingredients to avoid).
Micellar water is the best for removing makeup and cleansing your face. The alternative—makeup wipes—can sometimes leave a film on your skin.
When applying eye cream, use your ring finger—it has one less tendon than the other fingers, so it's gentler.
If your eyes get puffy, keep your eye cream in the refrigerator overnight—it will help to de-puff the delicate skin beneath your eyes.
When applying moisturizer, press it onto your cheeks and move it in an upward direction—up and out.
Don't forget your neck! Your neck is a part of your face, and it deserves moisturizing, too.
Makeup brushes are different sizes for a reason; smaller brushes are for concealer (because they're more concentrated), medium flat brushes are for foundation, and the biggest blushes are for powder or blush.
When applying foundation, start by applying it in the middle of the cheeks (that's usually where all the redness is).
Always apply your foundation all the way to your ear area and hairline—otherwise, you'll be able to see where it stops.
If you use liquid foundation, always give the bottle a good shake first.
When penciling in your eyebrows, you can find the "crest" of your eyebrow arch by holding the pencil vertically in front of the center of your iris.
To keep your hand steady when applying eyeliner, you can use your pinky finger pressed against your face as an "anchor."
To keep from blinking while applying eyeliner, squeeze your toes (seriously!)
Instead of trying to make a perfectly straight line with eyeliner (which is tough even for the steady-handed), try making a lot of little dashes in a row.
Your lips are part of your skin—which means they need moisturizing, too—so look for balms and stains that have hydrating elements.
Steer clear of waterproof mascara; it usually has more chemicals.
With true black eyeliner and eye makeup, look for charcoal instead of carbon on the ingredients list—it's "cleaner".
"Fake it 'till you make it, I guess," says the woman to Alexandra's left, Crystal, who twirls a stick of liquid foundation in on one hand. Crystal was diagnosed with triple-negative breast cancer last January, and she says that the shiny tube she's twirling in her hand is the first liquid foundation she's ever found that matches her skin tone perfectly.
The upbeat woman running the makeup tutorial is Sarah Waymmann. She opens the tutorial acknowledging that a lot of women have a feature that they "couldn't live without."
"For me, it's my eyebrows," she says. "I love my brows. I'm a brow girl."
About a minute-and-a-half into this video from Sephora, you'll see a demonstration of how to identify the arch and tail of your eyebrow.
RELATED: Quick, Easy and Effective: Makeup Artist Ramy Gafni on Looking Good While Taking on Cancer
One woman named Hope says for her, that feature is her eyelashes.
"I can't live without my lashes," she says. "And I'm trying to survive without them today…" she pauses, and the other women nod knowingly. Several of them have lost some or all of their eyelashes during cancer treatment.
"But I know after today, I'm going to be faaaaabulous!" Hope adds.
RELATED: Meet The Most Badass Breast Cancer Survivor, Ericka Hart — Naked, Loud, And Totally Proud Of Her Post-Surgery Body
Sarah launches into the tutorial, applying the products to her own face in a demonstration while the women follow her lead in front of their lit-up mirrors.
Sarah's tips follow a series of steps that incorporate moisturizers, creams, primers, pencils, powders, and brushes of multiple sizes.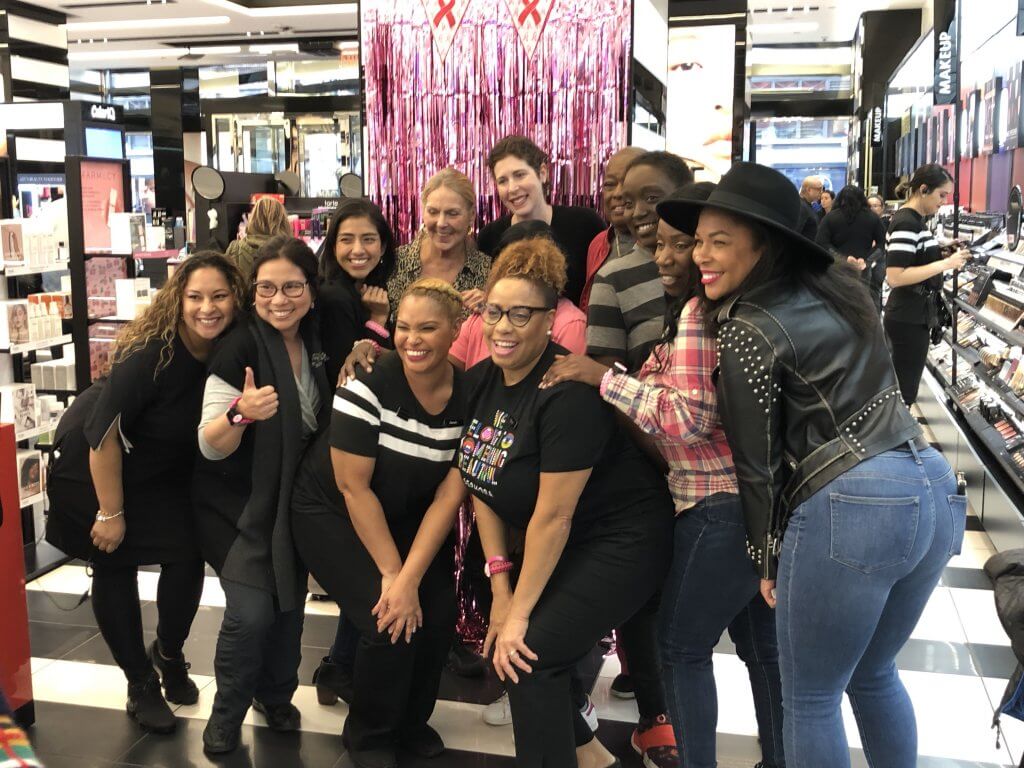 When the makeup tutorial ends, Alexandra smiles at her reflection and says she can't wait for her husband to see how beautiful she looks. Jessica, to her right, who was recently diagnosed with a rare cancer called pancreatic neuroendocrine cancer, says she can see a real difference in the dark circles beneath her eyes.
RELATED: Will I Look Older After Breast Cancer Treatment?
Crystal smiles, too, and when she's asked for the advice she'd give to someone who's just received a cancer diagnosis, she doesn't hesitate.
"When someone tells you you look beautiful," she says, "believe them."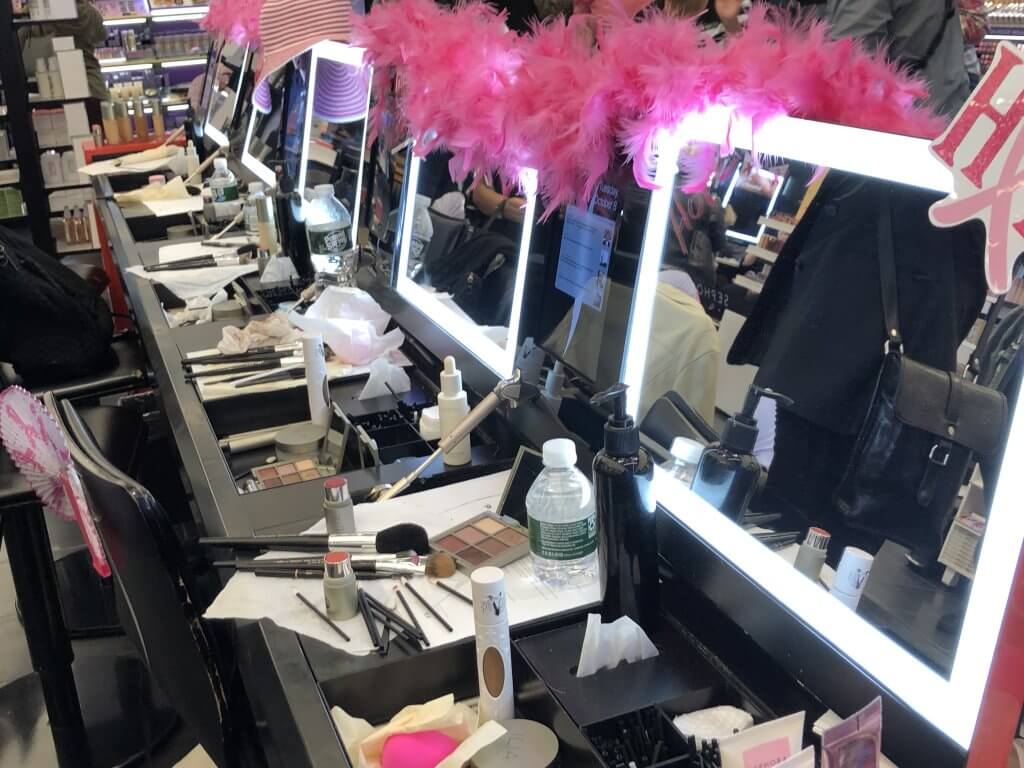 Going "Clean" — Switching Out Your Products for Chemical-Free Alternatives
During the tutorial, the one tip emphasized most was making sure that you're using "clean" beauty products. This is advice that applies to anyone, but it's particularly important during a cancer journey, because treatments such as chemotherapy and radiation can make the skin more sensitive to harsh ingredients.
A lot of makeup products have the word "clean" on the bottle, but not all of them are really free of the ingredients that can irritate the skin. It's important to look at the ingredient list on the bottle and make sure it's free of parabens, sulfates SLS and SLES, phthalates, mineral oils, and formaldehyde among others. Clean products are mostly plant-based.
Of course, it can be expensive to replace all of your makeup products—let alone replace them with the (often more expensive) "clean" alternatives. If you're going to change out any of your products, the priority should be changing out lip products and eye products, since these areas can allow chemicals to enter the bloodstream more easily than, say, the skin on your cheeks.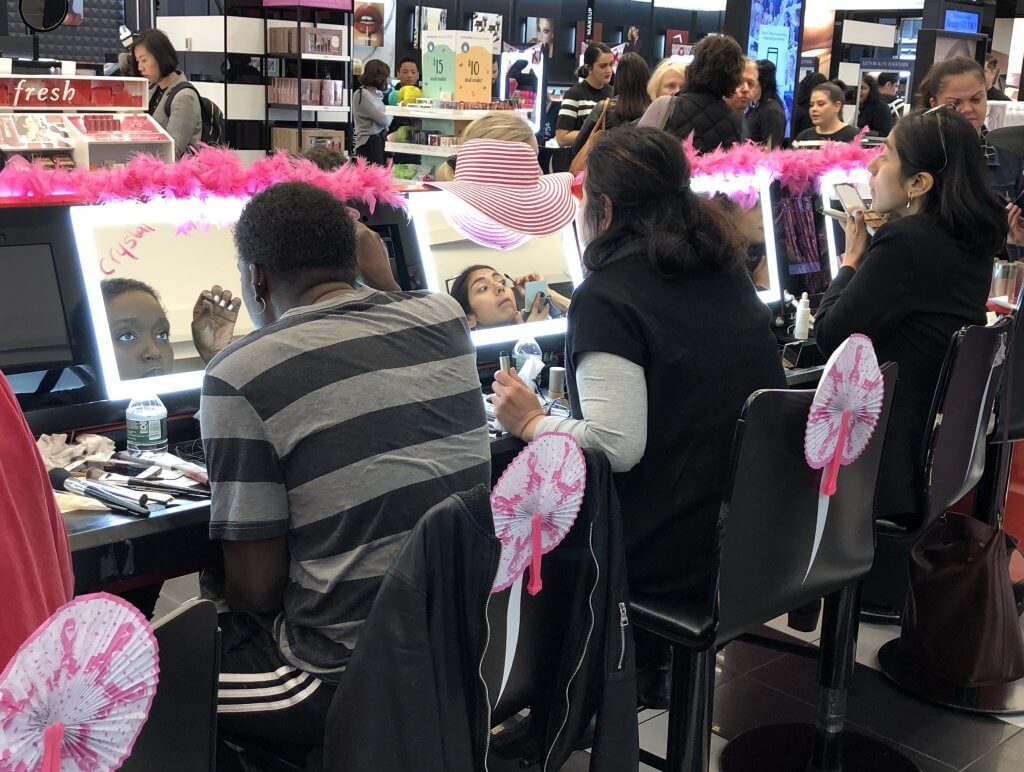 Yes, Cancer Treatment Can Affect Your Appearance -- But A Lot of it is Temporary
Learn more about SurvivorNet's rigorous medical review process.
---