Val Kilmer, whose battle with throat cancer has touched so many, has reached a milestone birthday, and his gratitude toward those who've touched him in his life was clear in his latest posts on social media honoring David Bowie. The rocker, whose birthday is Jan. 10, died of liver cancer in 2016.
RELATED: Val Kilmer's Amazing Year — the Throat Cancer Survivor Turns to Art, Acting and Self Expression
Read More
Kilmer, who himself turned 60 on Dec. 31, wrote, "The last time I saw David Bowie was in Brooklyn. … He turned and I recognized him instantly. Instead of saying hello, 
I just started petting his shoulders. He was just so special it was the only way I seemed to be able to express my joy.
 I haven't petted that many men in my life. I'm so glad I got to do that. And more importantly, that he let me. He just smiled as I apologized for petting him."
People in the SurvivorNet community tell us that they often feel kinship with others who have faced cancer. And the experience often inspires a more open-hearted perspective with a focus on gratitude.
'We All Wanted to Be as Cool as David'
"He seemed to not only understand, but accept the strange offering of gratitude and recognition," Kilmer continues. "And he was a master singer – song writer. God bless David Bowie."
Bowie died just days after releasing 25th album.
Kilmer continued with the love on Instagram.
Information about Liver Cancer
About 42,000 new cases of liver cancer are diagnosed in the U.S. each year according to the American Cancer Society.
Many begin with an infection of the hepatitis B or hepatitis C virus according to the Centers for Disease Control and Prevention, although most people who have the virus don't know it. Other risk factors include excessive use of alcohol, diabetes, and hemochromatosis, a condition where the body stores more iron than it needs.
In early stages, liver cancer may be symptomless. Later, patients may notice abdominal discomfort and swelling, pain near the right shoulder blade, jaundice (yellowing of skin, eyes), tiredness, nausea, vomiting, loss of appetite, and unexplained weight loss.
Val Kilmer's Cancer Journey
For a while, Kilmer's health condition remained a mystery. He initially denied he had cancer in a 2016 Facebook post, after actor Michael Douglas, battling throat cancer himself, told the press about Kilmer's health.
RELATED: "Top Gun" Actor Val Kilmer Is Living with a Tracheostomy; What Is It and What Are the Next Treatment Steps?
The denials continued until 2017, at which time Kilmer told The Hollywood Reporter that he did indeed have throat cancer, and that he'd had surgery on his trachea, which affected his breathing and left his voice raspy and labored. He revealed shortly thereafter that he'd had a "healing of cancer," and that his "tongue was still swollen," but did not explicitly say whether he was cancer-free.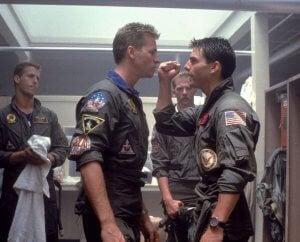 Kilmer has still been keeping other details to himself, including the type and stage of his cancer and the treatment he's received. While he told The Hollywood Reporter that the disease had "taken its toll" on him, he chose not to elaborate.
As he appears in public for more events, supporters are excited to see he's feeling better and taking his throat cancer recovery in stride.
This past summer, he delivered a speech during the NOVUS Summit at the United Nations headquarters in New York City. (NOVUS looks to change the world using science, innovation, and technology.) Kilmer was being honored for his work with his charity, the TwainMania Foundation, which educates children about Mark Twain's legacy.
Kilmer's speech reportedly was difficult to understand due to his tracheostomy device, which hindered his ability to speak. He began his speech by saying, "I won't speak long because I can't speak long"—which received lighthearted laughs from both the audience and Kilmer himself.
TwainMania got Kilmer out again in June, when he attended a fundraiser there. Also making appearances were his son, Jack, 23, and his ex-wife, "Scandal" star Joanne Whalley.
Fans have also been encouraged to see Kilmer embracing his passion for art. Several pieces of his original artwork were on display at Lumberyard Gallery in Malibu.
And he was out at this HelMel Studios in Los Angeles in November to celebrate an art opening for artist Tamie Adaya.
But best of all for his fans? Kilmer also appears in the "Top Gun" sequel, "Top Gun: Maverick," which comes out in June 2020 — 34 years after the 1986 original. Kilmer isn't seen in the two-minute trailer, but fans are standing staunchly behind the actor as he reprises his role as Tom "Iceman" Kazansky, arch-rival to star Tom Cruise's Pete "Maverick" Mitchell.
Learn more about SurvivorNet's rigorous medical review process.
---