Imagine spending fifty years of your life amassing a cherished collection and then having to sell it to help cover the cost of treating your cancer. That's exactly what Robert Letscher, 55, an X-Men comic book "super-collector" from Phoenix, Arizona, has to do.
Letscher's favorite comic books are the X-Men comics, which depict a team of fictional superheroes or "mutants," a subset of humans that are born with the "X-Gene" that give them superhuman powers like mind-reading and the power to control magnetic fields. They use their powers to fight for peace and equality between regular humans and mutants, in a world very bigoted toward mutants, all while dealing with the human problems we all face in our day-to-day lives. Since Letscher loves the X-Men so much, we're hoping that just a little bit of their extraordinary powers will inspire him during his cancer journey.
Read More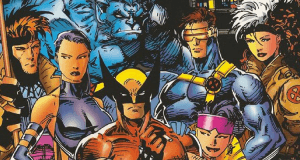 RELATED: A Little Bit Of Joy– Local Firefighters Fill Up The Pool So That This Little Cancer Survivor Can Swim This Summer 
Though it's really sad for Letscher to sell the collection, he's looking on the bright side and staying focused on what he can do for his family during his illness. "I'll probably be crying from seeing them go, but then I'll have that satisfaction that, you know, I did right by my family and that they're going to be taken care of," said Letscher about the decision to sell his books.
RELATED: Immunotherapy For Esophageal Cancer — Has It Worked?
Last year, Letscher learned that he had Lymphoma, and a few months later was diagnosed with an aggressive esophageal cancer as well
RELATED: Man With Stage Four Liver Cancer Enjoys Surprise Lottery Win, Plans Dream Vacation
And the diagnosis came with a lot of expensive treatments, including chemotherapy and a tube that hooks into his stomach to help him eat. "This year has been rough and included the removal of the esophagus and the stomach," he said.
Letscher decided that instead of putting himself and his family through the financial strain of the treatments, he'd try to pay for them with his comic book collection.
Letscher began collecting comic books at age five and has amassed 600 copies, making up the entire X-Men collection and then some. Now, he's selling his comics, many of which he bought for a quarter, for thousands of dollars today in order to pay for treatments for his illness.
"For some, it kind of makes you a hoarder, but for others, it makes you a super collector," Letscher said of his collecting. "I remember my earliest memories being so excited, opening those bundles of comics and just seeing all the different characters."
Letscher said he used to buy his comics at thrift shops, flea markets and garage sales, and over time began buying online. "It never really faded out for me," he said. "I kept loving them all my life."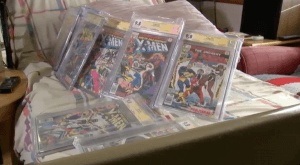 For Letscher, it wasn't a difficult task to amass his trove, "It was a labor of love, so it didn't always feel like work," he said.
Information about Lymphoma
Unlike leukemia, which is a disease that results from too many white blood cells, lymphomas are white blood cell cancers that form tumors in the lymphatic system. "Quiet literally, lymph is lymphatic system -phoma means tumors, so lymphoma is white blood cell cancer that forms tumors in the lymphatic system," said Dr. Peter Martin at Weill Cornell Medicine and New York Presbyterian in a previous interview with SurvivorNet. "This is opposed to leukemia, which is too many white blood cells, typically in the bone marrow or blood stream. Lymphomas, specifically are white blood cell cancers that form tumors in the lymphatic system."
Within lymphoma, there are hodgkin and non-hodgkin cases. "Hodgkin lymphoma is simply a white blood cell cancer that has a very specific sub-type of white blood cells seen in those tumors called Reed-Sternburg cells or Hodgkin's lymphoma cells. Then there's everything else, non-Hodgkin's lymphomas are the lymphomas that don't have those Hodgkin's lymphoma cells," said Dr. Martin.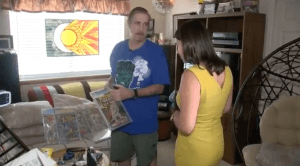 Non-Hodgkin lymphoma is actually a collection of different lymphoma diseases, according to Dr. Catherine Diefenbach, Director of Translational Hematology and Clinical Lymphoma at NYU Langone Health and the Perlmutter Cancer Center, who spoke to SurvivorNet prior to this news event. "Non-Hodgkin lymphoma is not one disease, it's many diseases," says Dr. Diefenbach. "And there are over 68 kinds of lymphoma. For this reason, it's very important that if you have a diagnosis of lymphoma, you're treated by a lymphoma specialist. And, we hope for all of our lymphoma patients that the first therapy you receive, will be your last therapy. That is, that we can treat you and cure you with first-line therapy."
There are two main categories of lymphomas, and the category determines whether the cancer is curable or manageable, and whether treatment is necessary. "To understand and answer the question of what to do when your lymphoma comes back, you need to understand that in general, non-Hodgkin lymphomas are divided into aggressive or indolent lymphomas," said Dr. Diefenbach. "And the approach to these lymphomas is very different. Aggressive lymphomas are treatable and potentially curable. Indolent lymphomas are managed and don't always require treatment, however they are not curable by conventional means of describing curability."
A lot of patients enter a total remission after treatment for aggressive lymphoma, but some will also relapse back into the disease. "Aggressive lymphomas are treated with chemotherapy up front, and that's generally four or five drug combinations," said Dr. Diefenbach. "After these multi-agent chemotherapy regimens, approximately 50 to 70% of patients will obtain a complete remission and stay in remission. However, between 30 and 50% of patients with aggressive lymphoma will relapse, and will require at least a second line of therapy."
But for indolent lymphoma patients, there are a few other factors that go into the decision to treat the cancer. When they are treated, they often don't relapse for a very long time. "For patients with indolent lymphoma, we really decide whether they need treatment based on whether they have bulky disease, their diseases transforms from indolent to aggressive, whether they have compromise of vital organ structures, or whether they have bulky nodes that are cosmetically or otherwise interfering with their quality of life," said Dr. Diefenbach. "For these patients when we treat them, they often have an excellent response to therapy, but after time, sometimes decades of time, their lymphomas do come back."
According to Dr. Diefenbach, non-hodgkin lymphoma is a cancer with symptoms that aren't very specific to lymphoma. "Non-hodgkin's lymphoma has a really non-specific symptom profile. Many patients… are diagnosed incidentally when they go to the doctor and they're noticed to have a lump, or if they have a car accident and they have the scan and it shows some lymphadenopathy, or if they have another problem that they're being worked up for."
Treatment for aggressive esophageal cancer
Esophageal cancer is a very difficult diagnosis. For the advanced stages of esophageal cancer, doctors usually turn to conventional chemotherapy. But this chemo is largely used to relieve pain; historically, it hasn't been shown to have long-term benefits. Only 5 percent of all patients with advanced esophageal cancer—meaning cancer that has spread beyond the esophagus to other parts of the body—survive for 5 years.
Dr. Raja Flores, Chairman of Thoracic Surgery at Mount Sinai School of Medicine, previously explained to SurvivorNet that the two biggest causes of esophageal cancer are smoking and acid reflux (heartburn). Over 17,500 people were diagnosed with esophageal cancer in 2019, and about 16,000 people died from the disease.
Learn more about SurvivorNet's rigorous medical review process.