A Beautiful Story of Healing After Cancer
TODAY host Hoda Kotb, 57, recently addressed the topic of body image on her show and recalled some painful memories from her breast cancer battle.
The popular news anchor warms people's hearts with her relatability, and her story of healing is particularly moving and motivating for breast cancer survivors.
Mastectomy is the removal of the entire breast during surgery. There are a number of factors to weigh when considering a mastectomy, and whether or not breast-conserving surgery (or lumpectomy) is possible.
TODAY with Hoda & Jenna
host Hoda Kotb, 57, recently addressed the topic of body image on her show and recalled some painful memories from her breast cancer battle, and how she overcame some darker times.
Discussing actress (and mom-of-three) Hilary Duff's gorgeous nude cover of Women's Health prompted Kotb to open up about how tough it was to accept her own body after a mastectomy she underwent in 2007.
Read More
"You don't realize how long the journey is," she told her
co-host of three years
, Jenna Bush Hager, 40. "I remember really clearly, after my cancer surgery—I did a surgery where it was a mastectomy, but they also did a hip-to-hip incision to do some moving things around."
They New York-based news personality then described "having to get washed" in the hospital after her double mastectomy. "I hadn't seen (the scarring), because I just hadn't looked at it," she said. "A nurse came in to help me and she stood me in front of the mirror, and I was horrified."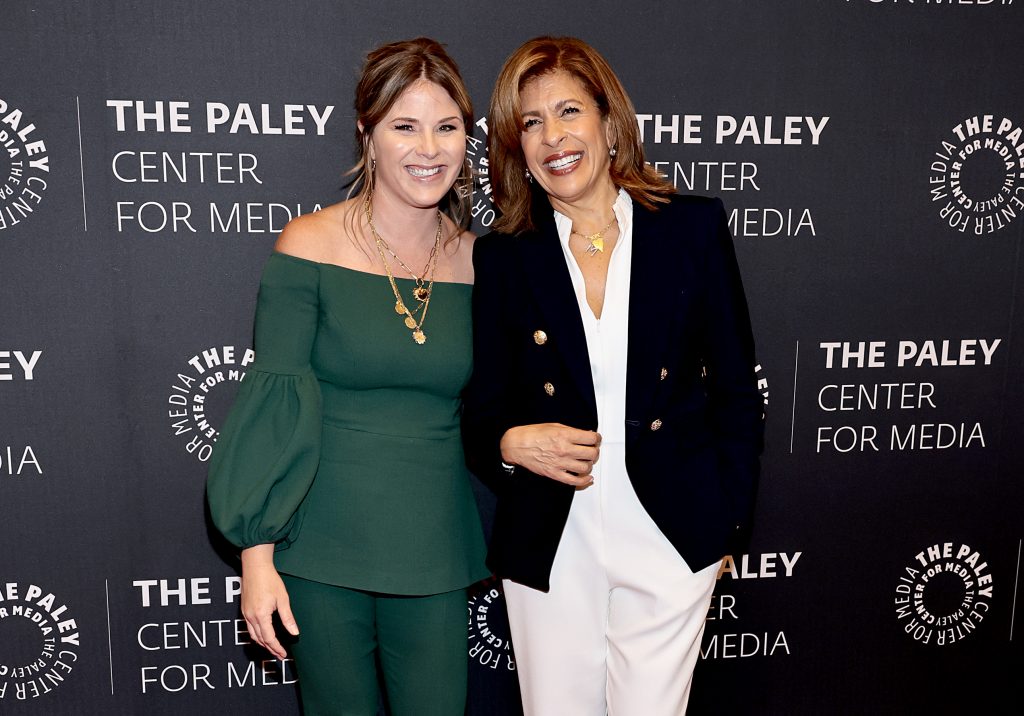 Hoda's Post-Mastectomy Journey
For most women, that particular moment when you first see yourself after mastectomy surgery is often said to be one of the hardest parts of the journey.
"You know when you look, and you're like, 'That's me now?! Like, this is the body for the rest of my life that's going to carry me through?'" she shared of the traumatic experience. "You don't see it as: The cancer is gone. Right then, that moment, you see it as this horrible (thing)."
Related: 'I Was Sobbing Like A Child' Beloved FOX Reporter Ayesha Khan, 40, Has Mastectomy, Undergoes Chemo In Her Brave Breast Cancer Battle
The Making Space podcast host began her long road to healing with the help of another survivor, who gave her the courage to show her scars for the first time. "Shortly after I had my surgery, there was a woman who was older, an aunt of my friend," she said. "Her name was Harriet. And she said to me, 'Let me see your scar. I had the same.'"
Related: Angelina Jolie On Her Mastectomy Decision—I'm More Likely To Meet My Grandchildren And The Scars Are Positive Reminders
The women showed each other their scars. "It was a very poignant and moving moment for me. It was a life-changer." Kotb recalled another powerful moment that helped her through. There was a man she was dating at the time who saw past her scars.
"That was his purpose, I think, in my life. I remembered feeling not pretty and not worthy, and then somebody doesn't see the scars. Like, someone looks at you and just doesn't see that."
Then day by day, Hoda, who also had breast reconstruction, began to get her groove back. "All the sudden your back is straighter, you feel better and you made it through that hurdle," she said. "Now I look at my scars, and I'm happy."
Cut to today, and the larger-than-life TV star is happy and fully comfortable with her body, which should give immense hope to people out there who may be struggling right now.
Related: 'I'll Always Wear Bikinis!' Hoda Kotb Who Had A Mastectomy For Breast Cancer, Tells Jenna Bush Hager, 40, That 'You Only Live Once'
"My mother, who is in her 80s, wears a bikini bathing suit," the breast cancer survivor said on a previous TODAY show. "She taught me that confidence comes from inside. Ever since that, I, too, have worn a bikini."
 

View this post on Instagram

 
Kotb actually just spent her first Mother's Day as a single mother, recently announcing that she split with the girls' dad, her longtime fiancé, financier Joel Schiffman, 64. The couple adopted both Haley, 5, and Hope, 3, after Kotb, at 52, decided she wanted to become a mom. The author has also been quite vocal about breast cancer affecting her fertility, and serves as a source of inspiration to other hopeful mothers-to-be out there who are looking into adoption.
Although there are many difficult issues that can arise due to breast cancer treatment, staying educated is a must in order to stay on top of all the options that you may have. Don't be afraid to ask your doctor as many questions as you need to until you feel comfortable and clued in about how breast cancer can affect your body.
Learning More About Breast Cancer Surgery
There are sometimes different options for you for breast cancer surgery, and it's important to know what they are.
Mastectomy is the removal of the entire breast during surgery. There are a number of factors to weigh when considering a mastectomy, and whether or not breast-conserving surgery (or lumpectomy) is possible.
Your doctor will look at the size and features of your tumor as well as your family history in order to make a recommendation. It is important to seek a second, or multiple, opinions, especially if unsure, but know that the decision of what to do with your body is ultimately yours to make.
When Should You Consider a Mastectomy?
"So when I talk to a woman who comes to me and she has breast cancer, I evaluate what the standard options for treatment for her are," Dr. Ann Partridge of Dana-Farber Cancer Institute told SurvivorNet in a prior interview.
Dr. Partridge explained that this will typically include cutting out the cancer, "which is either a lumpectomy if you can get it all with just a little scooping around of the area that's abnormal," she said, "or a mastectomy for some women meaning taking the full breast because sometimes these lesions can be very extensive in the breast."
Implant Reconstruction After a Mastectomy: The Options
If you've elected to have implant reconstruction following a mastectomy like Kotb, there are two options for the procedure: using a breast tissue expander which is a two-step process, or direct-to-implant reconstruction which is completed at the same time as the mastectomy.
With the tissue expander implant reconstruction, an expander is put in between the skin and chest muscle at the same time as the mastectomy surgery or afterwards, if you're choosing delayed reconstruction. The expander has a small valve that will be filled gradually over time with saline every one to two weeks, stretching the skin until the area is ready for the permanent implant.
Related: To Reconstruct or Not: After Mastectomy, Two Women Take Very Different Paths
Only a minority of women are great candidates for direct-to-implant reconstruction, says Dr. Andrea Pusic, Chief of Plastic and Reconstructive Surgery at Brigham and Women's Hospital, that's because it's best for women with small breasts and/or women who are having no skin removed and preserving the nipple and areola. Women who are able to get this option can go home from a mastectomy with their breast reconstructed.
No matter route you choose to go, just remember that healing physically and emotionally takes time, so try to give yourself a break—you've been through a lot. Just know that there is light at the end of the tunnel, and look to stories like Hoda Kotb's to help get you through those harder days. There is support out there from many women who have gone through the exact same experience that you have.
Learn more about SurvivorNet's rigorous medical review process.