When cancer takes the life of someone you love, nothing can fill the gaping hole left behind—or answer the "why them?" questions. Coping with grief is immensely challenging.
Some people do find comfort, however, in revisiting photographs and videos of their loved ones, especially ones that reflect their happiest moments. Many who do so will share these photos on social media, inviting their friends and followers to relive the happy memories along with them.
Read More
RELATED: As Beth Chapman's Daughter Cecily and Step-Daughter Lyssa Find the Joy of Family, Never-Before-Seen Photos Of Beth From Happier Times
Duane "Dog the Bounty Hunter" Chapman, who recently lost the love of his life (and bounty-hunting partner in crime) Beth Chapman, to stage IV lung cancer at age 51, has not posted much to his Instagram account in the month since Beth died. He has been grieving heavily while dealing with the painful logistics of loss—such as organizing memorial services and figuring out how to part with Beth's remains.
RELATED: Duane "Dog" Chapman Says He Sleeps With His Wife's Ashes By The Bed– Concerns About How Badly Dog is Suffering on The Eve of Beth Chapman's Funeral
Yesterday, though, Dog returned to Instagram for the first time in a while, posting a sweet photograph of Beth Chapman smiling and looking radiant, which he captioned simply, "My Baby."
View this post on Instagram

Around the same time that Dog posted this loving photograph, Beth and Dog's daughter, Bonnie Chapman, 20, reposted to her Instagram story a photograph from the news media outlet Meaww, captioned with Bonnie's heartfelt words about her parents' relationship: "He found his soulmate. No one can replace her in his heart. Their love was one of a kind, it made me believe love truly exists. The world isn't going to be the same without my mother."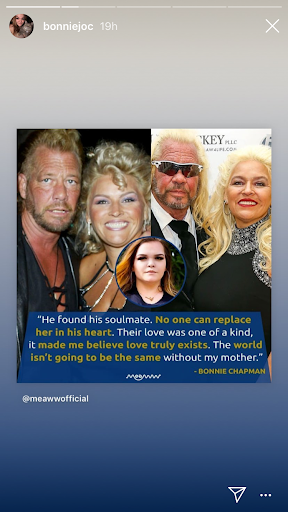 In sharing that her mother and father were soulmates, Bonnie reflected Dog's promise to Beth that he wouldn't let another woman replace her after her death.
"For two-to-three years, [Beth] knew this might happen," Dog said in an interview with Entertainment Tonight, referring to his beloved wife's death. "So she would say, 'Who is going to sit next to you?' And I said, 'No one.' 'Big Daddy, you better not let another girl take my place.' I said, 'I won't.'"
View this post on Instagram

In the same interview, Dog also shared that he had been watching early footage of his forthcoming television show, "Dog's Most Wanted," which has not yet premiered, but is expected to in the coming year. Dog and Beth filmed the new reality TV series together, so in watching the episodes, Dog was able to relive some of his final moments with his soulmate.
RELATED: "Dog Will Never Remarry After Beth Chapman!": Their Loving Daughter Bonnie Says Dog Has One True Love
Many of Beth's devoted fans—who found inspiration in her religious devotion and always-positive attitude—have been watching videos of Beth, too.
"I watch a video every day just to remind me what a wonder lady Beth is," one of Beth's fans shared with SurvivorNet.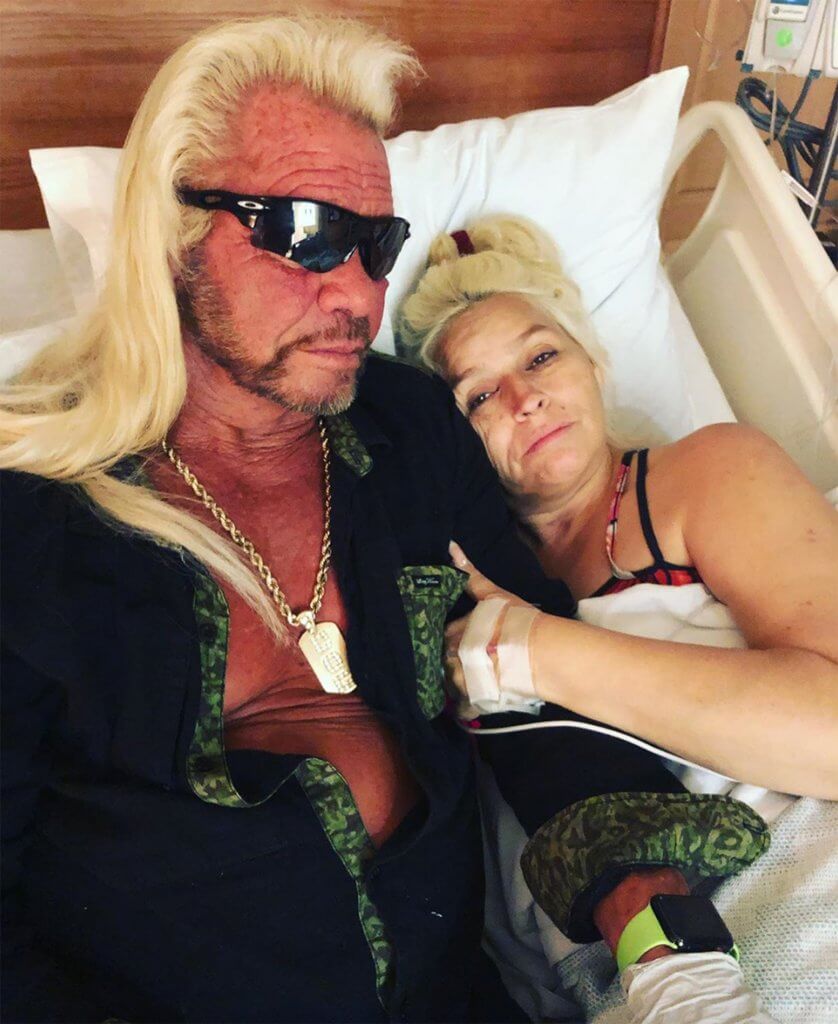 And beneath Dog's photo of Beth—which received over 100,000 likes on Instagram—nearly six thousand fans have commented with support, thanking Dog for giving them the opportunity to experience the photo, too.
"No one breathing will match her Duane," one follower wrote. "I'm so happy in my heart that you have such a BIG family to share your love story with. That doesn't happen for everyone… You're a very humble man, I'm not surprised you were granted the love you both had and will always have."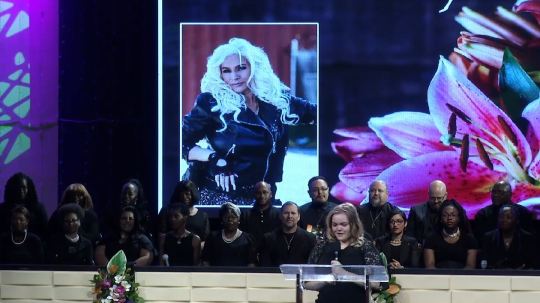 Family is Crucial During and After a Cancer Journey
Indeed, the many members of the Chapman family have been lifting each other up during this difficult time. This isn't uncommon; many cancer survivors and their family members have told SurvivorNet that they've never felt so grateful for the love and support of their families as they did during the cancer journey.
"I knew I had a great family, but I didn't know how great until I got diagnosed," one breast cancer survivor, Cynthia Besteman, shared with SurvivorNet.
RELATED: Through the Darkest Time of Your Life, a Beautiful Gift Can be Revealed
Another breast cancer survivor, Amy Grantham, told us that she came to see cancer as the "great revealer"—in that it quickly showed her who matter most in her life.
RELATED: "Cancer Is The Great Revealer": Survivor Amy Grantham On What Cancer Taught Her
"Cancer is the great revealer, in a way, of people's true character," she said. "I very quickly learned who was really there in my life and who was just kind of on the outskirts… it cut right through to the people who are most important in my life."
Learn more about SurvivorNet's rigorous medical review process.
---