What a great smile. Despite a battle with stage 4 cancer, Olivia Newton-John looked happy and healthy on the red carpet this week. Her positivity is almost infectious, The 70-year-old singer/actress was honored at the Industry Dance Awards & Cancer Benefit Show at the Avalon Theater in Hollywood with a Lifetime Achievement Award; she also received a donation to her Cancer Wellness & Research Center in Australia. In an interview at the event, Newton-John told Entertainment Tonight that she's feeling great, despite a really challenging year health-wise.
The actress went public with her stage 4 breast cancer diagnosis last year — explaining that it is actually her third bout with the disease. In the appearances she's made since going public, Newton-John has remained optimistic that she will be able to beat the disease, and she's going to enjoy life as much as she can in the process.
Read More
RELATED: AMID BREAST CANCER BATTLE, OLIVIA NEWTON-JOHN HELPS LAUNCH EXHIBIT OF HER FAMOUS WARDROBE
"I just want everyone to know, I'm here, I'm doing great," Newton-John said in the ET interview. "I'm doing really well and I'm really healthy." However, she went on to explain that the past year has been especially hard on her.
"It was a challenging year because I broke my sacrum and I had to learn to walk again and everything, but I am strong and I am back and I'm feeling good and loving every minute," she said.
Newton-John was first diagnosed with breast cancer in 1992. She was treated with surgery and chemotherapy and went into remission for many years. However, her cancer returned in 2013. After treatment, she again went into remission — only to be diagnosed with cancer again last year. Newton-John announced in 2018 that her cancer had returned and had spread to her sacrum, a bone at the bottom of the spine.
When cancer metastasizes, or spreads, to the bones, it can lead to a handful of health issues — such as bone pain, weakening of the bone, and even breaks and fractures. Newton-John made it clear that healing from the break was really difficult, but she has spoken publicly in the past about how she makes use of some integrative treatment methods to deal with the pain and discomfort that can accompany a cancer diagnosis and treatment.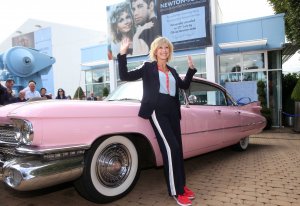 In a previous interview, Newton-John revealed that initially after her sacrum broke, she turned to pain medications because of the intense discomfort. But she was able to wean herself off of heavy drugs by making use of medical marijuana. Integrative medicine is the idea of combining traditional cancer treatments — such as surgery and chemotherapy — with alternative treatment methods — such as diet changes, medical marijuana, and acupuncture.
In the ET interview this week, Newton-John said that the cancer center she founded in Australia also works to offer integrative treatments to its patients. She explained that the donation the center received from the Industry Dance Awards would go towards both research and wellness programs.
RELATED: THE DIFFERENCE BETWEEN "ALTERNATIVE" AND "INTEGRATIVE" MEDICINE
"We [at the Center] have research and wellness that is not provided by the government. The government pays for all the other things — so we have to philanthropize for the other things," she said. "So some will be going to the wellness programs that will be meditation and yoga and group therapies and music therapy and acupuncture and these things, and then the other half will be going to research … and it's wonderful."
Learn more about SurvivorNet's rigorous medical review process.