Life After Covid and Cancer
Actor Jeff Bridges, 72, was fighting cancer and COVID in 2021, but he never informed the public as to how close he actually was to death, until now.
The Oscar-winning star opened up exclusively to E! News this week to share more of his distressing health battle.
Bridges announced in October 2020 that he was diagnosed with lymphoma, and about a year later in September 2021, he was declared to be in remission.
Actor Jeff Bridges, 72, admits he feels lucky to be alive after his fight with cancer and COVID in 2021, but he never informed the public of how close to death he was until this year.
Speaking with E! News, the Hollywood star and dad of three, who has been in remission since September of last year, says, "The chemo wipes out your immune system and when COVID hit me, I had nothing to fight it. I was just really at death's door a couple of times there."
Read More
"I remember the doctors saying to me, 'Jeff, you gotta fight.' I had no idea what they were talking about," Bridges explains. "I thought, 'Man, I'm in surrender mode here.' With a great medical team, great trainers and my family, everybody brought me back."
The Los Angeles-born husband announced his lymphoma diagnosis in October 2020. Then, as Bridges was undergoing chemotherapy treatments just months later, he contracted COVID.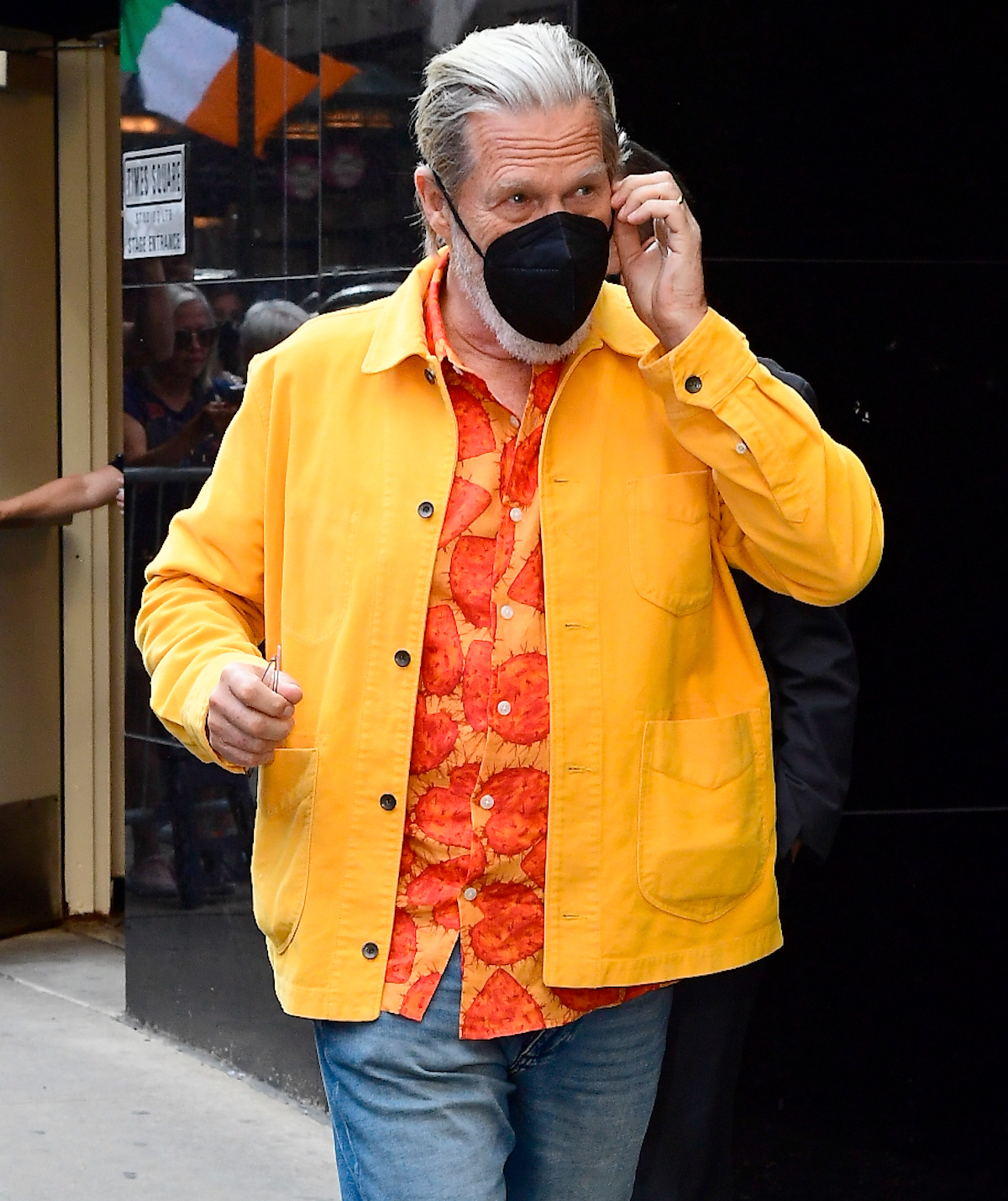 Bridges, who recalls being in the hospital for more than four months with COVID, is now working to spread awareness about lymphoma and how COVID-19 isn't over for immunocompromised Americans with AstraZeneca's Up The Antibodies campaign.
"While the option to up my antibodies to protect me from COVID-19 wasn't around when I was going through cancer treatment, it is now. As soon as I could, I upped my antibodies. And now I'm feeling more confident to get back to doing the things I love," Bridges said.
Related: Football Coach, 23, Says Getting 'Long COVID' Saved His Life After Doctors Treating Him Discovered He Had Cancer Just In Time
He also took to social media to promote the campaign, captioning a sponsored post: "COVID-19 hit me while I was already down with cancer and on chemo, but I knew I wasn't out. #UpTheAntibodies to get an added layer of protection."
Bridges, best known for playing The Dude in the movie The Big Lebowski, is grateful for the "love of his life" Susan, who he married more than three decades ago, as well as three daughters and grandchildren.
In regards to his battle with cancer and COVID, Bridges adds, "It turns out there are many positive sides in my life that came out of that experience."
Earlier this year, Bridges also spoke to PEOPLE about fighting COVID after chemo.
He said, "I had no defenses. That's what chemo does—it strips you of all your immune system. I had nothing to fight it. COVID made my cancer look like nothing, he added."
"I was pretty close to dying," Bridges admitted. "The doctors kept telling me, 'Jeff, you've got to fight. You're not fighting.' I was in surrender mode. I was ready to go. I was dancing with my mortality."
Jeff Bridges' Cancer Battle
Jeff Bridges announced the news of his lymphoma cancer diagnosis in October 2020 on social media. He revealed his diagnosis saying, "I have a great team of doctors, and the prognosis is good."
Related: Radio & Fox News Host Dan Bongino, 47, Says Cancer 'Put Horse Blinders On Me To See What Really Matters'; He Survived Hodgkin Lymphoma
The actor had chemotherapy to treat his disease, and throughout his cancer journey, he kept his fans updated on his treatment process. He shared exciting updates, such as news that his tumor is shrinking, in his online journal and on social media.
Luckily, his doctors were right about his prognosis. In September of last year, the actor posted on his blog that his cancer had entered remission.
"The 9" x 12" mass has shrunk down to the size of a marble," Bridges writes. He also suffered after contracting Covid in the midst of his cancer battle in 2021. "Covid kicked my ass pretty good, but I'm double vaccinated and feeling much better now."
Understanding Lymphoma
While Jeff Bridges didn't disclose publicly the type of lymphoma he was diagnosed with, the two most common types of this disease are Hodgkin and non-Hodgkin lymphoma. Lymphoma is a cancer of the immune system that affects infection-fighting cells called lymphocytes. And there are more than 40 different types of lymphoma.
"Lymphoma is split up into a number of different categories," Dr. Elise Chong, a medical oncologist at Penn Medicine, previously told SurvivorNet.
Sneaky Lymphoma Symptoms Often Lead to a Late Diagnosis
"The first distinguishing breakpoint, if you will, is non-Hodgkin lymphoma versus Hodgkin lymphoma," she added, "and those sound like two different categories. But non-Hodgkin lymphoma comprises the majority of lymphoma, and Hodgkin lymphoma is a single specific type of lymphoma."
Hodgkin lymphoma has distinctive, giant cells called Reed-Sternberg cells. The presence of these cells, which can be seen under a microscope, will help your doctor determine which of the two lymphoma types you have.
There are a few other important differences between non-Hodgkin lymphoma and Hodgkin lymphoma to note. For one thing, non-Hodgkin lymphoma is much more common. And you're more likely to be diagnosed with it after age 55, like Jeff Bridges. People usually develop Hodgkin lymphoma at a younger age.
It should be noted that another difference between these two types of lymphoma is that non-Hodgkin lymphoma is more likely to spread in a random fashion and be found in different groups of lymph nodes in the body, while Hodgkin lymphoma is more likely to grow in a uniform way from one group of lymph nodes directly to another.
These two different types of lymphoma behave, spread and respond to treatment differently, so it's important for you to know which type you have.
What Kind of Lymphoma Do You Have? Why Your Type Matters
Contributing: SurvivorNet Staff
Learn more about SurvivorNet's rigorous medical review process.
---