Cancer and COVID
Even though actor Jeff Bridges, 73, survived cancer and two bouts of COVID-19, he said large crowds still make him nervous about getting COVID-19 again.
Bridges said the chemotherapy he underwent to treat his non-Hodgkin lymphoma affected his body's ability ward off the respiratory disease.
Non-Hodgkin lymphoma begins in a type of white blood cell called the lymphocytes, which are part of the immune system.
Even the COVID-19 Public Health Emergency has ended, it's important to know that the immunocompromised (like those with certain blood cancers or those receiving chemo) are still at risk.
The CDC recommends the immunocompromised stay on top of COVID-19 vaccines, wear a good quality face mask or respirator, avoid crowds indoors and/or poorly ventilated areas, and use soap and water to wash your hands.
Even though actor Jeff Bridges, 73, had an increased risk of getting really sick from COVID-19 because of his cancer battle, he was able to survive the disease twice. Now, Bridges says large crowds still make him nervous — highlighting the reality that immunocompromised people still live with despite the ending of the COVID-19 Public Health Emergency.
Bridges, who had said he was at "death's door" while battling cancer and COVID simultaneously, has since partnered with AstraZeneca for its Up The Antibodies, an educational campaign that supports the immunocompromised community and raises awareness on how these people can prevent COVID.
Read More
RELATED: Could Monoclonal Antibody Treatment Be a Game-Changer for People with Weakened Immune Systems? Here's What Cancer Patients Need to Know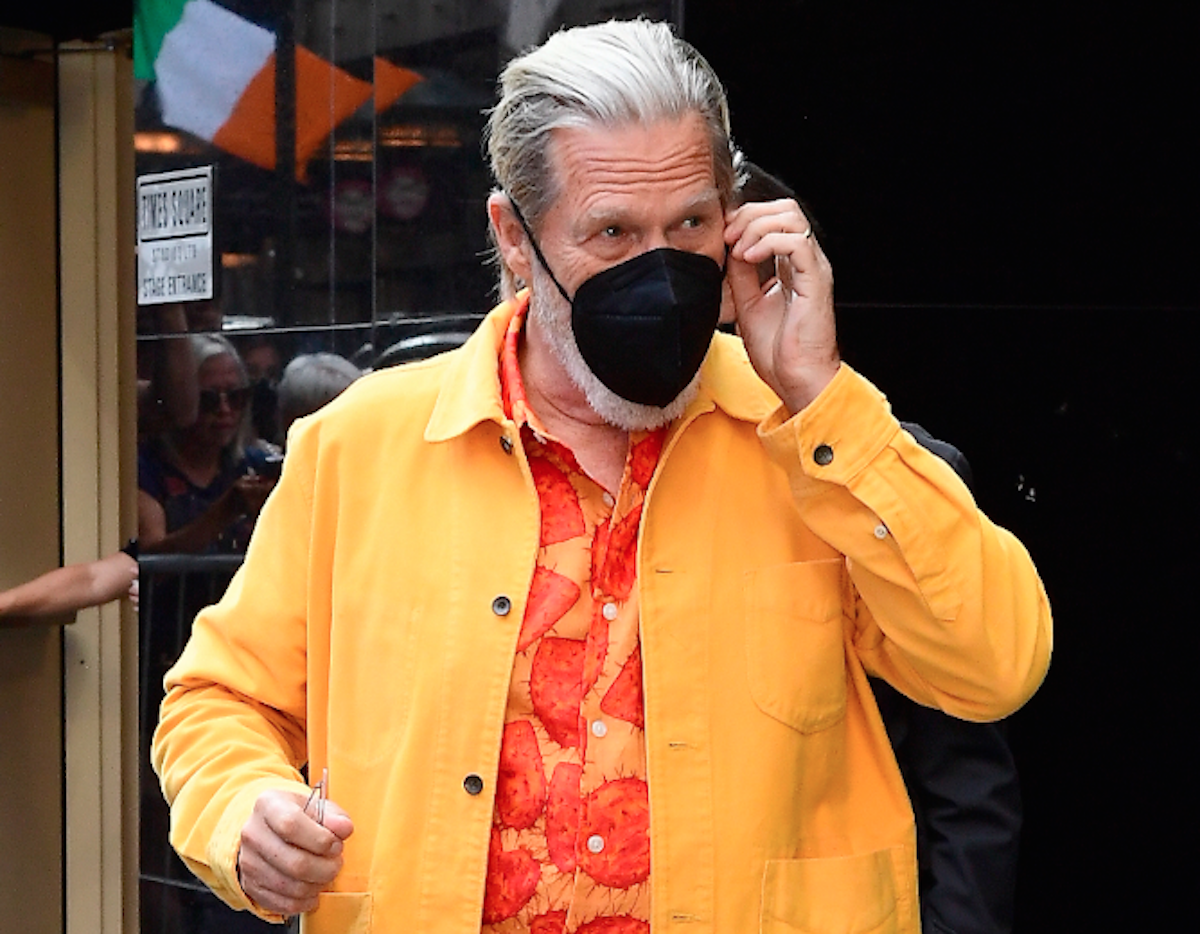 Bridges captioned the post, "#sponsored You may have heard about my first bout of COVID-19, but many don't know that I had it a second time late last year. Thankfully, it wasn't nearly as bad as the first go-around." "#MyCOVIDReality is that big crowds still make me nervous, so I try to keep my crew small when I can," Bridges continued. "If you're immunocompromised, what's your COVID reality? Lemme know."
View this post on Instagram
The Los Angeles-born husband and father of three announced his lymphoma diagnosis back in October 2020. At the time, he was undergoing chemotherapy treatments.
Just months later, he contracted COVID.
Bridges, who starred as Jeff "The Dude" Lebowski in the 1998 comedy thriller "The Big Lebowski," ended up staying in the hospital with COVID for more than four months. He previously recounted how the chemotherapy he underwent to treat cancer affected his body's ability to ward off the respiratory disease.
In a recent interview with People magazine, Bridges explained, "I had no defenses. That's what chemo does it strips you of all your immune system."
Bridges, who had the support of his daughters and wife Susan Geston amid his cancer and COVID battle, said in an Up The Antibodies campaign video clip last year, "I almost lost it all. My immune system was totally shot. Fortunately, you don't have to wait around for the worst. You can up your antibodies before COVID comes knocking."
Jeff Bridges' Lymphoma Battle
Jeff Bridges went public with his lymphoma cancer diagnosis on social media in October 2020, saying, "I have a great team of doctors, and the prognosis is good."
He received diagnosis of non-Hodgkin lymphoma – cancer of a type of white blood cells called lymphocytes, which are part of the immune system – shortly after "The Old Man" production was paused in March 2020 amid the start of the COVID-19 pandemic.
Bridges underwent chemotherapy and became cancer-free after his tumor decreased in size. By September 2021, the he announced in a blog post that his lymphoma had entered remission.
"The 9" x 12" mass has shrunk down to the size of a marble," Bridges wrote. "Covid kicked my ass pretty good, but I'm double vaccinated and feeling much better now."
In a previous interview with Esquire, Bridges said the hard times gave him more appreciation for life, saying "I'll be honest. I didn't know if I was going to make it. I was on death's door there for a while in the hospital … When I finally went back to work, after a two-year hiatus, it was the most bizarre kind of thing. It felt like a dream."
"I came back after all that time, and saw the same faces [while shooting The Old Man], the same cast and crew," he added. "It was like we had a long weekend. I gathered everyone and I said, 'I had the most bizarre dream, you guys.' I was sick and out, but all that feels like a gray mush now."
Bridges is the star and executive producer of the FX show, which is based on Thomas Perry's bestselling novel of the same title. In "The Old Man," he acts as Dan Chase – an ex-CIA member who's being hunted by assassin Gbenga Akinnagbe.
Understanding Non-Hodgkin Lymphoma
The cancer Bridges was diagnosed with is non-Hodgkin lymphoma, a cancer that forms in a type of white blood cell called the lymphocytes, which are part of the immune system.
There are a few different subtypes of non-Hodgkin lymphoma. Following a diagnosis, a patient's doctor will need to determine if the cancer is indolent (slow-growing) or aggressive, and if the lymphocytes being affected are B-cells or T-cells. Diffuse large B-cell lymphoma is the most common subtype of non-Hodgkin lymphoma.
Treatment depends on what subtype a person has.
Dr. Jennifer Crombie On How Treatment Is Determined for Non-Hodgkin Lymphoma Patients
"For patients with indolent lymphomas, sometimes patients may not require therapy at the time of diagnosis, if they're asymptomatic or have a low burden of disease, whereas patients with more aggressive lymphoma would require initiation of treatment," Dr. Jennifer Crombie, a medical oncologist at Dana-Farber Cancer Institute, told SurvivorNet in an earlier interview.
When a patient has an aggressive type of lymphoma, "We do treat patients with chemotherapy," Dr Crombie said. "That's the standard of care — and our most common regimen that we use for patients is something called R-CHOP."
Dr. Adrienne Phillips On How Chemotherapy Combination R-CHOP Works
Being Immunocompromised & Staying Protected
Even though the government has ended the COVID-19 Publish Health Emergency, it's important to know that the disease is still spreading and people are still at risk.
According to the Centers for Disease Control & Prevention (CDC), "Some people who are immunocompromised (have a weakened immune system) are more likely to get sick with COVID-19 or be sick for a longer period. People can be immunocompromised either due to a medical condition or from receipt of immunosuppressive medications or treatments."
Those with weakened immune systems include those with certain blood cancers like leukemia or lymphoma or those receiving chemo, certain kinds of immunotherapy, or a stem cell or bone marrow transplant, according to the American Cancer Society.
There are various ways an immunocompromised person can protect themselves from getting sick, but it's always best to speak with your doctors about what the best plan should be.
RELATED: COVID-19 Can Be Very Bad for Cancer Patients Who've Just Completed Certain Types of Treatments, Study Says
The CDC recommends the immunocompromised to:
Stay on top of COVID-19 vaccines
Wear a good quality face mask or respirator
Avoid crowds indoors and/or poorly ventilated areas
Always seek to improve ventilation when inside with others
Use soap and water to wash your hands, or use a hand sanitizer with at least 60% alcohol
Immunosuppressed Patients & COVID-19
Meanwhile, a recent study revealed that people who have COVID-19 after immune-compromising cancer treatments may carry the virus longer than others.
According to data on a small group of patients, published in the New England Journal of Medicine, this type of patient may shed detectable virus for up to two months after infection. This could mean that these patients continue to be contagious during that time.
RELATED: Sisters in Chronic Disease: Christina Applegate's Loving Message To Selena Gomez: 'From One Immunocompromised To Another. I'm Here XO'
"The data in this study, while small, suggests that isolation of immunocompromised cancer patients positive for COVID-19 may need to be longer than currently recommended given that we show that they can shed live virus for up to 60 days," Esther Babady, PhD, a microbiologist and director of Clinical Microbiology at Memorial Sloan Kettering Cancer Center who co-authored the study, previously told SurvivorNet.
Current CDC guidelines say that immunocompromised people are not likely to be contagious for more than 20 days after their symptoms start. But this study suggests that it's possible.
What Is a Monoclonal Antibody Treatment?
Up The Antibodies works to raise awareness about monoclonal antibody treatments. They are intravenous infusions or shots that can provide immunocompromised people with the COVID-fighting antibodies that their bodies do not produce on their own.
Monoclonal antibodies are laboratory-made proteins that mimic the immune system's ability to fight off harmful pathogens such as viruses, according to the Food and Drug Administration.
Dr. Stephen Freedland 's Tips On Supporting Your Immune System
If given via infusion, patients receive this treatment once, and the process takes about an hour.
If as a shot, the antibody is administered as two separate consecutive intramuscular injections (one injection per monoclonal antibody, given in immediate succession), and may be effective for pre-exposure prevention for six months.
These types of treatments have already been used to keep Covid patients from experiencing more extreme complications.
How Can This Treatment Help Cancer Patients?
The U.S. Food and Drug Administration's recent approval could lend some insight.
In 2021, the FDA issued an emergency use authorization for AstraZeneca's Evusheld (tixagevimab co-packaged with cilgavimab), which is a long-acting monoclonal antibody treatment, for the pre-exposure Covid prevention in certain adults and children (12 years of age and older weighing at least 88 pounds.)
Think of this treatment as an alternative to the Covid vaccine for patients who are immunocompromised or allergic to the traditional Covid vaccine.
Dr. Heather Yeo, a surgical oncologist at New York-Presbyterian/Weill Cornell Medical Center, told SurvivorNet that this approval was "interesting."
"The question is really for whom this would be helpful. (The) vaccine is obviously more important. But for those who are allergic or who are unable to mount an immune response, this seems to offer promise," she added. "It's basically like giving your body the antibodies it needs to fight. So again, (the) vaccine (is) better."
Immunocompromised: Should You Be Getting A Booster?
The Food and Drug Administration (FDA) approved a booster shot last year for the immunocompromised as a way to help protect them from COVID-19.
RELATED: Masks Are Coming Off For Most Of America, But What About The Immunocompromised? And The New Covid Variant?
The booster was created specifically for those immunocompromised individuals who are at higher risk of health problems if exposed to COVID-19. The CDC has listed out specific criteria on eligibility, which includes:
Anyone currently receiving cancer treatment for blood cancers or tumors
Those who have received an organ transplant or are taking medication which weakens their immune system
Anyone who has gone through a stem cell transplant within the last two years
Those who have moderate to severe immunodeficiency (a condition which fails to protect someone's body from illness or infection)
Those who have advanced or untreated HIV
Anyone currently being treated with high-doses of corticosteroids (also known as steroids)
This booster is a critical step in making sure the immunocompromised population is protected from both COVID-19 and the delta variant. Not only is this group at higher risk of serious health complications, or death, if exposed to the virus, but they also are more likely to transmit the virus among their households.
Cancer Patients & COVID-19 — When to Stay Home and When to Go in to Your Doctor
Furthermore, studies have shown that the COVID-19 vaccine has been found less effective in cancer patients receiving chemotherapy. This is especially true in blood cancer patients.
The studies show that cancer patients have fewer antibodies than individuals who are not immunosuppressed when they first receive the vaccine, and after their second dose. Therefore, this booster shot would greatly benefit cancer patients in further protecting them.
Contributing: SurvivorNet Staff
Learn more about SurvivorNet's rigorous medical review process.
---