How Jeff Bridges Fought Lymphoma
Actor Jeff Bridges, 73, fought cancer and COVID in 2021 but never informed the public as to how close he actually was to death until last year. Now, his co-star Amy Brenneman, who acted alongside him in The Old Man, has recounted how "lively" Bridges remained throughout his cancer battle.
Bridges announced in October 2020 that he was diagnosed with lymphoma, and about a year later in September 2021, he was declared to be in remission.
Bridges had chemotherapy to treat his disease. Other lymphoma treatments include active surveillance, radiation, and bone marrow transplant.
The two main types of lymphoma are Hodgkin and non-Hodgkin lymphoma. Non-Hodgkin lymphoma is more common, and you're more likely to be diagnosed with it after age 55. People usually develop Hodgkin lymphoma at a younger age.
Actor Jeff Bridges, 73, impressed his fans, coworkers, and loved ones after a year of getting his strength back and returning on set for the FX thriller, The Old Man, after his battle with lymphoma.
Now, the beloved actor is being praised for his "lively" attitude and perseverance through a time of dealing with both cancer and Covid-19, something he previously recounted as being at "death's door."
Read More
Speaking at the 28th annual Critics Choice Awards over the weekend, an event where Bridges was given the Lifetime Achievement Award, actress Amy Brenneman opened up about why she looks up to her co-star who overcame both cancer and Covid-19. "I was with Jeff Bridges every day for 60 days,"
Brenneman, 58, told PEOPLE
in a recent interview. "I mean, literally we didn't act with anybody else, and I changed because of it."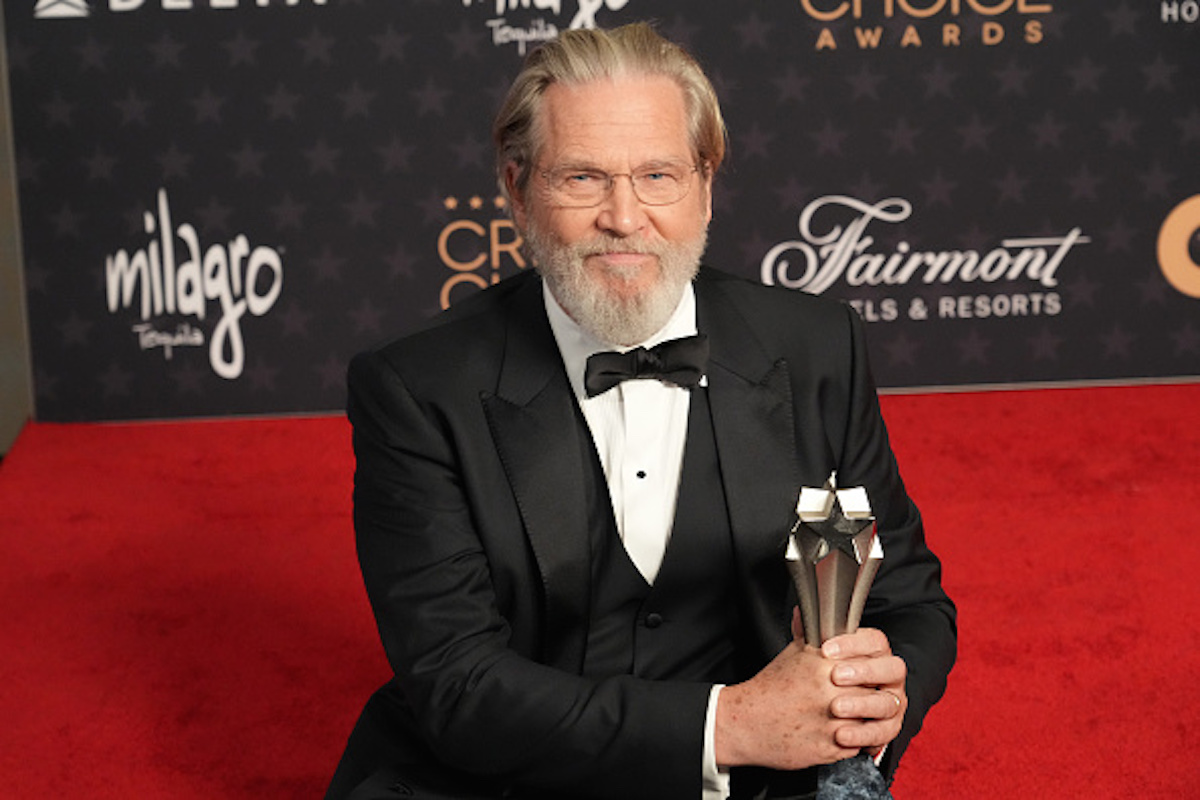 "I was always with Jeff and … then he was diagnosed with cancer. Honestly, during the cancer, he was really lively," she added, recounting when she told him, "I think you're going to beat this."
Inspiring Survivor Stories: Jeff Bridges Overcame Cancer & Covid to Land a Golden Globe Nomination
However, when Bridges was sick with Covid-19, Brenneman didn't hear from him for a bit, which made her realize he was "fighting for his life."
Despite his health struggles, Bridges powered though and is now thriving after beating Covid-19 and cancer.
Explaining how Bridges inspires her, Brenneman said, "You look at people that are 15, 20 years down the line that are still creative, that are still brilliant, and you go, that's the way you do it."
She then opend up about how the Big Lebowski actor is her role model. "The only thing that parallels his artistry is his generosity and his connection, and, it's sort of the deeper reason of why we all do this — human connection," Brenneman said. "And Jeff talks very openly about that, and I am that way too. So I feel like I met my mentor."
"He brings out the little kid in me of being in a musical at five. It's like, oh my God. We get to just pretend to be other people. It's hilarious."
Jeff Bridges' Cancer Battle
Jeff Bridges announced the news of his lymphoma cancer diagnosis in October 2020 on social media. He revealed his diagnosis saying, "I have a great team of doctors, and the prognosis is good."
Related: Radio & Fox News Host Dan Bongino, 47, Says Cancer 'Put Horse Blinders On Me To See What Really Matters'; He Survived Hodgkin Lymphoma
The actor had chemotherapy to treat his disease, and throughout his cancer journey, he kept his fans updated on his treatment process. He shared exciting updates, such as news that his tumor is shrinking, in his online journal and on social media. Lymphoma treatments can include, says the Mayo Clinic:
Active surveillance. Some forms of lymphoma are very slow growing. You and your doctor may decide to wait to treat your lymphoma when it causes signs and symptoms that interfere with your daily activities. Until then, you may undergo periodic tests to monitor your condition.
Chemotherapy. Chemotherapy uses drugs to destroy fast-growing cells, such as cancer cells. The drugs are usually administered through a vein, but can also be taken as a pill, depending on the specific drugs you receive.
Radiation therapy. Radiation therapy uses high-powered beams of energy, such as X-rays and protons, to kill cancer cells.
Bone marrow transplant. A bone marrow transplant, also known as a stem cell transplant, involves using high doses of chemotherapy and radiation to suppress your bone marrow. Then healthy bone marrow stem cells from your body or from a donor are infused into your blood where they travel to your bones and rebuild your bone marrow.
Other treatments. Other drugs used to treat lymphoma include targeted drugs that focus on specific abnormalities in your cancer cells. Immunotherapy drugs use your immune system to kill cancer cells. A specialized treatment called chimeric antigen receptor (CAR)-T cell therapy takes your body's germ-fighting T cells, engineers them to fight cancer and infuses them back into your body.
Luckily, his doctors were right about his prognosis. In September of last year, the actor posted on his blog that his cancer had entered remission.
"The 9" x 12" mass has shrunk down to the size of a marble," Bridges writes. He also suffered after contracting Covid in the midst of his cancer battle in 2021. "Covid kicked my ass pretty good, but I'm double vaccinated and feeling much better now."
After all of the struggle, like so many cancer survivors, Bridgers was left with a renewed appreciation for life.
"I'll be honest. I didn't know if I was going to make it," he previously told Esquire. "I was on death's door there for a while in the hospital … When I finally went back to work, after a two-year hiatus, it was the most bizarre kind of thing. It felt like a dream."
"I came back after all that time, and saw the same faces [while shooting The Old Man], the same cast and crew," he continued. "It was like we had a long weekend. I gathered everyone and I said, 'I had the most bizarre dream, you guys.' I was sick and out, but all that feels like a gray mush now."
Understanding Lymphoma
While Jeff Bridges didn't disclose publicly the type of lymphoma he was diagnosed with, the two most common types of this disease are Hodgkin and non-Hodgkin lymphoma. Lymphoma is a cancer of the immune system that affects infection-fighting cells called lymphocytes. And there are more than 40 different types of lymphoma.
"Lymphoma is split up into a number of different categories," Dr. Elise Chong, a medical oncologist at Penn Medicine, previously told SurvivorNet.
Sneaky Lymphoma Symptoms Often Lead to a Late Diagnosis
"The first distinguishing breakpoint, if you will, is non-Hodgkin lymphoma versus Hodgkin lymphoma," she added, "and those sound like two different categories. But non-Hodgkin lymphoma comprises the majority of lymphoma, and Hodgkin lymphoma is a single specific type of lymphoma."
Hodgkin lymphoma has distinctive, giant cells called Reed-Sternberg cells. The presence of these cells, which can be seen under a microscope, will help your doctor determine which of the two lymphoma types you have.
There are a few other important differences between non-Hodgkin lymphoma and Hodgkin lymphoma to note. For one thing, non-Hodgkin lymphoma is much more common. And you're more likely to be diagnosed with it after age 55, like Jeff Bridges. People usually develop Hodgkin lymphoma at a younger age.
It should be noted that another difference between these two types of lymphoma is that non-Hodgkin lymphoma is more likely to spread in a random fashion and be found in different groups of lymph nodes in the body, while Hodgkin lymphoma is more likely to grow in a uniform way from one group of lymph nodes directly to another.
These two different types of lymphoma behave, spread and respond to treatment differently, so it's important for you to know which type you have.
What Kind of Lymphoma Do You Have? Why Your Type Matters
Contributing: SurvivorNet Staff
Learn more about SurvivorNet's rigorous medical review process.
---