When Work is Joy
Jeopardy!'s reigning champion Ken Jennings says host Alex Trebek desperately wanted to start working again during quarantine.
Trebek is currently battling stage 4 pancreatic cancer, one of the most difficult types of cancers to treat.
Experts tell SurvivorNet that doing things you love during cancer treatment is important to remain positive and uplifted.
During quarantine,
Alex Trebek
, 80, apparently didn't love the extra downtime while in lockdown; he wanted to get back to work. Ken Jennings, the reigning 
Jeopardy! 
champion, says during
COVID-19
Trebek couldn't wait to get back on set and feel some normalcy again.
Jennings, 46, is now more than just the genius Jeopardy! contestant, he's recently secured a place on the show as a consulting producer for their 37th season and might be in line to host ABC's revival of "The Chase." Due to the pandemic, filming for the new season was halted in order to keep Trebek, contestants, and the rest of the staff safe. Well, according to Jennings, the time off didn't sit well with Trebek.
Read More
Related: "Jeopardy" Contestant Gets Teary From Meeting Alex Trebek During His Cancer Battle: 'It Was Worth Humiliating Myself To Be With You"
"He was visibly cranky during the hiatus because Jeopardy! had to take a slightly longer than usual hiatus because they ran out of new shows and weren't allowed to tape during the pandemic," Jennings tells Pop Culture. "Alex was climbing the walls. He wanted to be working. He really missed it. I've watched him on that set and it's where he feels his most capable, his most confident, his most old-self despite the cancer battle. That's why he's going to keep doing that job for as long as he can and we are lucky to have him."
Trebek's role on Jeopardy! may serve as a welcome distraction as he continues to battle stage 4 pancreatic cancer. He's been fighting the disease since February 2019, and has promised fans that he plans to stay as the beloved trivia game show host as long as he possibly can.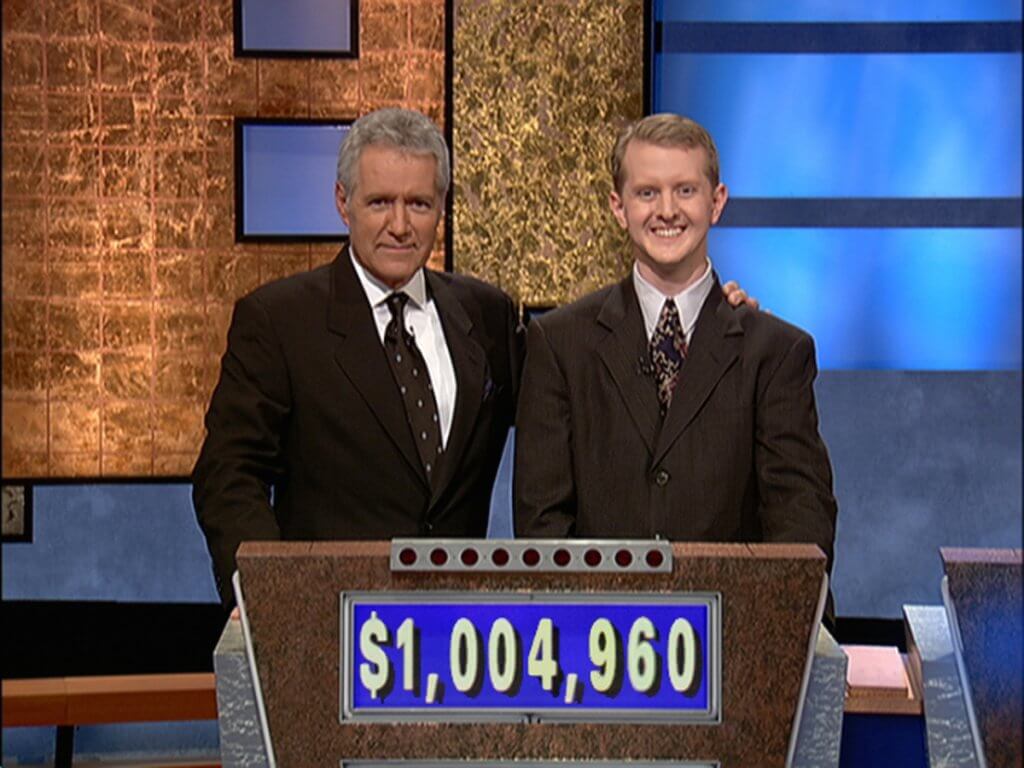 Navigating Pancreatic Cancer
Trebek has embodied the strength of a true warrior during his cancer fight. This is no small feat, especially considering pancreatic cancer is known as one of the most difficult types of cancers to treat, and 80% of diagnoses are caught in later stages since symptoms don't present themselves until the disease has already spread. Currently, the five-year survival rate of pancreatic cancer patients is just 9%, but Trebek continues to thrive as a cancer warrior and remain positive by appearing on Jeopardy!
The main reason why pancreatic cancer is so hard to treat is because of the stroma — a barrier around cancer cells which prevents medications, such as chemotherapy and radiation, from targeting and killing these cells. If these cells continue to grow, then the disease will continue to progress. As the disease grows, treatment options often become more limited.
Related: Fashion Icon Karl Lagerfeld Died of Pancreatic Cancer – Soon To Be The Second Leading Cancer Killer in The U.S.
"Think of pancreatic cancer as an oatmeal raisin cookie and the raisins are actually the cancer cells, and the cookie part is actually all the stroma around it," Dr. Allyson Ocean, a medical oncologist at Weill Cornell Medical Center, tells SurvivorNet. "And imagine having to navigate through all that stroma for a treatment to be able to get into a cell to kill it. So that's why the treatments just really aren't good enough to penetrate the cancer. But we're improving, we're getting better treatments."
Dr Anirban Maitra explains why it's important pancreatic cancer is caught early
During Cancer Treatment, Still Do What You Love
During cancer treatment, it can be hard to focus on anything except your treatment. However, it's important to take a moment and focus on something that makes you genuinely happy. If you're like Trebek, you may have actually found a career that you look forward to waking up to everyday. For others, happiness may stem from something as simple as a walk in the park, catching a movie, or simply spending time with loved ones. No matter what you enjoy doing, experts recommend you try to take some time out of your day a few times a week and really enjoy those special pockets of joy.
Related: Robin Williams Brought Much-Needed Laughter to Sharon Osbourne During Dark Moment in Her Colon Cancer Battle
"We know from good studies that emotional health is associated with survival, meaning better quality of life is associated with better outcomes," Dr. Dana Chase, a gynecologic oncologist at Arizona Oncology, tells SurvivorNet. "So working on your emotional health, your physical well-being, your social environment [and] your emotional well-being are important and can impact your survival. If that's related to what activities you do that bring you joy, then you should try to do more of those activities."
Dr. Chase says she encourages her patients to make a list of the top 10 things that make them happy, and push them to try to keep doing them. It doesn't have to be every day, but often enough so they don't lose sight of those very important happy moments.
Dr. Dana Chase encourages all cancer patients to find moments of joy during treatment
Learn more about SurvivorNet's rigorous medical review process.