Crusade for Veterans Sickened by Cancerous Burn-Pit Fumes
Veterans are becoming ill after exposure to cancer-causing fumes from military burn pits
Stewart is advocating for healthcare for Veterans impacted by burn-pit exposure
He also supports 9/11 first responders sickened by toxic exposure
Former "Daily Show" host, Jon Stewart, sounded the alarm on the dangers of military burn pits and advocated for Veterans sickened from their toxic black smoke in an
online conference
 on burn pits on Friday.
RELATED: As 9/11-Linked Cancers Continue to Climb, Jon Stewart Urges Congress to Fund First Responders' Medical Costs
Read More
"I'm not a scientist and I'm not a doctor, but I'm also not an idiot," Stewart told the Texas group. "You don't dig a giant hole and take all the hazardous materials that our soldiers have to deal with and pour jet fuel on it and light it on fire and have our soldiers sleep next to it and think that it's going to be okay."
Veterans sickened by the toxic smoke have been denied coverage for treatment by the VA. Stewart is working with military groups to introduce healthcare legislation to Congress designed to change that.
A forceful voice on the cancer-causing fallout for first responders after 911, Stewart says our military Veterans are now facing similar health threats — including rare cancers — from burn-pit exposure.
What Is A Burn Pit?
More than 250 burn pits were used on military bases in Iraq and Afghanistan to burn trash day and night. The toxic smoke from the pits was laced with dioxins, lead, mercury, and other cancer-causing chemicals, which wafted across the base in fumes that service members breathed.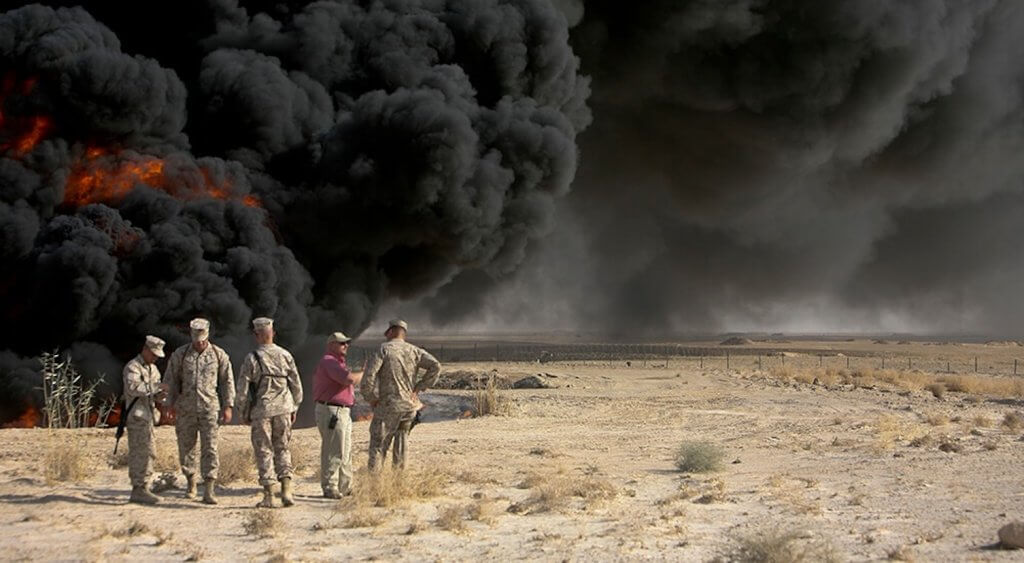 Toxic fumes from military burn pits have led to rare cancers and other illnesses in U.S. military Veterans. 
The items disposed of in the burn pits included chemical weapons, computer hardware, medical waste, asbestos, pesticides, paint cans, fuels, and other toxic substances.
RELATED: 'Dark Waters' Won't Take Home Any Oscars — But the Story About Toxic Chemicals in Our Environment is Part of an Important Conversation
Exposure to burn pits has caused thousands of deaths among Veterans who've suffered from "devastating health conditions" including "rare forms of cancer," according to Burn Pit 360, a Veterans' advocacy group that sponsors a registry to track and calculate the human toll among our military Veterans.
Stewart: Model Has To Change
"If you can't take care of those that are injured and face health issues, if we're going to make them fight wars and then come home and fight for their lives — that has to change," Stewart said in a Washington Post online discussion in June. "That's a model that has to change."
RELATED: New 9/11 Memorial Honors Heroes Lost Or Still Suffering From Ground Zero-Linked Illness, Including Tragic Cancers
"They knew that burn pits were unhealthy. They had warnings. They ignored it. Now they have to do the just and fair thing. There's nobody who knows this fight better than John Feal," Stewart said of the 9/11 first responder who has fought for health coverage for those sickened in its aftermath. Feal spoke to SurvivorNet, below.
SurvivorNet spoke with John Feal, 9/11 first responder and founder and president of the Feal Good Foundation, which helps first responders get the healthcare and cancer screenings they need.
Earlier this year, Stewart met with military officers and members of the advocacy group, TEAM (Toxic Exposures in the American Military) to develop a strategy to ensure servicemembers exposed to toxins from the waste-disposal pits will receive appropriate medical care for burn-pit related medical problems.
RELATED: 'We Were Told The Air Was Safe' — The People At Risk for 9/11 Cancers
"Quite frankly, this is not just about burn pits — it's about the way we go to war as a country," Stewart said.
RELATED: 9/11 Cancers — New Warning Says 300,000 People at Risk Are Not Getting Help They Need
"We always have money to make war. We need to always have money to take care of what happens to people who are selfless enough, patriotic enough, to wage those wars on our behalf."
"One Simple Reason: Money"
The bill is still in the final stages of being drafted. Although advocates say there is ample evidence to connect health issues to exposure to toxins from burn pits, Veterans often find it difficult to access health care because the VA has requested more studies linking health problems to exposure.
"This is not an oversight, this is not a bug in the system. This is a feature of the system. 80% of claims that are made at the VA are denied," Stewart said on Friday. "It is designed to frustrate and to push claims down and there is one simple reason for it — and it's money."
Learn more about SurvivorNet's rigorous medical review process.
---