Beating Breast Cancer
Julia Louis-Dreyfus, 62, is a stage 2 breast cancer survivor and recipient of the National Medal of Arts award, the highest award for artists in America.
Breast cancer is a common cancer that has been the subject of much research, so there are many treatment options out there.
Mammograms, a standard screening procedure for breast cancer, and self-breast exams can save lives.
A stage 2 breast cancer diagnosis means that the tumor is probably bigger than 2 centimeters and/or there are some lymph nodes involved.
The treatment choice depends on several factors, including if and how much the cancer has spread, a woman's overall health, and the biology of the tumor.
Comedian and breast cancer survivor Julia Louis-Dreyfus was all smiles as she was honored with the National Medal of Arts, the highest award for artists in America, for her trailblazing career for women in comedy.
Louis-Dreyfus, 62, is an award-winning actress known for her roles in "Seinfeld" and "Veep," where she portrayed a mouthy vice president and later president. Upon her introduction to receive her award, President Joe Biden quipped about her "Veep" role while acknowledging her brave fight with stage 2 breast cancer.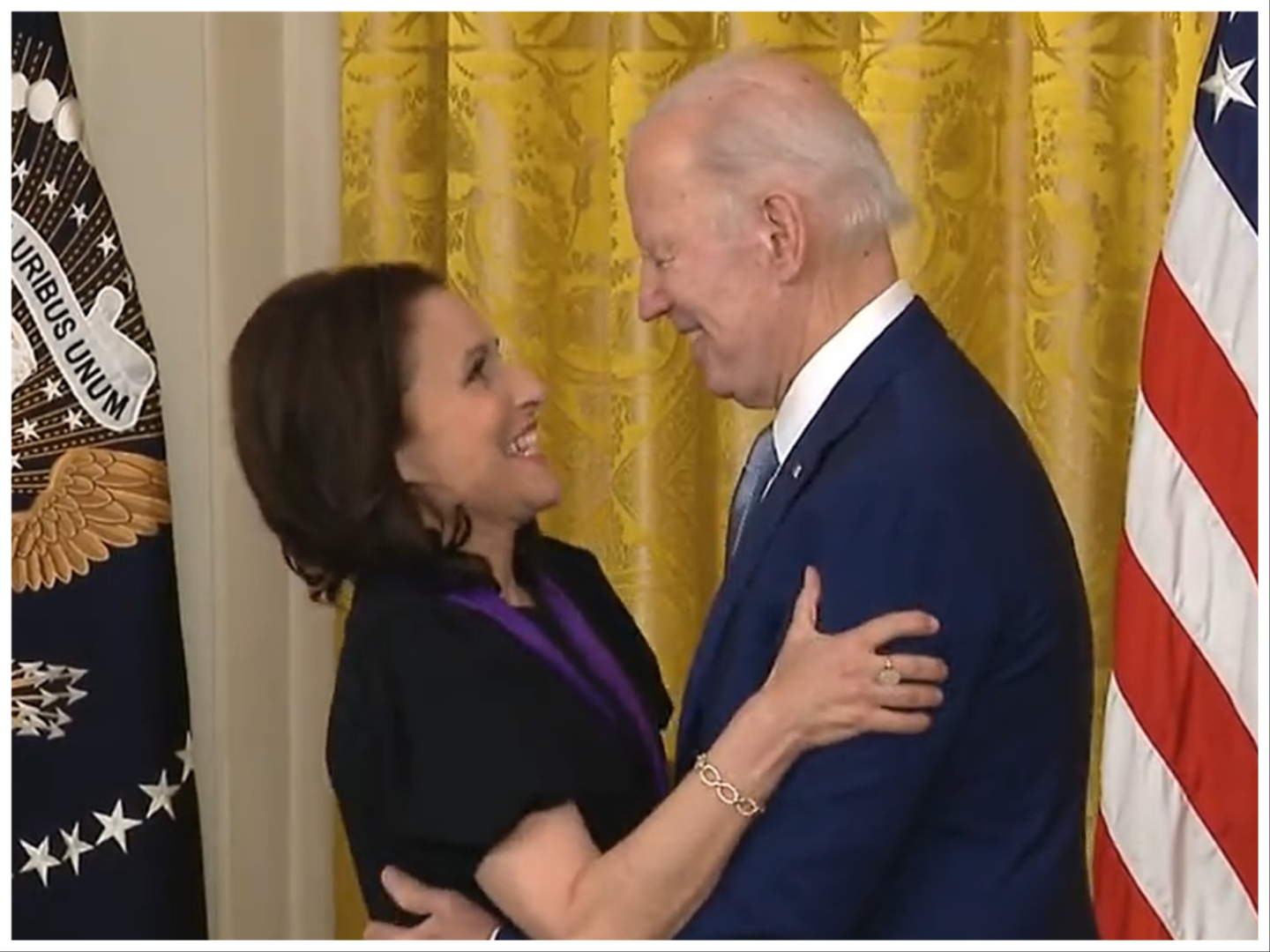 Read More
"She embraces life's absurdity with absolute wit, and handles real life turns with absolute grace. A mom, a cancer survivor, a pioneer for women in comedy, she is an American original," Biden
said
.
President Biden presents National Medal of Arts to Julia Louis-Dreyfus (@OfficialJLD). pic.twitter.com/IVmtga4907

— CSPAN (@cspan) March 21, 2023
"I'm going to talk with Julia later whether she liked being V.P. or president better. I got to figure it out," Biden added.
Prior to the ceremony, the cancer warrior shared a photo on her Instagram alongside her family.
"Hanging out in DC…might just drop by the White House later," she wrote.
The ceremony recognized recipients of the 2021 National Medals of Arts and the 2021 National Humanities Medals. The actress and comedian was among 23 others recognized, including Bruce Springsteen, Gladys Knight, and Vera Wang.
Julia Louis-Dreyfus' Cancer Journey
Louis-Dreyfus was diagnosed with stage 2 breast cancer in 2017. After her diagnosis, she shared the news publicly on her social media channels to an outpouring of support.
"1 in 8 women get breast cancer. Today, I'm the one," she wrote in her tweet.
"The good news is that I have the most glorious group of supportive and caring family and friends, and fantastic insurance through my union. The bad news is that not all women are so lucky, so let's fight all cancers and make universal health care a reality," her tweet continued.
Just when you thought… pic.twitter.com/SbtYChwiEj

— Julia Louis-Dreyfus (@OfficialJLD) September 28, 2017
The brave actress sharing her diagnosis in a heartfelt post proved inspiring for many of her fans who were also on cancer journeys.
"You have always been my hero and now more than ever you will be one of my inspirations…Thank you for sharing your journey," Donna Romano wrote on Louis-Dreyfus Instagram post.
As Louis-Dreyfus bravely fought her breast cancer head-on, she underwent six rounds of chemotherapy and a double mastectomy during her treatment. It took roughly a year, but in October 2018, she announced she was cancer-free.
WATCH: Understanding Your Breast Cancer Diagnosis
"I got diagnosed with cancer, and I powered through it," the long-time actress turned cancer warrior told "People" during a 2018 interview.
"I came out the other side…I'm grateful for all of it," she continued.
Breast Cancer Basics
Excluding skin cancers, breast cancer is the second-most common cancer in American women.
Two of the top risk factors for breast cancer are being a woman and getting older, with most breast cancer patients are diagnosed in women older than 50. Women who got their periods before they turned 12 years old or started menopause after 55-years-old are at increased risk. Other factors include a family history of breast cancer and genetic mutations to genes like BRCA1 and BRCA2, which are inherited.
Additional Breast Cancer Risk Factors
You're older: Your risk for this cancer rises, the older you get. That doesn't mean that you're destined to get breast cancer as you age, or that young people are immune to it. You just need to be more vigilant about screenings as you get older.
You have a gene mutation: Some women inherit changes to genes like BRCA1 or BRCA2, that increase their risk for breast cancer. Genetic tests can find these changes early, acting as an early warning for women to take preventive steps.
You were exposed to estrogen for longer: Estrogen is a hormone that helps some breast cancers grow. Getting your period early (before age 12) or starting menopause late (after age 55), increases your exposure to this hormone.
You waited to have children: Your risk may be higher if you waited to have children until after age 30, or you never gave birth. The risk is only slightly higher, meaning that you're not definitely going to get breast cancer, just because you waited to have children.
You were exposed to radiation: Being exposed to radiation early in life; for example, during treatment for a cancer like Hodgkin's lymphoma, can increase your risk of breast cancer later in life.
You have a family or personal history of breast cancer: Having cancer in your family, or going through treatment yourself, can make you more likely to be diagnosed.
It's important to remember: just because you may have one or more of the breast cancer risk factors, it does not mean you'll definitely get breast cancer. To help understand your risk and catch cancer early, women are encouraged to get screened once a year for breast cancer.
A mammogram is the primary test doctors use to screen for breast cancer.
Breast Cancer Symptoms
Breast cancer symptoms can present themselves in the following ways:
A new breast lump
New swelling in one breast
Changes in the nipple (such as puckering)
Redness or flaking in the breast or nipple
Discharge (including blood) from the nipple
Pain in the breast
If you find yourself experiencing any of these symptoms, or are concerned about changes to your body, you should bring them up with your doctor.
One of the best ways to detect breast cancer signs is by doing regular breast self-exams. A self-exam includes pressing your fingertips along your breast in a circular motion.
"For some women that means going to their doctor and walking through what a self-breast exam looks like, so they know what normal breast tissue feels like so if they do feel something abnormal whether it's a lump or discharge from the nipple they know what to ask and what to look for," SurvivorNet medical advisor Dr. Elizabeth Comen said.
Treating Breast Cancer
Louis-Dreyfus' breast cancer was in stage 2 when she was diagnosed.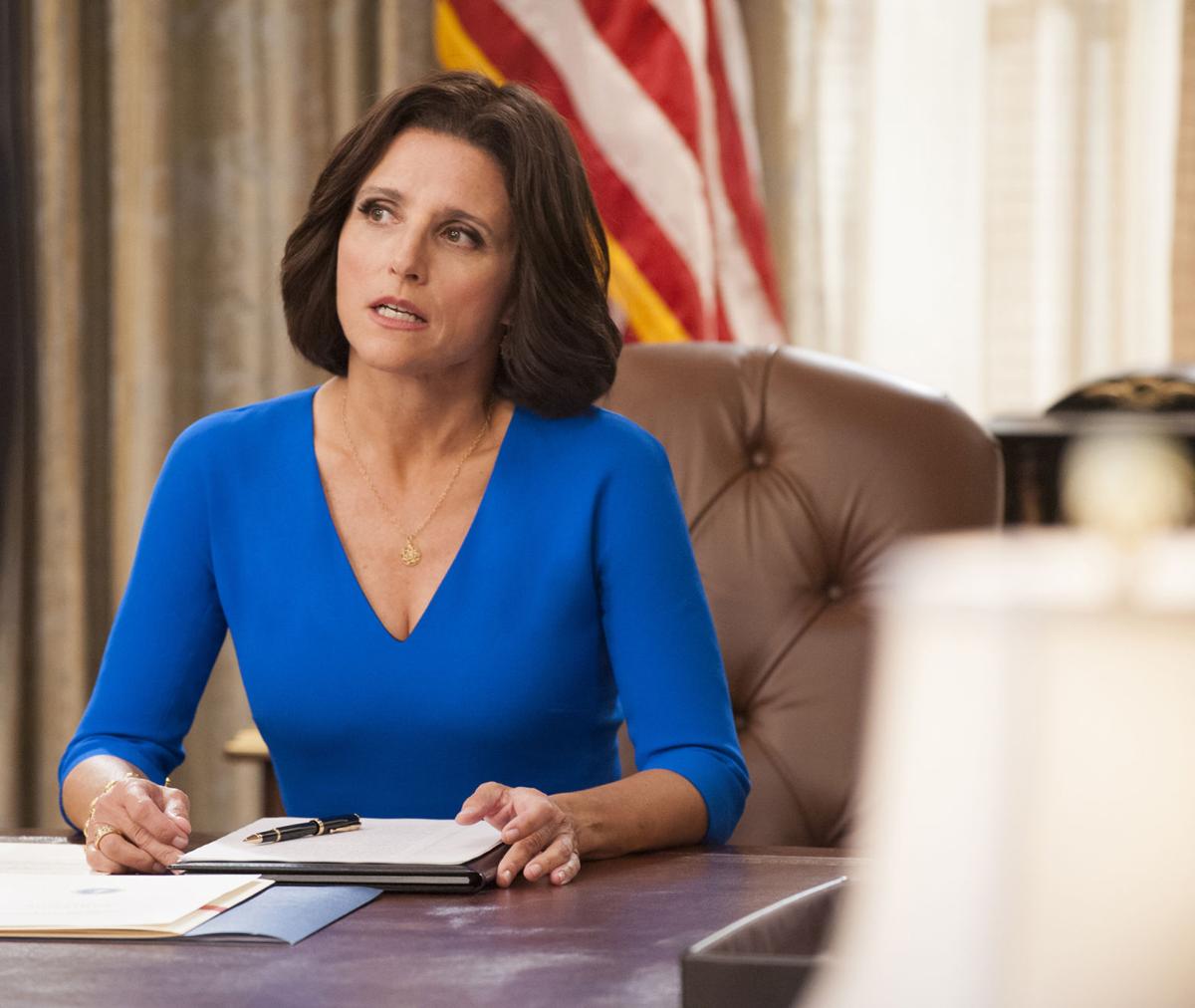 Breast cancer stages depend on the size of the cancerous tumor and whether or not it has spread to nearby tissues or lymph nodes. The breast cancer stage alongside your hormones, biology and genetics help doctors determine the best treatment. Treatment options include: surgery, chemotherapy, radiation, hormone therapy, targeted therapy and immunotherapy.
"Patients come to me all the time asking, 'What is the stage of my cancer?'" SurvivorNet medical advisor, Dr. Elizabeth Comen said.
"Stage is kind of an old way of thinking about how we treat breast cancer. But, yet, it is still one of the ways that we put patients into categories to figure out the types of treatments that may be available to them."
Stage Zero — Stage zero breast cancer, also known as ductal carcinoma in situ (DCIS), means that the cancer is confined to the inside of the milk duct, and has not spread through the walls into the nearby tissue.  DCIS is considered a non-invasive cancer. Some doctors don't even consider it a cancer, and would prefer to take a watch-and-wait approach over treatment. Others may recommend the surgery route, which usually involves a lumpectomy, and sometimes radiation as well.
Stage One — Stage one breast cancers are relatively small; they either have not spread to the lymph nodes or only a small area of cancer has spread to the sentinel lymph node. Treatment will likely be surgery and radiation following surgery, along with chemotherapy or some other therapy. For women whose breast cancer is hormone receptor positive doctors will also recommend hormone therapy. For HER2 positive cancers the drug Herceptin will be recommended.
Stage Two — Stage two breast cancers are either larger than stage one tumors, or have moved to a few nearby lymph nodes. Treatment will likely be some combination of surgery, radiation, and chemotherapy.  If chemotherapy is also needed after surgery, the radiation is delayed until the chemo is done. The same approach is taken  to hormone receptor and HER2 positive as stage one
Stage Three — Stage three breast cancer typically refers to a relatively large tumor, about 2 inches across, that has invaded nearby muscle or skin. Chemotherapy is usually given before surgery. For HER2 positive and hormone positive tumors hormone therapy is given after surgery. Radiation is often needed after surgery. Another approach for stage III patients is having surgery first, usually a mastectomy. In this case surgery is followed by radiation, additional chemotherapy and hormone therapy for appropriate patients.
Stage Four — Stage four or metastatic breast cancer means the cancer has spread beyond the breast and nearby lymph nodes to distant parts of the body. While there is no cure for metastatic breast cancer, doctors have a lot of options when it comes to treating advanced disease. The main treatment for stage four is drug therapy — including hormone therapy, chemotherapy, and targeted drugs. Radiation and surgery maybe used but in this case it's to prevent or treat symptoms or complications.
"When it comes to deciding the type of treatment that a woman needs, it's not just the size of the tumor and how many lymph nodes are involved and the stage. It's really also the biology. Is it hormone receptor positive? Is this a cancer that we probably need chemotherapy for? Or maybe we don't need chemotherapy for," Dr. Comen explained.
Learn more about SurvivorNet's rigorous medical review process.
---