Kathy Griffin sounds very different these days after having half her lung removed during her lung cancer battle.
The comedian, 61, appeared on Jimmy Kimmel Live Monday, giving fans their first chance to hear her new voice.
Read More
She also shared some excellent news, revealing that her surgery worked, and she is now cancer-free.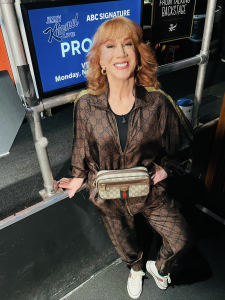 Related: Fawning Father-of-Four And Non-Smoker, 35, Blames COVID For Persistent Cough; It Was Stage 4 Lung Cancer
Griffin kicked things off by discussing that new voice, which is notably higher and huskier than she sounded before surgery.
"OK, so I have to explain my voice, you guys. Listen to my voice," Griffin said to the audience. "So I had surgery – you're not going to believe this – so I've never smoked, but I got lung cancer. And in August, I had half of my left lung removed. I'm not even kidding."
Related: Yoga Instructor, 29, Who Thought Slipped Disc Was Causing Back Pain, Defies Odds After Terminal Lung Cancer Diagnosis
Griffin explained that the intubation tube that is kept in for three or four days after surgery had been pressing down on her vocal cords and caused her voice to shift after its removal.
"So now I'm like Minnie Mouse meets Marilyn Monroe," she explained before launching into an impromptu rendition of Monroe's "Happy Birthday, Mr. President" number.
Griffin said that she enjoyed being "two octaves higher" but noted that this would not be a permanent vocal change.
Related: Mom-To-Be, 28, Told Trouble Breathing After Fertility Procedure Was Allergies Is Diagnosed With Lung Cancer While 23 Weeks Pregnant
She then shared her exciting news about the surgery, telling Kimmel that she is now cancer-free. Griffin was on the show to promote her new role in the HBO Max series Search Party.
However, the most shocking admission of all may have been that her tumor had been present for ten years. Lucky for Griffin,  doctors flagged the growth a month before her diagnosis and were monitoring it to see if it might become cancerous.
Kathy Griffin & Never-Smoker Lung Cancer Warriors
Griffin is one of a growing number of non-smokers to battle lung cancer.
The Centers for Disease Control & Prevention report that in the United States, about ten to 20 percent of lung cancer diagnoses, or 20,000 to 40,000 lung cancer cases each year, happen in people who never smoked.
Despite some promising drops in mortality rates, lung cancer still kills more Americans every year than any other form of cancer. And while most of those diagnosed are or were smokers, one in five individuals will have never touched a cigarette or vape in their lifetime.
"Some lung cancers are from unknown exposure to air pollution, radon, or asbestos," Dr. Raja Flores, system chair of thoracic surgery at  Mount Sinai, previously told SurvivorNet. "We also see more never-smokers with lung cancer who have a family history of it."
There is a good deal of research on the causes of lung cancer in those who have never smoked, and in most cases, it is environmental factors that doctors suspect cause the disease.
According to the World Health Organization, radon is the second-leading cause of lung cancer, responsible for anywhere from 3 to 16% of cancer cases depending on the levels present in a given area.
Smokers, meanwhile, are 25 times more at risk from radon than non-smokers.
Breathing secondhand smoke is another lung cancer risk for non-smokers, killing 7,000 people each year.
Air pollution can cause some lung cancers. At the same time, other factors seen in non-smoking patients diagnosed with the disease include family history and having been diagnosed with HIV.
Cancer death rates have decreased in recent years, with lung cancer seeing some significant declines.
The Annual Report to the Nation on the Status of Cancer examined cases from 2014 through 2018 and found that the mortality rate among lung cancer patients decreased 4.3% in women.
This study also notes that differences in smoking patterns do not fully explain the increase for women.  Study authors hypothesized that smoking filtered cigarettes could be noteworthy or that women have different genetic risk factors for lung cancer than men.
In Diagnosing Lung Cancer, The Symptoms Often Come Late
Symptoms of Lung Cancer
Griffin's doctors were monitoring a previously known mass on her lung.  This is not the case for most people, who should look out for these symptoms of lung cancer.
Symptoms of lung cancer typically include:
Sudden and unexplained weight loss
Constant coughing that becomes painful over time
Shortness of breath
Changes in voice or difficulty speaking without getting winded
Pain in the torso, mid-and upper-back, and shoulders
Discoloration or a sudden change in color of mucus and saliva
Treating Lung Cancer in Non-Smokers
There are two major types of lung cancer: non-small cell and small cell. Non-small cell breaks down into three subtypes: adenocarcinoma, squamous cell carcinoma, and large cell carcinoma.
"Adenocarcinoma is the most common type in both smokers and never smokers," said Flores, "but we see more adenocarcinoma in never smokers than squamous and small cell. We see all three types in those who smoke."
The lung tumors of those who have never smoked are genetically different from those of smokers. This matters because these genetic traits are often what make the tumors grow. Different drugs target different genetic characteristics to stop or slow the progress of the disease.
Lung tumors in non-smokers are more likely to have mutations in a gene called EGFR and another called ALK. Doctors have treatments that can stop or slow the growth of cancers with these genetic traits.
People who have EGFR-positive lung cancer often respond to drugs that target that gene, known as "targeted therapy," such as erlotinib (Tarceva) and gefitnib (Iressa). People who have the less common ALK gene mutation may take a targeted medication that blocks that gene's activity, such as alectinib (Alecensa), brigatinib (Alunbrig), ceritinib (Zykadia), crizotinib (Xalkori), or lorlatinib (Lorbrena).
Non-smokers respond better to targeted drugs, said Flores.
No matter the genetic makeup of the tumor, when doctors find cancer early enough, the ideal treatment is first to remove as much of the cancer as possible with surgery.  Griffin had half of her lung removed to beat the disease.
The recovery period is often easier for non-smokers because their lungs work better. Overall, non-smokers have higher lung cancer survival rates than smokers.
If You Have Lungs You Can Get Lung Cancer
Learn more about SurvivorNet's rigorous medical review process.
---