A 29-year-old yoga instructor told that she had just two weeks to live after being diagnosed with terminal lung cancer is defying the odds in her battle with the disease.
Never-smoker Becca Smith had been dealing with back pain and a cough for months as she worked to set up her new yoga studio in 2020.
Read More
She managed her ailments without a problem until one day in March when she suddenly went blind, at which point testing revealed that she had terminal
lung cancer.
Even worse, her prognosis was grim, as she later recounted on her Instagram.
"On the 18th March 2020, two doctors walked over to me and asked if I wanted my mom and dad there for the news, I replied, 'no, it's fine. Why what's up?'" wrote Smith.
"'It's not good news' my heart stopped. It's stage 4 cancer. It's spread around the body, and there's nothing we can do. You have two weeks left to live. I screamed into my mom's arms, 'Don't let me die, mom!'"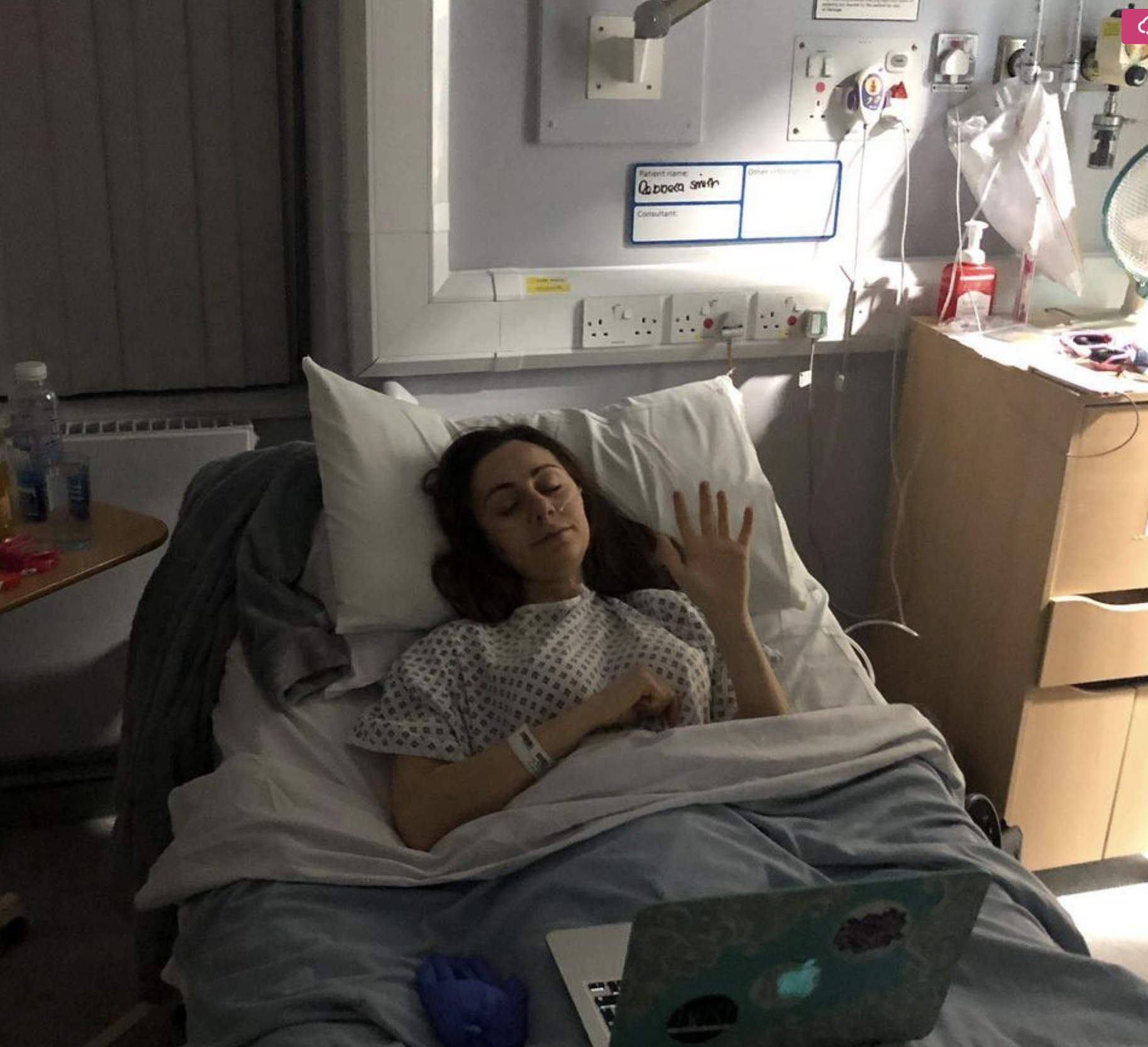 Related: Memphis Mom and Lung Cancer Warrior Misdiagnosed With Allergies Then Told She Had 10 Months To Live Defies Dismissive Docs By Thriving Six Years Later
Smith stayed in the hospital for a few more days receiving treatment and building back some strength before being sent home with palliative care nurses, who she noted had the task of "changing and feeding" her every day just as the country was going into lockdown.
Then something incredible happened.
Two weeks went by, and Smith was still alive.
She credits her initial success with her "personal survival team," who fed her "juices, oils, all sorts … avocado and walnut smoothies, spoonfuls of curcumin with coconut oil."
Her survival past that two-week mark was thanks to the results of her biopsy.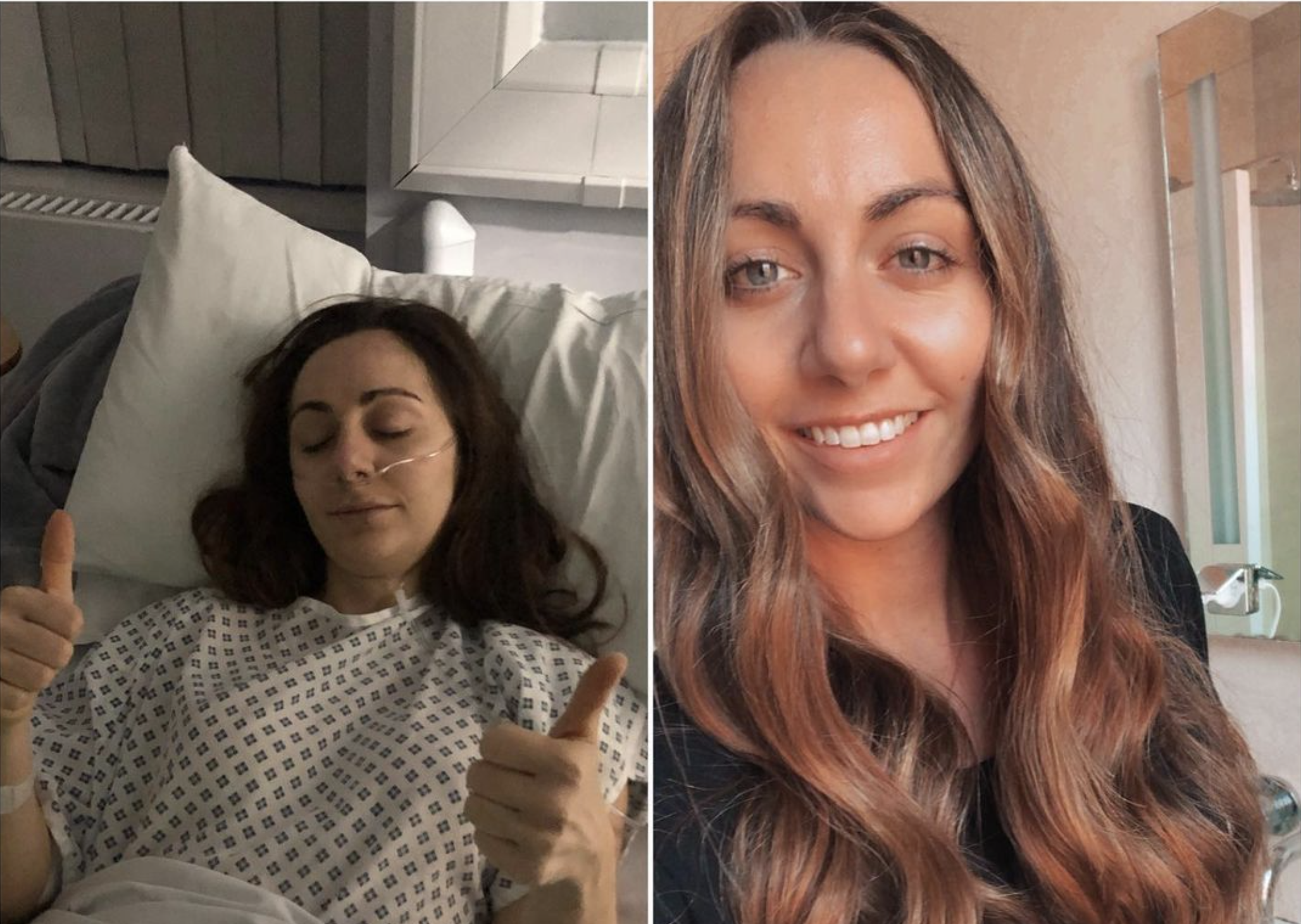 Related: Fawning Father-of-Four And Non-Smoker, 35, Blames COVID For Persistent Cough; It Was Stage 4 Lung Cancer
Upon closer examination, doctors "discovered a gene mutation [anaplastic lymphoma kinase positive (ALK+)], an extremely rare form of lung cancer."
Rare and treatable with alectinib, a kinase inhibitor that can prolong life in individuals with ALK+ metastatic non-small cell lung cancer.
The drug works by blocking the ability of the abnormal protein, in this case, kinase, from sending the signal to cancer cells that causes them to multiply in the body. In most cases, it slows the spread of cancer cells, and in others, it can stop the spread completely.
Related: 'Immunotherapy Gave Me Back My Life': 54-Year-Old Dancer Oswald Peterson Pirouettes Past Stage 4 Lung Cancer Thanks to Checkpoint Inhibitors
It has been 18 months, and Smith is once again teaching yoga, vacationing with girlfriends, and enjoying life as she did before her terminal lung cancer diagnosis.
"My cancer is classed as 'incurable,' but anyone who knows me knows that I have a tendency to defy the odds and handle anything that's thrown at me," she wrote earlier this year. "So I say Fuck You Cancer because the only one winning is me."
She has done just that and is sharing her story with others to encourage screening in those who may have similar symptoms and offer hope to her fellow cancer warriors.
Causes of Lung Cancer in Non-Smokers
Despite some promising drops in mortality rates, lung cancer still kills more Americans every year than any other form of cancer. And while most of those diagnosed are or were smokers, one in five individuals diagnosed with the disease will have never touched a cigarette or vape in their lifetime.
"Some lung cancers are from unknown exposure to air pollution, radon, or asbestos," Dr. Raja Flores, system chair of thoracic surgery at  Mount Sinai, previously told SurvivorNet. "We also see more never-smokers with lung cancer who have a family history of it."
There is a good deal of research on the causes of lung cancer in those who have never smoked. Most researchers agree that the likeliest cause of the disease in non-smokers is environmental factors.
According to the World Health Organization, radon is the second-leading cause of lung cancer, responsible for anywhere from 3 to 16% of cancer cases depending on the levels present in a given area.
Smokers, meanwhile, are 25 times more at risk from radon than non-smokers.
Breathing secondhand smoke is another lung cancer risk for non-smokers. According to the American Cancer Society, about 7,000 adults die of lung cancer from breathing secondhand smoke each year.
Air pollution is also known to cause some lung cancers. At the same time, other factors seen in non-smoking patients diagnosed with the disease include family history and having previously been diagnosed with HIV or AIDs.
If You Have Lungs, You Can Get Lung Cancer
Lung Cancer Symptoms
Lung cancer is the second-most common cancer diagnosis in the US behind breast cancer.
It can be challenging to diagnose because there are few symptoms of the disease in its early stages. In Smith's case, she only experienced back pain and a cough before learning she had stage IV lung cancer.
Individuals who experience any of the following symptoms should speak to their doctor or a medical professional:
persistent coughing
coughing up blood
frequently winded to struggling to breath
sudden and unexplained fatigue
rapid weight loss
sharp pains when breathing
What Happens When You've Been Newly Diagnosed With Lung Cancer
Learn more about SurvivorNet's rigorous medical review process.