Dating After Cancer
Australian pop star Kylie Minogue, 54, has reportedly broken up with her 48-year-old boyfriend Paul Solomons, the former creative director for British GQ.
Minogue was diagnosed with breast cancer in 2005 when she was just 36 years old. After a lumpectomy, chemotherapy and radiation, she was declared cancer-free in 2006. Sharing her cancer journey led to an increase in breast cancer screenings dubbed the "Kylie effect."
Just like every cancer battle is different, every person is different and there is no right answer as to when the best time is to start dating. Just don't push yourself. If it happens organically, then just go with it and see how it feels. But, if you don't feel you are physically and emotionally able to dive in fully, don't be afraid to table the dating life for a bit or put the brakes on something that doesn't seem to be the right timing for you.
Fifteen years after being diagnosed with breast cancer, Australian-born UK pop singer and cancer survivor
Kylie Minogue
 has continued her professional success, and continued to move forward in her personal life. Now Minogue has apparently broken up with her 48-year-old boyfriend Paul Solomons, the former creative director for British GQ and GQ Style magazines.
The 54-year-old "Can't Get You Out of My Head" singer's new relationship status comes about one year after she moved back to her home country.
Read More
A source close to Solomons told The Sun, "
Long distance isn't easy
for any couple. Kylie and Paul really tried to make things work but ultimately the time difference was a killer. Paul couldn't exactly nip to Melbourne for a long weekend whenever things got strained." "Kylie initially wanted to keep the split quiet though as she really does not want the narrative to be 'poor, unlucky-in-love-Kylie's heartbreak's again.'" the source explained.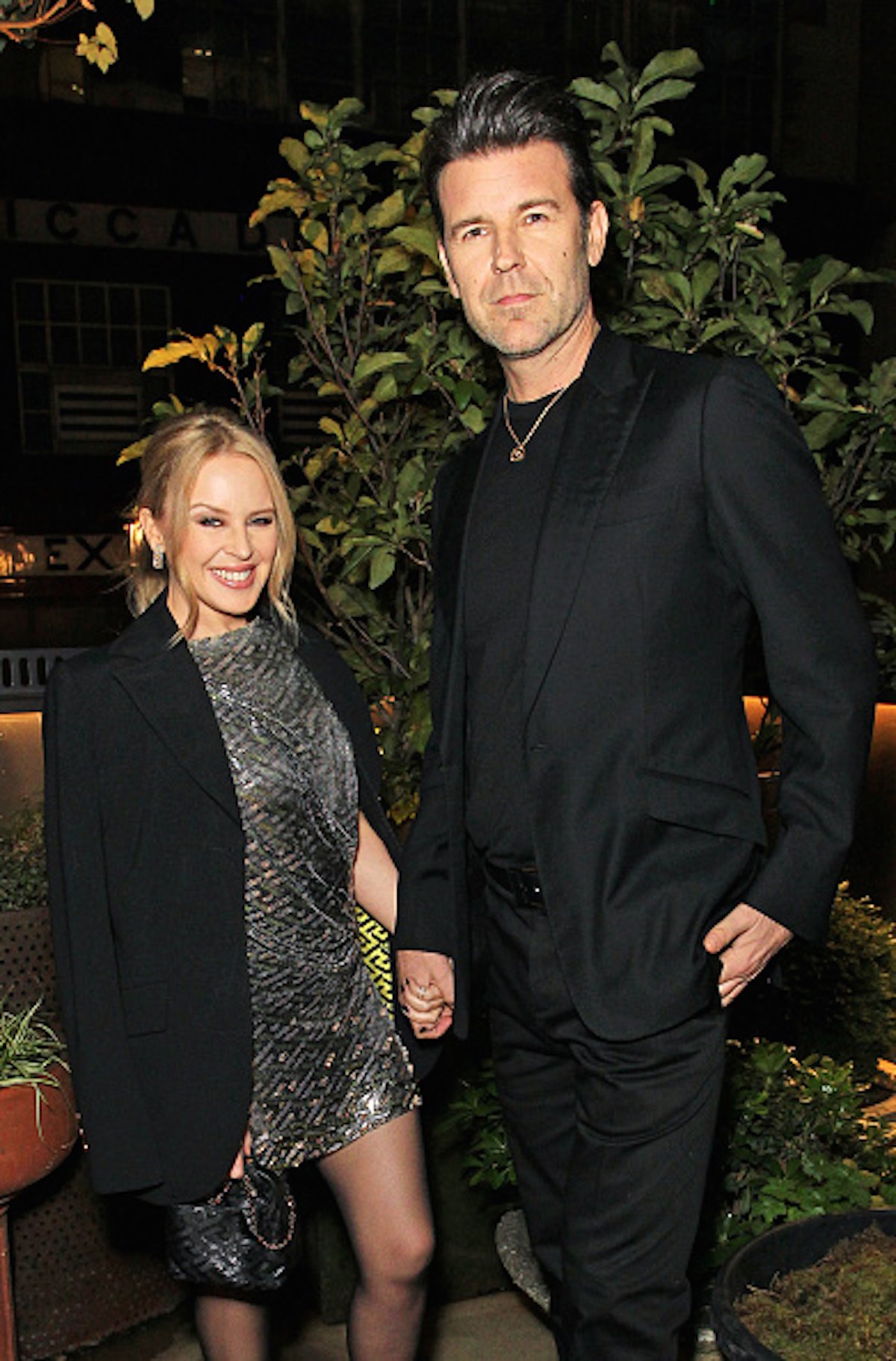 The source dubbed Minogue as "a powerful, hugely successful woman" who "isn't moping around, heartbroken."
"She and Paul remain friends," the source added. "But, for now, Kylie has a new album to promote, and a world tour to get cracking with – she's hugely excited about starting this new chapter in her life."
Minogue, who has never been married, met Solomons in 2018. The pair had to spend nine months apart amid the Covid-19 pandemic when the singer went back to Melbourne while her boyfriend lived in London.
Previously, Minogue has dated Australian actor Jason Donovan, American singer-songwriter Lenny Kravitz, French actor Olivier Martinez, British actor Joshua Sasse, and Spanish model Andres Velencoso.
According to Minogue's social media pages, it seems the singer is doing just fine after the reported split. She shared a photo of herself modeling on what appears to be a page of a calendar, which she captioned, "Hello Feb."
Hello Feb 💕@ChristopherKane pic.twitter.com/HAPVHNMICO

— Kylie Minogue (@kylieminogue) February 1, 2023
Kylie Minogue's Breast Cancer Battle
Kylie Minogue was diagnosed with breast cancer in on May 17, 2005. But, sadly, her cancer was originally misdiagnosed.
"Because someone is in a white coat and using big medical instruments doesn't necessarily mean they're right," she said during an appearance on The Ellen DeGeneres Show.
Being just 36 years old at the time of her correct diagnosis, Minogue's world was turned upside down.
"It's like the earth had kind of slipped off its axis," Minogue said in 2020 of her diagnosis. "You see everything differently."
Thank you 2022 ✨ pic.twitter.com/uC3mOEXFPr

— Kylie Minogue (@kylieminogue) December 31, 2022
The diagnosis came right before she was set to perform at the famous Glastonbury Festival that year, so she had to put her career on hold. Instead of headlining the iconic event, she watched it on TV from Australia with her mom, Carol, and dad, Ron.
"My memory's so strong of so much around that time and while my focus had moved on from Glastonbury, I was watching and going, 'I'm meant to be there,'" she said. "It would have been pretty mega at the time to headline – the next woman to do it was Beyonce."
RELATED: Singer Kylie Minogue Says She Had to Adapt to a New Normal After Beating Breast Cancer: 'Life Is a Series of Challenges'
Minogue underwent a lumpectomy, an eight-month cycle of chemotherapy and radiation for treatment. Thankfully, she was declared cancer-free in February 2006, though she still needed to take medication for five years.
In sharing her battle publicly, Minogue created something positive from such a trying time. In fact, her advocacy for breast cancer prevention and screening even resulted in a phenomenon dubbed the "Kylie effect" where we saw an increase in mammograms.
"I have people tell me to my face, 'Well I went to get checked and I'm now five years cancer-free," Minogue said. "Everyone's story is different, but it's a good feeling to know that you've raised awareness and helped people."
Learning about Mammograms
Screening for breast cancer is typically done via mammogram, which looks for lumps in the breast tissue and signs of cancer. The American Cancer Society (ACS) says women should begin yearly mammogram screening for breast cancer at age 45 if they are at average risk for breast cancer. The ACS also says those aged 40-44 have the option to start screening with a mammogram every year, and women age 55 and older can switch to a mammogram every other year, or they can choose to continue yearly mammograms.
For screening purposes, a woman is considered to be at average risk if she doesn't have a personal history of breast cancer, a strong family history of breast cancer, a genetic mutation known to increase risk of breast cancer such as a BRCA gene mutation or a medical history including chest radiation therapy before the age of 30. Beyond genetics, family history and experience with radiation therapy, experiencing menstruation at an early age (before 12) or having dense breasts can also put you into a high-risk category. If you are at a higher risk for developing breast cancer, you should begin screening earlier.
In a previous interview with SurvivorNet, Dr. Connie Lehman, chief of the Breast Imaging Division at Massachusetts General Hospital, said people who hadn't reached menopause yet should prioritize getting a mammogram every year.
"We know that cancers grow more rapidly in our younger patients, and having that annual mammogram can be lifesaving," Dr. Lehman said. "After menopause, it may be perfectly acceptable to reduce that frequency to every two years. But what I'm most concerned about is the women who haven't been in for a mammogram for two, three or four years, those women that have never had a mammogram. We all agree regular screening mammography saves lives."
It's also important to be on top of self breast exams. If you ever feel a lump in your breast, you should be vigilant and speak with your doctor right away. Voicing your concerns as soon as you have them can lead to earlier cancer detection which, in turn, can lead to better outcomes.
Key Dating Tips for Breast Cancer Survivors
Dating after breast cancer can be daunting. If you are living with breast cancer—or have battled the disease —and have a supportive partner, that's beautiful. But for the people who quickly found out their partner couldn't handle the weight of their health situation, or for the single people in recovery, the following advice is for you.
While it's normal to feel apprehensive about dating in general, jumping in during or after cancer can be particularly nerve-racking as you wonder how people may react to your new status.
1. Decide if you're ready
Whether you are fresh off the "I just beat cancer" boat, or you are adjusting to having to live with cancer longterm, the most important thing is to assess if you're ready to explore a romantic relationship with someone.
Some people may feel they're ready, then quickly realize they're not.
As NYC-based writer actress Jill Kargman says, cancer can help weed out the "sh*theads."
"When you get cancer, it's a really great way to tell if your partner is the love of your life, or a s***head, Jill tells SurvivorNet. "A lot of people at middle age are kind of at a crossroads waiting for their kids to fly the coop, and I think if you're with someone who is not supportive [during cancer], or kind of emotionally checked out, or doesn't tell you you're still beautiful … this might not be your person."
RELATED: Breast Cancer Survivor Hoda Kotb is 'Treasuring Being Single' After Split from Financier Fiancé, is 'Tiptoeing' In Her Dating Life
Just like every cancer battle is different, every person is different and there is no right answer for this. Just don't push yourself. If it happens organically, then just go with it and see how it feels. But, if you don't feel you are physically and emotionally able to dive in fully, don't be afraid to table the dating life for a bit or put the brakes on something that doesn't seem to be the right timing for you.
2. Be honest
SurvivorNet's Marisa Sullivan thinks it is important to be honest with a potential new partner on what you have been going through, but again, that's up for you to decide. You have a right to be as private with your news as you want, but before you decide, consider the other person in the situation as well.
Dating After Cancer: Getting Intimate With the New You
While it may not be the best to blurt it all out on date one, if you feel some chemistry and there is a possibility to get serious with this person, they do have a right to know what they are getting into.
The truth is, many women—and men—are fearful to tell a potential suitor that they have/have had cancer, because they don't want to scare the person off. I know a friend who was warned to not get involved with a breast cancer survivor (in case it came back), which is sad, but unfortunately, that is sometimes the reality of what survivors go through.
Related: 'Strong in Cancer:' Navigating New Relationships While Fighting Cancer Is Challenging
Breast cancer survivor and author Laura Morton says that she's really adamant about being honest with people she's dating when it comes to what she's been through.
"It is a part of who I am … but it's by no means who I am," Laura tells us. "It's not anything that I feel any shame about. It's nothing that I feel any regrets about. If anything I need them to know I don't have a lot of feeling there … it doesn't do much for me if you're playing with my boobs."
It's up to you to determine how much you want to tell if you're interested in someone new. Not immediately sharing an early-stage cancer battle you went through 20 years ago is one thing, but dating in your 20s, 30s, or 40s and not disclosing that you may have difficulty getting pregnant due to cancer treatment is obviously a different story. You'll know what feels right.
3. It's okay to just have fun!
Chances are, you may not be looking for anything serious, and there are many others out there who be on the exact same page. Again, this boils down to honesty, but feel free to tell your date that you aren't looking for anything serious. Whether you've been set up through a friend, or you're on one of the dating apps, it's usually somewhat easy to determine whether or not someone wants to just keep things casual.
'The Big C' on SNTV: Laughter as Medicine & Tough Subjects for Cancer Survivors– Including Relationships
And who knows, maybe it can evolve into something else, but taking that pressure off of yourself and your "friend" may be the best way to go, depending on your situation. Then you can enjoy companionship, a night out, and a little affection or attention after all you have been through definitely doesn't hurt!
Bottom line, more and more people are recognizing that they do not need a partner in order to be happy, so it is perfectly alright to feel content with being single.
Just keep the communication open; you deserve to go out and have a laugh!
4. Treat yourself
Many women understandably suffer from body image insecurities, not to mention other aspects of physical and mental aftermath. After all, you've gone (or are going) through a war of sorts—to say the least.
Dating After Preventative Cancer Surgery — Meet Pre-Vivor Erika Stallings
Not only is it important to pamper yourself here and there to lift your spirits, but if you've decided to put yourself out there and really do this, do not hesitate to splurge splurge splurge to put a little more bounce in your step!
RELATED: Body Image, Sex, and Adjusting to a New Normal After Cancer Treatment
Whether it's getting a fresh hair cut or buying a new wig, dress, lingerie or lipstick, do not even think twice about pampering yourself. There is nothing wrong with boosting your own spirits with something new, which can spark some extra needed confidence as you hit the town for a nice dinner somewhere, or even just to perk yourself up at home.
5. It's okay to be vulnerable
So, maybe you've met a new person and things are starting to get serious. You've gotten through the whole "C" word conversation, but what happens if you have a down day and are feeling emotional? Let it out.
Related: Fear, Anger, Anxiety – You're Entitled To Your Emotions
Just like it's important to be honest about what you've gone through, it's vital to know that you can trust someone with the perceived "ugliness" of your post-cancer suffering.
The Courage to Be You: Meet Survivor Ericka Hart
As many of us know, in general, holding in feelings will often just make things worse in the long run. If you want to truly get close with someone and let them in, don't be afraid to be vulnerable.
Most importantly, don't forget to be yourself. You've got this!
Contributing: SurvivorNet Staff/Marisa Sullivan
Learn more about SurvivorNet's rigorous medical review process.
---