Beloved Actress And Activist Jane Fonda Has Non-Hodgkins Lymphoma
Jane Fonda, 84, says she's been diagnosed with non-Hodgkin's lymphoma
The actress and activist beat breast cancer in 2010 and skin cancer on her lip in 2018.
Fonda revealed her lymphoma diagnosis in a lengthy Instagram post, and said she's already undergoing chemotherapy.
The star also acknowledged she is 'very lucky' to have health insurance
Lymphoma is a cancer of the immune system, one of about 100 different types of blood cancers that affect nearly 200,000 Americans every year.
Beloved actress and activist Jane Fonda, 84, says she's been diagnosed with non-Hodgkin's lymphoma after beating breast cancer in 2010 and skin cancer on her lip in 2018.
"This is a very treatable cancer. 80% of people survive, so I feel very lucky," Fonda wrote in a lengthy Instagram post Friday, revealing she is already undergoing chemotherapy treatments.
View this post on Instagram
Read More
"I'm also lucky because I have health insurance and access to the best doctors and treatments. I realize, and it's painful, that I am privileged in this," Fonda went on to write, adding how almost every family in America has had to deal with cancer at one time or another and too many don't have access to quality health care.
Fonda says her chemotherapy treatments are scheduled for six months, during which she says she will continue her climate activism.
"We're living through the most consequential time in human history because what we do or don't do right now will determine what kind of future there will be," wrote Fonda on Instagram. "I will not allow cancer to keep me from doing all I can, using every tool in my toolbox and that very much includes continuing to build this Fire Drill Fridays community and finding new ways to use our collective strength to make change."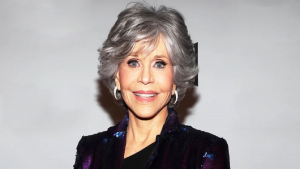 She also talked about the lessons she's already learning after her diagnosis.
"Cancer is a teacher and I'm paying attention to the lessons it holds for me. One thing it's shown me already is the importance of community. Of growing and deepening one's community so that we are not alone," she wrote. "And the cancer, along with my age –almost 85– definitely teaches the importance of adapting to new realities."
Always on the pulse of politics and current events, Fonda also had this to say:
"The midterms are looming, and they are beyond consequential so you can count on me to be right there together with you as we grow our army of climate champions."
What is Lymphoma?
Lymphoma is a cancer of the immune system, which begins in a specific kind of white blood cell called a lymphocyte, located in the body's lymphatic system. It is one of about 100 different types of blood cancers that affect nearly 200,000 Americans every year.
In cases of lymphoma, the lymphocytes multiply and build up in the lymph nodes and other tissues, making it more difficult for your immune system to launch an effective attack against invading germs.
As a result, the body becomes more prone to infections and other illnesses.
Related: Keytruda Extends Life for Those Fighting Hodgkin Lymphoma & It's Now FDA-Approved as Treatment
The disease is broken up into two main categories: Hodgkin Lymphoma and non-Hodgkin Lymphoma.
Doctors make a determination by examining the white blood cells within the body.
If they are unable to detect the Reed-Sternberg cell (a giant cell derived from B lymphocytes), then it is classified as non-Hodgkin. If the cells are present, then it is classified as Hodgkin.
Jane Fonda's Breast Cancer Battle
The Academy Award winner revealed in 2010 that she experienced a breast cancer scare after doctors discovered a small, non-invasive tumor. Fonda underwent a procedure at the time, and her representative declared her "cancer-free." In 2016, Fonda had a mastectomy before the Golden Globe Awards.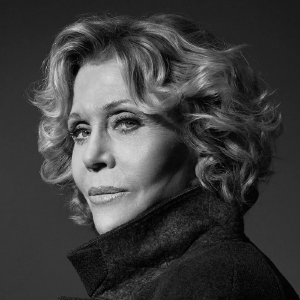 However, Fonda's battle with cancer didn't stop there. In 2018, while speaking to the Today show, Fonda addressed bandages on her face by explaining she had a cancer taken away from her lip.
"Well, the world is falling apart, what's a lip?" Fonda asked. "Yeah, they did (biopsy it.) I'm going to be fine, thanks."
Indeed Fonda's skin cancer treatment was minor compared to her mastectomy procedure.
A mastectomy removes either one or both breasts.
It's usually done to treat breast cancer, but other women have the surgery to prevent a breast cancer diagnosis if there's history of the disease in their family.
Related: Implant Reconstruction After a Mastectomy: The Options
"Depending on the size and other features, such as family history, a patient may opt for more aggressive surgery," Dr. Elizabeth Comen, a medical oncologist at Memorial Sloan Kettering Cancer Center, tells SurvivorNet.
In addition to risk factors, there are a few surgery options patients should keep in mind while approaching physicians for breast cancer treatment.
Dr. Ann Partridge explains when women should consider a mastectomy during breast cancer treatment
"When I talk to a woman who comes to me and she has breast cancer, I evaluate what the standard options for treatment for her are, which typically include cutting out the cancer — which is either a lumpectomy if you can get it all with just a little scooping around of the area that's abnormal or a mastectomy for some women meaning taking the full breast because sometimes these lesions can be very extensive in the breast," Dr. Partridge, a medical oncologist at Dana-Farber Cancer Institute, explains to SurvivorNet.
Cancer Survivors Cope By Sharing Their Stories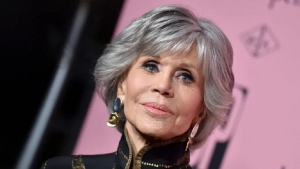 Fonda is far from the only celebrity to go through a mastectomy; other familiar faces like Elle Editor-In-Chief Nina Garcia, Angelina Jolie, Julia Louis-Dreyfus, and others have all opened up about their experiences with the procedure.
Related: Celebrities, Musicians and More We Loved and Lost to Cancer in 2019
Other cancer survivors have turned to writing in an effort to cope with a diagnosis and share their experience battling the disease.
Actor and throat cancer survivor Val Kilmer released his memoir I'm Your Huckleberry which made it to New York Times Best Sellers list and the late Alex Trebek, while battling stage four pancreatic cancer, released a memoir, The Answer Is…: Reflections on My Life, set to be published on July 21st.
Author CC Webster was diagnosed with Hodgkin Lymphoma at 25 and spoke to SurvivorNet about how putting pen to paper was therapeutic in coping with her cancer diagnosis.
"I realized that I needed to write down my story," Webster told SurvivorNet. "I wanted to write and depict a story that was raw, and honest, and meaningful, and could potentially make somebody feel less alone."
Author CC Webster says she turned to writing after cancer diagnosis
Learn more about SurvivorNet's rigorous medical review process.
---