Happy Birthday Hoda!
Today marks Today host Hoda Kotb's 57th birthday.
Kotb was diagnosed with breast cancer in February 2007 when she was 43-years-old after doctors discovered lumps in her breast during a routine exam. She went through a mastectomy and was declared in remission. Now, she's an advocate for breast cancer prevention and awareness.
SurvivorNet shares some inspiring lessons we've learned from Kotb thanks to her inspiring story and upbeat attitude.
Today marks 
Today 
host
Hoda Kotb'
s 57th birthday, and it's certainly a milestone to celebrate. Known for her upbeat attitude, the TV personality has faced highs in her life as well as lows, such as a battle with
breast cancer
. In honor of her birthday, 
SurvivorNet 
shares some lessons we've learned from Kotb.
Related: 'Today's' Host Hoda Kotb's Small Gesture at Nail Salon Made a Big Impact on Young Woman Who'd Just Lost Best Friend to Cancer
Read More
Whether it's joking around with her colleagues, dressing up in funny costumes, or hosting the Olympics, Kotb always knows the perfect way to get our mornings started when we tune into NBC. While her upbeat attitude is inspiring to all of us, this doesn't mean she hasn't faced difficult experiences. Kotb was
diagnosed with breast cancer
in February 2007 when she was 43-years-old after doctors discovered lumps in her breast during a routine exam. She went through a mastectomy and was declared in remission. Kotb had never had a
mammogram
before, and this experience led her to become an advocate for
breast cancer prevention
and awareness.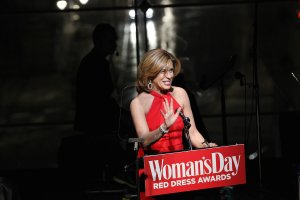 Lesson 1: Never Give Up
Even though Kotb may be a well-known celebrity now, that wasn't always the case. In March, Kotb shared her experience facing constant job rejections while trying to get her start in the news industry. In an interview with Today host Savannah Guthrie, Kotb said she drove around state to state getting rejected in nearly every market in the southeast United States. But she kept going, and finally found her break into the business in Mississippi, when a man named Stan hired her.
Related: Brave Woman Battling Late-Stage Endometrial Cancer Gains Huge Support In Asking AstraZeneca For Potentially Life-Saving Therapy: 'It's Given Me Strength"
It's hard to imagine that Kotb ever faced rejection in her career, but it's an important reminder that you should never give up even if you fail. Kotb's experience inspired her to speak up and assure people that there's always going to be a possibility out there. "You just need one person to love you. You don't need everybody. Sometimes you think you need every person to think you're good. You don't! You just need one," Kotb said in the interview.
Cancer survivor Lydie Roth encourages everyone to pursue their dreams
Lesson 2: Give Back
When it comes to brightening up someone's day, a little act of kindness can go a long way. Giving back doesn't always need to come in the form of extravagant gifts or gestures. Sometimes, something as simple as a smile can make a huge difference in the rest of someone's day.
In a submission on "anti-gossip journal" Overheard Celebs, a young woman named Anne Gillberg described a run-in she had with Kotb after losing one of her closest friends to cancer. Gillberg says the news anchor sent a video to her best friend from college who was battling breast cancer in an effort to make her smile, and Gillberg's friend was able to see the video before she passed away in March 2019. Three weeks after her friend's passing, Gillberg saw Kotb at a nail-salon, of all places, and immediately went over to thank her for the kind gesture.
Related: Husband Shares Emotional Rollercoaster On TikTok as He Helps Wife Fight Cancer
"I went on to thank her and explain how much my friend loved her video message," Gillberg shares in the Instagram post. "When Hoda asked how she was doing, I burst into tears. Before I knew it she was hugging me as if I were a long lost friend she just reunited with."
After the sweet embrace with Kotb, Gillberg went to pay for her manicure. Turns out, there was no need. While leaving, Kotb sneakily footed the bill. To this day, Gillberg has never forgotten Kotb's act of kindness, and it shows the power of even the smallest gesture of support.
Ovarian cancer survivor Anna DeMers explains why emotional support is key when fighting cancer
Lesson 3: Get Screened!
Through her experience battling breast cancer, Kotb has made it her mission to ensure all women get screened for the disease in order to catch it early. Her transparency about her experience has raised awareness and made her an advocate of breast cancer prevention. By attending your annual mammograms, this increases the likelihood that the disease will be caught in an early stages, which in turn, increases your likelihood of successful treatment.
Related: It's Important To Continue Cancer Screenings Through COVID-19
Currently, guidelines suggest annual mammograms begin at the age of 45 and continue until 54. After the age of 55, women can choose to continue annual screening or opt for having them once every to years. However, there's been debate among oncologists as to whether women should start screening at the age of 40.
For those who are considered "high-risk" of breast cancer, screening should start as young as 30-years-old. Women who are considered "high-risk" refer to those who have had a first-degree relative who's had breast cancer; hold the the BRCA1 or BRCA2 gene mutation; or had radiation on their chest area when they were young.
Dr. Connie Lehman breaks down breast cancer screening guidelines
Learn more about SurvivorNet's rigorous medical review process.