The Power of Friendship in the Face of Cancer
TV host Maria Menounos took to Instagram this week to show she's doing well amid caring for her newborn daughter Athena Alexandra via surrogate, after battling stage 2 pancreatic cancer, having a brain tumor removed, losing her mom to brain cancer, and fertility struggles.
She's even taken the time to help a friend with cancer find a wig. Although we're unsure, who the "friend with cancer" is, we're happy to see Menounos enjoying life and helping others amid her busy schedule.
Also, studies have shown that friendships can be an invaluable resource during a cancer journey, so it's great to see Menounos supporting a loved one.
Licensed clinical psychologist Dr. Marianna Strongin even wrote for SurvivorNet, "Studies have found consistently that loneliness is a significant risk factor for physical and mental illnesses and the trajectory of recovery."
TV host Maria Menounos, 45, appears to be enjoying the early weeks of motherhood as she cares for her newborn daughter Athena Alexandra via surrogate, after enduring a 10-year fertility journey with her husband Keven Undergaro, 55.
Menounoswho remains grateful after fighting stage 2 pancreatic cancer, having a brain tumor removed, losing her mom to brain cancer, and fertility strugglestook to social media this week to show her followers how well she's been doing. She's even taken the time to reveal how she and her dad are helping a friend with cancer.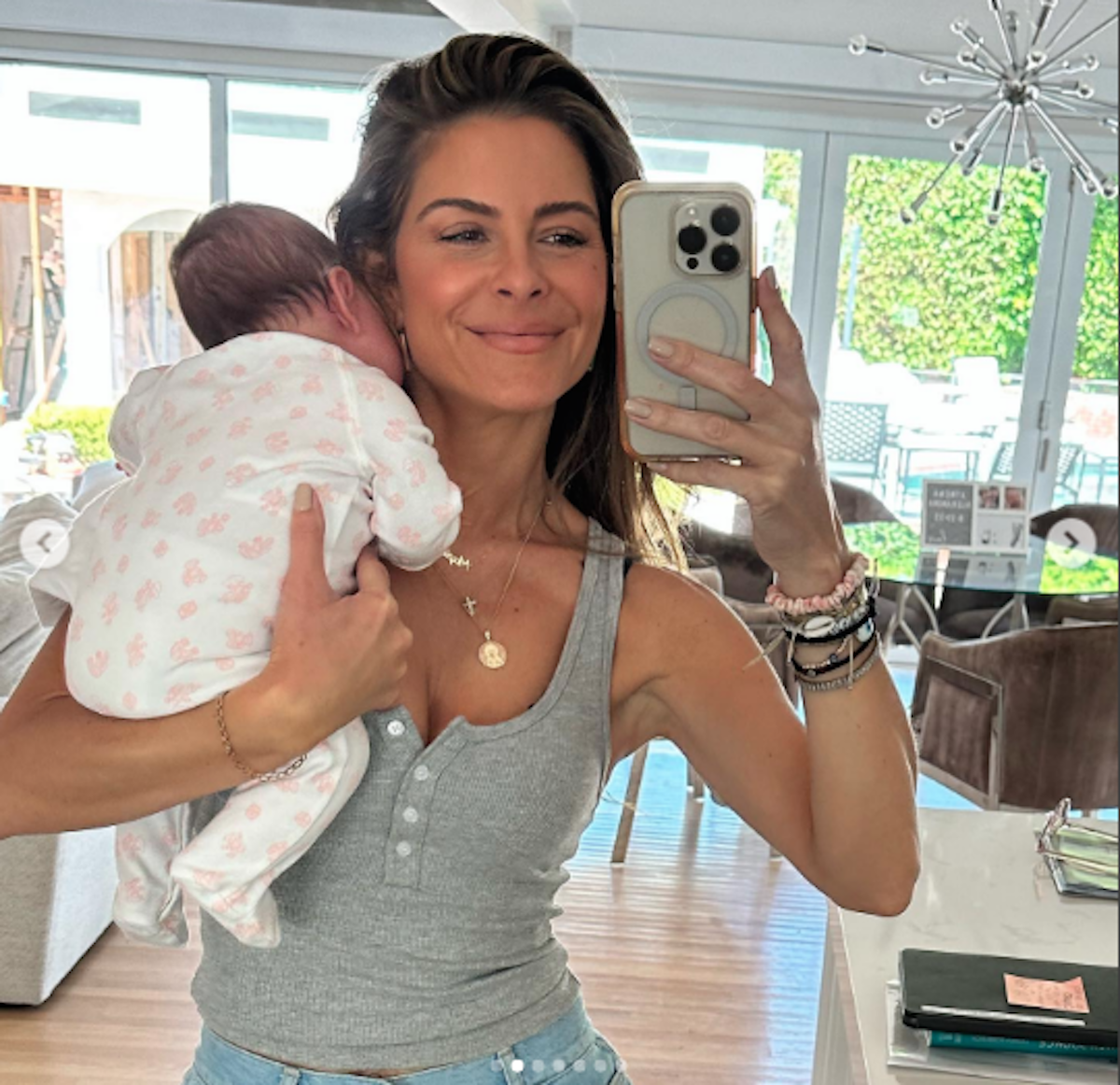 Read More
The Greek-American journalist captioned her
Instagram post
, featuring seven recent photos, "Photo dump of fashion and mom life lately:) happy Monday friends!" In two of the photos, Menounos was seen holding her baby girl while exuding cheerfulness. The other images showed Menounos' stylish outfits, along with one adorable picture of one of her dogs sitting on a chair.
In one photo, the "Heal Squad" podcast is seen wearing a bright orange Stand Up To Cancer T-shirt, likely promoting charitable program Stand Up To Cancer (SU2C) as they celebrate 15 years of groundbreaking cancer research during a televised special on August 19, 2023.
Menounos is among many other celebrities set to make an appearance at this year's SU2C telecast.
In another recent Instagram post, updating fans on how "great" motherhood is, Menounos wrote, "Athena is an Angel. She's currently asleep on me as we get some morning light. I'm so in love it's crazy. Thank you to all of you for the love. I look back at the last 6 years-it's been kinda crazy.
"Mom gets a brain tumor, then me, two brain surgeries later, then both my parents are hospitalized with covid, then I lost my mom, then I got diagnosed with type one diabetes, then a Neuro endocrine tumor on my pancreas…some other crazy stuff in between too," she continued.
"Kev says I maybe roll to well with the punches and I should sit back and acknowledge it all more -maybe at some point I will dig in deeper. Right now just that list makes me so grateful to be alive and to have thrived. To be here to enjoy this beautiful little girl. Thank you god!"
Meanwhile, Menounos also took to her Instagram story to reveal how she's been helping out a friend battling cancer.
In a light-hearted video, Menounos shared a video of her dad looking like a "blonde Mick Jagger" as he tried on wigs for their friend with cancer.
"Figuring out wigs for our friend with cancer," Menounos wrote on her story, showing her dad sitting in a kitchen area with blonde hair.
As people are heard giggling in the background, Menounos recorded her happy, wig-wearing dad and said, "Dad, you are a hot blonde. I love it. Ha!"
"Trying on wigs for our friend. Yup… Yup… Dad's a mode," the new mom added, before letting out a long laugh.
RELATED: Complete Guide to Wigs for Cancer Patients: Cost, Types and Where to Buy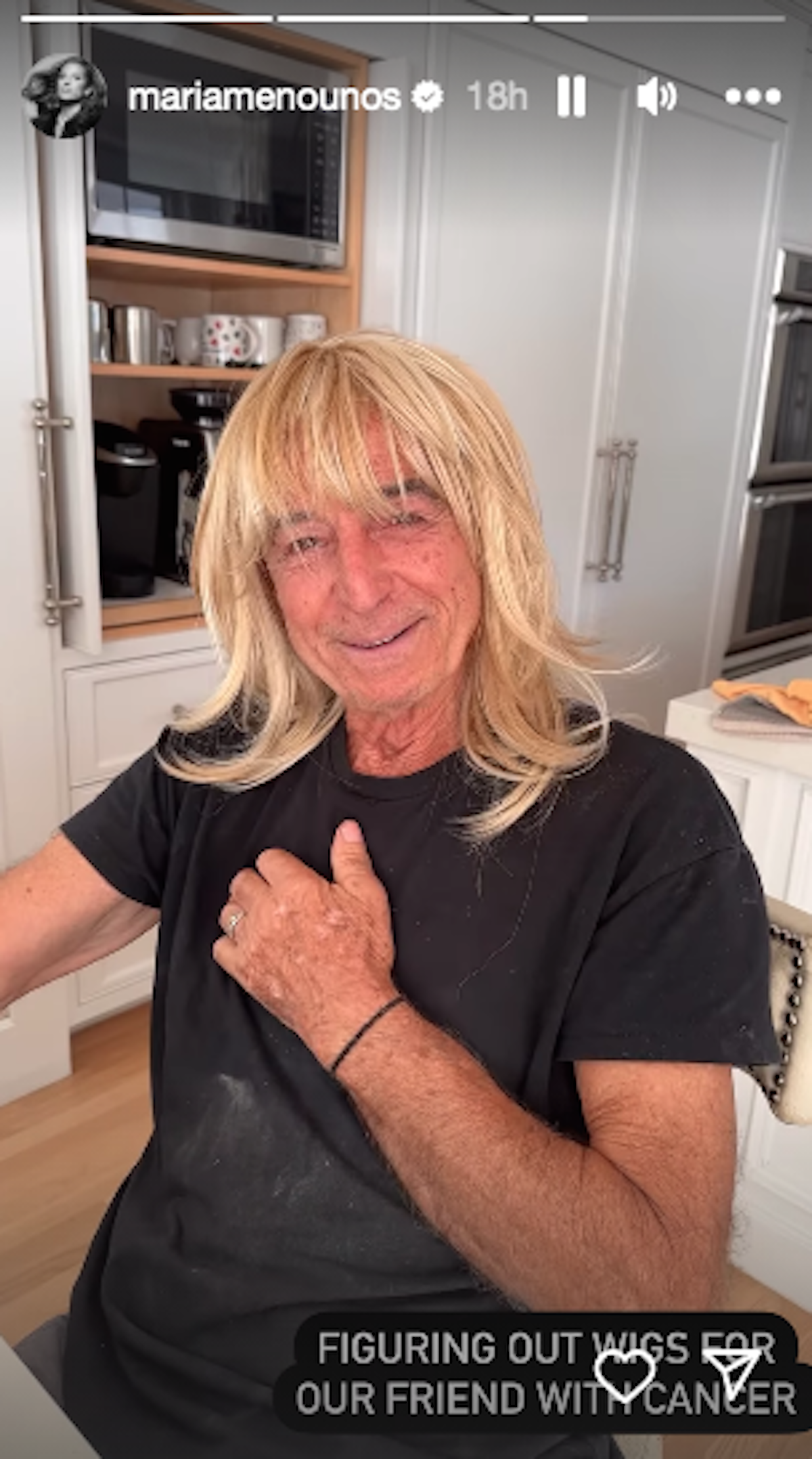 As her dad shook his head, to better show off his pretend long-locks, Menounos said, "You should have been in a Pantene commercial, the way you shake your head is perfect. You look like a blonde Mick Jagger."
Although we're unsure, who the "friend with cancer" is, we're happy to see Menounos enjoying life and helping others amid her busy schedule.
RELATED: "It's Only Temporary": Dealing With the Side Effects of Cancer Treatment
Hair Loss Amid Cancer
Losing hair or thinning hair while undergoing chemotherapy is a common side effect.  And while hair loss is not a medically significant or dangerous side effect of chemotherapy, for many women it can be a blow to their self-esteem.
"It can have implications about how they feel about themselves," says Dr. Renata Urban, a gynecologic oncologist at the University of Washington in Seattle.
What You Think You Know About Chemotherapy Side Effects May Be Wrong
As for Salt Lake City resident Stephanie Hess, she already knew what to expect after getting diagnosed with stage 3 ovarian cancer. She had seen her mother and some friends go through it and was devastated over the thought of losing her hair.
RELATED: Blink-182's Mark Hoppus Laments Cancer Hair Loss Struggle, Gets Real About Fighting the Disease
"Because my mom had passed away from cancer, I knew what it felt like…The thought of losing your hair, that's the ultimate indicator of being a cancer patient," she told SurvivorNet in an earlier interview. "I didn't want to be bald."
Making Peace With Hair Loss Stephanie Hess Shares Her Ovarian Cancer Story
Hair loss during treatment occurs due to the drugs targeting quickly dividing cells throughout the body. Both cancer cells and hair cells fall into this category. Women may also lose their eyebrows and eyelashes, too. All of this hair loss can have a big effect on your self-esteem.
For most cancer patients, the hair will start growing back shortly after treatment, and in the meantime, some cancer patients choose to embrace their new look.
RELATED: Sisterhood of Support: A New Zealand Woman Shaved Her Head in Solidarity with Her Sister, Who was Diagnosed Leukemia
While hair loss can be very difficult to deal with, many women eventually consider it an empowering part of their cancer fight. Thinking of hair loss as a temporary setback rather than a permanent problem can help some women, and men, make peace with it. And many cancer patients choose to wear wigs after losing hair, as a way to cope with the loss.
If you're thinking about buying a wig, consider buying it before your treatment starts, or soon after. Cancer.org suggests asking if the wig can be adjusted as you might need a smaller size as you lose hair. To match your hair color, they recommend cutting a swatch from the top front of your head, where your hair is lightestor try a completely new hairstyle or color.
Wigs and other scalp coverings may be partially or fully covered by your health insurance. If so, make sure the prescription says "cranial prosthesis." (Don't use the word wig.) Someone on your cancer care team can likely recommend wig shops in your area.
Friendship Through Cancer
We love how Maria Menounos is helping out a friend battling disease, and it's true, friendships can be an invaluable resource during a cancer journey, studies have shown.
An article by Harvard Medical School supports the idea that "strong relationships," in general, have an impact on overall health.
"One study, which examined data from more than 309,000 people, found that lack of strong relationships increased the risk of premature death from all causes by 50% an effect on mortality risk roughly comparable to smoking up to 15 cigarettes a day, and greater than obesity and physical inactivity," the article reads.
Another study referenced by Harvard suggests that "among women, social isolation and low social support were consistently associated with lower cognitive function."
Licensed clinical psychologist Dr. Marianna Strongin even wrote for SurvivorNet, "Studies have found consistently that loneliness is a significant risk factor for physical and mental illnesses and the trajectory of recovery."
Maria Menounos' Fertility Struggles & Surrogacy
Maria Menounos had been struggling with starting a family prior to the birth of her daughter back in June 23, 2023.
RELATED: Maria Menounos Reveals Challenges with Her Attempts at Surrogacy After Brain Tumor Battle: 'We Tried and Tried and Tried and Tried'
Back in 2021, in an interview with TODAY, the TV host said, "I lost my mom, we lost our dog and then losing the surrogate was a loss. Trying to have kids in the midst of that would have been a lot. And so we believe that it's God protecting us. And it's going to happen at that right time."
Menounos had been on the hunt for a surrogate and at one point had found one she liked, but things didn't work out.
"We had an amazing surrogate and we loved her," she told the news outlet. "But our fertility doctor told us that it was never going to work. We tried and tried and tried and tried."
In a previous interview with SurvivorNet, Menounos explained that she and her husband were trying to remain hopeful despite the long process of finding the right surrogate.
"I'm going to have to continue to go with the flow and trust that God has a plan for me. I just got to surrender to it. I've gotten pretty good at it," she said.
"That was a big thing I've learned along the way. If you believe there's a plan for you whether it's the universe or god, you have to go through the motions; you have to do things that make sense: you got to go work, you got to do all these things. It's like no matter what we do, sometimes the things that we want is just not the right time. Everything has its season and its moments."
However, Menounos remained positive, kept her faith, and didn't give up, leading her to where she is today, a mom to her beautiful daughter via a surrogate.
RELATED: Freezing Eggs or Embryos: What Should I Do?
Menounos, who received help from Family Match Consulting and started IVF treatments back in 2012, told People in 2022, "I definitely didn't think it was going to take this long. It's been years. We've used different services, different people. It's just been a very frustrating process."
IVF stands for in vitro fertilization, a process in which a woman's eggs are retrieved from her body and fertilized with sperm in a lab. The embryo can then be implanted into the mother or a surrogate.
Maria Menounos' Health Challenges
Earlier this year was the first time Maria Menounos went public about her battle with stage two pancreatic cancer, following her 2017 brain tumor scare, her mom's passing from brain cancer, and her fertility struggles.
Leading up to her pancreatic cancer diagnosis, Menounos, who has hosted "Extra" and "E! News," began suffering from major leg cramps in June 2022, a symptom which resulted in her going to the hospital, where she learned she had type 1 diabetes (something both her dad and younger brother also have).
Pancreatic Cancer: The Importance of Early Detection
Her diabetes diagnosis then led her to be prescribed insulin and change her diet, which left her feeling better by October.
However, in November 2022, she ended up back in the hospital with "excruciating abdominal pain" and "diarrhea." Despite what she was experiencing, doctors told her everything was "fine" with her body, but weeks later, she began feeling as if "someone was tearing my insides out."
A whole-body MRI and a biopsy revealed she had a stage 2 pancreatic neuroendocrine tumor, a type of cancer that forms in the pancreas, according to the National Cancer Institute.
How Pancreatic and Liver Cancer Survivor Joel Naftelberg Learned to Dance on His Problems
Thankfully, due to Menounos' cancer being discovered somewhat early, she was able to get the tumor, her spleen, part of her pancreas, 17 lymph nodes, and a large fibroid removed via surgery on Feb. 16 of this year.
Additionally, her doctor and surgeon said she will not need to undergo chemotherapy or other forms of treatment.
Menounos, who must continue getting yearly scans for the next five years, said on social media that there were some "tough days," but she was "grateful" for the good ones and being able to overcome cancer.
"God granted me a miracle. I'm going to appreciate having her in my life so much more than I would have before this journey," she said.
Meanwhile, Menounos' mom, Litsa Menounos, was diagnosed with glioblastoma, one of the most common and most aggressive brain cancers, back in 2016 when she was 61 years old.
While Menounos was caring for her mother, she began noticing strange symptoms like ear pain, dizziness, and blurred vision. She told her mother's doctor, thinking she was crazy that she was having similar issues.
But following an MRI, they discovered a golf ball-sized benign (non-cancerous) tumor in Maria's brain.
Menounos ultimately underwent a 7-hour brain surgery on her 39th birthday in June 2017. And in May 2021, her mom passed from brain cancer.
Contributing: SurvivorNet Staff
Learn more about SurvivorNet's rigorous medical review process.
---