A Scary Diagnosis
Blink-182 bassist Mark Hoppus announced that he is undergoing chemotherapy treatment. "It sucks and I'm scared," he expressed, yet said that he feels hopeful and aims to be back on tour once he finishes treatment.
Hoppus initially posted a photo of himself in a hospital room with the caption, "Yes hello. One cancer treatment, please." Then the rocker finally announced what he has been going through, and he has seen nothing but support from fans ever since.
The power of a community during cancer is infectious and often just what the doctor ordered. Luckily for Hoppus, he has a built-in network of fans who are making it clear they are supporting him through this journey.
Bandmates Travis Barker and Tom DeLonge, along with fans and other celebrities, are offering massive support for Blink-182 bassist Mark Hoppus, 49, who announced he is being treated for cancer.
Related: 'Fear Strips You of Your Power': TV Host Maria Menounos Addresses Fear In the Wake of Her Mom's Passing from Brain Cancer
Read More
"Mark is my brother and I love and support him," Barker told E! News. "I will be with him every step of the way on stage and off and can't wait for us to play together again soon."
The drummer posted a fun throwback photo hugging and kissing his pal. "Love u," Barker wrote with a black heart emoji.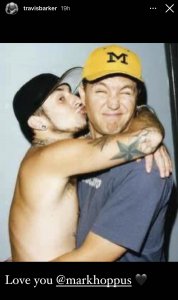 Former Blink 182 frontman Tom DeLonge also showed support for Hoppus. "I too, have been aware of @markhoppus's cancer diagnosis for awhile now," he wrote. "And to add to his own words that he used today, I would also like to say that he is strong, and a super-human who is pushing through this difficult obstacle with a wide-open heart."
Other celebrities echoed support for Hoppus.
"You're on our minds, Mark. Your attitude is going to be magnified by so many people, " actor B.J. Novak tweeted.
"We are sending love and support to our friend @markhoppus," Jimmy Eat World band members tweeted.
"You've got this, brother," Wolfgang Van Halen tweeted.
Related: Do You Have a Question About Mental Health & Cancer—A New Column From SurvivorNet with Dr. Marianna Strongin
Hoppus initially posted a photo of himself in a hospital room with the caption, "Yes hello. One cancer treatment, please." Then the rocker elaborated on his cancer diagnosis in a statement. Support from your community can be huge when going through cancer, so hopefully he is happy that he shared his struggle, because fans certainly are.
"I pray you the healing and the anointing of the Lord," one fan wrote. "I pray you peace beyond all understanding." They signed off with "peace and blessings" and "I love your attitude—it's infectious."
I pray you the healing and the anointing of the Lord. I pray you peace beyond all understanding. Peace and blessings!! Amen. P.S. I love your attitude-it's infectious!!☺️

— Regina Dickson (@TheWhazOfficial) June 24, 2021
Related: Actress Halle Berry's Tribute to Young Breakout Star Zendaya is Super Sweet—and a Reminder to Support Each Other
"For the past three months I've been undergoing chemotherapy for cancer. I have cancer," Hoppus wrote in his statement. "It sucks and I'm scared, and at the same time I'm blessed with incredible doctors and family and friends to get me through this. I still have months of treatment ahead of me but I'm trying to remain hopeful and positive."
"Can't wait to be cancer free and see you all at a concert in the near future," he added. "Love to you all."
Another fan drew some art for their cancer warrior hero.
Here's a drawing of u I did a while ago. Stay strong king👑 pic.twitter.com/IDjcChyNWR

— csmalls (@csmalley69) June 23, 2021
Barker, who has been touring with Machine Gun Kelly, announced in early 2021 that Blink 182 would be releasing an album this year. There haven't been any tour announcements, but this obviously seems to be a bit of a setback.
"The news about Mark Hoppus having cancer is so so so incredibly sad and I truly hope that as the godfather of pop punk he brutally kicks its ass," another fan expressed.
The Benefit of Support
A little support can go a long way. People going through cancer need the comfort of knowing their friends, loved ones and community are there for them as much as (if not more than) their doctors. It takes a village, as they say.
Related: 'It Sucks & I'm Scared': Blink-182 Frontman Mark Hoppus, 49, Reveals He Is Battling Cancer; Why Cancer Screenings Are Critical
Ovarian cancer survivor Kelly Sargent was seeking support after moving to Texas from Chicago, and thankfully it came back tenfold.
"When I was diagnosed, as soon as I got in the hospital, I started going online to find not only information, but also support groups, stories from survivors, anything that I could find as far as my treatment I definitely looked for," she tells SurvivorNet.
Related: Actress Olivia Munn Says 'Just Being There Can Be Enough' For People Struggling
"I have met some incredible people in San Antonio. Coming here not knowing anyone, I've been blessed with having met some incredible ladies. I have an incredible set of friends that I met after my diagnosis through a Bible study group that have become very, very close friends of mine that are an incredible part of my support system. That support from those ladies has been life-changing for me."
The Benefit of Support Networks for Cancer Patients
Feel the Fear, and Let it Go — Meditation for Cancer Survivors
Learn more about SurvivorNet's rigorous medical review process.