Living With Parkinson's
The first trailer for "STILL: A Michael J. Fox Movie," is now out, showing the actor's unwavering positivity in the face of Parkinson's disease.
"This is what I am," the 61-year-old dad of four says in the film preview. "I'm a tough son of a b*tch."
Parkinson's is a chronic illness that impacts the nervous system. Over time, more symptoms, such as tremors, start to appear.
There is currently no cure for Parkinson's, but researchers like those at The Michael J. Fox Foundation are working to change that.
If you or someone you know is battling Parkinson's disease or cancer, it's important to know that you are not alone.
The first trailer for the soon-to-be-released documentary titled "STILL: A Michael J. Fox Movie," is now out — revealing the unwavering positivity and humor Fox has held onto in the face of his decades-long battle with Parkinson's disease. And that's something survivors of all kinds can be encouraged by.
The two-minute and 27-second trailer, shared by Apple TV Plus during Parkinson's Awareness Month, is compiled with nostalgic clips from the 61-year-old actor's memorable career. It even begins with a scene from the 1985 film "Back to the Future," showing when Marty McFly (Fox) discovered Doc Brown (Christopher Lloyd) built a time machine out of a DMC DeLorean vehicle.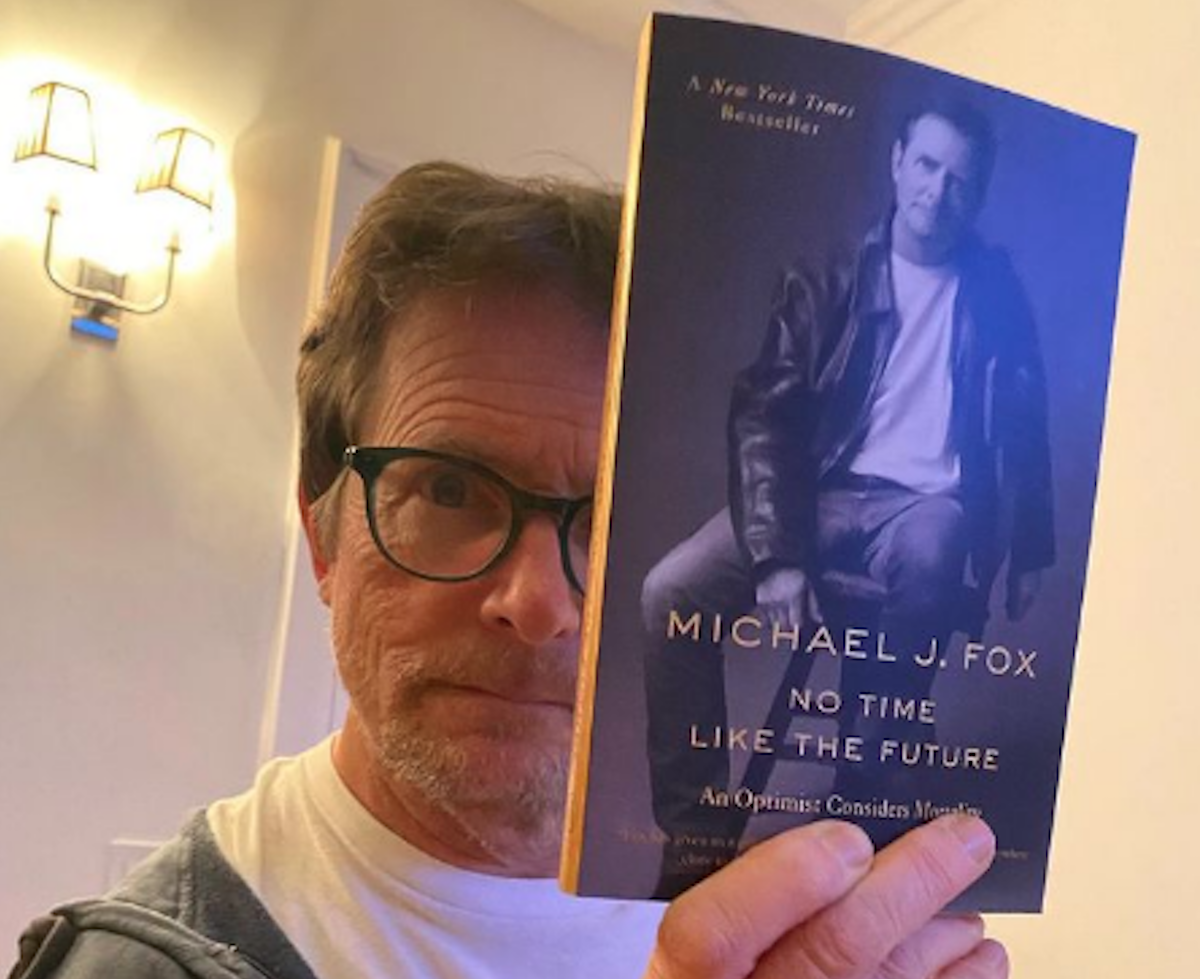 Read More
A preview clip of Fox, who published his own book "No Time Like the Future: An Optimist Considers Mortality" back in 2020, reveals him wondering what it means to be "still." Fox replied, "I wouldn't know. I was never still." After more iconic scenes are shown in the preview, Fox acknowledges that he was "bigger than bubble gum" back in the days of "Teen Wolf" and "Casualties of War." Then, a current-day Fox revealed the first symptom he noticed before learning he had Parkinson's. "I woke up and I noticed my pinky. Auto-animated. Parkinson's Disease. I told Tracy the news. 'In sickness and in health' I remember her whispering," Fox recounted. He explained, "No one outside of my family knew. There was only one reason why I took these pills. To hide. But all those years of hiding was shaking me away. To deny that part of me that wants to continue to go on and do things is to quit." "This is what I am," Fox added. "I'm a tough son of a b*tch."
The film, which is set to premiere on May 12, will entail a mix of adventure and romance, as well as comedy and drama.
Speaking to Variety earlier this year, Fox admitted that comedy is simply a part of who he is and he refuses to lose his sense of humor amid his struggle with the disease.
"There's no better alternative," Fox said when asked how he maintains his sense of humor in his life. "It's better than being it sucks. It's better than being miserable."
Our experts agree that staying true to who you are – like Fox and his humor – and finding joy can be a key to helping you through the battle of cancer or any other health challenge.
Michael J. Fox will never let Parkinson's disease ruin his sense of humor: "There's no better alternative. It's better than being miserable." #Sundance https://t.co/Fjljv9at3t pic.twitter.com/SnxNgYlEv2

— Variety (@Variety) January 21, 2023
Director Davis Guggenheim told Variety at the time, "I didn't want to make a Parkinson's movie. I don't want to make a sick movie. I want to make a movie about a life. The one thing he said to me was, 'No violence.'"
"We hope the tone of the movie is no pitying," Guggenheim continued. "This is a movie about a wild life, an incredible ride of ups and downs and a Hollywood 1980s movie star and what happens when life throws him a curveball."
Michael J. Fox's Parkinson's Journey
In 1991, when Michael J. Fox was just 29 years old, he was diagnosed with early-onset Parkinson's, a diagnosis he decided to keep private for seven years prior to going public with the news in 1998.
Since speaking out about the disease, Fox has become a spokesperson for Parkinson's awareness — pushing for more research and funding.
His organization, The Michael J. Fox Foundation (MJFF) for Parkinson's Research, was created to help find a cure for Parkinson's disease through funding research and developing therapies.
Included in the foundation's track record of impact on Parkinson's research, MJFF states on its website, "In our preclinical portfolio, MJFF-funded investigations have resulted in more than 20 early-stage therapeutic programs, which have attracted follow-on funding from venture capital, pharmaceutical or government funders for continuing development."
Save the date! April 11 is World Parkinson's Day, a time to raise awareness and advance critical PD research. Read more about our Day of Giving: https://t.co/W9d2WwbgEg

— michaeljfox.org (@MichaelJFoxOrg) April 3, 2023
"In our clinical portfolio, we have funded or sponsored scores of clinical trials in partnership with both academic and industry teams. Today, more than 15 disease-modifying interventions are in clinical trials. Multiple improved symptomatic therapies have achieved regulatory approval or are poised to do so," the foundation adds. "The landmark MJFF-sponsored Parkinson's Progression Markers Initiative has built the most robust dataset and biosample library in the history of Parkinson's research. Data from brain scans (e.g., MRI, DaTscan), biosample analysis (e.g., spinal fluid protein levels) and intensive "omics" investigations (e.g., whole genome and RNA sequencing) from 1,500 volunteers has been downloaded by researchers over 1.7 million times since the study's launch in 2010."
Lastly, MJFF states, "The Foundation's online clinical study, Fox Insight, has galvanized people with Parkinson's and their families to take an active role in research by sharing their lived experience of the disease. Since the study launched in 2017, more than 48,000 individuals have raised their hand to become citizen scientists to power PD research."
Prioritizing Mental Health & Acceptance After a Diagnosis
According to the Mayo Clinic, "Parkinson's disease is a progressive disorder that affects the nervous system and the parts of the body controlled by the nerves. Symptoms start slowly. The first symptom may be a barely noticeable tremor in just one hand. Tremors are common, but the disorder may also cause stiffness or slowing of movement."
"In the early stages of Parkinson's disease, your face may show little or no expression," the clinic explains about the incurable disease. "Your arms may not swing when you walk. Your speech may become soft or slurred. Parkinson's disease symptoms worsen as your condition progresses over time."
Whether you have #Parkinsons disease or not, you can participate in important research investigating ways to slow disease progression, evaluate therapies and test interventions.

Read our latest blog to discover studies recruiting for volunteers. https://t.co/3v7miJkX9t

— michaeljfox.org (@MichaelJFoxOrg) March 30, 2023
As researchers like those at The Michael J. Fox Foundation are trying to find a cure for the disease, medications to mitigate and control some symptoms of Parkinson's do exist—some of which include dopamine promoters, antidepressants, cognition-enhancing medication, and anti-tremor medication.
For those living with Parkinson's, or a similar disease, Fox offered some advice in an earlier AARP interview, saying, "Have an active life and do not let yourself get isolated and marginalized. You can live with it."
He continued, "People sometimes say that a relative or a parent or a friend died of Parkinson's. You don't die of  Parkinson's. You die with Parkinson's, because once you have it, you have it for life — until we can remedy that, and we're working hard at it."
"So, to live with it, you need to exercise and be in shape and to eat well," Fox said. " If you can't drive, find a way to get around. Maintain friendships. Don't say, 'Oh, I don't have anything to say to Bob.' Bob might have something to say to you. Just make the call."
More Inspiration For People Battling Disease
Just like Michael J. Fox's upcoming film, SurvivorNetTV's programming on Multiple Sclerosis (MS), a disease of the brain and spinal cord, is another source of encouraging and hopeful shows for people battling a disease. You can watch people defying odds and living their best life despite the diagnosis they received.
SurvivorNetTV's film "Defying All Odds," follows the story of Dr. Terry Wahls – a world-renowned doctor and scientist determined to continue practicing medicine even after being diagnosed with a severe form of multiple sclerosis (MS).
SurvivorNetTV Presents: Defying All Odds — A World-Renowned Doctor's Incredible Journey Through MS
Meanwhile, another film, "Don't Stop Me Now," takes a look at MS survivor Louise Carr's inspiring battle against the disease that causes her daily pain, fatigue, memory loss and restricted movement.
"I might have MS, but it doesn't have me," she tells SurvivorNet.
'Don't Stop Me Now' Is Inspiration for Anybody With Multiple Sclerosis
To help with her symptoms, Carr tried switching to a vegan diet, taking on yoga and Zumba classes as well as riding a recumbent bike.
"To my absolute astonishment within a week of becoming vegan my energy levels absolutely shot up," she said. "It's changed my life."
Finding the Support You Need
If you or someone you know is battling Parkinson's disease or cancer, it's important to know that you are not alone. Michael J. Fox has his wife and four children by his side but you don't have to have a big family to get the support you need during a battle with disease.
You can always find someone out there for you to be vulnerable with, if you'd like, and connecting with others while battling a disease can be life-changing.
Dealing With Grief Related to Health Problems
It's completely normal to feel upset about how your life has changed after getting a diagnosis.
Dr. Scott Irwin, a psychiatrist and Director of Supportive Care Services at Cedars-Sinai Medical Center, previously told SurvivorNet, "Grief comes in waves. They're grieving the change in their life, the future they had imagined is now different."
Some days may be harder than others, but Dr. Irwin insists talk therapy is incredibly helpful so it's important to reach out to your doctor, to a therapist or to support groups in your community.
Contributing: SurvivorNet Staff
Learn more about SurvivorNet's rigorous medical review process.
---