The Power of Gratitude
Michael J. Fox, 59, says he's focusing on gratitude and optimism while living with Parkinson's disease.
Being grateful for moments in life can really help cancer patients stay positive and uplifted.
Experts tell SurvivorNet that patients who are positive typically have more successful treatment outcomes.
Michael J. Fox, 59, reminds us it's okay to admit when we're struggling with hard moments in our lives, but it's imperative to always remember the good life has to offer. The beloved 
Back to the Future 
actor's determination to find moments of joy while living with Parkinson's is inspiring, and is a great example for those with 
cancer
 how valuable a positive attitude is during dark days.
Fox, known for his iconic roles as Marty McFly in the Back to the Future franchise and Alex P. Keaton in Family Ties, was diagnosed with early-onset Parkinson's in 1991 when he was just 29. However, he didn't share his diagnosis with us until seven years later, in 1998. Parkinson's is a chronic illness which impacts the nervous system, where more symptoms start can start appearing over time. So far, no cure has been discovered, but there are medications to keep symptoms under control and Fox has been active in funding research for the cause.
Read More
Related: Dr. Deepak Chopra, Pioneer Of Mindfulness, Shares Practical Guidance For The SurvivorNet Community– Have You Ever Really Been Intimate With Yourself?
Fox has been living with this disease for nearly three decades, but in 2018 he developed a noncancerous tumor on his spine that was causing him a severe amount of pain. He had a successful surgery but later broke his arm, and the amount of health issues was finally starting to take a toll on him emotionally.
"Parkinson's, my back, my arm…it still didn't add up to moving the needle on the misery index compared to what some people go through," Fox tells People. "I thought, 'How can I tell these people, "Chin up. Look at the bright side. Things are going to be great"?'"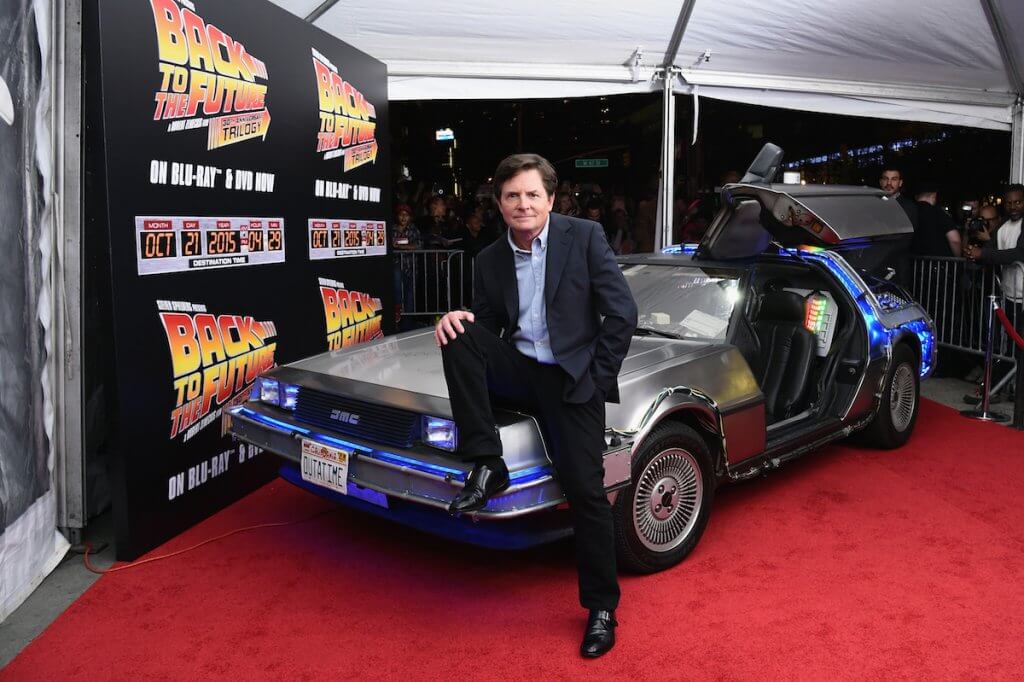 Determined to Stay Positive
While recovering from surgery and his broken arm, Fox tried to keep his spirits up by turning to 1970's TV game show re-runs. By taking moments for himself, and focusing on things that brought him joy, Fox says it gave him an entirely new outlook on how powerful mindset can be during struggles.
Related: 'Be Grateful For The Good Things' — Ovarian Cancer Survivor Donna Cleland's Story
"Optimism is really rooted in gratitude," Fox says. "Optimism is sustainable when you keep coming back to gratitude, and what follows from that is acceptance. Accepting that this thing has happened, and you accept it for what it is. It doesn't mean that you can't endeavor to change. It doesn't mean you have to accept it as a punishment or a penance, but just put it in its proper place. Then see how much the rest of your life you have to thrive in, and then you can move on."
Staying Grateful for Life During Cancer
Fox's comments about gratitude and optimism is wisdom that can really help those battling cancer. After a diagnosis, it's understandably extremely difficult to feel grateful for, well, maybe anything. However, studies prove that patients who are able to stay uplifted and positive often have better treatment outcomes. That's why mindset and attitude can be extremely valuable tools.
Related: Patients Do Better When They are Less Stressed
"The patients who do well with cancer, they live life with gratitude in terms of everything," Dr. Zuri Murrell, a colorectal cancer surgeon and Director of the Cedars-Sinai Colorectal Cancer Center, tells SurvivorNet. "They're grateful, not for cancer, but they're grateful for an opportunity to know that life is finite. They live life with [saying] 'I love you' to their husband, to their wife, to their kids. They can appreciate it for one of the first times ever because they know it may not be forever that they get to do this. Those are the patients that tend to do well with processing and also living a long, long life despite a diagnosis."
Dr. Zuri Murrell explains why patients who have gratitude can do well during treatment
Remaining Positive isn't Always Easy
Even though studies show how important it is to find some positivity during a cancer battle, that's much easier said than done. In addition to tackling treatment, people often juggle an overwhelming number of emotions including anxiety, anger, fear, and sadness. There can be a lot of pressure linked to a cancer diagnosis, and colon cancer survivor Kate Bowler knows this first-hand.
When Kate was diagnosed with stage 4 colon cancer, she started to resent how some people expected her to remain positive despite going through something traumatic. She refers to this as "bright-siding," and she felt immense pressure while discussing her diagnosis with friends and family — especially since she was deeply rooted in a spiritual community.
Related: 'The Eye of the Tiger' — Why Mindset and Lifestyle are So Important During Treatment for CLL
"I hate the bright siding, because I would never want someone who's suffering to feel the burden of positivity," Kate tells SurvivorNet. "People want me to reassure them that my cancer is all part of a plan. We want to live in a world in which nothing is lost. I think faith was a bit tricky for me."
In the end, Kate was able to find a community where she felt supported, and that helped her push through treatment without any more pressure.
Colon cancer survivor Kate Bowler says she felt pressured to look on the bright side during treatment
Learn more about SurvivorNet's rigorous medical review process.