New York Mom Follows Her Gut
A New York mom of 11 children, Veronica Merritt, is coping with her two-year-old son's recent cancer diagnosis. He complained of knee pain, and she intuited something further was wrong, so she took him to the hospital where he was diagnosed with cancer.
Donavan, 2, is battling neuroblastoma. This cancer most commonly affects children under age 5.
Treatment for neuroblastoma includes chemotherapy and surgery. Donovan is currently undergoing chemo to treat his cancer.
A pregnant mom of 11 children, Veronica Merritt of Syracuse, New York, is newly coping with her son's neuroblastoma diagnosis following his chronic knee pain. She uses her experiences to highlight the power of a woman's intuition and advises other parents to investigate when something feels off, as it did for her son Donovan.
The two-year-old was experiencing knee pain so Merritt took him to the hospital where he was later diagnosed with neuroblastoma, a pediatric cancer. The Syracuse, New York mom has been chronicling her family's story on TikTok and encourages other mothers to trust their gut when it comes to their children.
Read More
In a video to her TikTok followers, she explains their journey, and how her previously daily concerns feel much less important today, given Donavan's cancer. "My biggest problems in life were a permanent ban on TikTok, my kids not doing their chores, constantly having to clean the house.
But my youngest was constantly complaining of knee pain
, so we made the decision to take him to the ER to get checked out," says Merritt, reports 
The Sun.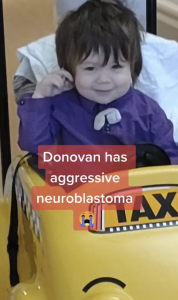 The expectant mom says, "Donovan doesn't really appear sick at first glance, it's scary to think we could have just been sitting at home thinking he's fine. I'm so glad the doctors found the cancer before it was too late, mother's should know it's important to follow their intuition!"
Understanding Neuroblastoma
Neuroblastoma is a cancer typically found in the adrenal glands. This cancer most commonly affects children aged five or younger. Symptoms of this disease can include a loss of appetite, fatigue, and fever. There may also be a lump or compression of tissues in the area that's affected.
Treatment for this disease includes surgery and chemotherapy. Neuroblastoma develops from nerve cells in the fetus. It often affects the small glands above the kidneys, called adrenal glands.
Tumors appear most often in the abdomen but can be found in the chest, neck or spine. Some forms of this cancer will spontaneously disappear on their own, but for most children, surgery, chemotherapy, and/or radiation is required.
The Impact of a Childhood Cancer Diagnosis on the Whole Family — Jayne Wexler Shares Her Story
Coping with Chemotherapy Treatments
Donovan is currently undergoing chemotherapy to treat his cancer, says Merritt. Side effects from chemotherapy can include nausea, loss of appetite, hair loss, and more. There are some new developments, like cooling caps, which can mitigate the effects of chemotherapy-induced hair loss.
Dr. Renata Urban, a Gynecologic Oncologist at the University of Washington, says in an earlier interview, "In regards to the risk of hair loss with Paclitaxel, there is often complete hair loss some. Patients may not lose all of their hair."
"I think one thing that's important to know is that if a patient does not lose their hair, it does not mean that the chemotherapy is not effective," says Dr. Urban. "Some patients may lose all of their hair, and some patients may not."
Dr. Urban speaks about "cold therapy" and "cooling caps." She says, "The mechanism of this is that with the cold it can cause vasoconstriction or narrowing of the blood vessels bringing blood to the scalp."
Not Your Parents' Chemotherapy: New Solutions for Nausea, Hair Loss, and Other Chemo Side Effects During Ovarian Cancer Treatment
Learn more about SurvivorNet's rigorous medical review process.