When someone's cancer journey is so inspiring that it draws global attention, many thousands of people can find themselves wanting to pay personal respects to someone that they never actually met. After the tragic death of celebrated TV crimefighter Beth Chapman, wife of Duane "Dog the Bounty Hunter" Chapman, due to lung cancer, supporters are coming in from all around the country, and writing in from around the world, to express their grief and celebrate Beth's life.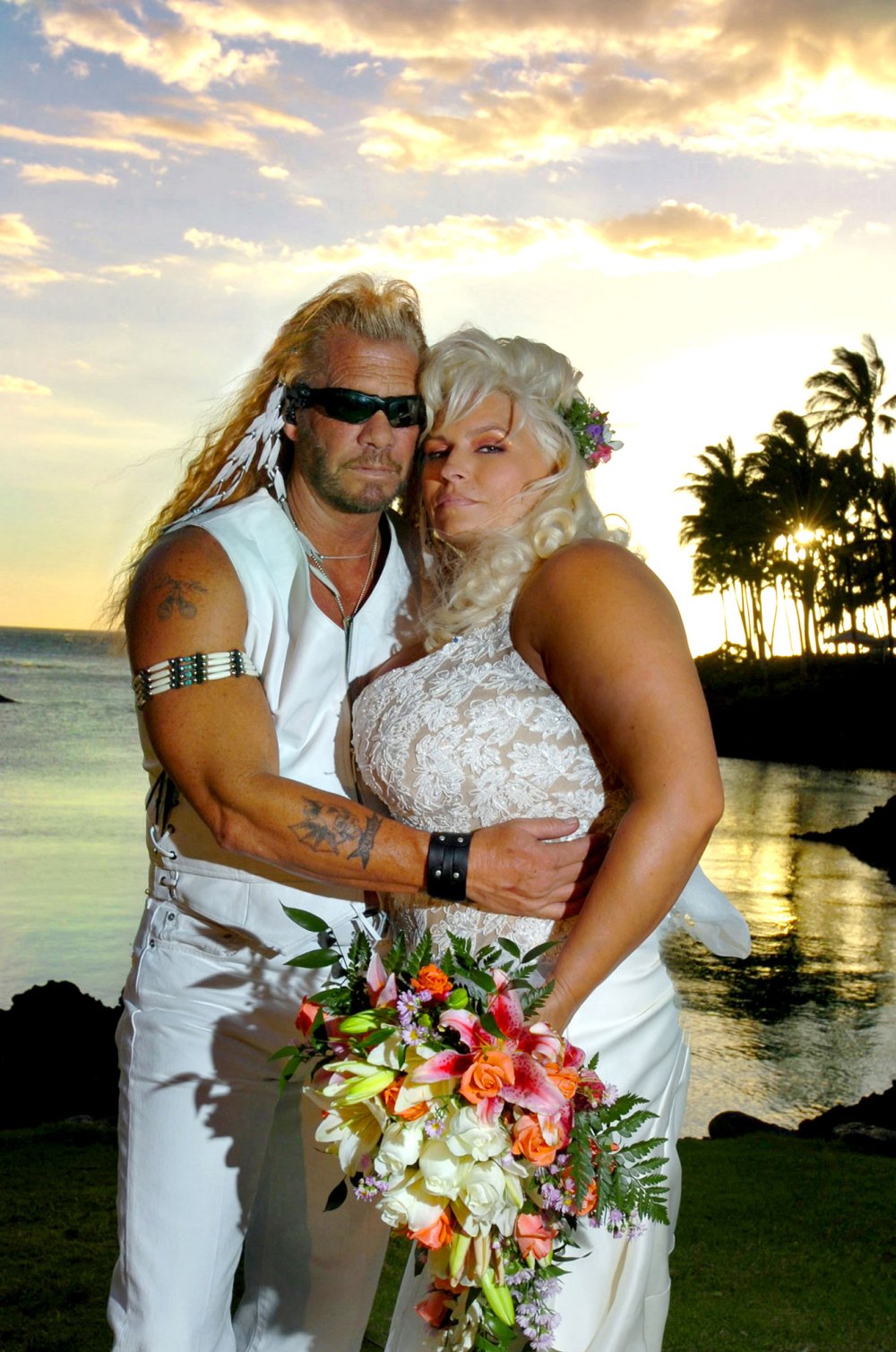 Beth's step daughter Lyssa Chapman, who feuded with beth publicly throughout her disease, posted an invitation to Beth's Aurora Colorado memorial. In responses Chapman supporters have replied with their locations, saying that they are either coming in for the celebration or wish that they could.
Read More

A lot of supporters are planning to come in from the far away states within the continental US. "I going to travel from Nebraska to be there 😉 My family thinks I'm crazy. Heck No, Beth was an amazing Momma and wife."

"Coming in from Bella Vista Arkansas [heart]."

Beth is pensive behind the wheel in a publicity still from her new show "Dog's Most Wanted".

"Coming all the way from michigan. Beth was the glue that held your family together. I need to show my respect for such a wonderful and strong woman. Aloha mama chapman!! You will be forever in our hearts!!"

While many supporters, for whom the journey would be too great, will be thinking about Beth and praying for her from far away American towns, "Continuing to lift your family up to the Lord. Please let me know how I can offer support from Atlanta, if you need anything. Much love to you all."

Beth Chapman strikes a pose in a publicity still for her new show "Dog's Most Wanted". Her fans fear for her health as she's forgoing chemotherapy.

"@mslyssac Sending love all the way from Buffalo New York to the whole dog family…it just goes to show you she's touched lives literally all over the world… you guys got the best guardian angel EVER ❤️ #RIPmommadog #alohaoemrsdog."

"I wish i. Could have went but i live in north Carolina 25 hour drive n m ey."

A poster that Duane "Dog" the Bounty Hunter posted with details about the upcoming Aurora Colorado memorial

And others will be with her in spirit from countries around the globe, "My heart was there in Hawaii with you all and will be again in Colorado. Im in Australia can't get there physically but spiritually I'm there . Bless you guys @mslyssac keep your dad close he's gonna need you all so much more now he's lost that wonderful lady [smile]."

"i am in calgary,alberta canada i wish i can be there for you guys my thought and prayer are for the chapman family and rip beth we will all will miss you."

"I'm writing this from Abuja, Nigeria,Africa.My kids and I are big time fans of "Dogs the bounty hunter ".and lately "Dog and Beth on the hunt!" It is with heavy hearts and the rudest shock, that we heard of Beth's passing on."

Beth Chapman and her husband, Duane "Dog the Bounty Hunter" Chapman at an event.

"When I think Hawaii…I think of Dog, Beth and family. My heart hurts for all of you. Lots of love all the way from Canada."

"I wish I could come over from uk to pay my respects to this lovely woman xx."

"I will light a candle for her i will be thinking bout you all i used to watched dad in bounty hunting rip beth you will be miss by loada of ppl my heart goes to u all seen as i live in england."

Beth and Dog hold hands in an expression of love in a picture from their new show "Dog's Most Wanted."

Many others simply said they wish they could attend but can't, "I wish I could be there. I am coming to Colorado next month, it there a site she will have in remembrance of her that I can visit? We loved Beth and have been so saddened by her passing."

"Wish I could be there. Beth was one of my role models and I will always look up to her 🙂 she was truly an amazing and wonderful lady."

And one supporter said they're still holding out hope that they can get out of their job and make it to the memorial. "I'm trying to get off work to go. I've always wanted to meet her she was such a strong empowered woman just watching her and your family on TV you could tell her family ment everything to her she was the definition of a strong woman."

Beth Chapman in a moment of contemplation.

Information about dealing with fear and negative emotions during cancer

Anxiety and fear are totally normal reactions to the news of cancer, and acknowledging these emotions can be therapeutic and important to the healing process.

"I think the most important advice I would give to someone who has just received a cancer diagnosis is to find people whom they find as a source of support. To allow themselves to go through all of the different emotional reactions to that news," said Dr. Susan Parons, Director of the Center for Health Solutions/Center on Child and Family Outcomes at Tufts Medical Center, in a prior interview with SurvivorNet. Dr. Parsons did not comment on this case specifically.

"The anger, the frustration, the fear. The disappointment. Whatever those emotions are, figure out what's important to you and find those people that can help you realize that."

Dr. Susan Parons, Director of the Center for Health Solutions/Center on Child and Family Outcomes at Tufts Medical Center on dealing with fear and anxiety after a cancer diagnosis.

In times of frustration, it can be useful to a little bit of direction on specific ways to deal with it. A few of the most common ways to deal with fear and anxiety after a cancer diagnosis, that have helped people in the SurvivorNet community in the past, include:

1. Let your family and close friends know – and let them help. So many cancer survivors tell us they want and need support but are often too preoccupied to make specific requests. Urge those close to you to jump in with whatever practical help they can offer.

2. Keep a journal. It can be extremely cathartic to let those feelings loose on paper. Grab a pen and a nice journal and chronical your different thoughts throughout the day.

3. Join a cancer support group. There are groups in nearly every community offering opportunities to connect with others going through a similar journey. You'll learn incredibly helpful insight from others who can tell you about what to expect and how to stay strong on tough days.

4. Consider seeing a therapist. Ask your doctor to refer you to a therapist so you can discuss your fears and concerns in a safe space. Often, vocalizing your thoughts and feelings rather than internalizing them can provide relief.

Information about faith and cancer

A lot of people in the SurvivorNet community have talked to us about the role of faith during their cancer journeys. Breast cancer survivor Sharonda Vincent told SurvivorNet that she leaned on faith to help her through. "I knew that if I just put my faith and trust in God, that I would be okay," said Vincent about her cancer journey.

Beth's daughter, Bonnie, and step-daughter, Lyssa, both posted a photo of this memorial meant to honor Beth "Hawaii style."

Sharonda discovered a lump in her left breast the day before her thirtieth birthday, with just over a month to go until her wedding. Her doctor initially dismissed her concerns, but follow-up tests confirmed that it was stage 2B breast cancer. "It was hard for me. I felt as if I was being punished," she says.

Breast Cancer survivor Sharonda Vincent on the role of faith in her cancer journey

But after chemotherapy, radiation, and then hormone replacement, Sharonda is doing well. She's currently a social service advocate at the Public Defender's Office in Philadelphia.

Sharonda's message: Don't give up hope. Educate yourself — and live every day to the fullest. "Breast cancer is no longer the end of the world," she says.

Learn more about SurvivorNet's rigorous medical review process.