The Road To Recovery: Mother With Breast Cancer Reveals Clean Scans
Kirsty Barnwell shares a sweet photo in an Instagram post with her daughter holding a sign saying "My Mummy is Cancer Free."
Barnwell has HER2-positive (have high levels of the HER2 protein on the outside of their cancer cells) breast cancer and has undergone a mastectomy for one breast.
Some women may opt for a double mastectomy, which is a procedure in which both breasts are removed to get rid of cancer. The procedure may also be performed as a preventative measure for women who are at a very high risk of developing breast cancer.
Kirsty Barnwell, alongside her daughter Paloma, pose for a heartwarming photo announcing the results of Barnwell's latest scans, which show she is
breast cancer
free.
"I can't quite believe I'm writing this, but I can now say I am CANCER FREE," says Barnwell, exuberantly, in her Instagram post.
Read More
Barnwell shares her HER2-positive breast cancer journey through Instagram posts. She shared she recently had a mastectomy and is on the road to recovery, according to her posts.
"I saw my surgeon yesterday and the pathology reports concluded a complete pathological response to chemotherapy. I had NO EVIDENCE oF DISEASE," she continues in her post.
She says she still has radiotherapy and phesgo injections (a prescription medicine approved for use in combination with docetaxel in adults who have HER2-positive breast cancer) "to make sure I'm as safe as possible in the future. But for now I can officially say…..I don't have cancer."
Barnwell has been sharing her cancer journey, including chemotherapy treatment, all while being a mom too.
 

View this post on Instagram

 
Understanding Breast Cancer
Breast cancer is a common cancer that has been the subject of much research. Many women develop this disease every year and men can develop this cancer too — though it is more rare, in part, due to the simple fact that they have less breast tissue.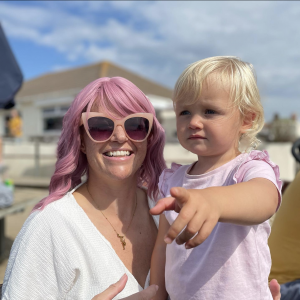 There are many treatment options for people with this disease, but treatment depends greatly on the specifics of each case. Identifying these specifics means looking into whether the cancerous cells have certain receptors. These receptors — the estrogen receptor, the progesterone receptor, and the HER2 receptor — can help identify the unique features of the cancer and help personalize treatment.
"These receptors, I like to imagine them like little hands on the outside of the cell, they can grab hold of what we call ligands, and these ligands are essentially the hormones that may be circulating in the bloodstream that can then be pulled into this cancer cell and used as a fertilizer, as growth support for the cells," Dr. Elizabeth Comen, a medical oncologist at Memorial Sloan Kettering Cancer Center, previously told SurvivorNet.
The Unique Features of Breast Cancer: Deciding the Right Course of Treatment
One example of a type of ligand that can stimulate a cancer cell is the hormone estrogen, hence why an estrogen receptor positive breast cancer will grow when stimulated by estrogen. For these cases, your doctor may offer treatment that specifically targets the estrogen receptor. But for HER2 positive breast cancers, therapies that uniquely target the HER2 receptor may be the most beneficial.
Symptoms of Breast Cancer
Signs and symptoms of the disease can include the following:
A breast lump or thickening that feels different from the surrounding tissue
Change in the size, shape or appearance of a breast
Changes to the skin over the breast, such as dimpling
A newly inverted nipple
Peeling, scaling, crusting or flaking of the pigmented area of skin surrounding the nipple (areola) or breast skin
Redness or pitting of the skin over your breast, like the skin of an orange
It's important to keep an eye out for these symptoms while remembering that having one or many of them does not necessarily mean you have breast cancer. Regardless, you should always speak with a doctor promptly if anything ever feels off or you're experiencing one or more of the signs listed above. You never know when speaking up about your health can lead to a very important diagnosis.
Being A Survivor
We at SurvivorNet are always highlighting brave cancer survivors and telling their stories. We also have many resources for women living with breast cancer and how to handle life after treatment.
Three-time cancer survivor Alicia Jones, a medical secretary and singer in New York, explains in an exclusive interview with SurvivorNet how faith and a good support system are key when battling cancer.
Jones, who survived breast cancer twice and ovarian cancer once, is now urging others to maintain optimism and believe they can fight off cancer.
Three-time Cancer Survivor Alicia Jones On Optimism and Support After Diagnosis: 'God Must Have A Higher Purpose For Me'
"I'm a survivor. I am. What I did — I smiled the whole time. My doctors will tell you, that every time I came into the office I was smiling," Jones told SurvivorNet. "You can beat this. You can do it, I'm telling you. If I did it three times, you can do it."
With assistance from Danielle Cinone
Learn more about SurvivorNet's rigorous medical review process.
---