Early this morning, I took 10 minutes to complete an online "implicit association test" designed to tell users whether they have a subconscious bias against people with lung cancer. The test, which is a part of the drug company Genentech's The Lung Cancer Project, displays a series of pictures that flash across your computer screen and asks you to quickly yet accurately sort them into certain categories, such as "lung cancer," "breast cancer," "eating," "smoking," "good," or "bad."
Just before taking the test, I'd spoken with Dr. Joan Schiller, a medical oncologist and professor in the Department of Medicine at the Inova Schar Cancer Institute, who had filled me in on exactly how the test calculates results. The results, Dr. Schiller said, are based not only on the way you sort the pictures, but on the time it took you to do so.
Read More
Knowing how the results were calculated, I figured, would improve my results. All I had to do was consciously associate lung cancer with hopeful words.
Unfortunately, being aware of how the test works didn't save me from the troubling results, which informed me I had a "slight automatic association for "Bad with Lung Cancer." Apparently, it had taken me a fraction of a second longer to associate lung cancer with hopeful, positive words, than it did to associate it with negative, shameful words. This surprised me; after all, I went into the test consciously aware of how this worked.
The stigma is real, I realized, and it lives in our subconscious even when we know it shouldn't.
Percentage of people who associate lung cancer with "shame."
Source: The Lung Cancer Project
Dr. Schiller recently presented a new study called "Changing Attitudes Regarding Lung Cancer: Shame, Embarrassment, and Hope, at the World Conference on Lung Cancer in Barcelona this past week. Dr. Schiller is a lung cancer doctor; she treats patients with the disease, and would be the first to tell you (as she told me) that "lung cancer is not a dirty word." And yet, Dr. Schiller admitted to me that when she took the test herself, she, too, was disappointed in her own results.
"The results are surprising," Dr. Schiller said. "Everyone pairs the picture of a lung with cancer into the category 'lung cancer and despair' pretty darn fast, but when the words are 'lung cancer and hope,' it takes them a fraction of a second longer."
Not Just "A Smokers' Disease" 
Anyone with lungs can get lung cancer. You don't need to be a smoker—not today, and not 30 years ago. People who have never touched cigarettes still receive lung cancer diagnoses, and nearly 20 percent of people who die from the disease have never smoked.
We know this data here at SurvivorNet. We've listened to and shared the stories from lung cancer survivors Amanda Kouri and Millie Torchia—neither of whom were smokers before their diagnoses. We've talked at length with Dr. Brendon Stiles, a thoracic surgeon at Weill Cornell Medical Center, who never wants his patients to feel like it's their fault they have cancer.
And yet, we're not immune to the pervasive societal stigma against people with lung cancer. No one really is. There's an implicit bias that lives deep in our subconscious that says "lung cancer is shameful. Lung cancer is that patient's fault."
Lung cancer survivor Amanda Kouri—who was never a smoker—spoke with SurvivorNet about the stigma she experienced. 
The Numbers Show Improvements, But We're Not There Yet
The study that Dr. Schiller presented this past week at the World Conference on Lung Cancer compared attitudes toward lung cancer today to attitudes toward lung cancer in 2012. The results showed that, relative to 2012, five out of six implicit and explicit attitudes toward lung cancer showed a significant reduction in negativity toward lung cancer relative to breast cancer." ('Explicit' means attitudes you express outwardly and knowingly, and 'implicit' means subconscious attitudes that you express sometimes unknowingly.) The only result that did not improve a significant amount was the implicit association of lung cancer with shame—and this was consistent across patients, doctors, and the general public.
RELATED: New Evidence That The Stigma Against People With Lung Cancer Hasn't Gone Away
Progress, Advocacy, and Hope: How We'll Continue to Reduce the Stigma
One of the attitudes that did improve between 2012 and 2019 was hope. People are feeling more hopeful when it comes to lung cancer than they did years ago. The reason? Progress and advocacy.
On the progress side, researchers are developing drugs that are changing the outlook for people with lung cancer. Immunotherapy drugs—which enable the body's own immune system to attack cancer cells—have dramatically improved survival outcomes for certain subsets of people with lung cancer.
RELATED: Immunotherapy Has Changed the Game For Lung Cancer
I spoke with Dr. Brendon Stiles of Weill Cornell Medicine/ NewYork Presbyterian, who was also in Barcelona for the World Conference on Lung Cancer (or "World Lung," as it's commonly called), and he shared that the new research that dominated the conversation at the conference wasn't just new treatment advances, but also new advances in early screening and detection as well as patient advocacy.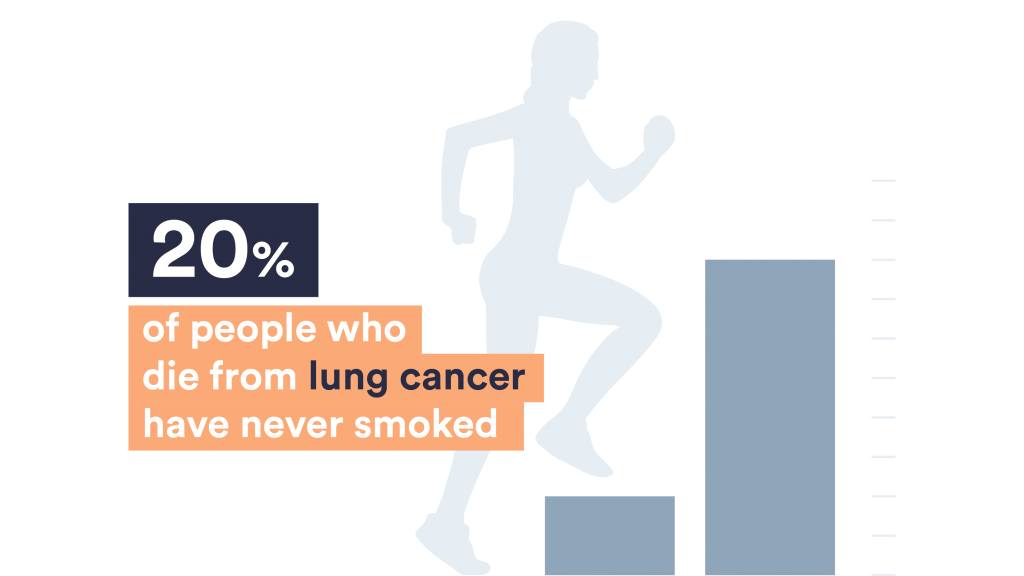 RELATED: If You've Been a Smoker, You Need to Get Screened for Lung Cancer: New Research Says This Specific Screening Test Could Save Your Life
For the first time, Dr. Stiles shared, doctors are urging people to factor in ethnicity and family history for predicting someone's lung cancer risk (and, accordingly, their screening recommendations). In the past, these risk prediction scores have really only factored in smoking history and age, and acknowledging that genetics (family history and ethnicity) play a role, too, goes hand-in-hand with the movement toward acknowledging that you don't need to be a smoker to get lung cancer.
RELATED: A New Development in the Fight Against Lung Cancer – Explaining the Liquid Biopsy
Dr. Stiles also shared several exciting new treatment developments presented at the conference. "There was a strong focus on the clinical development of new, targeted therapies," he said, pointing out results from a particularly exciting trial, which found that a new drug may be able to extend the survival of patients with a something called a KRAS mutation in their lung cancer – a genetic mutation that was previously thought to be untreatable. The trial was early-phase, and the drug doesn't even have a name yet (it's still called AMG 510), but Dr. Stiles said that seven of the patients on the clinical trial saw their tumors shrink while the remaining six had their tumors stop growing, and no patients had significant side effects. "This data is generating remarkable excitement and high expectations in the field for patients who have long been thought to have untargetable tumors," Dr. Stiles said.
RELATED: Advanced Small Cell Lung Cancers Can Benefit from the Promising Immunotherapy Drug Keytruda Now, Too
Beyond the new treatments and lifesaving early screening, patients and survivors—and their advocates—are playing an active role in reducing the lung cancer stigma. I spoke with Andrea Ferris, the CEO of  LUNGevity, one of the biggest lung cancer-focused nonprofits in the country. LUNGevity has partnered with the drug company, Pfizer, and four other major cancer nonprofits to create the website LungCancerProfiles.com, which provides valuable information about lung cancer testing and resources for those living with lung cancer. Ferris, whose own mother died of lung cancer a decade ago, told me that the growing number of survivors pushing for progress and talking about lung cancer openly has been a catalyst for positive change.
Dr. Brendon Stiles spoke with SurvivorNet about how he doesn't make people with lung cancer feel badly about smoking. 
"The fact that there are survivors out there right now who are 12, 15 years out—and they're not just alive, you know, but they're living well—and they're working, and they're raising their kids and families and doing things… this is changing the face of lung cancer," Ferris said, pointing out that she sees parallels to what happened with changing attitudes toward HIV several decades ago. "Initially, HIV was sort of something that was only associated with homosexuals and the drug-user communities… [but] once people realized that it could happen to anyone, and it became something that people could live with, as people realized that it could happen to anyone, there wasn't a stigma associated with it anymore." Ferris sees the same happening with lung cancer; as people realize that lung cancer is not a shameful "smoker's disease," and more survivors show the world that they're actively living with it, the stigma, she believes, will self-correct.
To be sure, there is still a lot more work to be done – and the stigma, as evidenced by the surprising online test results – is still deep-rooted.
"But the fact it improved at all was a big deal," Dr. Schiller said. "And there really is more opportunity for hope."
Learn more about SurvivorNet's rigorous medical review process.
---