'And Just Like That...' Gets a Second Season
And Just Like That… was renewed for a second season by HBO Max; the show stars breast cancer survivor Cynthia Nixon, 55.
The actress found a lump in her breast in 2006. She treated her stage 1 breast cancer with six weeks of radiation, and she also had a lumpectomy.
Many people find that working during cancer, or soon after treatment, can bring a sense of normalcy and groundedness to day-to-day life during the cancer journey.
Pop the champagne – it's official!
And Just Like That…
the HBO Max hit and
Sex and the City
reboot starring breast cancer survivor Cynthia Nixon, 55, is officially getting a second season.
Nixon stars on the show alongside other SATC cast members Sarah Jessica Parker, 56, and Kristin Davis, 57. Industry paper Variety announced the news of the second season of And Just Like That… this week. Variety reports how And Just Like That… was HBO Max's most successful original series to date.
Read More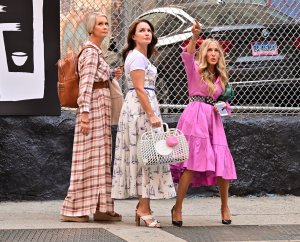 Variety reports, "HBO Max's renewal announcement confirmed the returns of Parker, Cynthia Nixon and Kristin Davis; Davis and Nixon are also executive producers."
We love to see strong survivors like Nixon thriving after beating cancer and continuing to work after cancer and pursue their passions. Nixon is also a mother of three children, and she is married to her wife, Christine Marinoni.
And Just Like That Star's Breast Cancer Battle
Cynthia Nixon is a survivor of breast cancer. The actress found a lump in her breast in 2006. Throughout the process, Nixon was relaxed and later shared that she didn't think the lump – despite being cancer – was a big deal. Having a calm, positive attitude through cancer can help the process be smoother for some people.
Doctors informed Nixon that the tumor found in her breast was stage 1 breast cancer. In a previous interview, Nixon recalls how, "The doctor said the tumor was so small, he wouldn't have even noticed it except for the fact that it wasn't there on previous X-rays. I've learned that if you catch breast cancer early, the chances are overwhelmingly good that you'll be cured. So my attitude, which very much mirrored my mother's, was this wasn't a big deal."
Nixon began having mammograms at age 35 because her mother had breast cancer, and beat it. Cynthia treated her stage 1 breast cancer with six weeks of radiation, and she also had a lumpectomy.
When Should You Consider a Mastectomy?
Working through Cancer
Even for film and TV stars, like Nixon, a cancer diagnosis can be a life-altering event. Finding pockets of normalcy during the cancer journey is often welcome. For most people, going to work every day – if you're well enough to do so – can be an effective strategy for keeping things as "normal" as possible during an abnormal health event like cancer.
Laurie Ostacher, a social worker at Sutter Bay Medical Foundation, says in an earlier interview how important a person's career may be to them, even during the cancer journey. She explains, "Some women choose to continue working [through cancer] because working is a significant part of their identity, they enjoy the job, and there's flexibility built in."
"I help folks think about whether it makes sense to work," she says. "If you really don't want to but are worried you're not going to be able to make ends meet, then I'll sit down and help them figure out, you know, with your disability insurance, would this be possible?"
Ostacher explains the questions she might pose to women to probe them to think about how their work life might look through cancer. She says, "For women who choose to work, I help them think about what types of conversations do you need to have with their employer? How much information do you want to share with him or her? What type of work schedule seems like it might work for you? Where might you need more flexibility?"
Working During Your Cancer Treatment
Learn more about SurvivorNet's rigorous medical review process.