The friendship between Olivia Newton-John, 71, and her "Grease" co-star, John Travolta, 66, has endured since the two filmed the 1978 classic together. Now, Newton-John, who is battling stage 4 breast cancer, shares her heartfelt love for Travolta after the loss of Kelly Preston, his wife of 28 years, to breast cancer.
RELATED: Olivia Newton-John Celebrates Wedding Anniversary– Living With Stage 4 Breast Cancer: 'Every Day Is A Gift'
Read More
Preston, Newton-John shared on Instagram, "was a radiant, warm and gentle spirit – a loving, devoted wife, mother and sweet friend. My heart breaks for John, Ella and Ben. No words can express my sorrow for her family. Kelly's light shines on in her beautiful children."
A Shared Passion: Children
In 2004, Newton-John and Preston teamed up to draw attention to the impact of environmental toxins in the home on children. "I was proud to launch the CHEC "Not Under My Roof" initiative with @therealkellypreston 20 years ago. She was passionate about safety for children from environmental toxins, and we made this video for the Children's Health Environmental Coalition (CHEC) which is now HealthyChild.org."
RELATED: Olivia Newton-John's Beautiful Mother-Daughter Moment Amid Her Stage 4 Breast Cancer Journeyf
Preston and Travolta had three children, a daughter Ella, 20, and sons Benjamin, 9, and Jett, who died January 2009 at 16 after having a seizure while the family was on vacation in the Bahamas. Newton-John has one daughter, Chloe Rose Lattanzi, 34.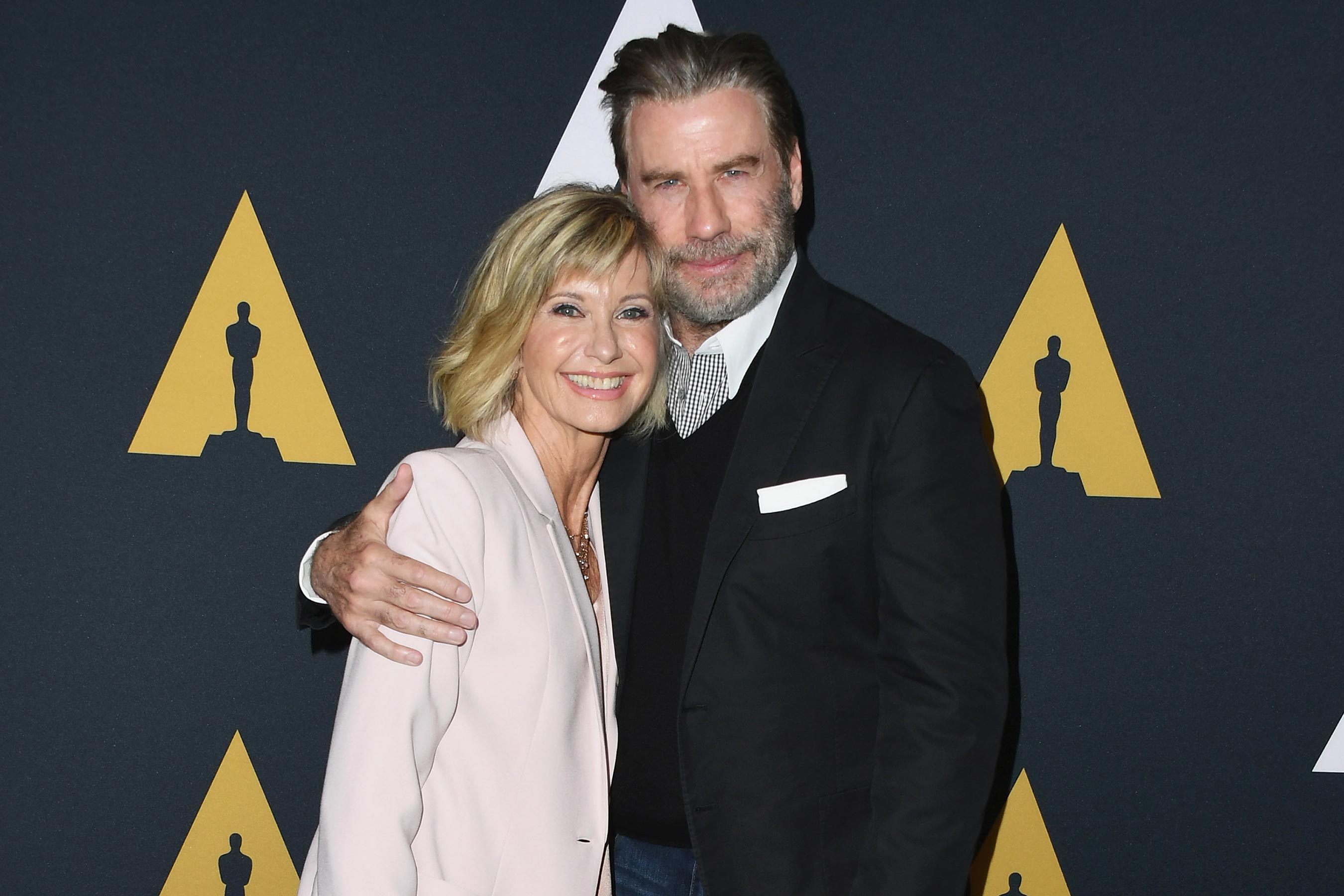 "Olivia Is A Survivor'
Travolta and Newton-John have reunited over the years, most recently in January at the G'Day USA 2020 Standing Together event in Beverly Hills, which raised money for Australian wildlife relief.
"Olivia is a survivor, and she's smart, and she's got a lot of life in her," Travolta said, according to People. "I think she looks at it from the glass half full always, and that's her beautiful, natural approach towards life — and I think we all need to do that."
"She looks incredible," Travolta told Entertainment Tonight of his "Grease" co-star in 2019 "I'm very proud of her."
Cancer: Private And Public
While Preston remained private about her two-year battle with breast cancer, Newton-John, who was granted the title "Dame" by Queen Elizabeth in 2019, has served as an inspiration to those facing the disease.
She lent her name to the Olivia Newton-John Cancer Wellness & Research Centre in Melbourne, Australia and authored a memoir, "Don't Stop Believin,'" about her cancer journey. "I'm a very public person living a private life," she writes in the book, which was published in March 2019.
Olivia Newton-John's Cancer Journey
First diagnosed with breast cancer in 1992, Newton-John underwent a mastectomy and nine months of chemotherapy to become cancer-free. Three years after her diagnosis, her first marriage, to actor and dancer, Matta Lattanzi, ended.
RELATED: Olivia Newton-John Keeps it Positive as She Fights Incurable Cancer
She was again diagnosed with breast cancer in 2014. Then in September 2018, she announced a recurrence: this time, the stage 4 breast cancer had spread to her spine. Today she insists she is "thriving" through metastatic breast cancer.
Integrative Treatment Approach
In a previous interview with SurvivorNet, Newton-John shared how she integrates holistic therapies with traditional medicine: "I share it all with my doctor, and she's been very positive about it," she explained. "
RELATED: Olivia Newton-John Opens Up to SurvivorNet About Her Holistic Breast Cancer Treatment Regimen
"But I've done a mixture [of conventional medicine and natural, alternative therapies]. Like when I was in Australia and had the broken sacrum, it turned out I had some tumors that needed to be zapped, so we did targeted radiotherapy on those places. And after my first breast cancer diagnosis, I had surgery and chemotherapy. These past two diagnoses, I haven't done chemo, but I've had radiation and [hormone] therapies."
Grateful for the Hours
Newton-John's cancer journey serves as an inspiration to others in the cancer community who are facing an incurable diagnosis.
"I think that this journey has increased my gratitude," she told SurvivorNet in an interview, "really, because when you've had cancer a few times, and you don't know the outcome, you're just grateful for the moments you're having, or the days you're having, or the hours you're having."
RELATED: Olivia Newton-John, First Diagnosed with Cancer in 1992, Shares that She Has Asked It to Leave
"I think it's also made me more accepting of anything. This too will pass. I will get to the other side, and I intend to live for a much longer time, even though if you ask for the diagnosis and you have stage 4 breast cancer that's metastasized to your bones, you could paint a pretty ugly picture. But I'm painting a good one. I feel really good."
Learn more about SurvivorNet's rigorous medical review process.
---