At an event over the weekend, John Travolta praised his "Grease" co-star and longtime friend Olivia Newton-John for her incredible attitude when it comes to facing life's adversities.
Newton-John is currently battling breast cancer for a third time. At the G'Day USA 2020 Standing Together event in Beverly Hills, which raised money for Australian wildlife relief, Travolta, 65, said that his friend has been facing her personal challenges with a positivity that everyone could learn from.
Read More
RELATED: Olivia Newton-John Declares That Her Body is 'Winning' Against Her Cancer
"Olivia is a survivor, and she's smart, and she's got a lot of life in her," Travolta said, according to People. "I think she looks at it from the glass half full always, and that's her beautiful, natural approach towards life — and I think we all need to do that."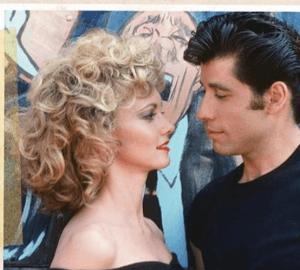 At the event, Newton-John, 71, also told People that she was doing well, and that she plans to continue using her own experience to help others.
"Life is a gift and I've had an amazing life, and I intend to keep going with it and I want to help other people with cancer, of course," she said, adding that she hopes the work she does with Olivia Newton-John Cancer Wellness & Research Centre in Melbourne will help to alleviate some of the trauma people battling cancer live with.
RELATED: Two Survivors — Olivia Newton-John and Elton John — Named to Queen Elizabeth's Honors List
In addition to the work she does for other cancer survivors, Newton-John will also be headlining a huge concert for Australian wildfires relief. The Fire Fight Concert is scheduled for Feb. 16 and will be held at ANZ Stadium in Sydney's Olympic Park.
Newton-John will perform alongside rock legends Queen (who now perform with singer Adam Lambert as a frontman) and Alice Cooper. Aussie comedian and actress Celeste Barber will emcee the event.
Olivia Newton-John's Cancer Journey
After going public with her third breast cancer diagnosis in September of 2018, Newton-John has been extremely candid with fans about the ups and downs of facing such an aggressive disease. The actress was diagnosed with stage 4 cancer this time around, and the disease has spread to her bones.
That hasn't dampened the star's spirits, though. Clearly she's still extremely active — and she told SurvivorNet in an interview last year that the health struggles have left her with a profound sense of gratitude.
RELATED: Love Conquers All: How Olivia Newton-John's Second Marriage Gives Her Strength On Her Cancer Journey
"I've adjusted to living with cancer, which I am very lucky to say I'm able to do," she said. "I'm doing really well. I think that this journey has increased my gratitude, really, because when you've had cancer a few times, and you don't know the outcome, you're just grateful for the moments you're having, or the days you're having, or the hours you're having."
Newton-John also shared that in addition to traditional cancer treatments, she has also been incorporating some complementary herbal medicines into her routine — including medical marijuana.
RELATED VIDEO: Dr. Brian Berman, director of the Center for Integrative Medicine at the University of Maryland School of Medicine, discusses the difference between integrative and "alternative" medicines 
Newton-John told SurvivorNet this past summer that her husband of 11 years, John Easterling, the founder and chairman of Amazon Herb Company, makes her tinctures (liquid extracts) from cannabis that he grows himself. The star also said she was taking natural supplements, including turkey tail (an antioxidant-rich mushroom extract), Graviola supplements (derived from a plant believed to have medicinal properties), vitamin B17, and high doses of vitamin C, which she says she's been getting through an Amazonian fruit called camu camu.
RELATED: Alternative Therapies: Don't Believe Everything You Read on the Internet
Integrative medicine — or the concept of combining traditional cancer therapies such as chemotherapy, surgery, etc., with alternative methods such as medical marijuana, acupuncture and supplements — can play a big role in how certain patients recover from cancer. Of course, any alternative therapy should get the OK from a doctor, as some supplements and activities can actually have an adverse effect on people living with cancer.
Newton-John has been doing just that. The singer told SurvivorNet in August 2019 that she was pairing the natural herbs and supplements with her conventional breast cancer treatment — which, at the time, was hormone therapy. The star said that in the past, she's undergone radiation, surgery and chemotherapy. She was diagnosed with breast cancer for the first time in 1992, and a second time in 2013.
Learn more about SurvivorNet's rigorous medical review process.