Fighting Breast Cancer
Leanne Hainsby, a 35-year-old Peloton instructor has been battling breast cancer since August 2022 after finding a lump in her breast.
Up until now, she has kept her diagnosis and treatment plan "very private." However, she now hopes to inspire others with her "personal" story to get checked or stay motivated.
There are many treatment options for people with breast cancer, but treatment depends greatly on the specifics of each case. Identifying these specifics means looking into whether the cancerous cells have certain receptors – the estrogen receptor, the progesterone receptor and the HER2 receptor.
Fertility preservation practices for women can include egg and embryo freezing, ovarian tissue freezing, ovarian suppression and ovarian transposition.
Leanne Hainsby, a 35-year-old Peloton instructor from London, England, announced to her nearly 350,000 Instagram followers on Friday that she's been battling breast cancer since August.
Having kept her diagnosis and treatment plan "very private" up until her health news, Hainsby admitted that continuing to teach spin classes throughout her cancer fight has "given her focus, and some sparkle in an otherwise incredibly tough time."
Read More
"Two days before my best friend's [34-year-old dancer Danielle Hampson] funeral, I found a lump in my breast," Hainsby wrote in her
emotional cancer announcement
. "That really is a sentence I NEVER imagined writing." She continued, "After multiple scans and appointments with both consultants and cancer nurses, and being completely terrified for a few weeks, in August 2022, I was diagnosed with breast cancer."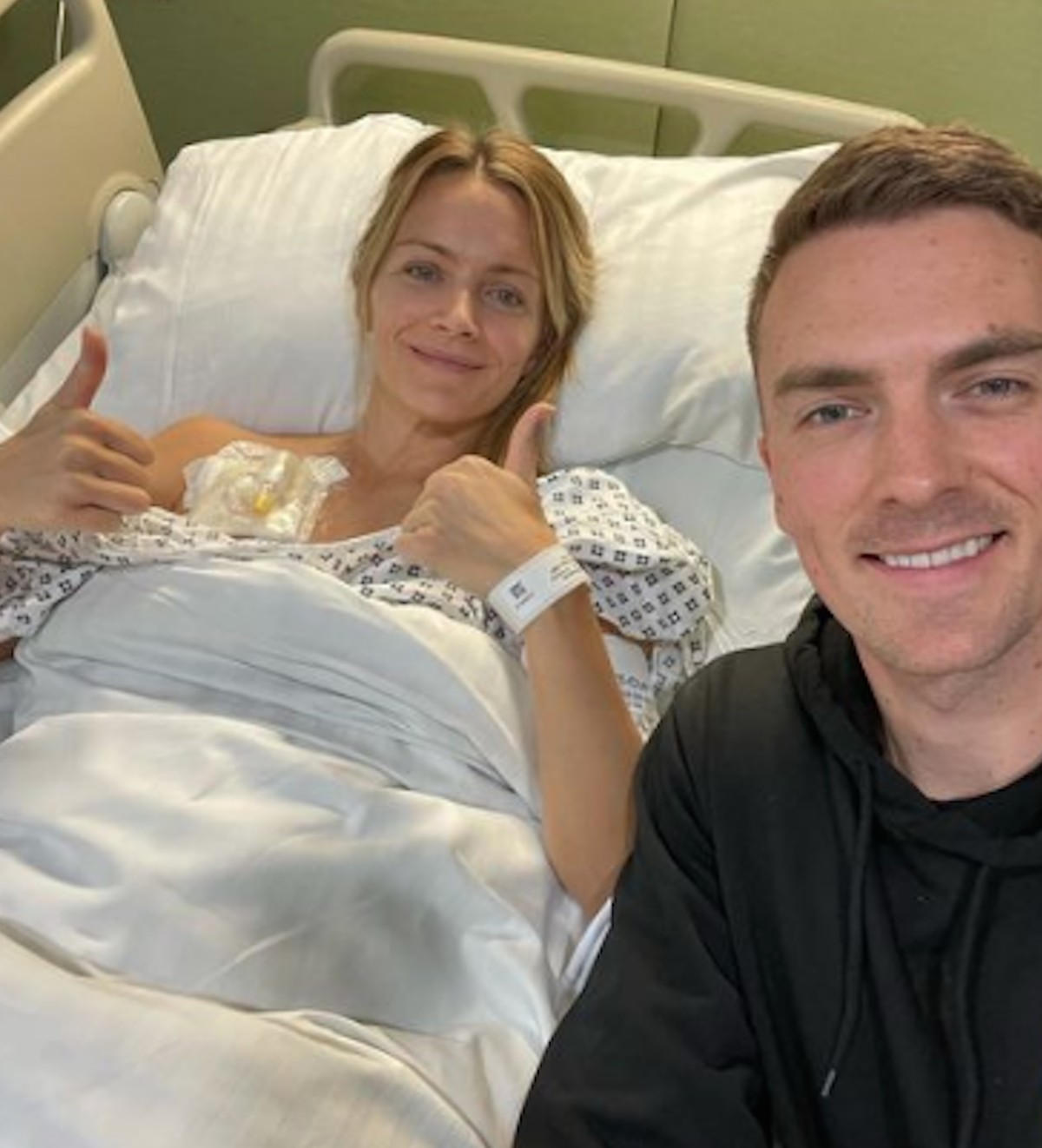 Hainsby, described by
OnePeloton
as "a former professional dancer turned fitness enthusiast," was told she had cancer after getting a second doctor's opinion about a lump she had found in her breast. The first doctor she visited, on the same day she found the lump, told her "everything was ok." However, after trusting her "gut" she obtained a life-saving second opinion, which led to her diagnosis.
Since getting diagnosed about six months ago, Hainsy has completed 12 weeks of chemotherapy and will undergo surgery to remove her portacath, followed by two weeks of radiation treatment.
Hainsby has tried to maintain a normal life since getting diagnosed, as she still taught her live Peloton classes, meet her mom afterward and go to treatment.
"Chemo is no joke," she added, before explaining that she's had "post-breast cancer surgery," which she describes as painful.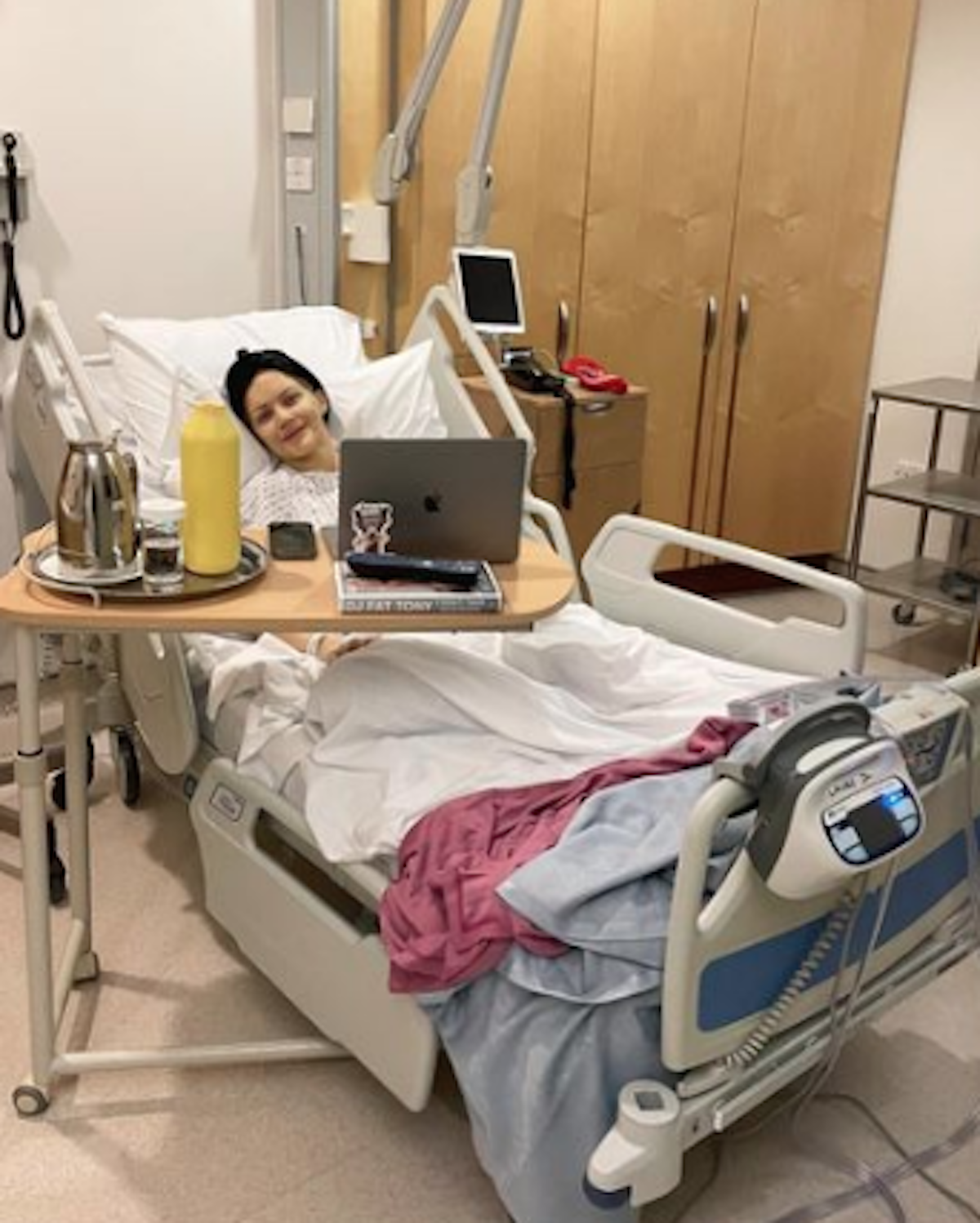 Hainsby decided to go public with her diagnosis for three reasons: to raise awareness, to give back, and to motivate or inspire others to "keep going" or get checked.
"I've been dealt some cards that have changed my life forever, and somehow I've still kept moving forward," she wrote, explaining that if she can help just one person through her "personal" story it will be "worth it."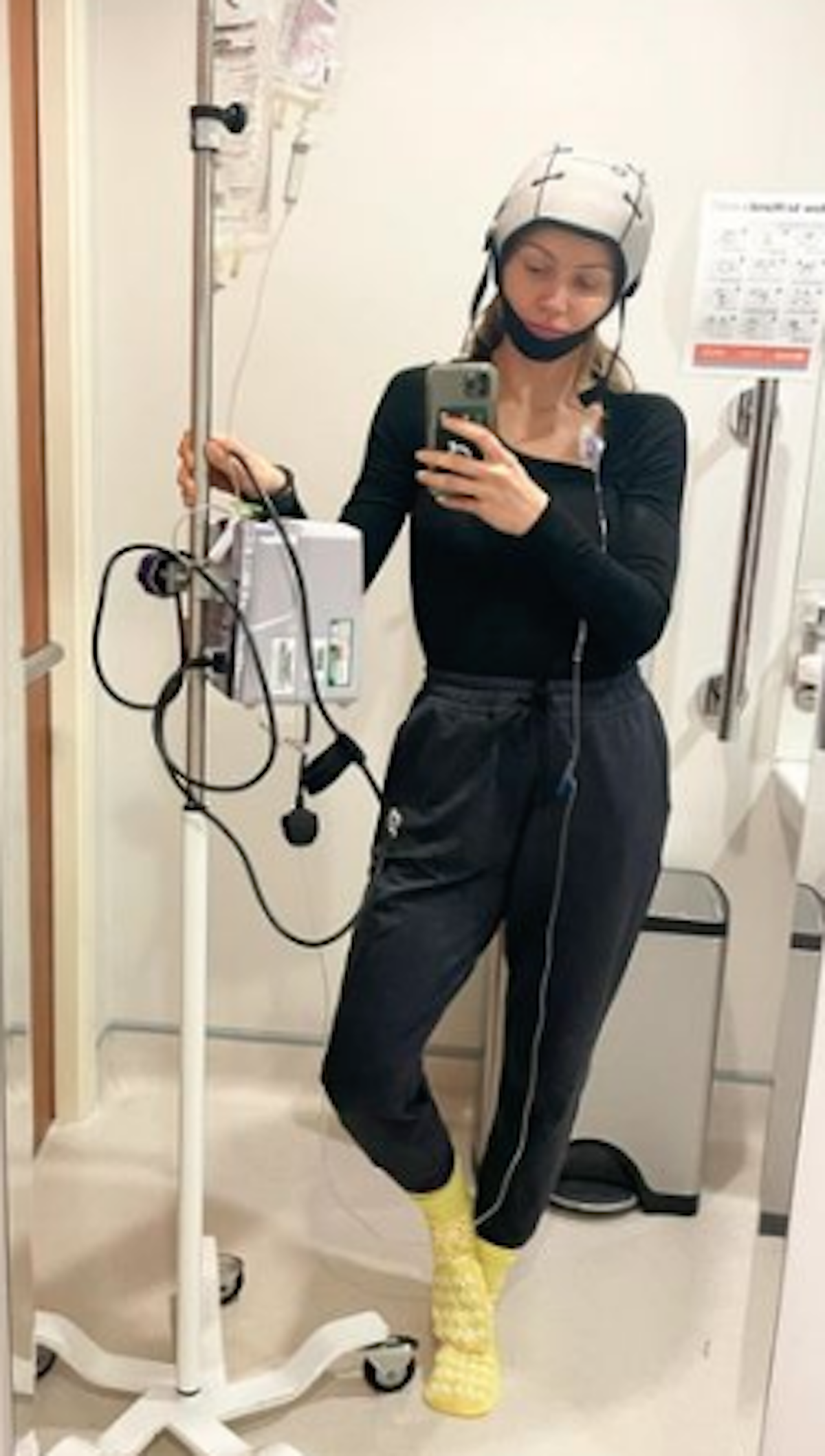 Her fellow Peloton instructor and fiance, Benjamin Alldis, also took to Instagram to share photos of Hainsby on her cancer journey, and to reveal how "incredibly proud" he is of his fiance.
"I've been terrified of the worst, but have tried to maintain as much normality away from the hospital appointments to keep hope and do my best to help us hold down our roles as Peloton instructors, partners, friends, son/daughter, brother/sister and Auntie/Uncle," his lengthy caption read. "You've been an absolute inspiration to all of us and have taken every step of this journey so far in your stride, with so much grace and with your head held high."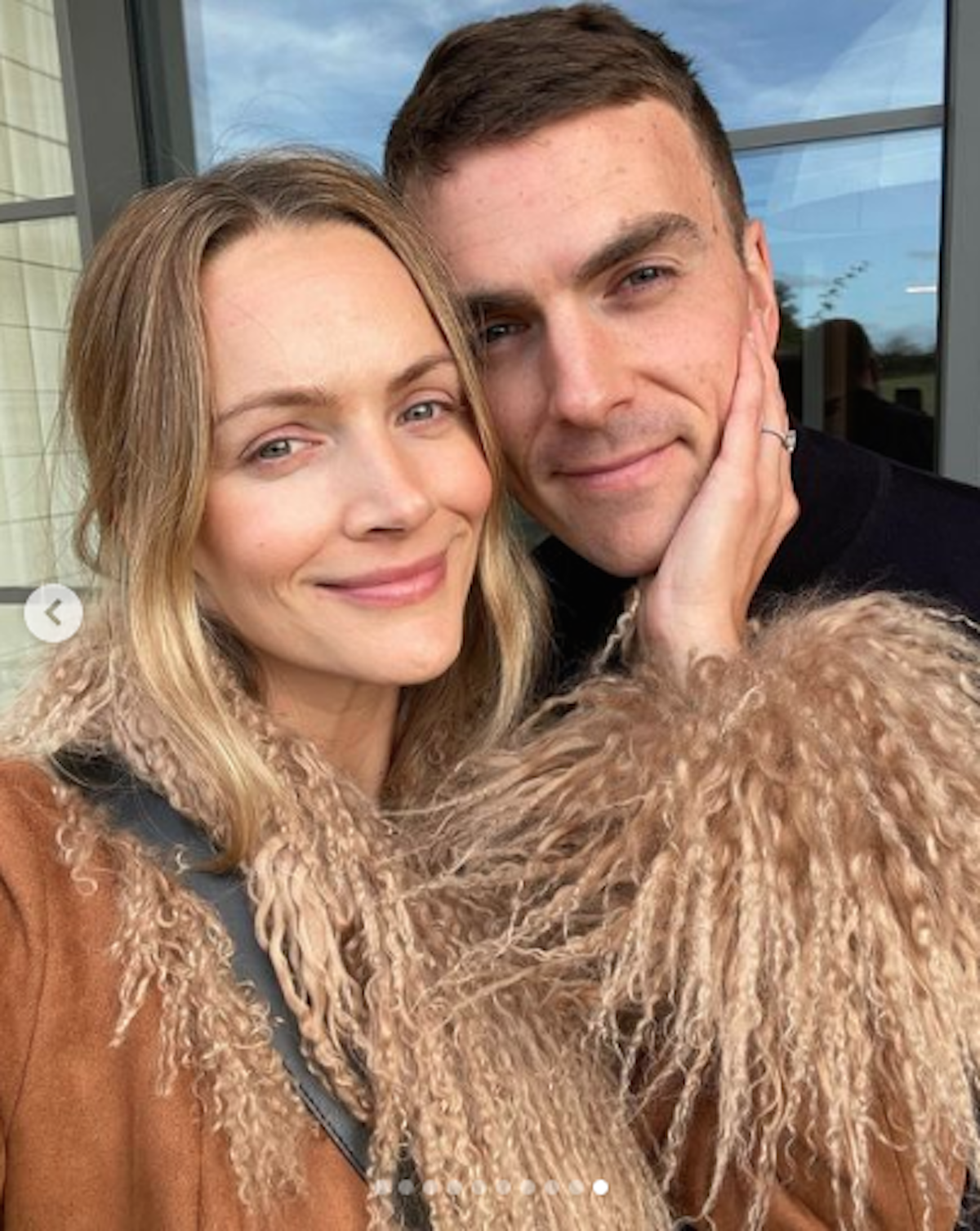 "Countless hospital appointments for IVF treatments, chemotherapy, checkups, scans and injections – every second of the way I have been proud to stand by your side and you have demonstrated tenfold to me why I am so incredibly lucky that you said yes to marrying me," he continued, noting they're "not of of the woods just yet."
How To Perform Self-Exams
Getting to know how your breasts look and feel may be one of the best ways to recognize when something is not quite right. "When we think about breast cancer prevention and awareness, the first step is that women need to feel comfortable with their breast and know what their breasts feel like normally," says Dr. Elizabeth Comen, a medical oncologist at Memorial Sloan Kettering Cancer Center and an advisor to SurvivorNet. Here's how, according to the National Breast Cancer Foundation:
While standing straight in front of a mirror, place your hands on your hips and look at your breasts for any swelling, bulging, changes in shape of breast or nipple (inverted), redness, rashes, or any fluid leaking. Then do the same with your arms in the air.
Next, while lying down, use your right hand to examine your left breast and vice versa, while using your first three fingers to apply pressure. Ensure you cover the entire breast area, from your collarbone to below your ribcage and from your armpit to your cleavage area. Do the same self-exam standing or sitting up. Be sure to use light to medium pressure for the middle breast area and firmer pressure when feeling deep breast tissue.
Getting To Know Your Breasts With Self-Exams
Once you get the hang of it, Dr. Comen recommends you do it once a month – after your period. However, it should be emphasized that breast self-examination is NOT a replacement for mammography.
Related: Worried Cancer Nurse, 26, Was Told By Doctors A Breast Lump Was 'Probably Nothing' Or 'Hormonal' Because She Was Young: It Turned Out To Be Cancer
Symptoms of Breast Cancer
Being aware of how your breasts normally look and feel is an important factor when it comes to breast cancer detection. Doing regular self-exams is one way to familiarize yourself with how your breasts normally feel so that you will be able to identify anything out of the ordinary like a lump or hard mass.
Below are some other symptoms to look out for:
New lump in the breast or underarm (armpit)
Any change in the size or shape of the breast
Swelling on all or part of the breast
Skin dimpling or peeling
Breast or nipple pain
Nipple turning inward
Redness or scaliness of breast or nipple skin
Nipple discharge (not associated with breastfeeding)
Of course, these symptoms can be due to things other than cancer. For example, a lot of women experience breast tenderness during certain times in their menstrual cycles. If you're worried — talk to your doctor about it. They may want to perform an exam, or even schedule a mammogram just to be safe.
The Importance of Breast Cancer Screening
Screening for breast cancer is typically done via mammogram, which looks for lumps in the breast tissue and signs of cancer. The American Cancer Society (ACS) says women should begin yearly mammogram screening for breast cancer at age 45 if they are at average risk for breast cancer. The ACS also says those aged 40-44 have the option to start screening with a mammogram every year, and women age 55 and older can switch to a mammogram every other year, or they can choose to continue yearly mammograms.
For screening purposes, a woman is considered to be at average risk if she doesn't have a personal history of breast cancer, a strong family history of breast cancer, a genetic mutation known to increase risk of breast cancer such as a BRCA gene mutation or a medical history including chest radiation therapy before the age of 30.
Beyond genetics, family history and experience with radiation therapy, experiencing menstruation at an early age (before 12) or having dense breasts can also put you into a high-risk category. If you are at a higher risk for developing breast cancer, you should begin screening earlier.
In a previous interview with SurvivorNet, Dr. Connie Lehman, chief of the Breast Imaging Division at Massachusetts General Hospital, said people who hadn't reached menopause yet should prioritize getting a mammogram every year.
When Should I Get a Mammogram?
"We know that cancers grow more rapidly in our younger patients, and having that annual mammogram can be lifesaving," Dr. Lehman said. "After menopause, it may be perfectly acceptable to reduce that frequency to every two years. But what I'm most concerned about is the women who haven't been in for a mammogram for two, three or four years, those women that have never had a mammogram. We all agree regular screening mammography saves lives."
Types Of Treatment
There are many treatment options for people with this disease including surgery, radiation therapy, chemotherapy, hormonal therapy, targeted therapy and immunotherapy.
Appropriate treatments depend greatly on the specifics of each case. Identifying these specifics means looking into whether the cancerous cells have certain receptors. These receptors – the estrogen receptor, the progesterone receptor and the HER2 receptor – can help identify the unique features of the cancer and help personalize treatment.
RELATED: Are You A Metastatic Breast Cancer Patient Curious About The Drug Enhertu? Here's What You Need To Know
"These receptors, I like to imagine them like little hands on the outside of the cell, they can grab hold of what we call ligands, and these ligands are essentially the hormones that may be circulating in the bloodstream that can then be pulled into this cancer cell and used as a fertilizer, as growth support for the cells," Dr. Comen told SurvivorNet.
The Unique Features Of Breast Cancer: Deciding The Right Course Of Treatment
One example of a type of ligand that can stimulate a cancer cell is the hormone estrogen, hence why an estrogen receptor positive breast cancer will grow when stimulated by estrogen. For these cases, your doctor may offer treatment that specifically targets the estrogen receptor. But for HER2 positive breast cancers, therapies that uniquely target the HER2 receptor may be the most beneficial.
Fertility After Breast Cancer
The likelihood of a woman naturally conceiving a child decreases after undergoing treatment for breast cancer.
"Fertility after a breast cancer diagnosis is fairly complicated," Dr. Sarah Cate, a breast surgeon at Mount Sinai, previously explained in an interview with SurvivorNet.
"Some patients that need chemotherapy may not be able to have children afterward because chemotherapy pauses menopause."
Dr. Cate said that oncologists often sit down and lay out the possible options with each patient. At Mount Sinai, a fertility specialist will also be present for those conversations.
"I always ask patients that either don't have kids or are at an age where they could have kids, do they want more children," said Dr. Cate.
"And then we would talk to them about preserving fertility, meaning typically to either take eggs or to make embryos if they have a significant other."
Doctors will then preserve those eggs or embryos for possible use after treatment.
Fertility Preservation After Cancer Diagnosis
Dr. Cate also said that the level of chemo and stage of the disease play a role in determining whether a woman can conceive after cancer treatment.
"We don't have a lot of hard and fast evidence that it's not safe to have a child," stated Dr. Cate. "It typically depends on the patient's stage, the type of breast cancer that they have, and really individual features of the breast cancer, whether or not it's safe for them to go and have a baby after a diagnosis of breast cancer."
Some encourage women to wait six months after completing chemo to try and conceive. However, this is not always an obstacle for some breast cancer warriors.
Contributing: SurvivorNet Staff
Learn more about SurvivorNet's rigorous medical review process.
---