American Indie Rock Band 'Low' Cancels Concerts As Drummer Mimi Parker Fights Ovarian Cancer
American indie rock band 'Low' has cancelled a number of upcoming concerts as the band's drummer Mimi Parker battles ovarian cancer.
Parker revealed her diagnosis earlier this year.
A statement from the band says "Recent developments and changes in treatment have made extensive travel impossible at this time."
Ovarian cancer is when the ovaries – which produce the sex hormone, estrogen, as well as eggs – become cancerous.
The  American indie rock band  'Low' has cancelled a number of upcoming concerts as the band's drummer Mimi Parker bravely battles the 'silent killer' known as ovarian cancer.
Parker revealed her diagnosis earlier this year during an appearance on the 'SHEROES' Radio Podcast.
Read More
"As some of you know, Mimi has been fighting cancer," Low shared in a band statement. "Recent developments and changes in treatment have made extensive travel impossible at this time. Our hope is that she will respond to new treatments and be able to play the shows we have scheduled for the fall."
According to the Mayo Clinic, ovarian cancer is a growth of cells that forms in the ovaries. The cells multiply quickly and can invade and destroy healthy body tissue.
Ovarian cancer treatment usually involves surgery and grueling rounds of chemotherapy, which appears to be why 'Low' is cancelling performances.
Parker and her husband, guitarist Alan Sparhawk, were scheduled with the band to appear in Wales, Scandinavia, England and Scotland in August.
The band from Duluth Minnesota already announced they were pulling out of a scheduled set at Primavera Sound Los Angeles in September.
"Very sorry, y'all. Mim is in a pretty fragile state and it's just not possible to perform or travel for now," the band's official Twitter account wrote.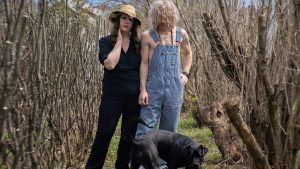 'Low' released its thirteenth studio album 'Hey What' last year and have since toured throughout North America and Europe.
The band has also cancelled a scheduled performance at the 2022 Water is Life festival on September 4th.
"We are very sorry for the inconvenience of ticket shuffling and travel expenses/changes," the statement continues. "We welcome your positive hopes/prayers as we hope and pray for you all."
Understanding Ovarian Cancer
Experts say when ovarian cancer first develops, it might not cause any noticeable symptoms, or when symptoms do appear, they're usually attributed to other more common conditions.
The fallopian tube, which brings a woman's reproductive eggs from the ovary to the uterus for fertilization, is actually where many ovarian cancers begin.
First, a few cancerous cells develop on the fallopian tubes, then these cells stick to the ovaries as the fallopian tubes brush over the ovary. From there, the cancerous cells grow to form a tumor.
Dr. Beth Karlan, a gynecologic oncologist at UCLA Medical Center, says the term ovarian cancer refers to a number of different tumors that reside in the ovary.
Ash Foo, for example, initially had symptoms that mimicked menstrual discomfort. She said she was extremely bloated and looked like she was 2 or 3 months pregnant.
RELATED: Ovarian Cancer Symptoms Can Be Hard to Spot
"Ovarian cancer does not have any specific symptoms," Karlan said in an earlier interview with SurvivorNet. "It's often referred to as the cancer that whispers, in that it has symptoms that are really very vague…and nothing that may bring your attention directly to the ovaries."
Ovarian Cancer: The Cancer That Whispers
Dr. Karlan advises women to keep an eye out for a variety of possible symptoms.
"The symptoms include things like feeling full earlier than you usually would when your appetite is strong," she said. "Feeling bloated," is another symptom, she added. "Some changes in your bowel habits. Some pain in the pelvis. These are symptoms women may have every month. These are not very specific. But what we've found from multiple studies, it's this constellation of symptoms."
Body Image and Ovarian Cancer
Struggling with body image after treatment for cancer is, unfortunately, not unusual. Like in the case of Ash Foo, surgery that leaves a scar might be a necessary course of action. But it's important to remember that many of the physical changes caused by treatment are only temporary. Even scars fade over time.
Marisa Gholson, a physicians assistant at Compass Oncology in Portland, Oregon, says many women even begin to embrace their scars.
"Some ladies will call them a badge of honor, that they have gone through that surgery," Gholson said. She also noted, however, that scars — like many of the other side effects that come with ovarian cancer treatment — will become significantly less prominent over time.
Body Image After Ovarian Cancer
Treatment for ovarian cancer may also include the removal of a woman's reproductive organs, which can also affect body image.
When it comes to managing these side effects, keeping your emotional health in check — whether that means seeing a therapist, visiting support groups or simply learning to accept your situation — becomes a crucial part of the cancer journey.
Learn more about SurvivorNet's rigorous medical review process.
---