The Sneaky Symptoms of Breast Cancer
Kim Rackley, 30, suspected a lump in her breast was nothing to worry about amid her body changes during pregnancy, until she was diagnosed with stage 2 breast cancer.
Now, as Rackley begins aggressive chemotherapy, she is urging all men and women to perform self-breast checks.
Although a self-examination is not a replacement for mammography, women should get to know their breasts and follow up with a doctor when they feel something unusual.
Breast cancer symptoms can be difficult to spot, especially when a woman's body is going through changes during pregnancy. So when Kim Rackley noticed a lump in her breast when she was pregnant, she didn't stress over it. But several months later, when the bump was still there, Rackley decided to seek medical advice ⁠— only to
discover
she had grade 2 breast cancer.
Five days after receiving her diagnosis, the 30-year-old, from Kent, England, needed to have her baby delivered by C-section at 35 weeks (eight months) pregnant.
Read More
"So today is finally the day I start chemo. If someone had told me a year ago what my life would be like I would never of believed them," Rackley wrote in a
GoFundMe
update last month. "From the euphoria of finally being pregnant and growing a tiny human after three miscarriages – to the devastating news that I have cancer and my precious baby boy will be delivered in five days time. Watching him struggle in the NICU was the hardest part of this whole journey so far."
Rackley, who is now undergoing aggressive chemotherapy, continued, "Two unsuccessful surgery's to remove cancer and save my boob along with clearing all of my lymph nodes leaving me with massive parts of my arm and shoulder that have no feeling and regularly get shooting pains as my nerves panic. One final successful surgery when I found out in total they removed 19cm of cancer."
RELATED: AP Reporter Meg Kinnard Shares an Exciting Update on Her Breast Cancer Journey that Began with a Symptom Dismissal and Misdiagnosis
The mom-of-one revealed she's thankful for the ongoing support of her family and friends, as well the good healthy of her baby boy, who is no longer in the NICU.
"I want to say a massive thank you to everyone who has donated, shared and spread word about the go fund me that was set up for me. It really will take a massive weight off us as we go through the next part of our journey," she said, before urging all women and men to check for breast cancer. "Set a reminder on your calendar to check them every month and go get seen by the doctor if you notice any changes," she concluded.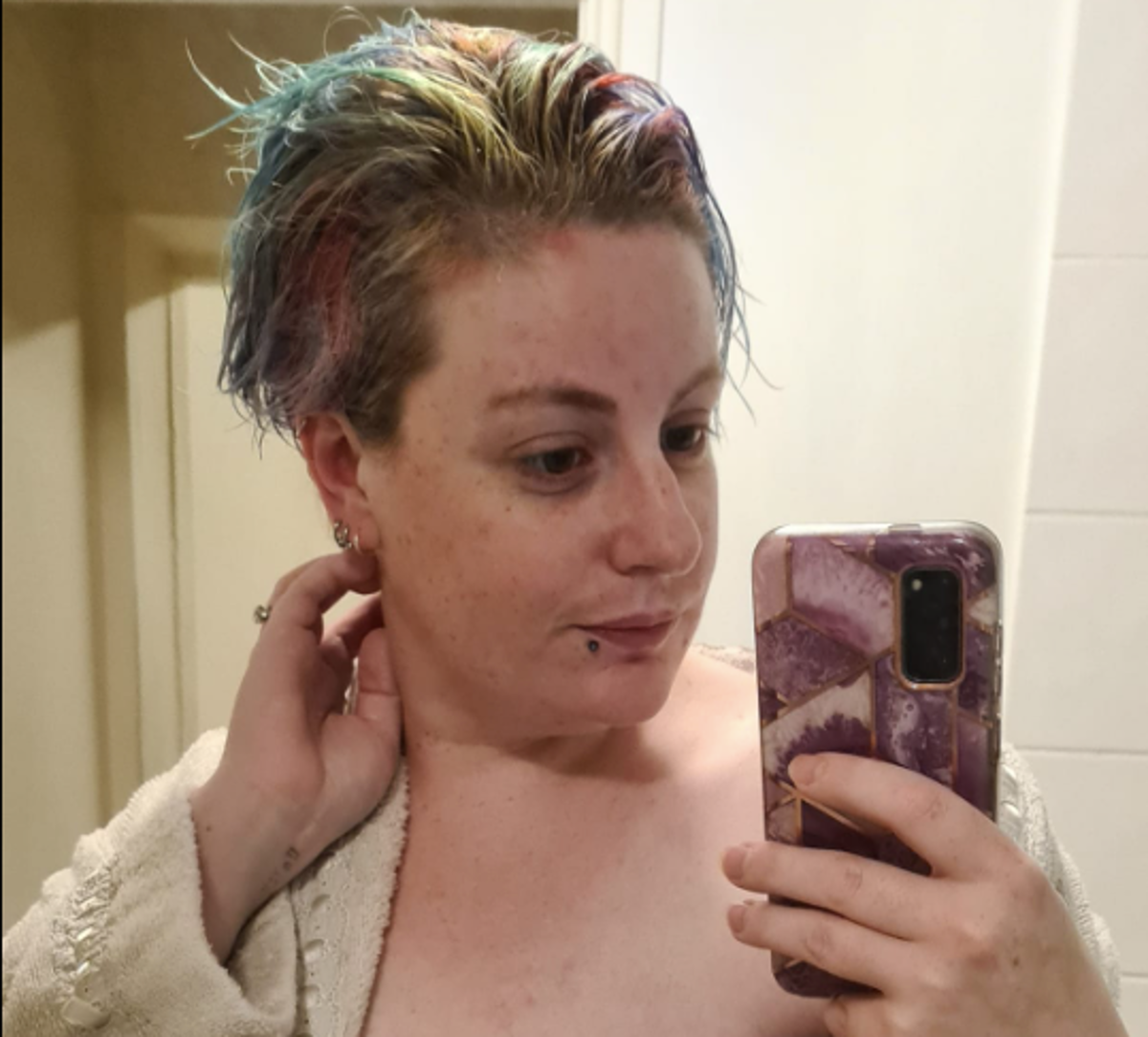 The GoFundMe, raising money for Rackley's medical bills and created by the new mom's friend Chloe Odell, reads, "Kim's maternity pay is coming to an end and obviously she is not in a position to go back to work with chemo starting next week." Odell explains how her friend went from "excitedly awaiting the arrival of Leo to finding out she has cancer and having a baby that is now in NICU."
Related: An Introduction to Breast Cancer Symptoms & Diagnosis
"Leo is now a healthy 7-month-old boy and you wouldn't know the rocky start he had," Odell adds. "After Kim's first two surgeries were unsuccessful, the third finally had clear margins and she is now able to start her chemotherapy. She has faced cancer, surgery & heartbreaking results all whilst coping with a new baby."
In regards to how Rackley is handling her cancer diagnosis, Odell praises her friend as "one of the most inspirational people" she's ever met.
The Benefit Of Support Networks For Cancer Patients
Breast Cancer Facts
Breast cancer continues to be incredibly common across the United States, with around one in eight women being diagnosed over the course of their lifetime, making it the second most common type of cancer among women. According to BreastCancer.org, over 43,000 American women are expected to die of the disease this year.
Related: Pregnant Mom, 35, Thought Lump in Her Breast Was 'Hard Milk Calcification' But It Turned Out to Be Cancer: How She AND Her Baby Survived
Genetic testing has become a key part of risk assessment for cancer, due to the disease's link to the BRCA1 and BRCA2 genes. Women with mutations on those genes are at increased risk of developing breast cancer. However, those mutations are linked to only five to 10% of breast cancer cases.
The American Cancer Society recommends several steps to help catch breast cancer early, including yearly mammograms for women as young as 40, although that age goes down to 30 for women who are at high risk for the disease.
How to Screen for Breast Cancer
Breast cancer is typically detected via a mammogram, the screening method for this type of cancer. Mammograms look for lumps in the breast tissue and early signs of breast cancer.
Women aged 45 to 54 with an average risk of breast cancer (i.e. no family history of the disease) should have mammograms annually. Dr. Connie Lehman, the chief of the Breast Imaging Division at Massachusetts General Hospital, says in an earlier interview, "If you haven't gone through menopause yet, I think it's very important that you have a mammogram every year."
"We know that cancers grow more rapidly in our younger patients, and having that annual mammogram can be lifesaving," says Dr. Lehman. "After menopause, it may be perfectly acceptable to reduce that frequency to every two years. But what I'm most concerned about is the women who haven't been in for a mammogram for two, three, or four years, those women that have never had a mammogram. We all agree regular screening mammography saves lives."
When Should I Get A Mammogram?
Contributing: SurvivorNet Staff
Learn more about SurvivorNet's rigorous medical review process.
---