Rod's Cancer Advocacy
Prostate cancer survivor Rod Stewart raised over $35,000 for a cancer charity; he auctioned off a "chat" with him at the Ritz.
Stewart was diagnosed with the disease in 2016, following a routine checkup.
Prostate cancer is detected by PSA (prostate specific antigen) tests; men should start screening for this cancer at age 55, or earlier if there is a family history of prostate cancer.
Music icon
 Rod Stewart
is helping others with cancer by just having a "chat" with a fan. The rocker and
prostate cance
r survivor is paying it forward to help others with cancer, too, by donating his time to a cancer care charity in the UK. Stewart's donation of his time earned over $35,000 for the cancer charity, Maggie's. He's going to "
chat about football
" with the lucky fan and the winning bidder at the glamourous Ritz Hotel in London.
Related: Prostate Cancer Survivor Rod Stewart Doubles as Rock Star & Adorable Soccer Dad While Coaching His Son's Team
Read More
The winning fan said that his chat with Stewart would make up for not being able to see the pop legend in concert this year in Las Vegas. The fan said his concert plans were impacted due to coronavirus restrictions. Stewart may be a musician, but he's no stranger to football (or, "soccer). Stewart coached his
son's soccer team
. It's clear he cares about giving back to others, and we love to see it. The singer was even
moved to tears in 2012
after an epic win by his favorite soccer team, Celtic F.C.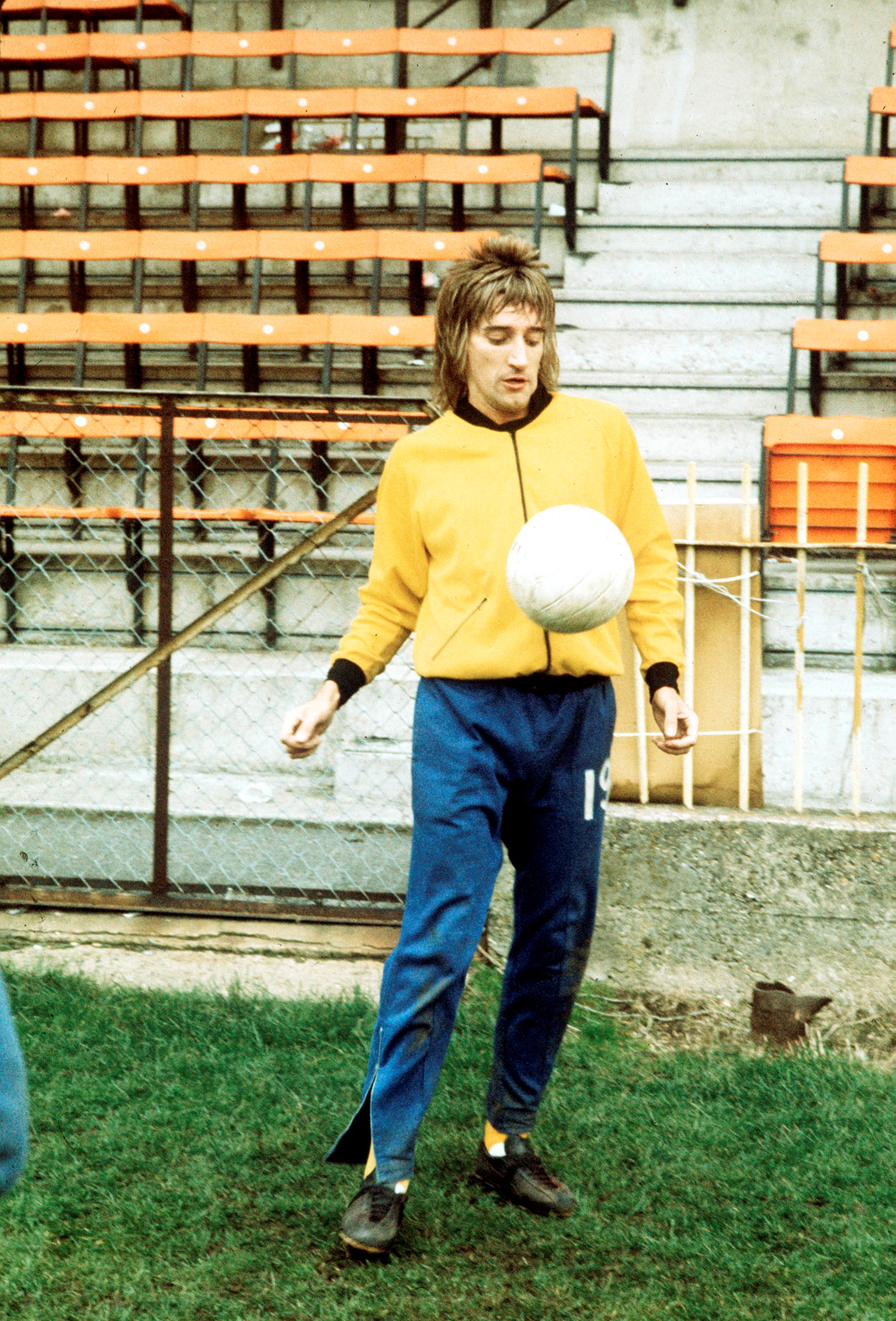 Rod's Prostate Cancer Journey
Stewart was first diagnosed with prostate cancer during a routine screening in 2016 when he was 71 years old. And in 2019, he announced that he was in the clear, and cancer-free. Stewart has used his star quality to raise awareness around the disease, too.
Related: 'Today' Show's Al Roker, 66, Had Surgery to Treat Prostate Cancer & Says It Went Well But Needs "Lifelong Testing"
"I'm in the clear, now, simply because I caught it early. I have so many tests," Stewart said of his diagnosis and subsequent treatment. He urged other men to be aware of prostate cancer – and pro-active about their health. "Guys you've really got to go to the doctor … Finger up the bum, no harm done," he joked.
There's No One Definitive Symptom for Prostate Cancer, But There Are Clues
Prostate Cancer Detection
Early detection is key to treating prostate cancer. Prostate cancer is detected by PSA (prostate specific antigen) tests. Dr. James Brooks, a Urologic Oncologist at Stanford Medicine, told SurvivorNet in an earlier interview, "Current guidelines are to start screening at age 55 and continue screening through age 70. The reason for that is prostate cancer diagnosed after age 70 has a reasonably low probability it's going to take your life because prostate cancer, even in its aggressive forms, when it's localized is a relatively slow-growing cancer."
Related: 50% of Men Aren't Concerned About Prostate Cancer & 40% Delayed Doctor Visits During Covid-19 — SurvivorNet Survey Reveals Astounding Way Men Ignore Their Health
Experts also told SurvivorNet that if you have a family history of prostate cancer, you should begin screening for the disease earlier that age 55. For those with a family history, Dr. David Wise told SurvivorNet in a previous interview they may consider screening as young as 35. "At latest, age 40, but probably even by age 35, they should have an initial PSA," said Dr. Wise.
Related: NBA Legend Kareem Abdul-Jabbar Reveals He Had Prostate Cancer; Calls for Better Healthcare in Black Communities
The accuracy of PSA tests increases the younger a person is, too. "That PSA test at a younger age, it's a more accurate test because the prostate has not increased in size," said Dr. Wise, "which can cause the test to be more difficult to interpret." He added, "PSA screening saves lives."
The PSA Blood Test and a Rectal Exam are Vital for Prostate Cancer Screening
Learn more about SurvivorNet's rigorous medical review process.