Shemekia Copeland's Treatment for Kidney Cancer
Blues powerhouse performer Shemekia Copeland was diagnosed with kidney cancer this summer and had a tumor removed; she also contracted Covid and lost her sense of smell, despite being triple vaccinated.
Symptoms of kidney cancer can include blood in the urine, lower back pain, a mass on the lower back, fatigue, loss of appetite, and weight loss.
Many people coping with cancer, including artists, find that art has a therapeutic effect.
Blues artist and three-time Grammy nominee Shemekia Copeland is fighting kidney cancer during the pandemic, and she says it's been a "crazy" year.
Related: New Hope for Kidney Cancer Patients: Immunotherapy Drug Reduces Risk of Recurrence by 32%; Read One Man's Amazing Story
Read More
In an interview with 
Memphis Commerical Appeal, 
the singer says, "Well, 2020 was terrible, and 2021 has not been much better. For me it's been a particularly crazy year." Copeland had plans to return to performing over the summer, but a kidney cancer diagnosis upended those plans. She was diagnosed with a rare type of kidney cancer called chromophobe renal cell carcinoma.
Copeland is known for her soul-stirring Blues albums like Outskirts Of Love, 33 1/3, and Wicked, all of which were nominated for Grammys for Best Blues Album. Copeland has been in the music industry for more than two decades, and shows no signs of stopping – we love her determination.
"Just when they were starting to open up gigs in the summer, I found out I had kidney cancer. They had to remove a tumor from my kidney. So that wasn't pleasant," she tells the paper.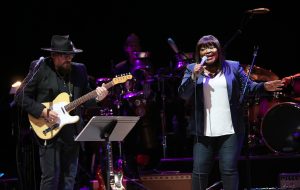 Amid her cancer battle, Copeland says she was able to work at some points during the summer. "I eventually went to work, I did some gigs over the summer, some festivals. Then after that I was on a pretty good roll. I was about to go on a blues cruise (last month), but then I found out I had COVID — and I was triple vaccinated," she says.
Copeland lost her sense of smell and sense of taste for a couple of weeks, but she then made a full recovery. "I'm ready to kick 2021 to the curb, just like I was ready to kick 2020 to the curb," says the singer.
This weekend, the indomitable Copeland headlines an event at First Congo Church. She's also beginning work on a new project, an album trilogy that focuses on racial struggles in America.
Understanding Kidney Cancer
Kidney cancers can develop in adults or children. There are two main types of kidney cancer that occur in adults: Renal cell cancer and transitional cell cancer. Copeland's type of cancer, chromophobe renal cell carcinoma, forms in the cells lining the small tubules in the kidney.
Related: 'Oh How I Miss You': Actress Denise Richards 50, Writes Touching Tribute to Her Mom on Her Birthday; She Passed from Kidney Cancer in 2007
This year, approximately 76,080 new cases of kidney cancer will be diagnosed. Men have nearly double the risk of kidney cancer compared to women, with approximately 50,000 kidney cancer cases occurring in men, and over 27,000 occurring in women.
Related: U.S. Olympic Ice Dancer, Maia Shiboutani After Kidney Cancer Surgery: 'It's Okay to Be Vulnerable and Ask For Help'
Kidney cancer can be treated with surgery, targeted therapy, immunotherapy, or a combination of these different treatments. It can be assumed that Copeland had surgery to remove her tumor, but we don't know as to whether it was an open surgery or a robotically assisted surgery.
According to the American Cancer Society (ACS), signs and symptoms of kidney cancer can include the following:
Blood in the urine (hematuria)
Low back pain on one side (not caused by injury)
A mass (lump) on the side or lower back
Fatigue (tiredness)
Loss of appetite
Weight loss not caused by dieting
Fever that is not caused by an infection and that doesn't go away
Anemia (low red blood cell counts)
"When I Die, You'll Have So Many Girlfriends" Ballerina Petra Conti Says She And Her Husband Joked Their Way Through Cancer
Finding Comfort in Art Through Cancer
As an artist and a performer, Copeland understands well the power of art to move and heal. Concurrently, alongside treatment, some people may turn to various artistic outlets – singing, dancing, painting, crafting – to help them cope with their cancer journey. Some people also use art to handle feelings of grief after suffering a cancer-related loss. Whenever and however you turn to art, its healing benefits – in terms of mental health – are well-documented and substantiated.
Related: Pierce Brosnan Reveals How Art Helped Him Cope During First Wife's Ovarian Cancer: "Now the pain sometimes comes through in color"
Very Well Mind reports that a 2016 study published in the Journal of the American Art Therapy Association says that less than an hour of creative activity can reduce stress and have a positive effect on your mental health. And that's true regardless of artistic experience or talent, the author notes.
Treating Depression After a Cancer Diagnosis
Learn more about SurvivorNet's rigorous medical review process.