Bladder Cancer Treatment Advancements Since Jack Lemmon's Passing
Legendary actor Jack Lemmon battled bladder cancer until 2001, when he passed at the age of 76.
Lemmon's five-decade-long Hollywood career earned him two Oscar Awards and two Emmy Awards and a star on Hollywood's Walk of Fame.
May is Bladder Cancer Awareness Month, and "about 82,290 new cases of bladder cancer" are expected this year according to the American Cancer Society.
Immunotherapy, targeted therapy, and antibody drugs have seen improvements over the years in bladder cancer treatment.
Immunotherapy treatment uses the body's immune system to fight the cancer from within.
Targeted therapy focuses on the processes that help cancer cells grow.
Antibody-drug conjugate is a lab-made protein that binds to cancer cells and kills them without harming other cells, according to the National Cancer Institute.
It's been 22 years since legendary actor Jack Lemmon passed away after bravely battling bladder cancer. With May being Bladder Cancer Awareness Month, let's remember the prolific actor and fierce cancer warrior and the incredible advancements made in treatment since his passing.
Lemmon's Hollywood career spanned five decades beginning in 1949. His roles in "The Apartment" and "The Odd Couple" are still cherished in the hearts and minds of movie buffs. The Broadway musical "Some Like It Hot" was inspired by Lemmon's 1959 comedy and recently received a Tony Award nomination.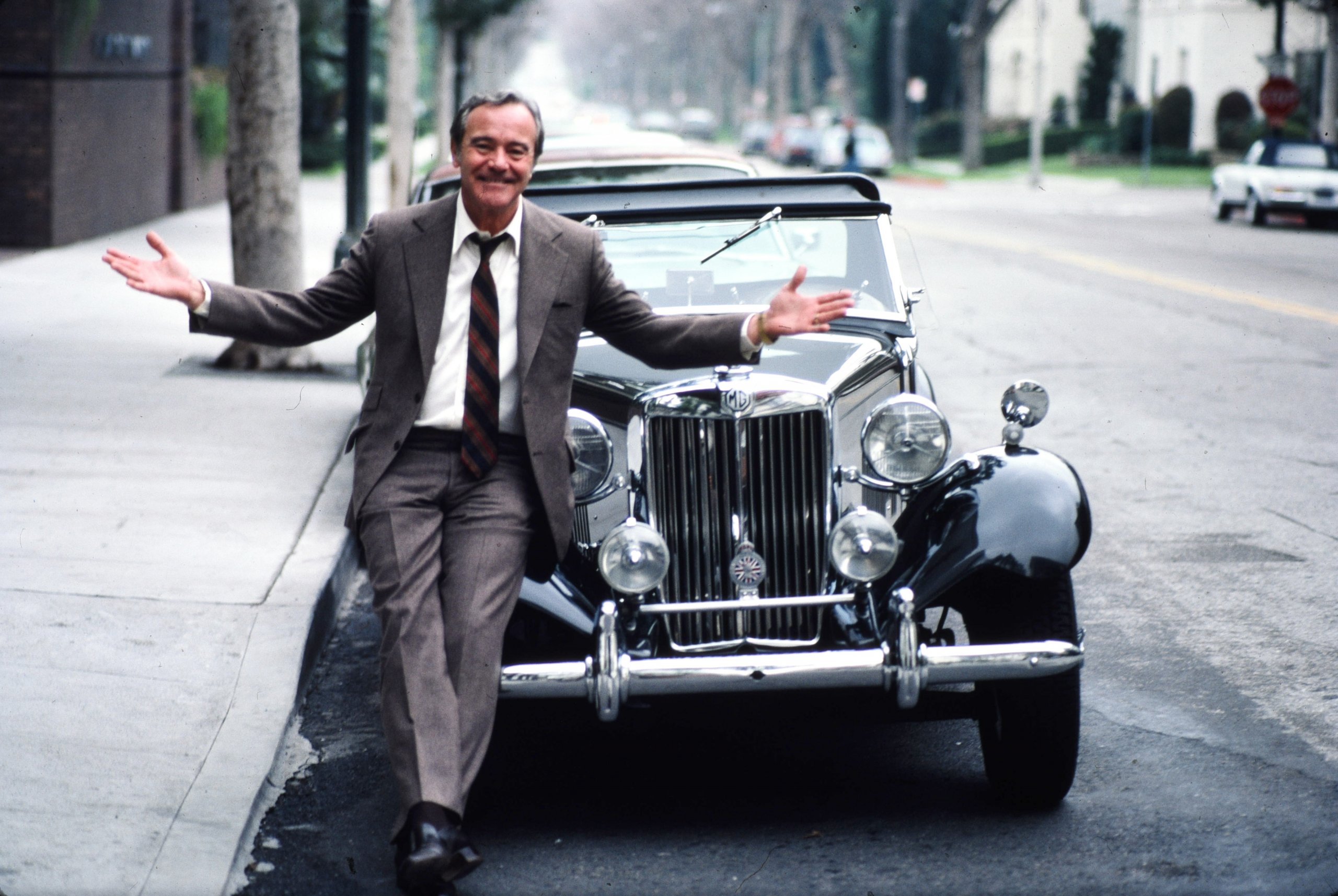 Read More
IMDB, a movie and celebrity news website,
described
Lemmon's talents as "versatile."
Jack Lemmon 'The Apartment' (1960) Billy Wilder. pic.twitter.com/72nnzgq85E

— The projectionist woman (@projectionistw) April 14, 2023
"He was able always to elicit a laugh or sympathy from his viewers and his charismatic presence always shined on the big screen," IMDB said.
Lemmon won two Academy Awards and two Emmy Awards and earned his star on Hollywood's Walk of Fame during his career.
The actor's legacy extends beyond the big screen, as a cancer warrior he's also remembered when bringing awareness to bladder cancer. Lemmon battled the disease privately for two years before passing away in June 2001 at age 76.
Movie trailer for "Some Like It Hot" which premiered on this day, March 29, 1959, during the Easter holidays at the newly renovated State Theatre in New York City.

The film received six Oscar nominations including Best Actor (Jack Lemmon) and Best Director (Billy Wilder). pic.twitter.com/QyeX5dZSlW

— Hollywood Golden Age of Cinema (@HGACinema) March 29, 2023
Understanding Bladder Cancer
May is Bladder Cancer Awareness Month, a good time to learn more about the disease. "
About 82,290 new cases of bladder cancer" are expected this year, according to the American Cancer Society. Bladder cancer is the sixth most common type of cancer overall in the United States, though it is the fourth most common for men.
Your bladder is a hollow, muscular, balloon-shaped organ that expands as it fills with urine. The bladder is an essential part of your urinary system, which also includes two kidneys, two ureters, and the urethra.
Bladder cancer develops when cells that make up the urinary bladder start to grow and eventually develop into tumors. Smoking is a leading risk factor for this disease, with smokers being three times more likely to be diagnosed with bladder cancer than non-smokers.
Bladder cancer occurs mainly in older people. About nine out of 10 people with this cancer are over the age of 55.
While we don't know the exact type of bladder cancer Lemmon had, we do know that urothelial carcinoma is the most common type. This type of bladder cancer occurs when urothelial cells, are the cells that line the inside of the bladder and parts of the urinary tract.
Other types of bladder cancer include:
Adenocarcinoma: One in 100 bladder cancers are adenocarcinomas, which have a higher likelihood of being invasive at diagnosis. This type of bladder cancer develops from glandular (secretory) cells in the lining of the bladder.
Sarcoma: This type of bladder cancer is rare and found in the muscle cells of the bladder. Bladder sarcomas tend to form in the area between the openings of the ureters and the urethra, but they can also develop in the entire bladder area.
Squamous cell carcinoma: About 5% of bladder cancer patients have squamous cell carcinoma. The cells of this type have a higher chance of becoming invasive. It is associated with chronic irritation of the bladder which can be caused by things like long-term use of a urinary catheter or an infection.
Small cell carcinoma: This bladder cancer is very rare and starts in neuroendocrine (nerve-like) cells. It is a highly aggressive cancer that tends to be caught at advanced stages of the disease.
What Are The Symptoms of Bladder Cancer?
Symptoms of bladder cancer may include:
Blood in urine
Frequent urination
Painful urination
Flank pain
Urgency
Treating Bladder Cancer
Bladder cancer can be treated in a variety of ways, but your doctor will consider several factors to determine the best treatment. Where the cancer is inside your body and if it has spread are some factors doctors look at before finalizing your treatment plan.
Surgery for bladder cancer often offers the best chance for a cure. There are various surgical options depending on the location of your bladder cancer.
For patients with non-muscle invasive bladder cancer, treatment will most likely consist of transurethral resection of visible bladder tumor (TURBT). During this procedure, the surgeon gently inserts a surgical instrument containing a camera into the urethra and pushes it upward until it reaches the bladder.
The instrument is then used to remove all the tumors that the surgeon can see, down to the first muscle layer. Sometimes, the surgeon will take biopsies of surrounding areas as well. The main tumor and surrounding samples are sent to pathology for testing.
Depending on the results of these tests as well as what the surgeon sees inside, medical treatments such as intravesicular therapy may be recommended. Most patients can leave the hospital the same day, but some may need to stay longer, depending on how much tissue had to be removed.
If the surgeon and pathologist determine that more tissue needs removal, additional surgery may be performed four to six weeks later.
Depending on the aggressiveness of your tumor, cystoscopy will be required to check the area once a year, or as frequently as every few months for the first few years after treatment. This is combined with routine imaging of the urinary tract.
"Radical cystectomy" is the surgical removal of the bladder as well as nearby lymph nodes in the pelvis. Total removal of the bladder is recommended for patients with muscle-invasive bladder cancer, and the goal is to cure the cancer.
Chemotherapy is usually recommended before cystectomy. Giving chemotherapy prior, or "neoadjuvantly," has been shown in large trials to improve survival in bladder cancer.
Advancements in Treatment
Immunotherapy, targeted therapy, and antibody drugs have seen improvements over the years to improve bladder cancer treatment.
WATCH: What Are the Latest Advancements in Treating Stage 4 Bladder Cancer?
Immunotherapy
Immunotherapy treatment uses the body's immune system to fight the cancer from within. The National Cancer Institute says, "immune checkpoint inhibitors…work by 'releasing the brakes' on the immune system and allowing immune cells to detect and kill tumor cells."
Dr. Arjun Balar, director of the genitourinary medical oncology program at NYU Langone's Perlmutter Cancer Center, tells SurvivorNet that there are five different immunotherapy drugs that have been approved as second-line treatment in advanced bladder cancer:
atezolizumab (brand name: Tecentriq)
nivolumab (brand name: Opdivo)
pembrolizumab (brand name: Keytruda)
durvalumab (brand name: Imfinzi)
avelumab (brand name: Bavencio)
The approvals for these drugs are after platinum chemotherapy — as the second-line treatment of choice. But two of these drugs, atezolizumab and pembrolizumab, have been approved for first-line treatment, "meaning the very first treatment that a patient receives for advanced or metastatic bladder cancer."
Antibody-Drug Conjugate
Antibody-drug conjugate is a lab-made protein that binds to cancer cells and kills them without impacting normal cells, according to the National Cancer Institute.
One recently approved treatment is enfortumab vedotin (brand name Padcev). This medicine targets bladder cancer cells that express nectin-4.
Targeted Therapy
Targeted therapy is a more precise way to treat cancer than chemotherapy.
While chemo attacks many types of quickly dividing cells, including some healthy cells, targeted therapy focuses on the processes that help cancer cells grow.
"In 2019, erdafitinib (Balversa) became the first targeted therapy to be approved by the FDA" for the treatment of people with late-stage bladder cancer, National Cancer Institute said.
This drug may be available for:
advanced bladder cancer
patients with a mutation in the FGFR3 or FGFR2 gene
people whose cancer kept growing after treatment with platinum-based chemotherapy
Fibroblast growth factor receptors — or FGFRs — are proteins that give cells their orders to grow and divide. Mutations to the FGFR genes direct cells to make these proteins, which then help bladder cancer cells grow.
Up to 20% of people with advanced bladder cancer that's returned or is resistant to treatment have one of these mutations.
"FGFR3 appears to be particularly important in bladder cancer," Dr. Balar says. He adds that he often steers patients who have the FGFR3 mutation to a combination treatment approach.
"That includes an FGFR3-targeted drug, along with immunotherapy or another combination that addresses FGFR3, to make sure that we've given that patient the best chance to respond," he says.
Balversa blocks FGFR to stop cancer cells from growing. The FDA approved the treatment based on the results of a clinical trial.
In that study, about one-third of people who took Balversa responded to it. Those who responded survived for an average of 5 and a half months without their cancer growing.
Life After Bladder Cancer
If you have been diagnosed with bladder cancer and successfully completed treatment, it's normal to worry if it will come back. Well, it's impossible to know for sure whether any cancer will come back, including bladder cancer.
But it's vitally important to continue screenings to catch the cancer in case it does come back, because the recurrence rate for bladder cancer is very high. Even when the cancer is non-invasive, the recurrence rate is between 30% and 60%.
"I tell a patient who has a low-stage, low-grade tumor that (they) still have a risk of somewhere around 30 percent for this cancer to come back sometime in the next five years," Dr. Jay Shah, staff surgeon and associate professor of urology at Stanford University, tells SurvivorNet.
But for patients who have high-grade bladder cancer that isn't invading into the muscle wall of the bladder, Dr. Shah explains, "we know that those patients have a high risk of recurrence, and a fairly high risk of progressing to invasive bladder cancer."
Whether you have low-grade or high-grade bladder cancer, it's important to know your risk for your bladder cancer recurring, as your maintenance screening plan will depend on your risk level, SurvivorNet experts say.
Learn more about SurvivorNet's rigorous medical review process.
---