A Tribute to a Trailblazer
Young Frankenstein actress Madeline Kahn lost her battle with ovarian cancer on this day in 1999 at 57 years old.
The hilarious and seductive comedian publicly shared that she was battling the disease just a month before her death in an effort to bring awareness to the disease.
Ovarian cancer has often been referred to as "the cancer that whispers," because the symptoms are often vague. If you notice anything off about your body, it's best to consult your doctor.
Young Frankenstein
actress Madeline Kahn lost her battle with ovarian cancer on this day in 1999 at 57 years old.
One month before her death, the film star bravely informed the public that she was going through "aggressive treatment."
Read More
"It is my hope that I might raise awareness of this awful disease and hasten the day that an effective test can be discovered to give women a fighting chance to catch this cancer in its earliest stage," Kahn had said in a
statement
via publicist Jeff Schneider, a spokesperson for the William Morris Agency.
It was rare for public personas to share much of their private battles, but thankfully Kahn had been compelled to do so.
Kahn's Career
In addition to playing opposite late legend Gene Wilder in Frankenstein, the campy, sexy comedian starred in other Mel Brooks films like Blazing Saddles and High Anxiety.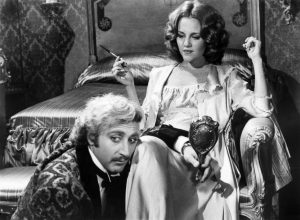 "She is one of the most talented people that ever lived," Brooks had once said about his protégé. "I mean, either in stand-up comedy, or acting, or whatever you want, you can't beat Madeline Kahn."
Related: Comic Legend Gilda Radner Died Tragically of Ovarian Cancer 30 Years Age: How Her Legacy of Giving (And Laughs) Lives On
Kahn, who was also a talented singer, was born in Boston and spent the majority of her life in Manhattan after graduating from Hofstra University.
Kahn was nominated for a Golden Globe and an Oscar in the same year for her role in the 1973 film Paper Moon. The late renaissance woman also won a Tony Award for The Sisters Rosensweig on Broadway.
Life Off-Stage
Kahn married her partner, attorney John W. Hansbury, after ten years together while she was battling her disease. In fact, they married just two months before her death. Hansbury offered these loving words to memorialize his love shortly following her death:
"Madeline was a performer of brilliance and a loyal and trusted friend to everyone she encountered …," he said in a statement to Reuters. "While we mourn her passing, we celebrate a full and wonderful life."
Related: The Toughest Conversations: Losing a Spouse to Cancer
Not only did Hansbury support his wife throughout her one-year battle over two decades ago, but he still admirably continues to fight in his wife's name as Chair of the OCRA (Ovarian Cancer Research Alliance). According to the organization's site, Hansbury "vowed to campaign for improved ovarian cancer treatment and awareness." The devoted widower joined the OCRA Board in 1999, the year of his late wife's death.
How to Be a Better Caregiver for Your Loved One with Ovarian Cancer
The Role of the Caregiver
Hansbury's love for Kahn has developed into a lifetime of dedication in helping other women, and an important reminder of the level of support those suffering deserve.
"The role of the caregiver cannot be minimized. It's so very important," Dr. Jayanthi Lea, gynecologic oncologist at UT Southwestern Medical Center, tells SurvivorNet.
Related: Actor Kristen Bell Honors Cancer Caregivers: 'I Know What it's Like to Lose Someone'
A caregiver can be a partner, parent, child, friend, or neighbor. But it should be someone who is willing to put in the time and effort to understand the diagnosis, and follow the medical team's recommendations.
"I encourage caregivers to come in to visits with my patients, because in that way, the caregiver is also listening to the recommendations — what should be done in between these visits, any changes in treatment plans, any toxicities [side effects] that we need to look out for, changes in dietary habits, exercise, etc.," Dr. Lea says. "The work is extremely hard."
Related: Ovarian Cancer Symptoms Can Be Hard to Spot
Caregivers should be willing to share what they've learned while caring for their loved one day to day, letting the doctor know about any side effects or other problems that arise. They also need to be willing to take a backseat sometimes. "Step back a little bit and let the patient speak for themselves. Let them express what they are feeling," Dr. Lea tells SurvivorNet. "That is so important for the patient's overall quality of life and wellbeing."
Staying Ahead of An Ovarian Cancer Diagnosis
Although ovarian cancer has often been referred to as "the cancer that whispers," there is more hope these days than ever before. There are also things you can do to lower your risk of getting ovarian cancer.
Taking birth control is one of the main methods of protecting against ovarian cancer, says Dr. Karen Zempolich, gynecologic oncologist at St. Mark's Hospital in Salt Lake City–specifically, an oral birth control pill that contains both estrogen and progesterone.
Taking Control of Your Ovarian Cancer Risk
This risk reduction is most significant in women who have used birth control for at least five years, she adds, although there's still some benefit for women who have taken birth control for less than five years.
Related: Birth Control and Ovarian Cancer – Can It Reduce the Risks of Aggressive Ovarian Cancer?
Birth control pills do have risks of their own, though. They can cause mild side effects like headaches, nausea, bloating, and breast tenderness. Less often, they may increase the risk for blood clots, especially in women who smoke, as well as for breast cancer. It's important to consider the risks and benefits carefully with your doctor before you decide to go on the pill.
Other Ways to Lower Ovarian Cancer Risk
A few other preventive measures that may decrease ovarian cancer risk in women include:
Having children before age 35
Not using high-dose or long-term hormone replacement therapy after menopause
Practicing healthy lifestyle habits, such as eating a well-balanced diet, doing moderate daily exercise, and getting enough quality sleep at night
Surgical Steps to Prevent Ovarian Cancer
Women who have a genetic predisposition to this disease, such as a family history or mutations in the BRCA1 and BRCA2 genes, may want to take more radical steps to protect their long-term health. One such step might include having prophylactic surgery–surgery before you show any signs of disease, to prevent ovarian cancer.
Related: How Genes Can Shape A Woman's Ovarian Cancer Care, And Her Family's Medical Decisions
One of the most important ways to stay ahead of the disease is by listening to your body and calling your doctor for any major—or minor—changes to be safe.
Learn more about SurvivorNet's rigorous medical review process.